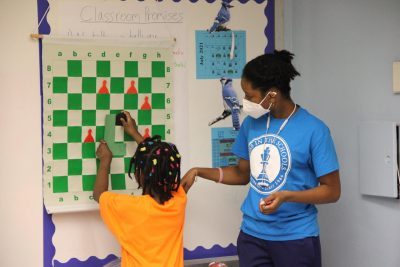 The Andy Lerner Excellence in Chess Education Award
The Andy Lerner Excellence in Chess Education Award is given annually to one educator representing a public or charter school or a non-commercial children's chess club. The selection process is open and nationwide. 
Five finalists are selected by an award panel of educators and public figures well-known in the chess world. Four runners-up are also recognized. 
The $10,000 award includes a monetary award of $5,000 to the educator and another $5,000 to their school or chess club. The remaining four finalists receive a $2,000 award each, shared between the finalist and their chess program.
Who can be nominated for the award? 
Candidates are expected to:
be actively engaged in chess education 

have at least 5 years of experience teaching chess or volunteering and promoting chess education at a non-profit organization or a public school 

reside in the U.S. (no international nominations)

present at least two references (when submitting their application materials)
The following candidates are disqualified from applying:
current CIS employees, members of CIS's Board of Directors and the Advisory Board, members of the Award Panel.

instructors employed by CIS in the last 3 years 

former award recipients (in future years)

instructors working exclusively for for-profit organizations or only giving private lessons
The following criteria that will be used to select finalists:
the impact on the chess community and students served. The impact that the candidate makes should align with CIS mission and values of fostering

the intellectual and social development of low-income youth through chess education.

number of students served

awards/recognition received by the chess team / individual students taught

innovative methods of teaching 

diversity of students served, including but not limited to grade levels, skills and experience levels (e.g. beginners vs competitive players), and demographics, number of tournaments / events organized
Who can make nominations? 
Anyone who is in a position to be familiar with the impact that the candidate has made on their students and their program. It can be a school principal, a senior school administrator, a PTA board member, a supporter of a non-profit chess club or another person in a similar role. 
Application Process:
Step One. A nominator submits an online nomination form to Chess in the Schools. The deadline is December 31, 2022. If the nominator wants to recommend several candidates, they should submit separate applications for each candidate. 
Step Two. Chess in the Schools checks candidates' eligibility, and invites them to submit an application form and additional materials. The deadline to submit applications is January 31, 2023.
Step Three. The panel reviews all submissions and announces five finalists in April 2023 (date TBD)
Step Four. The winners are announced during the awards ceremony in New York City in May 2023 (date TBD)
  This Award is made possible thanks to a generous gift from Andrew Lerner, CIS's esteemed Board Member.
If you have questions regarding this award, please contact development@chessintheschools.org
——————————————————————————————————————————————————