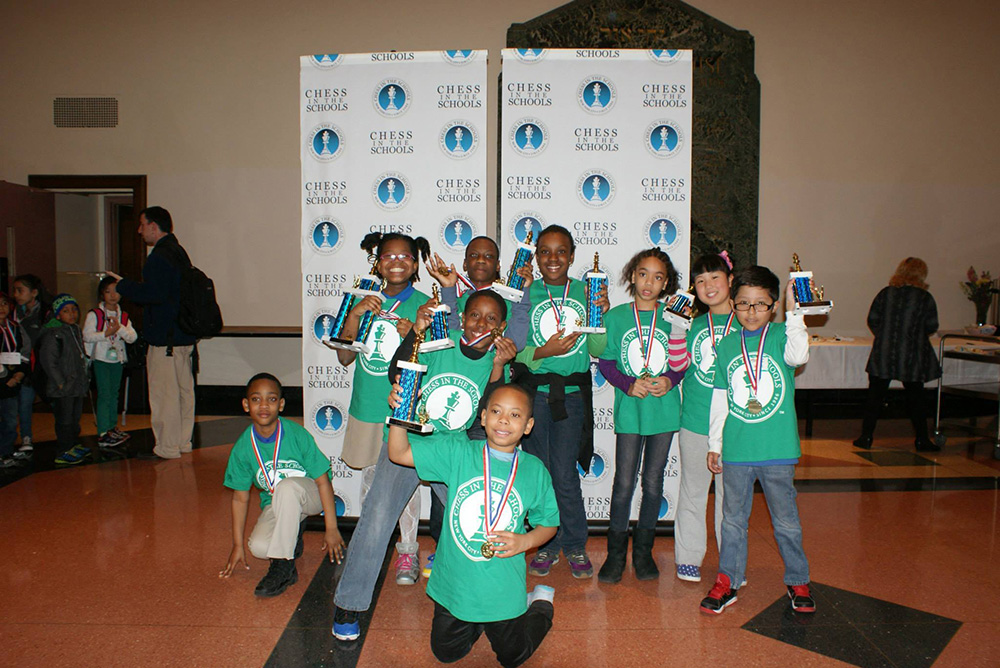 The Scholastic Tournament Program offers free competitive chess tournaments in New York City. Tournaments normally are hosted primarily in public schools and many are open to all New York City students. Tournament participation ranges from approximately 400-700 students. Chess in the Schools organizes and manages the tournament and through our Grand Prix initiative, also offers competitive grants to schools that participate in the School Program to be used for competing in regional and national scholastic tournaments.
Featured Tournaments
All Tournaments
CIS Tournament Schedule
Unless otherwise specified, standard CIS tournaments run on the following schedule:
Standard tournament schedule:
Check-in:  8:30 AM - 9:30 AM
Round 1:  10:00 AM
Round 2:  11:15 AM
Round 3:  1:00 PM
Round 4:  2:15 PM
Award Ceremony:  3:30 PM
Open Section Schedule:
Check-in:  8:30 AM - 9:30 AM
Round 1:  10:00 AM
Round 2:  11:45 AM
Round 3:  1:45 PM
Award Ceremony:  3:30 PM
Please note: the Chess in the Park event runs on a separate schedule.
Grand Prix
Running from September 16 2023– March 16, 2024.  
The Chess in the Schools Grand Prix System was put in place more than a decade ago to address the rising number of CIS teams interested in participating in regional and national chess events. Teams earn funding to go to events such as the City Championship and National Championships based on attendance and performance at CIS tournaments.
| | | | |
| --- | --- | --- | --- |
| JH/Place | Team | # of Points | # of Events |
| 1st | 180K | 320 | 3 |
| 2nd | 582K | 215 | 2 |
| 3rd | 279X | 30 | 0 |
| EL/Place | Team | # of Points | # of Events |
| 1st | 160K | 130 | 1 |
| 2nd | 329Q | 100 | 1 |
| 3rd | 315K | 30 | 0 |
| 4th | 503K | 10 | 0 |
| 4th | 150Q | 10 | 0 |