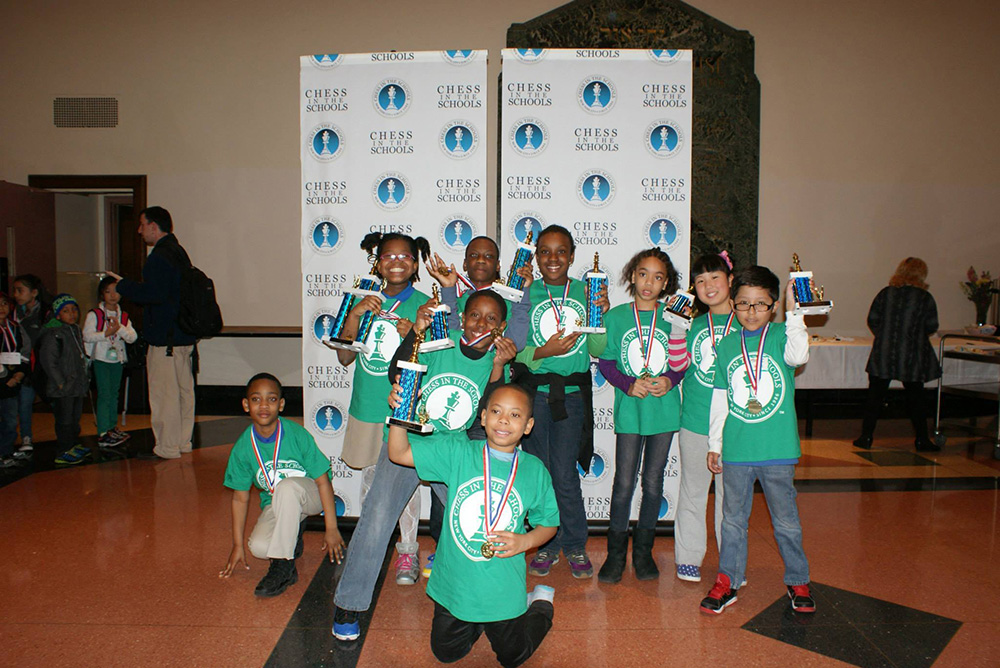 The Scholastic Tournament Program offers free competitive chess tournaments in New York City. Tournaments normally are hosted primarily in public schools and many are open to all New York City students. Tournament participation ranges from approximately 400-700 students. Chess in the Schools organizes and manages the tournament and through our Grand Prix initiative, also offers competitive grants to schools that participate in the School Program to be used for competing in regional and national scholastic tournaments.
Due to COVID - 19 Chess in the Schools has moved all tournaments online.  Events will take place on Saturdays and major holidays and are open to all students. Prizes will include special online certificates, gift cards for special chess programs and qualification for special events. All events on LICHESS will use LICHESS ratings and will not be USCF Rated.
Featured Tournaments
CIS Grand-Prix Finals
Saturday, May 15, 2021

This event is only open to the top 5 CIS EL and JH teams in the 2020-2021 online Grand Prix!
Tournament Details
All Tournaments
CIS Tournament Schedule
Due to Covid-19 our event schedule is changed because all events are scheduled to run online.
All events on lichess.org require a FREE account, and pre-registration to the event.  Some events may require you join a specific team to play. All events will start at 10:00 AM and run for one hour in an ARENA format.  We will have the following sections at each CIS online event:
Arena Team Battle (School programs will compete and the top student scores count for team prizes).  We will have an open section and an under 1200 section for the Team Battles. (Zoom team rooms possible).
Open Arena Event (This section will be for individuals who are not part of a team and will be an individual only competition). We will add sections to the Open Arena as necessary, but will start with one open section.
Parents and Friends (Yes, you are reading that correct!) While your children are playing, challenge other parents, siblings, grandparents and any other family or friends interested in playing in this fun open event!
*Chess in the Schools will also live stream during each event with fun commentary and interviews
LIVE EVENT Info
Unless otherwise specified, standard CIS tournaments run on the following schedule:
Standard tournament schedule:
Check-in:  8:30 AM - 9:30 AM
Round 1:  10:00 AM
Round 2:  11:15 AM
Round 3:  1:00 PM
Round 4:  2:15 PM
Award Ceremony:  3:30 PM
Open Section Schedule:


Check-in:  8:30 AM - 9:30 AM
Round 1:  10:00 AM
Round 2:  11:45 AM
Round 3:  1:45 PM
Award Ceremony:  3:30 PM
Grand Prix
Running from September 26 2020– April 24, 2021.  
The Chess in the Schools Grand Prix System was put in place more than a decade ago to address the rising number of CIS teams interested in participating in regional and national chess events. Teams earn funding to go to events such as the City Championship and National Championships based on attendance and performance at CIS tournaments. Due to COVID-19 and the cancelation of this travel events, the Grand Prix System in 2020-2021 will track GP point for CIS teams and the top 5 elementary teams and top 5 junior high team will each qualify to compete in the end of the year "CIS Grand Prix Finals."  All qualified teams will win special trophies that will be mailed to your school and the winning teams in each section will receive a special 'Chess Cup."
| | | | |
| --- | --- | --- | --- |
| JH/Place | Team | # of Points | # of Events |
| 1st | 279X | 100 | 1 |
| | | | |
| | | | |
| EL/Place | Team | # of Points | # of Events |
| | | | |
| | | | |
| | | | |
| | | | |