Chess in the Schools: FAQs during COVID-19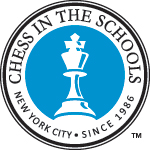 Q: How are your programs impacted?
A: Despite the COVID pandemic and school closure, all four CIS programs are being continued remotely:
School Program: CIS instructors are all working with their assigned schools. As soon as the school provides login access to their remote platform, such as Google Classroom, the CIS instructor is posting chess content ranging from written lessons, links to video lessons, chess puzzles, links to online CIS tournaments, as well as answering student questions and coaching them. Instructors remark that students pop into the Google location frequently to share their knowledge, socialize with classmates and receive individual chess coaching. The school's Chess Coordinator has access to oversee interactions.
Tournaments: CIS has weekly events on the free online sites Lichess.org and Chess24.com. We have had participants from overseas, including Spain and Italy, as well as a Grandmaster or two! Check out our tournament page for a full list of online events.  When registering for our events, please take note of the instructions below.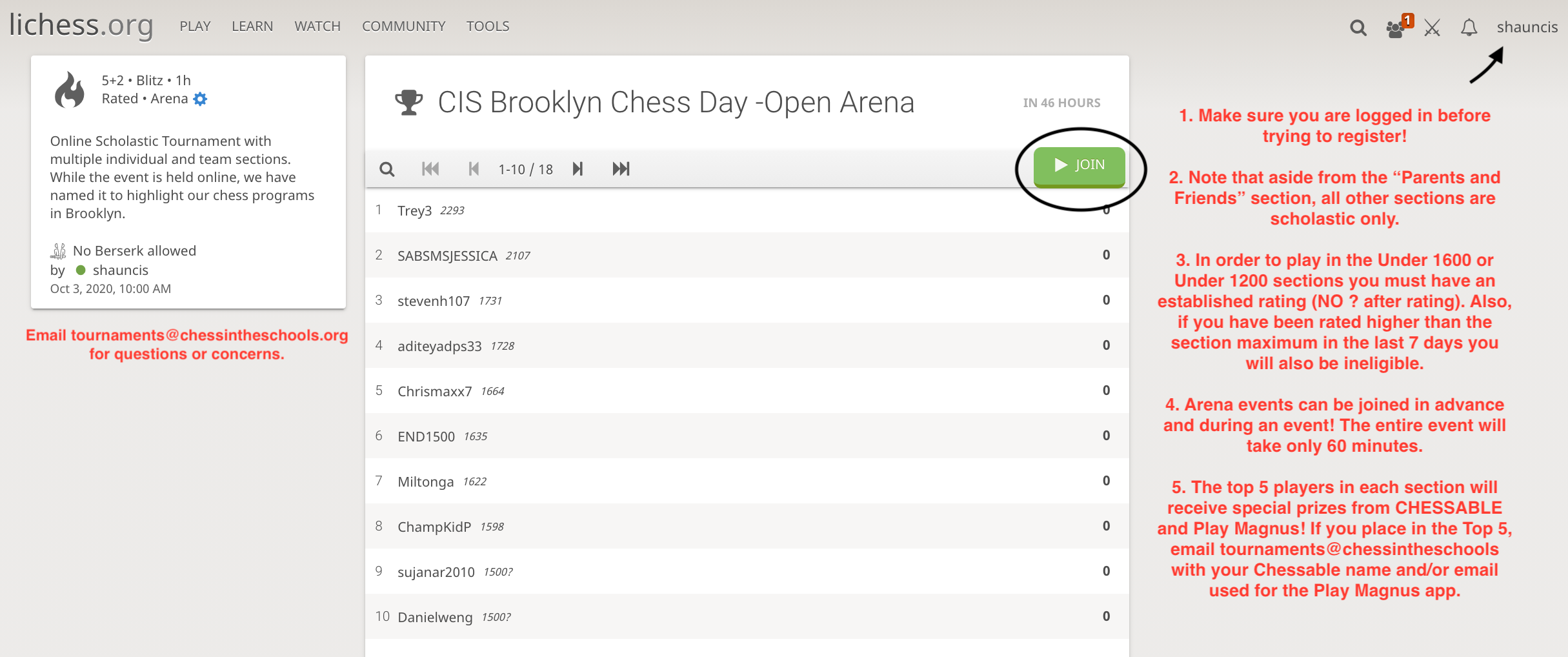 College Bound Program: Each grade (9th – 12th) has their own Google Hangout and Google Classroom. Our high school students are eager to connect and sustain the community they have built. They are very active in our online events, with 60 or more playing daily. 12th graders are in the middle of college decisions and are receiving individualized counseling and financial aid advice from CIS program staff.
CIS Teacher Training Institute: We host Zoom TTI workshops at least once per month and plan to have workshops after each CIS online event.
Q: How are your students impacted?
A: It depends on two key factors: the students' access to technology at home and the circumstances in the particular program (see below).
For all programs, we feel strongly that delivering our curriculum in-person provides the most powerful learning environment. Remote instruction hampers the instructor's ability to observe individual students and assess their true comprehension. Further, we know that for young people, the social and emotional aspects of learning are equally important as the chess content. Our instructors and staff are eager for the day that schools reopen.
Technology: The mission of CIS is to serve low-income students. We believe that many of our students live in households with inadequate, outdated computer resources or where they are sharing one computer with siblings and adults. They may not have reliable internet access. Some families only have a smartphone. Some lack encouragement by adults at home and others may live in chaotic, distracting households where learning is difficult. Compounding this, family members may be working and unable to supervise their children, or even be unable to help due to illness. We hope that more NYC schools will be able to provide home technology resources to their students in the future.
School Program: Each school must first provide a login for our instructor. Many have already. For those that have not, we are continually reminding these schools that we are ready willing and able to serve their students.
College Bound Program: No obstacles to providing remote content to these students except for some students' access to good technology at home.
CIS Teacher Training Institute Program: No obstacles to providing remote content.
Q: What have you done regarding employee safety?
A: All office staff and Chess Instructors are working remotely from home as of March 16, 2020.
Q: How can I contact the CIS office?
A: The CIS office is closed. If you know the email address of the staff member, please contact them that way. Office staff also have remote access to voicemails left on office phones. To email a general question regarding Chess in the Schools, please email us at info@chessintheschools.org
Q: Have your costs changed?
A: Yes. They have increased as we have needed to purchase hardware and software resources to work remotely and supplement programming with new digital content.
Q: Has your revenue changed?
A: Unfortunately, yes. We expect significant revenue reductions from all sources. Individual donors experiencing financial hardship may cut back giving. Foundations, with huge portfolio declines, may pull back grants. New York City government funding is expected to be reduced as soon as July. Some schools may not be able to honor fee agreements. Summer camp programs have not returned with contracts. We have losses on our own investment portfolio as well.
Q: How can I help?
A: If you can, please donate. Financial help is crucial at this time.
Current donors: We hope you will consider maintaining your giving level, or even increasing your gift if you have the ability.
Never donated to CIS?: We need your help now, more than ever before.
Questions about giving?: Please contact Elena Ryabova, Director of Development, at eryabova@chessintheschools.org
Ready to donate online: DONATE NOW!
If you have other ways you can help we would love to hear from you! Contact us at info@chessintheschools.org