CM Amanda Farias All-Girls Bronx Tournament at JHS 123X

Saturday, March 11, 2023
Thank you to NYC Council Member Amanda Farias from CD#18 for her support for this event!
Tournament completed and submitted to the USCF.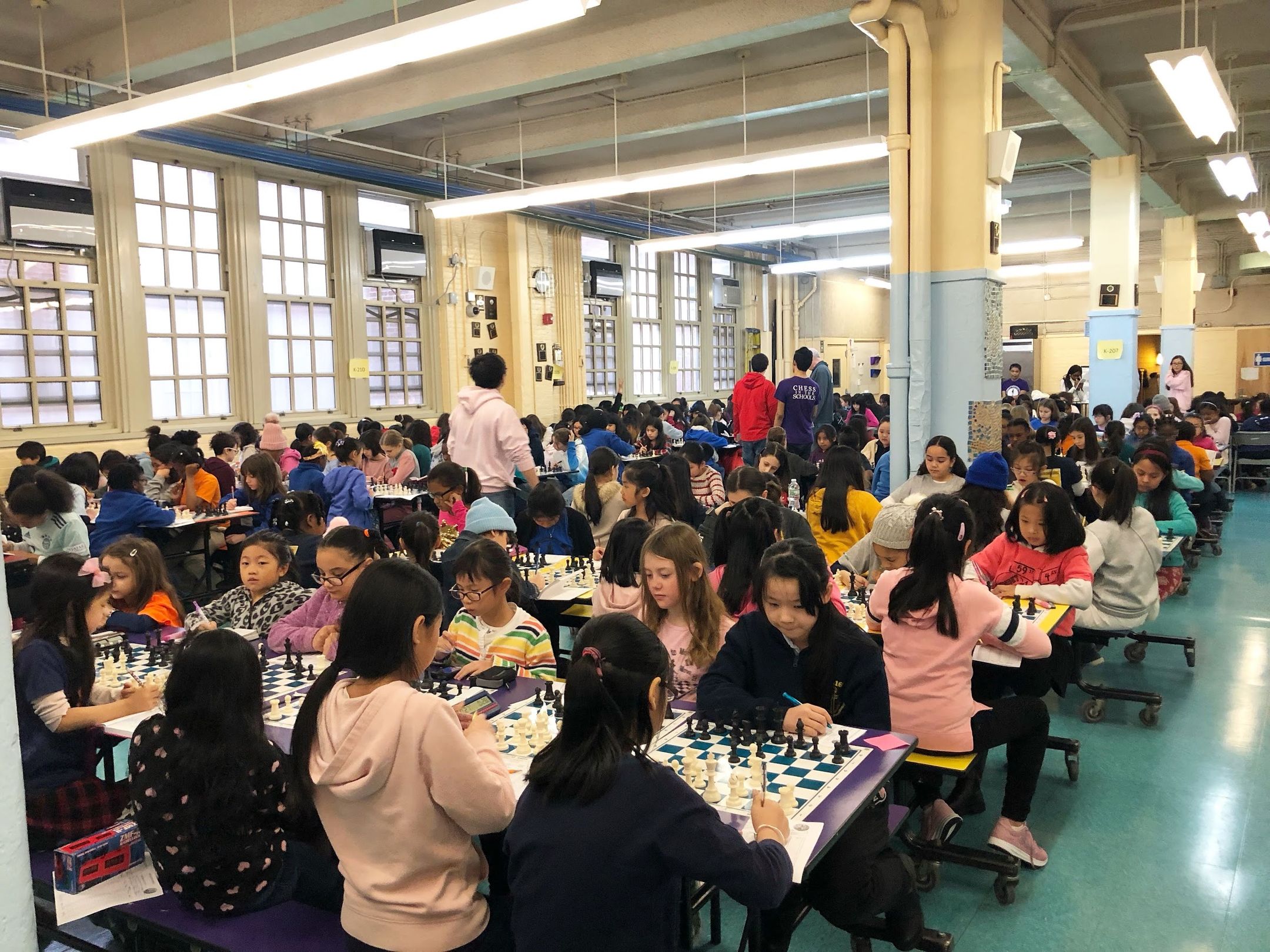 Please note that we will use the SWISS Website for pairings the day of the event and for confirming results.  However, the standings are not accurate in the upload, so all individual and team standings will be pasted to this event page.
Official Standings:



SwissSys Report: CM Farias Bronx All Girls Championship
SwissSys Standings. CM Farias Bronx All Girls Championship: K-12 Championship (1200 +)
| | | | | | | | | | | | | | | | | | |
| --- | --- | --- | --- | --- | --- | --- | --- | --- | --- | --- | --- | --- | --- | --- | --- | --- | --- |
| # | Place | Name | ID | Rating | Post | Team | Grd | Sex | St | Rd 1 | Rd 2 | Rd 3 | Total | T-Med | T-Solkoff | T-Op. cumul. | T-Cumul. |
| 1 | 1 | Wang, Alina | 30067822 | 1171 | 1309 | SAMW | 8 | F | NY | W3 | W2 | W4 | 3.0 | 3 | 3 | 6 | 6 |
| 2 | 2 | Khong, Vionnie | 15583830 | 1219 | 1240 | BARD | | F | | W4 | L1 | W3 | 2.0 | 4 | 4 | 8 | 4 |
| 3 | 3 | Zhou, Elizabeth | 30081108 | 1366 | 1310 | HMANN | 2 | F | NY | L1 | W4 | L2 | 1.0 | 2 | 5 | 10 | 2 |
| 4 | 4 | Chen, Jiaxin | 17142611 | 978 | 951 | | | F | | L2 | L3 | L1 | 0.0 | 3 | 6 | 12 | 0 |
SwissSys Standings. CM Farias Bronx All Girls Championship: JH-HS Novice (6-12 U1000)
| | | | | | | | | | | | | | | | | | | |
| --- | --- | --- | --- | --- | --- | --- | --- | --- | --- | --- | --- | --- | --- | --- | --- | --- | --- | --- |
| # | Place | Name | ID | Rating | Post | Team | Grd | Sex | St | Rd 1 | Rd 2 | Rd 3 | Rd 4 | Total | T-Med | T-Solkoff | T-Op. cumul. | T-Cumul. |
| 1 | 1 | Febos, Kaly | 15893694 | 930 | 1006 | 279X | | F | NY | W8 | W2 | W6 | W5 | 4.0 | 7 | 9 | 24 | 10 |
| 2 | 2-3 | Yanagi, Lia | 30826915 | 601 | 712 | ESCHS | 9 | F | NY | W11 | L1 | W8 | W7 | 3.0 | 8 | 9 | 21 | 7 |
| 3 | | Liu, Lila | 17065616 | 509 | 689 | 180K | 8 | F | NY | W7 | W13 | L5 | W6 | 3.0 | 6 | 6.5 | 20 | 8 |
| 4 | 4 | Chen, Jiaxin | 17142611 | 978 | 984 | | | | NY | H--- | H--- | H--- | W10 | 2.5 | 1.5 | 1.5 | 4 | 4 |
| 5 | 5-9 | Tursunova, Kamilla | 30039618 | 945 | 891 | | 6 | F | | W9 | L6 | W3 | L1 | 2.0 | 5 | 11 | 29 | 6 |
| 6 | | Moreno-Lopez, Shesit | 16616984 | 627 | 655 | BARD | 10 | F | NY | W12 | W5 | L1 | L3 | 2.0 | 5 | 9.5 | 24 | 7 |
| 7 | | Edwards , Samantha | 30310272 | 941 | 867 | SABSMS | 6 | F | NY | L3 | W10 | W9 | L2 | 2.0 | 5 | 9.5 | 23 | 5 |
| 8 | | Tucker, Aja | 30519645 | 292 | 353 | 390X | 8 | F | NY | L1 | W11 | L2 | W13 | 2.0 | 4 | 8.5 | 21 | 4 |
| 9 | | Hodge, Elizabeth | 30739258 | 556 | 551 | 610M | 9 | F | NY | L5 | W12 | L7 | W11 | 2.0 | 3 | 5.5 | 13 | 4 |
| 10 | 10 | Munduzbaeva, Aisulu | 16721260 | 625 | 582 | 180K | 8 | F | NY | D13 | L7 | W12 | L4 | 1.5 | 3 | 5.5 | 11 | 4 |
| 11 | 11-12 | Mo Luo, Jia Li | 31087160 | unr. | 215 | 180K | 8 | F | | L2 | L8 | W13 | L9 | 1.0 | 4.5 | 7.5 | 17 | 2 |
| 12 | | Martinez, Alison | 30519583 | 150 | 134 | 390X | 8 | F | NY | L6 | L9 | L10 | B--- | 1.0 | 3.5 | 5.5 | 15 | 0 |
| 13 | 13 | Jennyfer, Rocete | 30992728 | unr. | 100 | TAFT | 10 | F | NY | D10 | L3 | L11 | L8 | 0.5 | 4.5 | 7.5 | 18 | 2 |
SwissSys Standings. CM Farias Bronx All Girls Championship: JH-HS Unrated (Grades 6-12)
| | | | | | | | | | | | | | | | | | | |
| --- | --- | --- | --- | --- | --- | --- | --- | --- | --- | --- | --- | --- | --- | --- | --- | --- | --- | --- |
| # | Place | Name | ID | Rating | Post | Team | Grd | Sex | St | Rd 1 | Rd 2 | Rd 3 | Rd 4 | Total | T-Med | T-Solkoff | T-Op. cumul. | T-Cumul. |
| 1 | 1-2 | Nyzhnyk, Anna | | unr. | 1150 | 141Q | 7 | F | | W3 | W4 | W8 | W7 | 4.0 | 8 | 10 | 27 | 10 |
| 2 | | Attia, Farida | | unr. | 1150 | 141Q | 6 | F | | W13 | W12 | W7 | W8 | 4.0 | 5 | 6 | 19 | 10 |
| 3 | 3-4 | Noor, Saniya | | unr. | 1066 | 118X | | F | | L1 | W15 | W12 | W9 | 3.0 | 7 | 7 | 20 | 6 |
| 4 | | Ullah, Tasnim | | unr. | 1016 | 118X | | F | | W15 | L1 | W13 | W16 | 3.0 | 5 | 5 | 11 | 7 |
| 5 | 5-6 | Rivera, Greysi | | unr. | 805 | 390X | 6 | F | | L7 | D10 | W14 | W12 | 2.5 | 5 | 6 | 20.5 | 4.5 |
| 6 | | Blanco, Yodelmi | | unr. | 718 | 390X | 7 | F | | L12 | W11 | D10 | W14 | 2.5 | 5 | 6 | 16.5 | 5 |
| 7 | 7-11 | Tuychieva, Sarvinoz | | unr. | 984 | 180K | 8 | F | | W5 | W13 | L2 | L1 | 2.0 | 6.5 | 11.5 | 25.5 | 7 |
| 8 | | Monita, Tausifa | | unr. | 925 | 118X | | F | | W14 | W9 | L1 | L2 | 2.0 | 6 | 11 | 29 | 7 |
| 9 | | Basunillo, Erin | | unr. | 693 | 141Q | 7 | F | | W11 | L8 | W15 | L3 | 2.0 | 4 | 7 | 16 | 6 |
| 10 | | Black, Tessa | | unr. | 634 | 141Q | 6 | F | | W16 | D5 | D6 | L13 | 2.0 | 3.5 | 6 | 10.5 | 6.5 |
| 11 | | Batista, Ilda | | unr. | 537 | 279X | | F | | L9 | L6 | W16 | W15 | 2.0 | 2 | 4.5 | 11 | 3 |
| 12 | 12-14 | Zhu , Menglin | | unr. | 684 | 180K | 8 | F | | W6 | L2 | L3 | L5 | 1.0 | 8 | 12 | 25.5 | 4 |
| 13 | | Diaz-Ash, Milaedi | | unr. | 675 | 390X | 6 | F | | L2 | L7 | L4 | W10 | 1.0 | 7 | 11 | 30.5 | 1 |
| 14 | | Yuldasheva, Nigina | | unr. | 484 | 180K | 8 | F | | L8 | W16 | L5 | L6 | 1.0 | 4.5 | 7 | 16.5 | 3 |
| 15 | 15-16 | Stewart, Saniyah | | unr. | 350 | 390X | 6 | F | | L4 | L3 | L9 | L11 | 0.0 | 7 | 10 | 22 | 0 |
| 16 | | Lopez, Frayni | | unr. | 350 | 390X | 6 | F | | L10 | L14 | L11 | L4 | 0.0 | 5 | 8 | 19.5 | 0 |
SwissSys Standings. CM Farias Bronx All Girls Championship: EL Championship (K-5 U1000)
| | | | | | | | | | | | | | | | | | | |
| --- | --- | --- | --- | --- | --- | --- | --- | --- | --- | --- | --- | --- | --- | --- | --- | --- | --- | --- |
| # | Place | Name | ID | Rating | Post | Team | Grd | Sex | St | Rd 1 | Rd 2 | Rd 3 | Rd 4 | Total | T-Med | T-Solkoff | T-Op. cumul. | T-Cumul. |
| 1 | 1-4 | Chong, Min Hee | 17197920 | 821 | 818 | NEST | 3 | F | NY | W10 | W4 | W3 | L2 | 3.0 | 9 | 10 | 24 | 9 |
| 2 | | Matteo, Eugenia | 17267514 | 683 | 727 | TNS | 5 | F | NY | W6 | L3 | W5 | W1 | 3.0 | 8 | 10 | 28 | 7 |
| 3 | | Springer, Emily | 17305405 | 676 | 727 | SABX3 | 4 | F | NY | W8 | W2 | L1 | W7 | 3.0 | 8 | 9.5 | 23 | 8 |
| 4 | | Lisowska, Minnie | 30348505 | 601 | 615 | UNITED | 4 | F | NY | W11 | L1 | W6 | W5 | 3.0 | 7 | 7.5 | 22 | 7 |
| 5 | 5-8 | Munoz, Emely | 30624725 | 106 | 277 | BCS | 4 | F | NY | W7 | W9 | L2 | L4 | 2.0 | 5 | 9 | 20.5 | 7 |
| 6 | | Cancio, Corinna Nerisse | 30504997 | 425 | 420 | NEST | 3 | F | NY | L2 | W8 | L4 | W11 | 2.0 | 4.5 | 8 | 18 | 4 |
| 7 | | Wang, Olivia | 17304890 | 545 | 489 | SAHK | 4 | F | | L5 | W10 | W11 | L3 | 2.0 | 3 | 6.5 | 19 | 5 |
| 8 | | Kone, Bintou | 30944628 | 165 | 204 | 226X | 5 | F | NY | L3 | L6 | B--- | W10 | 2.0 | 3 | 6 | 14 | 2 |
| 9 | 9 | Peralta, Eva | 30944106 | 105 | 100 | 226X | 4 | F | NY | H--- | L5 | L10 | B--- | 1.5 | 1 | 3 | 9 | 1.5 |
| 10 | 10-11 | Lopez, Rubi | 30098879 | 244 | 210 | CCS | | F | NY | L1 | L7 | W9 | L8 | 1.0 | 4.5 | 7.5 | 17.5 | 2 |
| 11 | | Aguero, Rileigh | 30723783 | 137 | 111 | SABX3 | 4 | F | NY | L4 | B--- | L7 | L6 | 1.0 | 4 | 7 | 16 | 2 |
SwissSys Standings. CM Farias Bronx All Girls Championship: Primary Championship (K-2 Open)
| | | | | | | | | | | | | | | | | | | |
| --- | --- | --- | --- | --- | --- | --- | --- | --- | --- | --- | --- | --- | --- | --- | --- | --- | --- | --- |
| # | Place | Name | ID | Rating | Post | Team | Grd | Sex | St | Rd 1 | Rd 2 | Rd 3 | Rd 4 | Total | T-Med | T-Solkoff | T-Op. cumul. | T-Cumul. |
| 1 | 1 | Valois, Riley | 30731792 | 369 | 454 | SABX3 | 1 | F | NY | W2 | W4 | W3 | W2 | 4.0 | 4.5 | 6 | 16 | 10 |
| 2 | 2-5 | Lisowska, Linden | 30935732 | 112 | 132 | UNITED | 1 | F | NY | L1 | W5 | B--- | L1 | 2.0 | 5.5 | 9.5 | 24 | 4 |
| 3 | | Scott, Avery Novel | 30541459 | 111 | 100 | TNS | | F | NY | L5 | B--- | L1 | W4 | 2.0 | 3 | 7 | 19 | 3 |
| 4 | | Yau, Audrey | 31015165 | 105 | 100 | TNS | 1 | F | | B--- | L1 | W5 | L3 | 2.0 | 3 | 7 | 17 | 5 |
| 5 | | Feliz, Carolyn | 30723878 | 133 | 100 | SABX3 | 2 | F | NY | W3 | L2 | L4 | B--- | 2.0 | 3 | 4.5 | 12 | 4 |
SwissSys Standings. CM Farias Bronx All Girls Championship: EL Unrated (K-5)
| | | | | | | | | | | | | | | | | | | |
| --- | --- | --- | --- | --- | --- | --- | --- | --- | --- | --- | --- | --- | --- | --- | --- | --- | --- | --- |
| # | Place | Name | ID | Rating | Post | Team | Grd | Sex | St | Rd 1 | Rd 2 | Rd 3 | Rd 4 | Total | T-Med | T-Solkoff | T-Op. cumul. | T-Cumul. |
| 1 | 1-2 | Eusebio, Kimberly | | unr. | 1150 | BCS | 4 | F | | W18 | W8 | W12 | W13 | 4.0 | 5 | 6 | 19 | 10 |
| 2 | | Diaz, Amaia | | unr. | 1150 | BCS | 4 | F | | W16 | W9 | W21 | W8 | 4.0 | 5 | 6 | 15.5 | 10 |
| 3 | 3-4 | Kabre, Ghizlane | | unr. | 1150 | BCS | | F | | H--- | W7 | W9 | W14 | 3.5 | 6 | 6 | 13.5 | 7.5 |
| 4 | | Kabre, Hanifah | | unr. | 1150 | BCS | | F | | H--- | W15 | W10 | W12 | 3.5 | 4.5 | 4.5 | 12.5 | 7.5 |
| 5 | 5-6 | Amankwah, Davina | | unr. | 959 | BCS | 4 | F | | W10 | W13 | L8 | W15 | 3.0 | 5.5 | 6.5 | 18 | 8 |
| 6 | | Cabrera, Dachely | | unr. | 816 | BCS | 4 | F | | L9 | W19 | W16 | W21 | 3.0 | 4 | 4.5 | 9.5 | 6 |
| 7 | 7 | Cain, La-Vonn | | unr. | 868 | 150X | 5 | F | | D15 | L3 | W17 | W11 | 2.5 | 6.5 | 7.5 | 19 | 5 |
| 8 | 8-11 | Torres, Kailey | | unr. | 925 | 150X | 5 | F | | W19 | L1 | W5 | L2 | 2.0 | 7 | 11.5 | 28 | 6 |
| 9 | | Flores, Zoe | | unr. | 900 | 150X | 3 | F | | W6 | L2 | L3 | W20 | 2.0 | 6.5 | 11 | 24.5 | 5 |
| 10 | | Lee, Evelyn | | unr. | 702 | | 0 | F | | L5 | W20 | L4 | W18 | 2.0 | 4 | 8 | 19 | 4 |
| 11 | | Robinson , Phoenix | | unr. | 714 | BCS | 4 | F | | W17 | D12 | D13 | L7 | 2.0 | 3 | 6.5 | 17.5 | 6.5 |
| 12 | 12-14 | Baez, Isabella | | unr. | 773 | 226X | 4 | F | | W14 | D11 | L1 | L4 | 1.5 | 7 | 11 | 27.5 | 5.5 |
| 13 | | Flores, Chelsey | | unr. | 634 | 226X | 3 | F | | W20 | L5 | D11 | L1 | 1.5 | 5.5 | 9.5 | 25.5 | 5 |
| 14 | | Ferrer, Brigitte | | unr. | 559 | 150X | 3 | F | | L12 | D17 | W19 | L3 | 1.5 | 3 | 6.5 | 15 | 3.5 |
| 15 | 15-21 | Sanchez, Jade | | unr. | 602 | 279X | | F | | D7 | L4 | D18 | L5 | 1.0 | 6.5 | 10 | 23 | 3 |
| 16 | | Aquino, Victoria | | unr. | 428 | 226X | 3 | F | | L2 | D18 | L6 | D17 | 1.0 | 5 | 9 | 20.5 | 2 |
| 17 | | Gomez, Scarlett | | unr. | 448 | 199X | | F | | L11 | D14 | L7 | D16 | 1.0 | 4.5 | 7 | 17 | 2 |
| 18 | | Gonzalez, Lusmeldy | | unr. | 516 | 199X | | F | | L1 | D16 | D15 | L10 | 1.0 | 4 | 8 | 19 | 2.5 |
| 19 | | June, Anaiya | | unr. | 350 | 199X | | F | | L8 | L6 | L14 | B--- | 1.0 | 3.5 | 6.5 | 15.5 | 0 |
| 20 | | Hyman, Lillian | | unr. | 350 | 199X | | F | | L13 | L10 | B--- | L9 | 1.0 | 3.5 | 5.5 | 14 | 1 |
| 21 | | Mendez, Jasmine | | unr. | 350 | | | | | H--- | H--- | L2 | L6 | 1.0 | 3 | 7 | 16 | 2.5 |