CIS Queens Chess Day at PS 150Q

Saturday, January 27, 2018
CIS Queens Chess Day at 150Q: Open (K-12 1500+)
| | | | | | | | | | | | | | | | |
| --- | --- | --- | --- | --- | --- | --- | --- | --- | --- | --- | --- | --- | --- | --- | --- |
| # | Name | ID | Rtng | Post | Team | Grd | St | Rd 1 | Rd 2 | Rd 3 | Tot | TBrk[M] | TBrk[S] | TBrk[O] | TBrk[C] |
| 1 | Chen, Ryan | 15266991 | 1584 | 1671 | 539M | 8 | NY | W10 | W3 | W4 | 3.0 | 4 | 4.5 | 9 | 6 |
| 2 | Castillo, Devin | 14133938 | 1532 | 1653 |   | 12 | NY | W5 | W6 | W7 | 3.0 | 2.5 | 3.5 | 7 | 6 |
| 3 | Alperovich, Max | 15158312 | 1469 | 1523 | 239K | 6 | NY | W7 | L1 | W8 | 2.0 | 4 | 5 | 10 | 4 |
| 4 | Bejasa, Christopher | 14650203 | 1666 | 1657 | LAB-HS | 9 | NY | W9 | W11 | L1 | 2.0 | 4 | 4.5 | 9 | 5 |
| 5 | Chen, Leo | 15856304 | 1471 | 1505 | ESCHS | 8 | NY | L2 | B--- | W6 | 2.0 | 4 | 4 | 9 | 2 |
| 6 | Duong, Kevin | 15813287 | 1813 | 1766 | NASSAKEA | 3 | NY | W8 | L2 | L5 | 1.0 | 2.5 | 5.5 | 10 | 3 |
| 7 | Moran, Brendan | 15101226 | 1511 | 1492 | BALLETEC | 4 | NY | L3 | W10 | L2 | 1.0 | 2.5 | 5.5 | 10 | 2 |
| 8 | Zhang, Ben | 15238631 | 1507 | 1497 | 180K | 7 | NY | L6 | W9 | L3 | 1.0 | 2 | 4 | 8 | 2 |
| 9 | Fisher, Zane | 15674897 | 1489 | 1464 | A&L | 5 | NY | L4 | L8 | W11 | 1.0 | 1.5 | 3.5 | 9 | 1 |
| 10 | Karp, Richard | 15130704 | 1481 | 1447 | ESCHS | 8 | NY | L1 | L7 | B--- | 1.0 | 1 | 4 | 8 | 0 |
| 11 | Boyd, Bryce | 14342896 | 1207 | 1194 | MURROW | 12 | NY | B--- | L4 | L9 | 1.0 | 1 | 3 | 6 | 2 |
CIS Queens Chess Day at 150Q: Reserve (K-12 U1500)
| | | | | | | | | | | | | | | | | |
| --- | --- | --- | --- | --- | --- | --- | --- | --- | --- | --- | --- | --- | --- | --- | --- | --- |
| # | Name | ID | Rtng | Post | Team | Grd | St | Rd 1 | Rd 2 | Rd 3 | Rd 4 | Tot | TBrk[M] | TBrk[S] | TBrk[O] | TBrk[C] |
| 1 | Lian, Jonathan | 15811625 | 1173 | 1335 | 259K | 6 | NY | W41 | W7 | D2 | W27 | 3.5 | 8.5 | 9.5 | 22 | 9 |
| 2 | Garcia, Elian | 16083832 | 1406 | 1430 | 180K | 8 | NY | W19 | W42 | D1 | W8 | 3.5 | 8 | 9.5 | 26 | 9 |
| 3 | Tom Wong, Lucas | 15856483 | 1453 | 1474 | ESCHS | 8 | NY | W22 | W39 | W20 | D5 | 3.5 | 7.5 | 8.5 | 25.5 | 9.5 |
| 4 | Efthimiou, Peter | 15565236 | 1219 | 1303 | 122Q | 6 | NY | D24 | W32 | W23 | W15 | 3.5 | 6.5 | 8 | 22.5 | 8 |
| 5 | Jiang, Ivan | 15836578 | 1374 | 1426 | 160K | 5 | NY | W40 | W38 | W18 | D3 | 3.5 | 6.5 | 7.5 | 21.5 | 9.5 |
| 6 | Ann Perez, Lee | 15688938 | 1394 | 1411 | ESCHS | 9 | NY | D32 | W46 | W14 | W13 | 3.5 | 6.5 | 7 | 19 | 8 |
| 7 | Zhang, Joey | 15293503 | 1035 | 1215 | 318K | 7 | NY | W9 | L1 | W43 | W20 | 3.0 | 8.5 | 9.5 | 25 | 7 |
| 8 | Idris, Anand | 14171641 | 1000 | 1151 | STUY | 11 | NY | W44 | B--- | W10 | L2 | 3.0 | 8 | 8 | 19 | 8 |
| 9 | Wang, Richard | 15654804 | 1292 | 1293 | 201K | 6 | NY | L7 | W41 | W25 | W24 | 3.0 | 7 | 8 | 17.5 | 6 |
| 10 | Khong, Vernon | 15095092 | 1300 | 1306 | BTECH |   | NY | W25 | W21 | L8 | W18 | 3.0 | 6.5 | 8.5 | 24 | 8 |
| 11 | Sharifov, Azizjon | 15654846 | 1343 | 1347 | 223K | 9 | NY | W30 | L18 | W39 | W22 | 3.0 | 6 | 7 | 19 | 7 |
| 12 | Huang, Ryan | 15756505 | 1309 | 1313 | 150Q | 5 | NY | L21 | W40 | W28 | W19 | 3.0 | 6 | 7 | 16 | 6 |
| 13 | Alexander, Ethan | 15515275 | 1071 | 1195 | SABX1 | 6 | NY | W47 | D15 | W16 | L6 | 2.5 | 8.5 | 8.5 | 21.5 | 7.5 |
| 14 | Harding-Perkins, Christopher | 15927861 | 1114 | 1234 | 318K | 6 | NY | D17 | W26 | L6 | W32 | 2.5 | 8 | 9.5 | 21.5 | 6 |
| 15 | Rivera, Louis | 15675801 | 1256 | 1255 | ESCHS | 9 | NY | W34 | D13 | W31 | L4 | 2.5 | 7.5 | 9 | 24 | 7.5 |
| 16 | Figueroa, James | 15688965 | 1179 | 1178 | ESCHS | 9 | NY | D23 | W36 | L13 | W31 | 2.5 | 6 | 7.5 | 22 | 6 |
| 17 | Kue, Matthew | 14357705 | 1344 | 1314 | BTECH | 9 | NY | D14 | L31 | W35 | W34 | 2.5 | 5.5 | 6.5 | 17 | 5 |
| 18 | Garcia, Kristian | 15790696 | 1088 | 1189 | SAMW | 6 | NY | W33 | W11 | L5 | L10 | 2.0 | 6 | 11 | 28 | 7 |
| 19 | Zhang, Eric | 15834242 | 1138 | 1214 | 503K | 5 | NY | L2 | W29 | W33 | L12 | 2.0 | 5 | 10 | 21.5 | 5 |
| 20 | Mak, Alvin | 15829242 | 1173 | 1171 |   | 7 | NJ | W35 | W28 | L3 | L7 | 2.0 | 5 | 9.5 | 24 | 7 |
| 21 | Ye, Leo | 15612294 | 1087 | 1152 | 503K | 5 | NY | W12 | L10 | L22 | W39 | 2.0 | 5 | 9 | 23 | 5 |
| 22 | Rodriguez, Jonathan | 15690683 | 1168 | 1219 | BTECH | 9 | NY | L3 | W48 | W21 | L11 | 2.0 | 5 | 8.5 | 21.5 | 5 |
| 23 | Alperovich, Benjamin | 15812566 | 994 | 1091 | 49Q | 3 | NY | D16 | W37 | L4 | D26 | 2.0 | 4.5 | 9.5 | 21.5 | 5.5 |
| 24 | Shi, Raymond | 16138640 | 1004 | 1094 | 180K | 6 | NY | D4 | D43 | W42 | L9 | 2.0 | 4.5 | 9 | 21 | 5.5 |
| 25 | Scorcia, Yvonne | 14898636 | 1061 | 1129 | BTECH | 12 | NY | L10 | W47 | L9 | W38 | 2.0 | 4 | 7 | 18 | 4 |
| 26 | Steinhauer, Jake | 15192936 | 1336 | 1291 | 104M | 7 | NY | D31 | L14 | W46 | D23 | 2.0 | 3.5 | 6.5 | 18 | 4.5 |
| 27 | Aubry, Jonathan | 15624977 | 1432 | 1383 | ESCHS | 9 | NY | L42 | W44 | W38 | L1 | 2.0 | 3 | 7.5 | 19 | 5 |
| 28 | Polonsky, Brandon | 16331678 | 1002 | 1078 | BSI | 3 | NY | W45 | L20 | L12 | W46 | 2.0 | 2.5 | 6 | 16 | 5 |
| 29 | Flores-Zeledon, Dana | 15846836 | 1351 | 1300 | 139K | 5 | NY | L38 | L19 | W40 | W36 | 2.0 | 2.5 | 5.5 | 14 | 3 |
| 30 | Jacobs, Mila | 15926338 | 1113 | 1154 | ESCHS | 8 | NY | L11 | L33 | W47 | W43 | 2.0 | 2.5 | 5.5 | 13.5 | 3 |
| 31 | Ni, Bin | 15836542 | 1103 | 1118 | 180K | 7 | NY | D26 | W17 | L15 | L16 | 1.5 | 7 | 9.5 | 23 | 5 |
| 32 | Chen, Dehao | 15654790 | 1138 | 1142 | 180K | 6 | NY | D6 | L4 | W45 | L14 | 1.5 | 6.5 | 10 | 23.5 | 4 |
| 33 | Iinuma, Kazumasa | 15503726 | 1318 | 1255 | SA-HNW | 7 | NY | L18 | W30 | L19 | D35 | 1.5 | 5 | 7 | 17.5 | 3.5 |
| 34 | Cheung, Michael | 16153824 | 1013 | 1043 | 503K | 5 | NY | L15 | D45 | W37 | L17 | 1.5 | 4.5 | 7 | 17 | 3.5 |
| 35 | Pearce, Ruby | 16016600 | 933 | 935 | 139K | 4 | NY | L20 | B--- | L17 | D33 | 1.5 | 3.5 | 6 | 15.5 | 2.5 |
| 36 | Dong, Jason | 15811741 | 793 | 909 | ACLA | 12 | NY | D37 | L16 | W48 | L29 | 1.5 | 3.5 | 6 | 12 | 4 |
| 37 | Tratenberg, Beckett | 16169114 | 1170 | 1113 | 318K | 6 | NY | D36 | L23 | L34 | W45 | 1.5 | 3.5 | 5.5 | 14.5 | 3 |
| 38 | Chirilov, James | 16480806 | 1124 | 1118 |   | 4 | NY | W29 | L5 | L27 | L25 | 1.0 | 6 | 9.5 | 21.5 | 4 |
| 39 | Franco, Alfred | 16150385 | 1146 | 1134 |   |   | NY | W48 | L3 | L11 | L21 | 1.0 | 5 | 8.5 | 21.5 | 4 |
| 40 | Cespedes, Patrick | 15564233 | 1127 | 1120 | SA-HNW | 7 | NY | L5 | L12 | L29 | W47 | 1.0 | 5 | 8.5 | 18.5 | 1 |
| 41 | Krol, David | 16489937 | 947 | 977 | BSI | 5 | NY | L1 | L9 | L44 | W48 | 1.0 | 4.5 | 8 | 17 | 1 |
| 42 | Chicaiza, Justin | 15515578 | 1147 | 1148 | SA-HNW | 8 | NY | W27 | L2 | L24 | --- | 1.0 | 4 | 7.5 | 19.5 | 4 |
| 43 | Wang, Michael | 14697988 | 1182 | 1125 | STUY |   | NY | H--- | D24 | L7 | L30 | 1.0 | 4 | 7 | 15.5 | 3 |
| 44 | Bellamy, Sakura | 16138352 | 1205 | 1171 | MURROW | 11 | NY | L8 | L27 | W41 | --- | 1.0 | 3 | 5.5 | 14 | 2 |
| 45 | Loja, Jonathan | 15927326 | 1217 | 1116 | WAGNER | 10 | NY | L28 | D34 | L32 | L37 | 0.5 | 4.5 | 6.5 | 15.5 | 1.5 |
| 46 | Li, Nelson | 15927285 | 1155 | 1098 | 503K |   | NY | H--- | L6 | L26 | L28 | 0.5 | 4 | 7.5 | 17.5 | 1.5 |
| 47 | Eduardo, Ramirez | 15858040 | 1308 | 1184 | WAGNER | 10 | NY | L13 | L25 | L30 | L40 | 0.0 | 5 | 7.5 | 15.5 | 0 |
| 48 | Norbu, Chime | 15848290 | 1412 | 1269 | HPCMS | 7 | NY | L39 | L22 | L36 | L41 | 0.0 | 3.5 | 5.5 | 14 | 0 |
CIS Queens Chess Day at 150Q: JH-HS Novice (K-12 U1100)
| | | | | | | | | | | | | | | | | |
| --- | --- | --- | --- | --- | --- | --- | --- | --- | --- | --- | --- | --- | --- | --- | --- | --- |
| # | Name | ID | Rtng | Post | Team | Grd | St | Rd 1 | Rd 2 | Rd 3 | Rd 4 | Tot | TBrk[M] | TBrk[S] | TBrk[O] | TBrk[C] |
| 1 | Christofferson, Pabo | 15992478 | 1008 | 1099 | WAGNER | 7 | NY | W36 | W29 | W34 | W15 | 4.0 | 7.5 | 9.5 | 27 | 10 |
| 2 | Ergashev, Amirshoh | 16129928 | 926 | 1038 | 180K | 7 | NY | W41 | W35 | W27 | W8 | 4.0 | 7.5 | 9.5 | 26.5 | 10 |
| 3 | Yan, Alvin | 15625917 | 841 | 1070 | 180K | 7 | NY | W71 | W24 | W23 | W26 | 4.0 | 7.5 | 8.5 | 23 | 10 |
| 4 | Lin, Raymond | 16079134 | 1021 | 1110 | 180K | 6 | NY | W46 | W39 | W33 | W7 | 4.0 | 7 | 9 | 25 | 10 |
| 5 | Horvath, Marko | 16079422 | 975 | 1095 | 180K | 7 | NY | W70 | W38 | W37 | W6 | 4.0 | 7 | 8.5 | 25 | 10 |
| 6 | Huang, Austin | 16252662 | unr. | 1096 | 185Q | 6 | NY | W59 | W17 | W16 | L5 | 3.0 | 10 | 11.5 | 28.5 | 9 |
| 7 | Nath, Partho | 15524242 | 924 | 967 | 216Q | 7 | NY | W60 | W51 | W10 | L4 | 3.0 | 9 | 10.5 | 27 | 9 |
| 8 | Mendoza, Antonio | 15946807 | 795 | 910 | 126K | 8 | NY | W84 | W42 | W11 | L2 | 3.0 | 9 | 9 | 23 | 9 |
| 9 | Ararba, Solayman | 15791678 | 684 | 865 | SA-HNW | 6 | NY | W12 | L11 | W64 | W40 | 3.0 | 8 | 9 | 24.5 | 7 |
| 10 | Rajabov, Otabek | 16166272 | 817 | 883 | 180K | 7 | NY | W72 | W14 | L7 | W41 | 3.0 | 8 | 9 | 23 | 8 |
| 11 | Parrales, Justin | 15659733 | 917 | 928 | 279X | 7 | NY | W73 | W9 | L8 | W36 | 3.0 | 8 | 9 | 22 | 8 |
| 12 | Modzelewski, Robert | 15927656 | 1026 | 1008 | 126K | 8 | NY | L9 | W77 | W31 | W57 | 3.0 | 7.5 | 8.5 | 19 | 6 |
| 13 | Kogyal, Metok | 16170875 | 558 | 810 | 122Q | 6 | NY | W18 | L33 | W59 | W38 | 3.0 | 7 | 8.5 | 22.5 | 7 |
| 14 | Navarette, Deigo | 15519242 | 986 | 974 | 216Q | 7 | NY | W50 | L10 | W70 | W35 | 3.0 | 7 | 8.5 | 21 | 7 |
| 15 | Wen Weng, Li | 15916950 | 848 | 895 | 160K | 6 | NY | W78 | W65 | W40 | L1 | 3.0 | 7 | 8 | 22 | 9 |
| 16 | Nguyen, Angelina | 15508215 | 900 | 920 | SABX1 | 6 | NY | W82 | W44 | L6 | W43 | 3.0 | 7 | 8 | 21.5 | 8 |
| 17 | Caldwell, Orion | 15464090 | 864 | 889 | SA-HNW | 6 | NY | W74 | L6 | W49 | W47 | 3.0 | 7 | 8 | 20 | 7 |
| 18 | Huang, Zibin | 16211902 | 923 | 911 | 160K | 6 | NY | L13 | W45 | W82 | W44 | 3.0 | 7 | 8 | 17.5 | 6 |
| 19 | Tom Wong, Jacob | 16152340 | 936 | 948 | ESCHS | 7 | NY | D48 | W83 | W63 | D24 | 3.0 | 6 | 6.5 | 16.5 | 7.5 |
| 20 | Canelas, Ramon | 16491738 | 632 | 787 | 279X | 7 | NY | L42 | W84 | W39 | W37 | 3.0 | 6 | 6 | 17 | 6 |
| 21 | Wang, Edison | 16155931 | 625 | 771 | 223K | 6 | NY | L23 | W79 | W76 | W33 | 3.0 | 5.5 | 6 | 16.5 | 6 |
| 22 | Gabel, Emilia | 15941115 | 543 | 713 | 126K | 7 | NY | L25 | W86 | W66 | W34 | 3.0 | 5.5 | 5.5 | 17.5 | 6 |
| 23 | Lu, Matthew | 16081161 | 943 | 944 | 160K | 6 | NY | W21 | W66 | L3 | D28 | 2.5 | 9.5 | 10.5 | 27.5 | 7.5 |
| 24 | Wang, Raymond | 15950130 | 1065 | 1043 | 160K | 6 | NY | W43 | L3 | W46 | D19 | 2.5 | 9 | 11 | 26.5 | 6.5 |
| 25 | Ramirez, Selvin | 16215095 | 921 | 897 | 180K | 6 | NY | W22 | L28 | W50 | D32 | 2.5 | 8 | 10 | 24 | 6.5 |
| 26 | Scorcia, Renee | 14890158 | 1074 | 1040 | BTECH | 9 | NY | D61 | W54 | W28 | L3 | 2.5 | 8 | 9.5 | 25.5 | 7 |
| 27 | Saleh, Adeeb | 15472455 | 760 | 776 | 216Q | 7 | NY | W87 | D30 | L2 | W60 | 2.5 | 8 | 8 | 20.5 | 6.5 |
| 28 | Chen, Randy | 16512282 | 728 | 865 | 131M | 7 | NY | W47 | W25 | L26 | D23 | 2.5 | 7.5 | 9.5 | 26 | 7.5 |
| 29 | Clementson, Tyrone | 16262680 | 813 | 815 | 318K | 6 | NY | W52 | L1 | D60 | W61 | 2.5 | 7.5 | 9 | 21 | 6 |
| 30 | Chen, Xiang | 16079401 | 934 | 896 | 180K | 8 | NY | W49 | D27 | L35 | W55 | 2.5 | 6.5 | 8.5 | 21.5 | 6.5 |
| 31 | Laljit, Christopher | 15236854 | 704 | 766 | SA | 6 | NY | D64 | W48 | L12 | W63 | 2.5 | 6.5 | 7.5 | 18 | 6 |
| 32 | Dong, Ryan | 16488955 | 701 | 708 | HPCMS | 8 | NY | W67 | L34 | W54 | D25 | 2.5 | 6 | 7 | 20 | 6.5 |
| 33 | Bautista, Uladis | 15921608 | 895 | 872 | 279X | 7 | NY | W77 | W13 | L4 | L21 | 2.0 | 6 | 11 | 24 | 7 |
| 34 | Fox, Benjamin | 15886070 | 890 | 859 | SA | 10 | NY | W45 | W32 | L1 | L22 | 2.0 | 5.5 | 11.5 | 25.5 | 7 |
| 35 | Castillo, Leily | 16270680 | 739 | 766 | 126K | 7 | NY | W85 | L2 | W30 | L14 | 2.0 | 5.5 | 9.5 | 23.5 | 6 |
| 36 | Saleh, Nabeeh | 15927374 | 679 | 759 | 214Q | 7 | NY | L1 | W52 | W42 | L11 | 2.0 | 5 | 11 | 26 | 5 |
| 37 | Castelan, Carlos | 16327865 | 866 | 836 | 390X | 7 | NJ | W55 | W62 | L5 | L20 | 2.0 | 5 | 10.5 | 25.5 | 7 |
| 38 | Fox, Ethan | 15956790 | 813 | 793 | SA | 8 | NY | W69 | L5 | W53 | L13 | 2.0 | 5 | 10 | 23 | 6 |
| 39 | Miranda, Noah | 15922513 | 828 | 799 | 318K | 8 | NY | W56 | L4 | L20 | W81 | 2.0 | 5 | 10 | 21.5 | 5 |
| 40 | Mendoza, Christian | 15946813 | 935 | 888 | 126K | 8 | NY | W53 | W68 | L15 | L9 | 2.0 | 5 | 9 | 24 | 7 |
| 41 | Lasalle, Jaidan | 16315360 | 578 | 631 | HPCMS | 7 | NY | L2 | W85 | W51 | L10 | 2.0 | 5 | 9 | 23 | 5 |
| 42 | Yang, Andy | 15849952 | 977 | 918 | 160K | 6 | NY | W20 | L8 | L36 | W74 | 2.0 | 5 | 9 | 22 | 5 |
| 43 | Enferri, Mateo | 16301244 | 695 | 704 | 318K | 7 | NY | L24 | W56 | W65 | L16 | 2.0 | 4.5 | 8.5 | 21.5 | 5 |
| 44 | Perez, Joel | 16362740 | 714 | 703 | 126K | 7 | NY | W86 | L16 | W62 | L18 | 2.0 | 4.5 | 7.5 | 18.5 | 6 |
| 45 | Olivo, Augustus | 16523585 | 499 | 593 | 318K | 7 | NY | L34 | L18 | W58 | W67 | 2.0 | 4 | 8 | 19.5 | 3 |
| 46 | Castillo, Melody | 16278513 | 682 | 691 | 126K | 8 | NY | L4 | W71 | L24 | W69 | 2.0 | 3.5 | 8.5 | 20.5 | 4 |
| 47 | Yau, Jason | 16573662 | unr. | 720 | AAS | 11 |   | L28 | W73 | W68 | L17 | 2.0 | 3.5 | 7.5 | 19.5 | 5 |
| 48 | Congrains, Johan | 16325743 | 600 | 604 | 141Q | 8 | NY | D19 | L31 | D67 | W75 | 2.0 | 3.5 | 7.5 | 18 | 4 |
| 49 | Bugdayci, Alimente | 15777675 | 581 | 600 | 318K | 6 | NY | L30 | W80 | L17 | W65 | 2.0 | 3.5 | 7 | 17.5 | 4 |
| 50 | Firriolo, Devin | 15704966 | 644 | 641 |   | 9 | NY | L14 | W72 | L25 | W79 | 2.0 | 3.5 | 7 | 16.5 | 4 |
| 51 | Lutfiddinov, Shohruh | 16081903 | 792 | 743 | 180K | 7 | NY | W80 | L7 | L41 | W71 | 2.0 | 3 | 6.5 | 16 | 5 |
| 52 | Okai-Koi, Jacob | 15921588 | 391 | 539 | 279X | 7 | NY | L29 | L36 | W73 | W68 | 2.0 | 3 | 6.5 | 16 | 3 |
| 53 | Walsh, Liam | 15988068 | 587 | 599 | 122Q | 6 | NY | L40 | W75 | L38 | W64 | 2.0 | 3 | 6 | 18.5 | 4 |
| 54 | Dong, Andy | 16524567 | 101 | 224 | 318K | 6 | NY | B--- | L26 | L32 | W83 | 2.0 | 3 | 5.5 | 15 | 4 |
| 55 | Kang, Brian | 16493171 | 466 | 563 | WAGNER | 7 | NY | L37 | W76 | W84 | L30 | 2.0 | 3 | 5.5 | 14.5 | 5 |
| 56 | Wang, Jason | 16512297 | 433 | 502 | 131M | 8 | NY | L39 | L43 | W85 | W66 | 2.0 | 3 | 5 | 14 | 3 |
| 57 | Cheung, Ho Yin | 16219757 | 773 | 746 | 223K |   | NY | H--- | D64 | W81 | L12 | 2.0 | 2 | 5 | 12 | 5 |
| 58 | Armas, Xavier | 15839714 | 733 | 663 | 122Q | 6 | NY | L65 | W78 | L45 | W72 | 2.0 | 2 | 5 | 10 | 4 |
| 59 | Kumar, Hetish | 15516016 | 743 | 707 | 216Q | 7 | NY | L6 | W74 | L13 | D62 | 1.5 | 5.5 | 8.5 | 22.5 | 3.5 |
| 60 | Wu, Justin | 16488940 | 569 | 570 | HPCMS | 8 | NY | L7 | W87 | D29 | L27 | 1.5 | 5 | 8 | 21.5 | 4 |
| 61 | Samuel, Roy | 16261582 | 696 | 695 | SABX1 | 6 | NY | D26 | L63 | W83 | L29 | 1.5 | 4.5 | 7 | 19 | 4 |
| 62 | Minhas, Jagmeet | 15976285 | 445 | 536 | SA | 8 | NY | W76 | L37 | L44 | D59 | 1.5 | 4.5 | 6.5 | 17.5 | 4.5 |
| 63 | Cheung, Jacky | 16165441 | 919 | 865 | 30K |   | NY | H--- | W61 | L19 | L31 | 1.5 | 4 | 7 | 17.5 | 4.5 |
| 64 | Whittow, Malek | 16472916 | unr. | 540 | 318K |   |   | D31 | D57 | L9 | L53 | 1.0 | 6.5 | 9.5 | 22 | 3.5 |
| 65 | Braich, Harkamal | 16534983 | unr. | 511 | AAS | 11 | NY | W58 | L15 | L43 | L49 | 1.0 | 6 | 9 | 22 | 4 |
| 66 | Patruno, Dominick | 15481354 | 781 | 684 | RLS | 6 | NY | W79 | L23 | L22 | L56 | 1.0 | 5 | 8 | 17.5 | 4 |
| 67 | Nagel, Gabriel | 16561062 | unr. | 402 | ESCHS | 6 | NY | L32 | D82 | D48 | L45 | 1.0 | 5 | 7.5 | 15 | 2.5 |
| 68 | Chen, Eric | 15725303 | 757 | 669 | 220K | 6 | NY | W75 | L40 | L47 | L52 | 1.0 | 5 | 7 | 17 | 4 |
| 69 | Shen, Keira | 15687228 | 367 | 387 | SOF | 6 | NY | L38 | L70 | W77 | L46 | 1.0 | 4.5 | 6.5 | 14 | 2 |
| 70 | Trache, Stephanie | 16303042 | 631 | 632 | SA | 8 | NY | L5 | W69 | L14 | --- | 1.0 | 4 | 8 | 19 | 3 |
| 71 | Williams, Michael | 16331306 | 458 | 440 | 318K | 7 | NY | L3 | L46 | W87 | L51 | 1.0 | 4 | 8 | 19 | 2 |
| 72 | Galva, Daryll | 16279867 | 426 | 402 | 390X | 7 | NY | L10 | L50 | W86 | L58 | 1.0 | 4 | 7 | 16 | 2 |
| 73 | Cohen, Lucas | 16304223 | 539 | 490 | HPCMS | 7 | NY | L11 | L47 | L52 | W87 | 1.0 | 4 | 7 | 16 | 1 |
| 74 | Emam, Mohamed | 16311722 | 465 | 457 | HPCMS | 7 | NY | L17 | L59 | W80 | L42 | 1.0 | 4 | 7 | 15.5 | 2 |
| 75 | Wang, Thomas | 16591448 | unr. | 371 | 318K |   |   | L68 | L53 | W78 | L48 | 1.0 | 4 | 6 | 13 | 2 |
| 76 | Rodriguez, Elmer | 15833082 | 834 | 712 | 279X | 7 | NY | L62 | L55 | L21 | W84 | 1.0 | 3.5 | 6.5 | 15.5 | 1 |
| 77 | Hernandez, Suilary | 15833777 | 529 | 478 | 335K | 6 | NY | L33 | L12 | L69 | W85 | 1.0 | 3 | 6 | 15 | 1 |
| 78 | Parameswar, Suraj | 16273721 | 462 | 411 | 141Q | 7 | NY | L15 | L58 | L75 | W86 | 1.0 | 3 | 6 | 15 | 1 |
| 79 | Leurenceau, Anthony | 16313514 | 252 | 236 | HPCMS | 7 | NY | L66 | L21 | B--- | L50 | 1.0 | 3 | 6 | 14 | 1 |
| 80 | Davronov, Abdurahmon | 16469040 | 305 | 268 | 223K | 7 | NY | L51 | L49 | L74 | B--- | 1.0 | 3 | 5 | 11 | 0 |
| 81 | Flowers, Isaiah | 15297988 | 414 | 396 | 266Q |   | NY | H--- | H--- | L57 | L39 | 1.0 | 2 | 4 | 10 | 2.5 |
| 82 | Chicaiza, Andy | 16494058 | 533 | 506 | SA-HNW | 7 | NY | L16 | D67 | L18 | --- | 0.5 | 4 | 7 | 16.5 | 1.5 |
| 83 | Gonzalez, Andrew L | 16363633 | 586 | 498 | 126K |   | NY | H--- | L19 | L61 | L54 | 0.5 | 3 | 6 | 15.5 | 1.5 |
| 84 | Been, Max | 16227790 | 337 | 309 | HPCMS | 6 | NY | L8 | L20 | L55 | L76 | 0.0 | 6 | 9 | 21 | 0 |
| 85 | Tong, Yile | 16582163 | unr. | 100 | 318K |   |   | L35 | L41 | L56 | L77 | 0.0 | 5 | 7 | 15 | 0 |
| 86 | Alcantar, Diego | 16604410 | unr. | 100 | 318K |   |   | L44 | L22 | L72 | L78 | 0.0 | 4 | 7 | 15 | 0 |
| 87 | Moreno, Giovanni | 16579992 | unr. | 100 | 126K | 7 |   | L27 | L60 | L71 | L73 | 0.0 | 3.5 | 6 | 13.5 | 0 |
CIS Queens Chess Day at 150Q: JH-HS NRB (6-12 Unrated)
| | | | | | | | | | | | | | | | | |
| --- | --- | --- | --- | --- | --- | --- | --- | --- | --- | --- | --- | --- | --- | --- | --- | --- |
| # | Name | ID | Rtng | Post | Team | Grd | St | Rd 1 | Rd 2 | Rd 3 | Rd 4 | Tot | TBrk[M] | TBrk[S] | TBrk[O] | TBrk[C] |
| 1 | Velasquez, Johnathan |   | unr. | 1150 | AAS | 11 |   | W65 | W8 | W7 | W9 | 4.0 | 9 | 10 | 27 | 10 |
| 2 | Katwal, Kalvin |   | unr. | 1150 | HPCMS | 7 |   | W63 | W11 | W23 | W13 | 4.0 | 8.5 | 9.5 | 25 | 10 |
| 3 | Pedraza, Erwing |   | unr. | 1150 | AFEL | 9 |   | W56 | W46 | W10 | W15 | 4.0 | 7.5 | 8.5 | 23.5 | 10 |
| 4 | Lari, Eros |   | unr. | 1150 | AAS | 11 |   | W76 | W55 | W16 | W12 | 4.0 | 7.5 | 8 | 23 | 10 |
| 5 | Alkjalaidi, Muhahmed |   | unr. | 1150 | 30K |   |   | H--- | W49 | W14 | W22 | 3.5 | 7.5 | 7.5 | 19 | 7.5 |
| 6 | Au, Tony |   | unr. | 1150 | 30K |   |   | H--- | W81 | W44 | W24 | 3.5 | 4.5 | 4.5 | 12 | 7.5 |
| 7 | Huezo, Andrei |   | unr. | 1150 | HPCMS | 6 |   | W48 | W18 | L1 | W43 | 3.0 | 9 | 11 | 26 | 8 |
| 8 | Iida, Mitsuki |   | unr. | 1143 | HPCMS | 7 |   | W64 | L1 | W33 | W27 | 3.0 | 9 | 10 | 24 | 7 |
| 9 | Hernandez, Lesly |   | unr. | 1150 | HPCMS | 6 |   | W50 | W45 | W17 | L1 | 3.0 | 8.5 | 10 | 26 | 9 |
| 10 | Lentini, Nicholas |   | unr. | 1115 | HPCMS | 6 |   | W78 | W26 | L3 | W41 | 3.0 | 8.5 | 9 | 22.5 | 8 |
| 11 | Diallo, Abdul |   | unr. | 1098 | BCCS | 8 |   | W41 | L2 | W39 | W35 | 3.0 | 8 | 10 | 26 | 7 |
| 12 | Canavan, Aidan |   | unr. | 1084 | HPCMS | 7 |   | W47 | W36 | W52 | L4 | 3.0 | 8 | 10 | 25 | 9 |
| 13 | Patankar, Zaid |   | unr. | 1055 | WAGNER | 6 |   | W61 | W39 | W42 | L2 | 3.0 | 8 | 9.5 | 24 | 9 |
| 14 | Cuautle, Kevin |   | unr. | 1150 | HPCMS | 7 |   | W20 | W37 | L5 | W34 | 3.0 | 8 | 9.5 | 23.5 | 8 |
| 15 | Alvarez, Zabdiel |   | unr. | 1037 | HPCMS | 6 |   | W67 | W70 | W40 | L3 | 3.0 | 7.5 | 8.5 | 24 | 9 |
| 16 | Bornstein Brown, Naeem |   | unr. | 1067 | HPCMS | 7 |   | W69 | W34 | L4 | W37 | 3.0 | 7 | 8 | 22 | 8 |
| 17 | Turner, Asher |   | unr. | 1030 | AAS | 9 |   | W79 | W21 | L9 | W40 | 3.0 | 7 | 7.5 | 21.5 | 8 |
| 18 | Hatzigeorgiou, Nickolaos |   | unr. | 952 | 266Q | 7 |   | W72 | L7 | W68 | W31 | 3.0 | 6.5 | 7.5 | 19.5 | 7 |
| 19 | Manor, Daniel |   | unr. | 884 | HPCMS | 8 |   | L25 | W64 | W70 | W38 | 3.0 | 6 | 7 | 17.5 | 6 |
| 20 | Kolodziej, Matthew |   | unr. | 984 | 141Q | 8 |   | L14 | W76 | W46 | W42 | 3.0 | 6 | 6.5 | 19 | 6 |
| 21 | Corda, Anthony |   | unr. | 905 | SA | 7 |   | X85 | L17 | W75 | X52 | 3.0 | 4 | 4 | 11 | 5 |
| 22 | Sanchez, Christian |   | unr. | 1068 | 318K |   |   | W38 | D25 | W29 | L5 | 2.5 | 8.5 | 10.5 | 24.5 | 7.5 |
| 23 | Elsamadicy, Rami |   | unr. | 1008 | BCCS | 8 |   | W60 | W35 | L2 | D26 | 2.5 | 8.5 | 10 | 25 | 7.5 |
| 24 | Guerrero, Matthew |   | unr. | 1007 | HPCMS | 7 |   | D54 | W30 | W28 | L6 | 2.5 | 8.5 | 10 | 20.5 | 7 |
| 25 | Kanina, Amy |   | unr. | 980 | AAS | 9 |   | W19 | D22 | L27 | W57 | 2.5 | 8 | 9.5 | 24.5 | 6.5 |
| 26 | Boateng, Lamech |   | unr. | 920 | 390X | 7 |   | W66 | L10 | W36 | D23 | 2.5 | 7.5 | 8.5 | 23.5 | 6.5 |
| 27 | Zhao, Brian |   | unr. | 1014 | 30K |   |   | H--- | W73 | W25 | L8 | 2.5 | 6.5 | 6.5 | 15.5 | 6.5 |
| 28 | Chi, Weihao |   | unr. | 875 | WAGNER |   |   | H--- | W53 | L24 | W62 | 2.5 | 6 | 6 | 14.5 | 5.5 |
| 29 | Truang, Tien |   | unr. | 924 | 30K |   |   | H--- | W54 | L22 | W55 | 2.5 | 5.5 | 5.5 | 15.5 | 5.5 |
| 30 | Wei, Jun Way |   | unr. | 887 | 30K |   |   | H--- | L24 | W60 | W45 | 2.5 | 5.5 | 5.5 | 14.5 | 4.5 |
| 31 | Rivera, Jayden |   | unr. | 836 | 30K |   |   | H--- | W77 | W57 | L18 | 2.5 | 5 | 5 | 12.5 | 6.5 |
| 32 | Chen, Zicong |   | unr. | 804 | 30K |   |   | H--- | L57 | W54 | W59 | 2.5 | 4.5 | 4.5 | 11.5 | 4.5 |
| 33 | Ali, Hussam |   | unr. | 800 | 30K |   |   | H--- | W80 | L8 | W69 | 2.5 | 4.5 | 4.5 | 9.5 | 5.5 |
| 34 | Gurung, Tseten |   | unr. | 777 | WAGNER | 6 |   | X84 | L16 | W51 | L14 | 2.0 | 5 | 8 | 20 | 5 |
| 35 | Pichardo, Aiden |   | unr. | 808 | HPCMS | 7 |   | W58 | L23 | W47 | L11 | 2.0 | 4.5 | 9 | 21.5 | 6 |
| 36 | Chua, Bryce |   | unr. | 766 | WAGNER | 7 |   | W51 | L12 | L26 | W66 | 2.0 | 4.5 | 8.5 | 22.5 | 5 |
| 37 | Lim, Gina |   | unr. | 811 | WAGNER | 6 |   | X88 | L14 | W56 | L16 | 2.0 | 4.5 | 7.5 | 19.5 | 5 |
| 38 | Singh, Simraj |   | unr. | 740 | 266Q | 6 |   | L22 | W61 | W65 | L19 | 2.0 | 4 | 8 | 18.5 | 5 |
| 39 | Hernandez, Alec |   | unr. | 732 | HPCMS | 6 |   | W82 | L13 | L11 | W64 | 2.0 | 4 | 8 | 18 | 5 |
| 40 | Zamor, Behold |   | unr. | 716 | BCCS | 8 |   | W77 | W75 | L15 | L17 | 2.0 | 4 | 7.5 | 21 | 7 |
| 41 | McIntosh, Gabrielle |   | unr. | 738 | WAGNER | 8 |   | L11 | W78 | W66 | L10 | 2.0 | 4 | 7.5 | 19 | 5 |
| 42 | Yonezawa, Yamato |   | unr. | 704 | HPCMS | 6 |   | W81 | W68 | L13 | L20 | 2.0 | 4 | 7 | 19 | 7 |
| 43 | Delgado, Cassidy |   | unr. | 784 | ESCHS | 6 |   | W59 | L52 | W50 | L7 | 2.0 | 3.5 | 8 | 21 | 6 |
| 44 | Martinez, Giselle |   | unr. | 817 | 126K |   |   | H--- | W62 | L6 | D53 | 2.0 | 3.5 | 7 | 15 | 5 |
| 45 | Win, Eindra |   | unr. | 658 | WAGNER | 6 |   | B--- | L9 | W67 | L30 | 2.0 | 3.5 | 6.5 | 16.5 | 5 |
| 46 | Mattin, Ian |   | unr. | 728 | SA | 6 |   | X83 | L3 | L20 | X75 | 2.0 | 3 | 7 | 16 | 3 |
| 47 | Esquivel, Ronaldo |   | unr. | 679 | 141Q | 6 |   | L12 | W74 | L35 | W68 | 2.0 | 3 | 6.5 | 19 | 4 |
| 48 | Singh, Harman |   | unr. | 641 | 266Q | 6 |   | L7 | L56 | W79 | W71 | 2.0 | 2.5 | 6 | 14 | 3 |
| 49 | Stepney, Marcell |   | unr. | 763 | 126K |   |   | H--- | L5 | D58 | W65 | 2.0 | 2.5 | 6 | 13.5 | 3.5 |
| 50 | Dharia, Shlok |   | unr. | 698 | 266Q | 6 |   | L9 | W79 | L43 | X70 | 2.0 | 2.5 | 5.5 | 15.5 | 3 |
| 51 | Soto, Bryan |   | unr. | 588 | AFEL | 11 |   | L36 | W82 | L34 | W67 | 2.0 | 2.5 | 5.5 | 13 | 4 |
| 52 | Morrison, Naveaha |   | unr. | 768 | SCSNY | 8 |   | X87 | W43 | L12 | F21 | 2.0 | 2 | 5 | 15 | 6 |
| 53 | Elmosalami, Saif |   | unr. | 687 | 30K |   |   | H--- | L28 | W81 | D44 | 2.0 | 2 | 4.5 | 10.5 | 4 |
| 54 | Shady, Anis |   | unr. | 658 | 141Q | 7 |   | D24 | L29 | L32 | W77 | 1.5 | 5.5 | 8 | 18 | 3 |
| 55 | Coello, Mateo |   | unr. | 628 | LTSAS | 6 |   | W71 | L4 | D59 | L29 | 1.5 | 5 | 9 | 21.5 | 5 |
| 56 | Talley, Julissa |   | unr. | 659 | HPCMS | 7 |   | L3 | W48 | L37 | D58 | 1.5 | 5 | 9 | 21 | 3.5 |
| 57 | Juman, Jared |   | unr. | 700 | 266Q |   |   | H--- | W32 | L31 | L25 | 1.5 | 5 | 7.5 | 17.5 | 4.5 |
| 58 | Martinez, Justin |   | unr. | 627 | AAS | 11 |   | L35 | D60 | D49 | D56 | 1.5 | 5 | 7 | 15.5 | 3 |
| 59 | Pineiro, Evelyn |   | unr. | 557 | 122Q | 6 |   | L43 | W72 | D55 | L32 | 1.5 | 4.5 | 7 | 16.5 | 4 |
| 60 | Tang, Melanie |   | unr. | 585 | WAGNER | 6 |   | L23 | D58 | L30 | W76 | 1.5 | 4.5 | 7 | 16 | 2.5 |
| 61 | Ellis, Chevaun |   | unr. | 505 | BCCS | 8 |   | L13 | L38 | D77 | W78 | 1.5 | 3 | 6 | 16 | 2 |
| 62 | Dai, Ryan |   | unr. | 553 | 30K |   |   | H--- | L44 | W73 | L28 | 1.5 | 3 | 5.5 | 12.5 | 3.5 |
| 63 | Soto, Angel |   | unr. | 350 | 390X | 6 |   | L2 | L65 | B--- | D73 | 1.5 | 2 | 6 | 15 | 1.5 |
| 64 | Sukhu, Nicholas |   | unr. | 513 | 266Q | 6 |   | L8 | L19 | W74 | L39 | 1.0 | 5.5 | 8.5 | 18 | 2 |
| 65 | Pimentel Ushiyama, Seiji |   | unr. | 495 | HPCMS | 8 |   | L1 | W63 | L38 | L49 | 1.0 | 5 | 9 | 20 | 3 |
| 66 | Kalsang, Tenzin |   | unr. | 512 | HPCMS | 7 |   | L26 | W69 | L41 | L36 | 1.0 | 5 | 7.5 | 18.5 | 3 |
| 67 | Schumacher, Margaret |   | unr. | 435 | 122Q | 6 |   | L15 | W71 | L45 | L51 | 1.0 | 4.5 | 7.5 | 20 | 3 |
| 68 | Rosa, Jesus |   | unr. | 434 | BCCS | 8 |   | W80 | L42 | L18 | L47 | 1.0 | 4.5 | 7.5 | 18.5 | 4 |
| 69 | Chen, Allen |   | unr. | 420 | 131M | 8 |   | L16 | L66 | W80 | L33 | 1.0 | 4 | 7 | 17 | 2 |
| 70 | Christie, Daniel |   | unr. | 500 | SCSNY | 9 |   | W74 | L15 | L19 | F50 | 1.0 | 3.5 | 6.5 | 15 | 4 |
| 71 | Guzman, Nivia |   | unr. | 351 | AFEL | 9 |   | L55 | L67 | W72 | L48 | 1.0 | 3.5 | 5.5 | 12 | 2 |
| 72 | Hernandez, Brandon |   | unr. | 350 | HPCMS | 6 |   | L18 | L59 | L71 | W81 | 1.0 | 2.5 | 5.5 | 13 | 1 |
| 73 | Betancur, David |   | unr. | 350 | 266Q |   |   | H--- | L27 | L62 | D63 | 1.0 | 2.5 | 5 | 11.5 | 2 |
| 74 | Rodriguez, Oscar |   | unr. | 350 | AFEL | 10 |   | L70 | L47 | L64 | B--- | 1.0 | 2.5 | 4.5 | 10 | 0 |
| 75 | Adlam-Ferguson, Aaron |   | unr. | 475 | SCSNY | 7 |   | X86 | L40 | L21 | F46 | 1.0 | 2 | 4 | 12 | 3 |
| 76 | Martinez, Carlos |   | unr. | 350 | HPCMS | 7 |   | L4 | L20 | D78 | L60 | 0.5 | 5 | 9 | 19.5 | 1 |
| 77 | Paster Zweibach, Nicholas |   | unr. | 380 | 122Q | 6 |   | L40 | L31 | D61 | L54 | 0.5 | 5 | 7.5 | 18.5 | 1 |
| 78 | Velez, Tabatha |   | unr. | 350 | 390X | 7 |   | L10 | L41 | D76 | L61 | 0.5 | 4 | 7 | 16 | 1 |
| 79 | Martinez, Daisy |   | unr. | 350 | HPCMS | 7 |   | L17 | L50 | L48 | D80 | 0.5 | 4 | 7 | 14.5 | 0.5 |
| 80 | D'Angelo, Vincent |   | unr. | 350 | 122Q | 6 |   | L68 | L33 | L69 | D79 | 0.5 | 2.5 | 5 | 12 | 0.5 |
| 81 | Guzman, Nefelix |   | unr. | 350 | AFEL | 9 |   | L42 | L6 | L53 | L72 | 0.0 | 5 | 8.5 | 19.5 | 0 |
| 82 | Flowers, Isaiah | 15297988 | 414 | 384 | 266Q | 6 | NY | L39 | L51 | --- | --- | 0.0 | 2 | 4 | 9 | 0 |
| 83 | Loaisiga, Ernest |   | unr. | 350 | AFEL | 12 |   | F46 | --- | --- | --- | 0.0 | 0 | 0 | 0 | 0 |
| 84 | Uribe, Juan |   | unr. | 350 | AFEL | 12 |   | F34 | --- | --- | --- | 0.0 | 0 | 0 | 0 | 0 |
| 85 | Johnson, Jelaya |   | unr. | 484 | AFEL | 11 |   | F21 | --- | --- | --- | 0.0 | 0 | 0 | 0 | 0 |
| 86 | Quinones, Yaheriss |   | unr. | 350 | AFEL | 9 |   | F75 | --- | --- | --- | 0.0 | 0 | 0 | 0 | 0 |
| 87 | Santana, Eiron |   | unr. | 350 | AFEL | 12 |   | F52 | --- | --- | --- | 0.0 | 0 | 0 | 0 | 0 |
| 88 | Zapata, Iliana |   | unr. | 350 | AFEL | 12 |   | F37 | --- | --- | --- | 0.0 | 0 | 0 | 0 | 0 |
CIS Queens Chess Day at 150Q: EL Novice (K-5 U1000)
| | | | | | | | | | | | | | | | | |
| --- | --- | --- | --- | --- | --- | --- | --- | --- | --- | --- | --- | --- | --- | --- | --- | --- |
| # | Name | ID | Rtng | Post | Team | Grd | St | Rd 1 | Rd 2 | Rd 3 | Rd 4 | Tot | TBrk[M] | TBrk[S] | TBrk[O] | TBrk[C] |
| 1 | Jyanchub, Tenzing | 16165655 | 853 | 1003 | 139K | 5 | NY | W58 | W8 | W24 | W5 | 4.0 | 8 | 8 | 23 | 10 |
| 2 | Bhattarai, Prayash | 16263421 | 909 | 1020 | 139K | 5 | NY | W49 | W17 | W25 | W9 | 4.0 | 7.5 | 8.5 | 24 | 10 |
| 3 | Zou, Zengjin | 15979531 | 819 | 901 | 503K | 5 | NY | D41 | W43 | W19 | W6 | 3.5 | 7 | 8.5 | 22 | 8 |
| 4 | Li, Benjamin | 16149771 | 802 | 877 | 230K | 4 | NY | W46 | D55 | W42 | W18 | 3.5 | 5 | 5.5 | 15.5 | 8.5 |
| 5 | Hernandez, Luis | 15594631 | 833 | 938 | 503K | 5 | NY | W33 | W11 | W7 | L1 | 3.0 | 10 | 12 | 29 | 9 |
| 6 | Wadhia, Neil | 16178254 | 567 | 800 | LSPRINGS | 5 | NY | W20 | W28 | W27 | L3 | 3.0 | 8 | 10 | 26 | 9 |
| 7 | Christy, Jaden | 15707470 | 663 | 846 | 160K | 5 | NY | W10 | W26 | L5 | W32 | 3.0 | 8 | 10 | 26 | 8 |
| 8 | Akashi, Kyle | 16121388 | 711 | 842 | 150Q | 5 | NY | W29 | L1 | W35 | W26 | 3.0 | 8 | 9.5 | 25 | 7 |
| 9 | Huang, Danial | 16174664 | 792 | 865 | 160K | 5 | NY | W56 | W45 | W12 | L2 | 3.0 | 8 | 8 | 22 | 9 |
| 10 | Zareie, Aida | 16327761 | 804 | 842 | 139K | 4 | NY | L7 | W56 | W30 | W24 | 3.0 | 7 | 7 | 20 | 6 |
| 11 | Wadhia, Kyle | 16178260 | 680 | 838 | 59M | 2 | NY | W50 | L5 | W51 | W25 | 3.0 | 6 | 7 | 22 | 7 |
| 12 | Maung, Justin | 15632790 | 745 | 809 | 139Q | 5 | NY | W57 | W44 | L9 | W29 | 3.0 | 6 | 6 | 18 | 8 |
| 13 | Liu, Jethro | 16264638 | 730 | 750 | 160K | 4 | NY | L44 | W57 | W45 | W28 | 3.0 | 4 | 4 | 14 | 6 |
| 14 | Chuchuca, Charly | 16274525 | 786 | 873 | 307Q |   | NY | H--- | H--- | W46 | W16 | 3.0 | 3.5 | 3.5 | 10.5 | 5.5 |
| 15 | Hernandez, Lorena | 16236086 | 724 | 817 | 307Q |   | NY | H--- | H--- | W44 | W27 | 3.0 | 3 | 3 | 11 | 5.5 |
| 16 | Lin, Kyle | 16174658 | 761 | 799 | 160K | 4 | NY | W47 | D19 | W23 | L14 | 2.5 | 8 | 9 | 21 | 7.5 |
| 17 | Peterson, Samuel | 15975736 | 712 | 790 | 226X | 5 | NY | W52 | L2 | D21 | W38 | 2.5 | 8 | 9 | 21 | 6 |
| 18 | Chavez, Joel | 16165462 | 762 | 824 | 503K |   | NY | H--- | W41 | W22 | L4 | 2.5 | 7.5 | 7.5 | 17.5 | 6.5 |
| 19 | Dowshen Flores, Abyl | 16277457 | 540 | 717 | 139K | 3 | NY | W53 | D16 | L3 | W50 | 2.5 | 7 | 8 | 18.5 | 6.5 |
| 20 | Dong, William | 15950124 | 756 | 763 | 160K | 4 | NY | L6 | W34 | D38 | W40 | 2.5 | 6.5 | 8 | 21 | 5 |
| 21 | Lerner Dreamer, Elijah | 16267383 | 519 | 682 | 230K | 4 | NY | L24 | W49 | D17 | W39 | 2.5 | 6 | 7 | 19 | 5 |
| 22 | Lin, Becky | 15950103 | 858 | 840 | 160K | 5 | NY | D39 | W40 | L18 | W42 | 2.5 | 5.5 | 7 | 19 | 6 |
| 23 | Lin, Vincent | 16245047 | 843 | 825 | 503K | 4 | NY | D40 | W39 | L16 | W43 | 2.5 | 5.5 | 7 | 19 | 6 |
| 24 | Lei, Justine | 16460150 | 721 | 726 | 160K | 5 | NY | W21 | W35 | L1 | L10 | 2.0 | 5.5 | 11 | 25 | 7 |
| 25 | Cordero, David | 15893688 | 767 | 772 | 279X | 5 | NY | W48 | W30 | L2 | L11 | 2.0 | 5 | 10 | 24 | 7 |
| 26 | Chu, Runqing | 16440815 | 775 | 769 | SAUS | 2 | NY | W36 | L7 | W31 | L8 | 2.0 | 5 | 10 | 23 | 6 |
| 27 | Qui, Wayne | 16174670 | 790 | 767 | 160K | 5 | NY | W31 | W38 | L6 | L15 | 2.0 | 5 | 9.5 | 23.5 | 7 |
| 28 | Yang, Nicole | 16245053 | 766 | 748 | 503K | 5 | NY | W34 | L6 | W47 | L13 | 2.0 | 5 | 9 | 21 | 6 |
| 29 | Ye, Sophia | 16165456 | 875 | 837 | 503K | 5 | NY | L8 | W58 | W33 | L12 | 2.0 | 5 | 8 | 19 | 5 |
| 30 | Ke, Benjamin | 16124697 | 657 | 692 | 160K | 5 | NY | W37 | L25 | L10 | W47 | 2.0 | 4 | 8 | 19 | 5 |
| 31 | Condon, Bronwyn | 16121373 | 645 | 662 | 150Q | 4 | NY | L27 | W37 | L26 | W44 | 2.0 | 4 | 7 | 20 | 4 |
| 32 | Crawford, Gus | 16232605 | 757 | 736 | A&L | 4 | NY | L38 | W48 | W36 | L7 | 2.0 | 3.5 | 7.5 | 19 | 5 |
| 33 | Flores-Zeledon, Jonas | 16253843 | 678 | 715 | 139K | 3 | NY | L5 | W50 | L29 | W45 | 2.0 | 3 | 7 | 20 | 4 |
| 34 | Mendez, Dago | 15909602 | 637 | 658 | 279X | 5 | NY | L28 | L20 | W53 | W49 | 2.0 | 3 | 6.5 | 14 | 3 |
| 35 | Jones, Dana | 15791155 | 457 | 502 | SABX1 | 5 | NY | B--- | L24 | L8 | W46 | 2.0 | 3 | 6 | 17 | 4 |
| 36 | Reisoglu, Luna | 15791437 | 643 | 676 | SABX1 | 5 | NY | L26 | W54 | L32 | W51 | 2.0 | 3 | 6 | 16 | 4 |
| 37 | Winawer-Stein, Leo | 15935683 | 781 | 737 | 139K | 4 | NY | L30 | L31 | W56 | W48 | 2.0 | 3 | 5 | 11 | 3 |
| 38 | Esquea, Hailey | 15791422 | 578 | 610 | SABX1 | 5 | NY | W32 | L27 | D20 | L17 | 1.5 | 6.5 | 9 | 23 | 5 |
| 39 | Brown, Benjamin | 16257742 | 700 | 686 | 139K | 2 | NY | D22 | L23 | W41 | L21 | 1.5 | 6.5 | 9 | 20 | 4 |
| 40 | Rahman, Shammo | 16499536 | 680 | 673 | 230K | 3 | NY | D23 | L22 | W55 | L20 | 1.5 | 5.5 | 8 | 18.5 | 4 |
| 41 | Brody Gordon, Robert | 15718574 | 668 | 657 | 11M | 4 | NY | D3 | L18 | L39 | W55 | 1.5 | 4.5 | 8 | 20 | 3 |
| 42 | Guevara, Iker | 16233175 | 625 | 654 | 503K |   | NY | H--- | W52 | L4 | L22 | 1.5 | 3.5 | 7 | 15.5 | 4.5 |
| 43 | Xu, Nicole | 16083220 | 582 | 623 | 164K |   | NY | H--- | L3 | W52 | L23 | 1.5 | 3.5 | 7 | 15 | 3.5 |
| 44 | Sargent, Sam | 15933026 | 536 | 542 | 230K | 4 | NY | W13 | L12 | L15 | L31 | 1.0 | 8 | 11 | 23.5 | 4 |
| 45 | Leyman, Valerie | 16207932 | 636 | 612 | 196Q | 3 | NY | W54 | L9 | L13 | L33 | 1.0 | 6 | 9 | 20 | 4 |
| 46 | Hill, Myron | 16470073 | 660 | 621 | 150Q | 5 | NY | L4 | W51 | L14 | L35 | 1.0 | 5.5 | 9 | 22 | 3 |
| 47 | Abernathy, Liam | 16170284 | 630 | 596 | 150Q | 5 | NY | L16 | W53 | L28 | L30 | 1.0 | 5 | 7.5 | 19.5 | 3 |
| 48 | Libert, Sam | 16170881 | 639 | 606 | 150Q | 5 | NY | L25 | L32 | W54 | L37 | 1.0 | 5 | 7 | 16 | 2 |
| 49 | Velampalli, Akhil | 16522403 | 712 | 651 | JCGCS | 1 | NJ | L2 | L21 | W57 | L34 | 1.0 | 4.5 | 8.5 | 18 | 2 |
| 50 | Ramos, Kimberley | 15979525 | 839 | 752 | 503K | 5 | NY | L11 | L33 | W58 | L19 | 1.0 | 4.5 | 7.5 | 17.5 | 2 |
| 51 | Cui, Egan | 15941225 | 813 | 722 | 158M | 3 | NY | W55 | L46 | L11 | L36 | 1.0 | 3.5 | 6.5 | 15.5 | 4 |
| 52 | Pelaez-Ortega, Eleazar | 15508310 | 936 | 814 | SABX1 | 5 | NY | L17 | L42 | L43 | W58 | 1.0 | 3 | 5.5 | 14 | 1 |
| 53 | Hernandez, Jose | 16143634 | 745 | 651 | 335K | 3 | NY | L19 | L47 | L34 | W57 | 1.0 | 3 | 5.5 | 12.5 | 1 |
| 54 | Zurashvili, Tekla | 16065820 | 764 | 665 | 166Q | 4 | NY | L45 | L36 | L48 | W56 | 1.0 | 2 | 4 | 10 | 1 |
| 55 | Xiang Chen, Tian | 16134123 | 664 | 596 | 160K | 5 | NY | L51 | D4 | L40 | L41 | 0.5 | 4 | 7.5 | 19.5 | 1.5 |
| 56 | Law, Gabriel | 16145281 | 649 | 568 | 150Q | 5 | NY | L9 | L10 | L37 | L54 | 0.0 | 6 | 9 | 19 | 0 |
| 57 | Gao, Maggie | 16245068 | 554 | 480 | 503K | 5 | NY | L12 | L13 | L49 | L53 | 0.0 | 5 | 8 | 17 | 0 |
| 58 | Wei Jiang, Ting | 16183887 | 703 | 627 | 160K | 4 | NY | L1 | L29 | L50 | L52 | 0.0 | 4 | 8 | 18 | 0 |
CIS Queens Chess Day at 150Q: EL Rookie (K-5 U600)
| | | | | | | | | | | | | | | | | |
| --- | --- | --- | --- | --- | --- | --- | --- | --- | --- | --- | --- | --- | --- | --- | --- | --- |
| # | Name | ID | Rtng | Post | Team | Grd | St | Rd 1 | Rd 2 | Rd 3 | Rd 4 | Tot | TBrk[M] | TBrk[S] | TBrk[O] | TBrk[C] |
| 1 | Jiang, Tony | 16500493 | 583 | 732 | 160K | 5 | NY | W16 | W20 | W11 | W10 | 4.0 | 9 | 12 | 30 | 10 |
| 2 | Febos, Kaly | 15893694 | 566 | 733 | 279X | 5 | NY | W12 | W14 | W15 | W8 | 4.0 | 9 | 12 | 30 | 10 |
| 3 | Zhu, Stacey | 16477227 | 366 | 614 | 160K | 4 | NY | W78 | W31 | W17 | W13 | 4.0 | 8 | 9 | 24 | 10 |
| 4 | Edwards, Demarco | 16501412 | 491 | 644 | 329Q | 4 | NY | W66 | W46 | W25 | W7 | 4.0 | 7.5 | 8.5 | 24.5 | 10 |
| 5 | Yee, Sean | 16056104 | 578 | 648 | 124M | 2 | NY | W62 | W37 | D6 | W9 | 3.5 | 8.5 | 10 | 26 | 9 |
| 6 | Soto, Angeri | 16286822 | 441 | 577 | 335K | 3 | NY | W71 | W56 | D5 | W30 | 3.5 | 7 | 7.5 | 21.5 | 9 |
| 7 | Mensah, Daniel | 16557127 | 376 | 537 | 226X | 5 | NY | W59 | W18 | W19 | L4 | 3.0 | 10 | 11.5 | 27.5 | 9 |
| 8 | Lam, Chloe | 16268626 | 406 | 526 | 124M | 3 | NY | W73 | W29 | W26 | L2 | 3.0 | 8.5 | 9.5 | 24.5 | 9 |
| 9 | Perez, Christian | 16500184 | 340 | 513 | 329Q | 4 | NY | W74 | W30 | W21 | L5 | 3.0 | 8.5 | 9.5 | 24 | 9 |
| 10 | Lin, Ivan | 16175563 | 416 | 549 | 150Q | 4 | NY | W33 | W38 | W34 | L1 | 3.0 | 8 | 10 | 27 | 9 |
| 11 | Bonilla, Josue | 16171397 | 472 | 509 | 279X | 5 | NY | W57 | W35 | L1 | W36 | 3.0 | 8 | 9.5 | 24.5 | 8 |
| 12 | Tang, Brian | 16559914 | 202 | 409 | 160K | 3 | NY | L2 | W59 | W39 | W32 | 3.0 | 8 | 9.5 | 24.5 | 6 |
| 13 | Hernandez, Kevin | 16529297 | 493 | 524 | 200M | 5 | NY | W68 | W36 | W32 | L3 | 3.0 | 8 | 9 | 26 | 9 |
| 14 | Ortiz, Sebastian | 16382104 | 346 | 472 | 329Q | 3 | NY | W52 | L2 | W63 | W50 | 3.0 | 8 | 9 | 22 | 7 |
| 15 | Chen, Eden | 16489875 | 460 | 486 | 160K | 5 | NY | W40 | W63 | L2 | W54 | 3.0 | 8 | 9 | 21.5 | 8 |
| 16 | Kogyal, Gephel | 16170901 | 202 | 398 | 150Q | 4 | NY | L1 | W69 | W51 | W42 | 3.0 | 8 | 9 | 21 | 6 |
| 17 | Daniel, Ariam | 16168937 | 484 | 503 | 139K | 4 | NY | W61 | W64 | L3 | W47 | 3.0 | 7.5 | 8.5 | 23 | 8 |
| 18 | Lee, Ivan | 16582953 | unr. | 575 | 230K | 4 |   | W45 | L7 | W35 | W37 | 3.0 | 7 | 9 | 23 | 7 |
| 19 | Hernandez, Angel | 15893708 | 502 | 513 | 279X | 3 | NY | W67 | W49 | L7 | W41 | 3.0 | 7 | 8 | 22 | 8 |
| 20 | Coffey, Ronan | 16527971 | 355 | 458 | 130K | 4 | NY | W69 | L1 | W68 | W34 | 3.0 | 7 | 8 | 21 | 7 |
| 21 | Wu, Brian | 16558686 | 478 | 477 | 160K | 5 | NY | W81 | W72 | L9 | W44 | 3.0 | 5.5 | 5.5 | 17 | 8 |
| 22 | Jiang, Benson | 16558671 | 430 | 424 | 160K | 3 | NY | L63 | W40 | W65 | W31 | 3.0 | 5 | 6 | 16 | 6 |
| 23 | Gollapally, Arav | 16522843 | 363 | 412 | JCGCS | 1 | NJ | L29 | W73 | W64 | W33 | 3.0 | 5 | 6 | 16 | 6 |
| 24 | Martinez, Kaylee | 16274504 | 470 | 541 | 307Q |   | NY | H--- | H--- | W48 | W29 | 3.0 | 4 | 4 | 10 | 5.5 |
| 25 | Hamilton, Caspar | 16513861 | 306 | 416 | 230K | 3 | NY | W77 | W42 | L4 | D26 | 2.5 | 8.5 | 9.5 | 25.5 | 7.5 |
| 26 | Liu, Ethan | 16491833 | 504 | 491 | 160K | 5 | NY | W65 | W58 | L8 | D25 | 2.5 | 7 | 8 | 24.5 | 7.5 |
| 27 | He, Benson | 16158135 | 538 | 471 | 160K | 4 | NY | L56 | D57 | W71 | W61 | 2.5 | 4.5 | 5 | 14 | 4.5 |
| 28 | Huang, Jerry | 16511801 | 570 | 547 | 160K | 5 | NY | H--- | W80 | L30 | W58 | 2.5 | 4 | 4 | 12.5 | 5.5 |
| 29 | Guachiac Tambri, Fredy | 16581902 | unr. | 448 | 180K | 3 |   | W23 | L8 | W46 | L24 | 2.0 | 6 | 11 | 25.5 | 6 |
| 30 | Parrales, Brianna | 16368452 | 552 | 526 | 279X | 5 | NY | W43 | L9 | W28 | L6 | 2.0 | 5.5 | 11 | 27.5 | 6 |
| 31 | Toledo, John | 16527772 | unr. | 412 | 226X | 5 | NY | W41 | L3 | W75 | L22 | 2.0 | 5 | 10 | 25 | 6 |
| 32 | Boateng, Samuela | 16272288 | 384 | 371 | 226X | 5 | NY | W53 | W39 | L13 | L12 | 2.0 | 5 | 10 | 23 | 7 |
| 33 | Jiang, Jimmy | 16577775 | unr. | 397 | 160K | 5 |   | L10 | W45 | W49 | L23 | 2.0 | 5 | 10 | 23 | 5 |
| 34 | Rodriguez De, Ashleigh | 15893735 | 531 | 479 | 279X | 3 | NY | W48 | W75 | L10 | L20 | 2.0 | 5 | 9 | 24 | 7 |
| 35 | Cobotic, Nikola | 16266813 | 276 | 294 | 150Q | 4 | NY | W51 | L11 | L18 | W79 | 2.0 | 5 | 9 | 21 | 5 |
| 36 | Vanreusel, Rajeev | 16392906 | 261 | 303 | 122Q | 3 | NY | W83 | L13 | W38 | L11 | 2.0 | 5 | 8 | 22 | 6 |
| 37 | Alonzo, Jose | 16274730 | 361 | 360 | 160K | 4 | NY | W60 | L5 | W66 | L18 | 2.0 | 4.5 | 9 | 21 | 6 |
| 38 | Rodriguez, Michael | 16596686 | unr. | 323 | 279X | 4 |   | W47 | L10 | L36 | W64 | 2.0 | 4 | 8 | 24 | 5 |
| 39 | Repik, Rian | 16578763 | unr. | 304 | 230K | 3 |   | W44 | L32 | L12 | W67 | 2.0 | 4 | 8 | 21 | 5 |
| 40 | Reddish, Cameron | 16560026 | 105 | 197 | 329Q | 4 | NY | L15 | L22 | W74 | W76 | 2.0 | 4 | 8 | 17 | 3 |
| 41 | Li, Aaron | 16511796 | 346 | 329 | 160K | 3 | NY | L31 | W53 | W72 | L19 | 2.0 | 4 | 7.5 | 20 | 5 |
| 42 | Herrera, Juan | 16502840 | 483 | 424 | 329Q | 4 | NY | W82 | L25 | W56 | L16 | 2.0 | 4 | 7 | 18 | 6 |
| 43 | Chavez, Alexander | 16459827 | 202 | 257 | 329Q | 4 | NY | L30 | W52 | L50 | W72 | 2.0 | 4 | 6.5 | 17 | 4 |
| 44 | Crawford, Sabine | 16440910 | 310 | 289 | A&L | 3 | NY | L39 | W60 | W70 | L21 | 2.0 | 3.5 | 7.5 | 18 | 5 |
| 45 | Canning, Mikah | 16170896 | 340 | 324 | 150Q | 5 | NY | L18 | L33 | W69 | W57 | 2.0 | 3.5 | 7.5 | 16.5 | 3 |
| 46 | Chen, Nathan | 16500507 | 325 | 321 | 160K | 3 | NY | W76 | L4 | L29 | W63 | 2.0 | 3 | 8 | 22 | 5 |
| 47 | Slater, Owen | 16497682 | 331 | 304 | 230K | 3 | NY | L38 | W78 | W67 | L17 | 2.0 | 3 | 7 | 17 | 5 |
| 48 | Velampalli, Akshaya | 16542522 | 164 | 227 | JCGCS | 1 | NJ | L34 | W74 | L24 | W70 | 2.0 | 3 | 7 | 16.5 | 4 |
| 49 | Compres, Adrian | 16456441 | 336 | 314 | 329Q | 4 | NY | W79 | L19 | L33 | W71 | 2.0 | 3 | 6.5 | 17 | 5 |
| 50 | Cuevas, Gabriel | 16175610 | 502 | 430 | 226X | 5 | NY | L64 | W81 | W43 | L14 | 2.0 | 3 | 6 | 15 | 5 |
| 51 | Dejesus, Justin | 16573092 | unr. | 221 | 329Q | 4 |   | L35 | W82 | L16 | W66 | 2.0 | 3 | 6 | 14 | 4 |
| 52 | Nieves, Zoey | 16580228 | unr. | 234 | 226X | 2 |   | L14 | L43 | W81 | W65 | 2.0 | 3 | 6 | 14 | 3 |
| 53 | Gazzah, Khairy | 16575187 | unr. | 266 | 150Q | 4 |   | L32 | L41 | W83 | W75 | 2.0 | 3 | 5 | 16 | 3 |
| 54 | Reynoso, Daisy | 16236044 | 240 | 265 | 307Q |   | NY | H--- | H--- | W55 | L15 | 2.0 | 2 | 5 | 11.5 | 4.5 |
| 55 | Ahmed, Afrah | 16560047 | unr. | 177 | 130K |   | NY | H--- | H--- | L54 | W68 | 2.0 | 1 | 3 | 7.5 | 3.5 |
| 56 | Bhattarai, Lata | 16498575 | 177 | 222 | 139K | 4 | NY | W27 | L6 | L42 | D59 | 1.5 | 6 | 9.5 | 22 | 4.5 |
| 57 | Guachiac Tambri, Hany | 16561935 | 105 | 171 | 180K | 3 | NY | L11 | D27 | W80 | L45 | 1.5 | 5 | 8 | 17 | 3.5 |
| 58 | Alvarado, Sean | 16491723 | 355 | 311 | 279X | 5 | NY | W70 | L26 | D61 | L28 | 1.5 | 5 | 7.5 | 20 | 5 |
| 59 | Kim, Braydon | 16587086 | unr. | 219 | 150Q | 4 |   | L7 | L12 | W84 | D56 | 1.5 | 4.5 | 7.5 | 19.5 | 2.5 |
| 60 | Bloom, Caleb | 16576950 | unr. | 142 | 185Q | 3 |   | L37 | L44 | D62 | W77 | 1.5 | 4.5 | 6.5 | 15 | 2 |
| 61 | Mendieta, Luis | 16456435 | 120 | 176 | 329Q | 3 | NY | L17 | W84 | D58 | L27 | 1.5 | 4 | 7 | 17.5 | 4 |
| 62 | Suazo, Jonathan | 16471798 | 227 | 192 | 160K | 4 | NY | L5 | L70 | D60 | W80 | 1.5 | 3 | 6.5 | 15.5 | 2 |
| 63 | Puebla, Jordy | 16578804 | unr. | 215 | 139K | 2 |   | W22 | L15 | L14 | L46 | 1.0 | 8 | 11 | 26 | 4 |
| 64 | Tenezaca, Adrian | 16358372 | 151 | 169 | 150Q | 5 | NY | W50 | L17 | L23 | L38 | 1.0 | 7 | 10 | 24 | 4 |
| 65 | Chacon, Blake | 16502834 | 156 | 133 | 329Q | 4 | NY | L26 | W79 | L22 | L52 | 1.0 | 5.5 | 8.5 | 18.5 | 3 |
| 66 | Brown, Jamir | 16518825 | 136 | 118 | 200M | 5 | NY | L4 | W77 | L37 | L51 | 1.0 | 5 | 9 | 22 | 3 |
| 67 | Zheng, Wiki | 16019773 | 150 | 129 | 160K | 3 | NY | L19 | W76 | L47 | L39 | 1.0 | 5 | 8 | 20 | 3 |
| 68 | Nieves, Anaya | 16383690 | 148 | 129 | 226X | 5 | NY | L13 | W83 | L20 | L55 | 1.0 | 5 | 8 | 19.5 | 3 |
| 69 | Rivera, Jayden | 16588706 | unr. | 108 | 19Q | 4 |   | L20 | L16 | L45 | W82 | 1.0 | 5 | 8 | 16 | 1 |
| 70 | Zhumi, Julio | 16588692 | unr. | 100 | 19Q | 4 |   | L58 | W62 | L44 | L48 | 1.0 | 5 | 7 | 16 | 3 |
| 71 | Armas, Victoria | 16367458 | 102 | 100 | 150Q | 1 | NY | L6 | B--- | L27 | L49 | 1.0 | 4.5 | 8 | 18.5 | 2 |
| 72 | Pinales, Joshua | 16502374 | 101 | 100 | 226X | 5 | NY | B--- | L21 | L41 | L43 | 1.0 | 4 | 7 | 17 | 3 |
| 73 | Dodds, Samantha | 16572234 | unr. | 100 | 150Q | 5 |   | L8 | L23 | L76 | W83 | 1.0 | 4 | 7 | 17 | 1 |
| 74 | Herrera, Kevin | 16582080 | unr. | 100 | 226X | 5 |   | L9 | L48 | L40 | W81 | 1.0 | 4 | 7 | 16 | 1 |
| 75 | Mars, Jeremiah | 16461168 | 301 | 229 | 329Q | 4 | NY | W84 | L34 | L31 | L53 | 1.0 | 4 | 6 | 16 | 4 |
| 76 | Moy, Andrew | 16577650 | unr. | 100 | 230K | 4 |   | L46 | L67 | W73 | L40 | 1.0 | 4 | 6 | 12 | 2 |
| 77 | Chillogalli, Andrea | 16590100 | unr. | 100 | 329Q | 3 |   | L25 | L66 | W78 | L60 | 1.0 | 3.5 | 6 | 13.5 | 2 |
| 78 | Kim, Jana | 16587092 | unr. | 100 | 150Q | 4 |   | L3 | L47 | L77 | W84 | 1.0 | 3 | 7 | 17 | 1 |
| 79 | Nieves, Joel | 1660404 | unr. | 100 | 226X | 2 |   | L49 | L65 | W82 | L35 | 1.0 | 3 | 5 | 13 | 2 |
| 80 | Cordova, Sonny | 16524950 | 122 | 100 | 503K |   | NY | H--- | L28 | L57 | L62 | 0.5 | 3 | 5.5 | 11 | 1.5 |
| 81 | Kendja, Chelsea | 16518790 | 108 | 100 | 200M | 5 | NY | L21 | L50 | L52 | L74 | 0.0 | 5 | 8 | 17 | 0 |
| 82 | Tapia, Adrienne | 16116016 | 114 | 100 | CRS | 3 | NY | L42 | L51 | L79 | L69 | 0.0 | 4 | 6 | 13 | 0 |
| 83 | Perez, Walter | 16589591 | unr. | 100 | 329Q | 2 |   | L36 | L68 | L53 | L73 | 0.0 | 4 | 6 | 13 | 0 |
| 84 | Kunk, Cyra | 16577115 | unr. | 100 | A&L | 3 |   | L75 | L61 | L59 | L78 | 0.0 | 3.5 | 5 | 11.5 | 0 |
CIS Queens Chess Day at 150Q: EL NRB (K-5 Unrated)
| | | | | | | | | | | | | | | | | |
| --- | --- | --- | --- | --- | --- | --- | --- | --- | --- | --- | --- | --- | --- | --- | --- | --- |
| # | Name | ID | Rtng | Post | Team | Grd | St | Rd 1 | Rd 2 | Rd 3 | Rd 4 | Tot | TBrk[M] | TBrk[S] | TBrk[O] | TBrk[C] |
| 1 | Mozul, Lamb |   | unr. | 1150 | 307Q | 4 |   | W73 | W16 | W38 | W11 | 4.0 | 7.5 | 8.5 | 25 | 10 |
| 2 | Tsering, Jigsal |   | unr. | 1150 | 166Q | 4 |   | W28 | X90 | W72 | W14 | 4.0 | 6 | 6 | 16 | 9 |
| 3 | Rajesh Kumar, Sujana |   | unr. | 1150 | 165Q | 2 |   | W78 | W71 | W41 | W33 | 4.0 | 4.5 | 5.5 | 17 | 10 |
| 4 | Dickerson, Andrew |   | unr. | 1186 | 150Q | 5 |   | W74 | X88 | X79 | W10 | 4.0 | 4 | 4 | 11 | 8 |
| 5 | Rivera, Bryan |   | unr. | 1150 | 307Q | 5 |   | W52 | D6 | W43 | W24 | 3.5 | 8 | 9.5 | 25 | 8.5 |
| 6 | Pulgarin, Jayden |   | unr. | 1150 | 19Q | 4 |   | W86 | D5 | W58 | W23 | 3.5 | 7.5 | 7.5 | 20.5 | 8.5 |
| 7 | Bautista, Yoltzi |   | unr. | 1150 | 307Q | 5 |   | W61 | W77 | W25 | D9 | 3.5 | 7 | 8.5 | 23.5 | 9.5 |
| 8 | Orea-Luna, Karen |   | unr. | 1150 | 307Q | 4 |   | D26 | W68 | W31 | W27 | 3.5 | 7 | 8.5 | 20 | 8 |
| 9 | Connoly-Smith, Tallaluh |   | unr. | 1147 | 150Q | 3 |   | W63 | X89 | W40 | D7 | 3.5 | 6.5 | 6.5 | 15.5 | 8.5 |
| 10 | Hatzigeorgiou, Gerasimos |   | unr. | 1150 | 266Q | 4 |   | W87 | W19 | W49 | L4 | 3.0 | 8.5 | 9 | 22 | 9 |
| 11 | Cao, Avril |   | unr. | 1150 | 160K | 3 |   | X91 | W65 | W18 | L1 | 3.0 | 8 | 8 | 20.5 | 8 |
| 12 | Juarez, Beverly |   | unr. | 1105 | 307Q | 3 |   | W29 | D24 | W35 | D30 | 3.0 | 7.5 | 10 | 24.5 | 8 |
| 13 | Barry, Marcus |   | unr. | 1043 | LTSAS | 5 |   | W46 | W20 | L14 | W39 | 3.0 | 7.5 | 9.5 | 25 | 8 |
| 14 | Kenney, Shane |   | unr. | 1150 | 150Q | 4 |   | X89 | W63 | W13 | L2 | 3.0 | 7.5 | 7.5 | 18 | 8 |
| 15 | Arvind, Samyuktha |   | unr. | 1014 | 165Q | 5 |   | D23 | W53 | D30 | W45 | 3.0 | 7 | 8.5 | 21 | 7 |
| 16 | Cajamarca, Jaydee |   | unr. | 1000 | 19Q | 4 |   | W85 | L1 | W60 | W50 | 3.0 | 7 | 7 | 17.5 | 7 |
| 17 | Martinez, Geanna |   | unr. | 918 | 307Q | 5 |   | W56 | L18 | W75 | W44 | 3.0 | 6.5 | 7 | 18 | 7 |
| 18 | Holmes, Sebastien |   | unr. | 1060 | 166Q | 4 |   | W72 | W17 | L11 | X57 | 3.0 | 6.5 | 6.5 | 18 | 7 |
| 19 | Condon, Dylan |   | unr. | 973 | 150Q | 1 |   | W47 | L10 | W71 | W85 | 3.0 | 6 | 6 | 17 | 7 |
| 20 | Zhumi, Alexander |   | unr. | 953 | 19Q | 3 |   | W84 | L13 | W73 | W41 | 3.0 | 5.5 | 6.5 | 18 | 7 |
| 21 | Lojano, Erick |   | unr. | 978 | 307Q |   |   | H--- | W69 | D39 | W52 | 3.0 | 5 | 5 | 12.5 | 6.5 |
| 22 | Collado, Miley |   | unr. | 899 | 329Q | 4 |   | L71 | W78 | X89 | X49 | 3.0 | 2 | 2 | 5 | 4 |
| 23 | Tamay, Priscilla |   | unr. | 939 | 307Q | 3 |   | D15 | W70 | W64 | L6 | 2.5 | 8.5 | 10 | 23.5 | 7 |
| 24 | Huang, Ronnie |   | unr. | 1007 | 160K | 3 |   | W80 | D12 | W37 | L5 | 2.5 | 8.5 | 9 | 23 | 7.5 |
| 25 | Wells, Owen |   | unr. | 947 | 130K | 3 |   | W45 | W48 | L7 | D29 | 2.5 | 8 | 9.5 | 24 | 7.5 |
| 26 | Yarin, Elijah |   | unr. | 992 | 150Q | 3 |   | D8 | D44 | D28 | W58 | 2.5 | 8 | 9.5 | 23 | 5.5 |
| 27 | Sobel, Jackson |   | unr. | 905 | 130K | 3 |   | D37 | W79 | W36 | L8 | 2.5 | 8 | 9.5 | 22 | 7 |
| 28 | Daniel, Azahrie |   | unr. | 946 | 329Q | 4 |   | L2 | W75 | D26 | W65 | 2.5 | 7.5 | 8 | 21 | 5 |
| 29 | Marjchrzak, Jacob |   | unr. | 887 | 150Q | 3 |   | L12 | W80 | W46 | D25 | 2.5 | 7.5 | 8 | 20.5 | 5.5 |
| 30 | Muhammed, Zuri |   | unr. | 1034 | LTSAS |   |   | H--- | W59 | D15 | D12 | 2.5 | 7.5 | 7.5 | 18.5 | 6 |
| 31 | Weeks, Taylor |   | unr. | 862 | 266Q | 3 |   | D62 | W54 | L8 | X70 | 2.5 | 7 | 7 | 14.5 | 5 |
| 32 | Robles, Oliver |   | unr. | 802 | 307Q | 4 |   | X92 | L38 | W48 | D34 | 2.5 | 6.5 | 6.5 | 18 | 5.5 |
| 33 | Tsering, Kunkhen |   | unr. | 753 | 166Q | 2 |   | D42 | X91 | W81 | L3 | 2.5 | 6.5 | 6.5 | 16.5 | 6 |
| 34 | Guallpa, Kevin |   | unr. | 847 | 150Q | 4 |   | D58 | D57 | W47 | D32 | 2.5 | 6 | 7.5 | 18.5 | 6 |
| 35 | Burnett, Cole |   | unr. | 889 | LTSAS |   |   | H--- | W62 | L12 | W64 | 2.5 | 6 | 6 | 15.5 | 5.5 |
| 36 | Marte, Eddy |   | unr. | 861 | 200M |   |   | H--- | W82 | L27 | W38 | 2.5 | 5 | 5 | 15.5 | 5.5 |
| 37 | Kelvin Tineo, Frank |   | unr. | 795 | 226X | 4 |   | D27 | W42 | L24 | D51 | 2.0 | 4.5 | 9 | 23.5 | 5.5 |
| 38 | Rivera, Chloe |   | unr. | 791 | 19Q | 4 |   | W76 | W32 | L1 | L36 | 2.0 | 4.5 | 9 | 22 | 7 |
| 39 | Farciet, Irving |   | unr. | 761 | 150Q | 2 |   | D59 | W83 | D21 | L13 | 2.0 | 4.5 | 8 | 19.5 | 6 |
| 40 | Lopez, James |   | unr. | 784 | 200M | 5 |   | W50 | L49 | L9 | W74 | 2.0 | 4 | 8 | 21.5 | 5 |
| 41 | Elashry, Rayan |   | unr. | 846 | 150Q | 4 |   | X88 | W74 | L3 | L20 | 2.0 | 4 | 8 | 19 | 6 |
| 42 | Llanos, Ahylzah |   | unr. | 679 | 54K | 4 |   | D33 | L37 | W68 | D55 | 2.0 | 4 | 7.5 | 18 | 4.5 |
| 43 | Fyall, Paris |   | unr. | 828 | 54K |   |   | H--- | W51 | L5 | D53 | 2.0 | 4 | 7.5 | 17 | 5 |
| 44 | Lin, Steven |   | unr. | 852 | 139K |   |   | H--- | D26 | W77 | L17 | 2.0 | 4 | 7 | 16.5 | 5 |
| 45 | D'Amato, Riley |   | unr. | 671 | 266Q | 5 |   | L25 | W66 | X91 | L15 | 2.0 | 4 | 7 | 16.5 | 4 |
| 46 | Bloom, Brady |   | unr. | 734 | 185Q | 1 |   | L13 | W76 | L29 | W72 | 2.0 | 3.5 | 7 | 17.5 | 4 |
| 47 | Fulton, Zaniah |   | unr. | 702 | 279X | 4 |   | L19 | W87 | L34 | W71 | 2.0 | 3.5 | 7 | 17 | 4 |
| 48 | McIntosh, Dominique |   | unr. | 693 | 200M | 3 |   | W66 | L25 | L32 | W75 | 2.0 | 3.5 | 6.5 | 18 | 5 |
| 49 | Rice, Tajmeir |   | unr. | 820 | SCSNY | 4 |   | W60 | W40 | L10 | F22 | 2.0 | 3.5 | 6.5 | 17.5 | 7 |
| 50 | Rhymer, Yvanni |   | unr. | 638 | SCSNY | 3 |   | L40 | B--- | W61 | L16 | 2.0 | 3.5 | 6.5 | 15.5 | 4 |
| 51 | Araujo, Ashley |   | unr. | 663 | 279X | 4 |   | D81 | L43 | W62 | D37 | 2.0 | 3.5 | 6 | 15.5 | 4.5 |
| 52 | Chen, Ling |   | unr. | 838 | 160K | 3 |   | L5 | W86 | X88 | L21 | 2.0 | 3 | 6.5 | 15 | 4 |
| 53 | Cheung, Zhuo Ni |   | unr. | 725 | 160K | 3 |   | H--- | L15 | W82 | D43 | 2.0 | 2.5 | 5.5 | 13.5 | 4 |
| 54 | Lopez, Alessa |   | unr. | 692 | 200M |   |   | H--- | L31 | D59 | W73 | 2.0 | 2.5 | 4.5 | 11.5 | 3.5 |
| 55 | Flythe, Earl |   | unr. | 613 | 266Q |   |   | H--- | L58 | W87 | D42 | 2.0 | 2 | 4 | 9.5 | 4 |
| 56 | Nallogongu, Tanvi |   | unr. | 584 | 150Q | 2 |   | L17 | L72 | W86 | W76 | 2.0 | 1.5 | 4.5 | 11 | 3 |
| 57 | Lhaden, Richen |   | unr. | 753 | SCSNY |   |   | H--- | D34 | X90 | F18 | 2.0 | 0 | 2.5 | 6 | 4 |
| 58 | Hernandez, Isael |   | unr. | 772 | 307Q | 3 |   | D34 | W55 | L6 | L26 | 1.5 | 7 | 10.5 | 24 | 5 |
| 59 | Garcia, Michael |   | unr. | 618 | 307Q | 3 |   | D39 | L30 | D54 | D67 | 1.5 | 5.5 | 8 | 18 | 3.5 |
| 60 | Lopez, Ismaella |   | unr. | 587 | 200M | 3 |   | L49 | W84 | L16 | D61 | 1.5 | 5 | 8 | 18.5 | 3.5 |
| 61 | Dodds, Ian |   | unr. | 573 | 150Q | 3 |   | L7 | W67 | L50 | D60 | 1.5 | 4.5 | 8 | 19.5 | 3.5 |
| 62 | Bueno, Julian |   | unr. | 585 | 150Q | 4 |   | D31 | L35 | L51 | W82 | 1.5 | 4.5 | 7 | 16.5 | 3 |
| 63 | Rosario, Joimarie |   | unr. | 635 | 279X | 4 |   | L9 | L14 | D66 | X84 | 1.5 | 4 | 7 | 18.5 | 1 |
| 64 | Lorenzo, Juan |   | unr. | 589 | 200M |   |   | H--- | W81 | L23 | L35 | 1.5 | 3 | 5.5 | 14.5 | 4.5 |
| 65 | Flythe, Bryce |   | unr. | 613 | 266Q |   |   | H--- | L11 | W83 | L28 | 1.5 | 3 | 5.5 | 14.5 | 3.5 |
| 66 | Montagna, Francesca |   | unr. | 513 | 130K | 4 |   | L48 | L45 | D63 | W81 | 1.5 | 3 | 5 | 12 | 2 |
| 67 | Meyer, Eli |   | unr. | 483 | 266Q | 3 |   | L77 | L61 | W85 | D59 | 1.5 | 3 | 4.5 | 11 | 2.5 |
| 68 | Colter, Makayla |   | unr. | 534 | 200M |   |   | H--- | L8 | L42 | W83 | 1.5 | 2.5 | 6 | 14 | 2.5 |
| 69 | Velez, Logan |   | unr. | 495 | 150Q |   |   | H--- | L21 | L70 | W80 | 1.5 | 2.5 | 5.5 | 11 | 2.5 |
| 70 | Ramos, Kal-El |   | unr. | 637 | SCSNY |   |   | H--- | L23 | W69 | F31 | 1.5 | 1.5 | 4 | 9.5 | 3.5 |
| 71 | Pena, Soleil |   | unr. | 667 | 166Q | 4 |   | W22 | L3 | L19 | L47 | 1.0 | 7 | 11 | 25 | 4 |
| 72 | Zuviydov, Danik |   | unr. | 597 | 307Q | 5 |   | L18 | W56 | L2 | L46 | 1.0 | 6.5 | 10 | 23 | 3 |
| 73 | Walsh, Jack |   | unr. | 507 | 150Q | 3 |   | L1 | W85 | L20 | L54 | 1.0 | 5 | 9 | 20.5 | 3 |
| 74 | Salant, Daniel |   | unr. | 550 | 279X | 4 |   | L4 | L41 | W78 | L40 | 1.0 | 4.5 | 7.5 | 20 | 2 |
| 75 | Sallent, Eli |   | unr. | 550 | 150Q | 3 |   | X90 | L28 | L17 | L48 | 1.0 | 4.5 | 7.5 | 17 | 3 |
| 76 | Delgado, Isis |   | unr. | 350 | SABX3 | 1 |   | L38 | L46 | B--- | L56 | 1.0 | 4 | 6 | 14 | 1 |
| 77 | Bermejo, Karla |   | unr. | 637 | 150Q | 4 |   | W67 | L7 | L44 | --- | 1.0 | 3.5 | 7 | 17 | 4 |
| 78 | Odenthal, Vivien |   | unr. | 449 | 150Q | 3 |   | L3 | L22 | L74 | W86 | 1.0 | 3 | 7 | 16 | 1 |
| 79 | Walker, Tiquan |   | unr. | 495 | SCSNY | 5 |   | B--- | L27 | F4 | --- | 1.0 | 0 | 2.5 | 7 | 3 |
| 80 | Robles, Dulce |   | unr. | 350 | 307Q | 4 |   | L24 | L29 | D84 | L69 | 0.5 | 5 | 7.5 | 16.5 | 1 |
| 81 | Carpenter, Touma |   | unr. | 350 | 150Q | 1 |   | D51 | L64 | L33 | L66 | 0.5 | 5 | 7 | 17 | 2 |
| 82 | Vats, Dhamanjay |   | unr. | 350 | 266Q |   |   | H--- | L36 | L53 | L62 | 0.5 | 3.5 | 6 | 12.5 | 1.5 |
| 83 | Ali, Muhammed |   | unr. | 350 | LTSAS |   |   | H--- | L39 | L65 | L68 | 0.5 | 3 | 5 | 12 | 1.5 |
| 84 | Clay, Jada |   | unr. | 350 | SCSNY | 2 |   | L20 | L60 | D80 | F63 | 0.5 | 2 | 5 | 11.5 | 1 |
| 85 | Carson, Jada |   | unr. | 350 | LTSAS | 4 |   | L16 | L73 | L67 | L19 | 0.0 | 5.5 | 8.5 | 19.5 | 0 |
| 86 | Dexter, Arlington |   | unr. | 350 | LTSAS | 1 |   | L6 | L52 | L56 | L78 | 0.0 | 4.5 | 8 | 16.5 | 0 |
| 87 | Aref, Mariam |   | unr. | 350 | 150Q | 4 |   | L10 | L47 | L55 | --- | 0.0 | 4 | 7 | 17 | 0 |
| 88 | Chuchuca, Charly | 16274525 | 786 | 786 | 307Q | 4 | NY | F22 | F4 | F52 | --- | 0.0 | 0 | 0 | 0 | 0 |
| 89 | Hernandez, Lorena | 16236086 | 724 | 724 | 307Q | 5 | NY | F14 | F9 | F22 | --- | 0.0 | 0 | 0 | 0 | 0 |
| 90 | Martinez, Kaylee | 16274504 | 470 | 470 | 307Q | 5 | NY | F75 | F2 | F57 | --- | 0.0 | 0 | 0 | 0 | 0 |
| 91 | Reynoso, Daisy | 16236044 | 240 | 240 | 307Q | 5 | NY | F11 | F33 | F45 | --- | 0.0 | 0 | 0 | 0 | 0 |
| 92 | Wang, William |   | unr. | 384 | 160K | 0 |   | F32 | U--- | U--- | --- | 0.0 | 0 | 0 | 0 | 0 |
Team Roster and Standings. CIS Queens Chess Day at 150Q: Open (K-12 1500+)
| | | | | | | | |
| --- | --- | --- | --- | --- | --- | --- | --- |
|   | Code | Name | Score | TBrk[M] | TBrk[S] | TBrk[O] | TBrk[C] |
| 1 | ESCHS | ESCHS (1476.0) - Cnt: 2 | 3.0 | 5 | 8 | 17 | 2 |
|   |   | Chen, Leo (1471) 2.0 |   |   |   |   |   |
|   |   | Karp, Richard (1481) 1.0 |   |   |   |   |   |
Team Roster and Standings. CIS Queens Chess Day at 150Q: Reserve (K-12 U1500)
| | | | | | | | |
| --- | --- | --- | --- | --- | --- | --- | --- |
|   | Code | Name | Score | TBrk[M] | TBrk[S] | TBrk[O] | TBrk[C] |
| 1 | ESCHS | ESCHS (1383.8) - Cnt: 6 | 12.0 | 27.5 | 32 | 90.5 | 31 |
|   |   | Tom Wong, Lucas (1453) 3.5 |   |   |   |   |   |
|   |   | Ann Perez, Lee (1394) 3.5 |   |   |   |   |   |
|   |   | Rivera, Louis (1256) 2.5 |   |   |   |   |   |
|   |   | Figueroa, James (1179) 2.5 |   |   |   |   |   |
| 2 | BTECH | BTECH (1218.3) - Cnt: 4 | 9.5 | 21 | 30.5 | 80.5 | 22 |
|   |   | Khong, Vernon (1300) 3.0 |   |   |   |   |   |
|   |   | Kue, Matthew (1344) 2.5 |   |   |   |   |   |
|   |   | Rodriguez, Jonathan (1168) 2.0 |   |   |   |   |   |
|   |   | Scorcia, Yvonne (1061) 2.0 |   |   |   |   |   |
| 3 | 180K | 180K (1162.8) - Cnt: 4 | 8.5 | 26 | 38 | 93.5 | 23.5 |
|   |   | Garcia, Elian (1406) 3.5 |   |   |   |   |   |
|   |   | Shi, Raymond (1004) 2.0 |   |   |   |   |   |
|   |   | Ni, Bin (1103) 1.5 |   |   |   |   |   |
|   |   | Chen, Dehao (1138) 1.5 |   |   |   |   |   |
| 4 | 318K | 318k (1106.3) - Cnt: 3 | 7.0 | 20 | 24.5 | 61 | 16 |
|   |   | Zhang, Joey (1035) 3.0 |   |   |   |   |   |
|   |   | Harding-Perkins, Christopher (1114) 2.5 |   |   |   |   |   |
|   |   | Tratenberg, Beckett (1170) 1.5 |   |   |   |   |   |
| 5 | 503K | 503K (1098.3) - Cnt: 4 | 6.0 | 18.5 | 33.5 | 79 | 15 |
|   |   | Zhang, Eric (1138) 2.0 |   |   |   |   |   |
|   |   | Ye, Leo (1087) 2.0 |   |   |   |   |   |
|   |   | Cheung, Michael (1013) 1.5 |   |   |   |   |   |
|   |   | Li, Nelson (1155) 0.5 |   |   |   |   |   |
| 6 | STUY | STUY (1091.0) - Cnt: 2 | 4.0 | 12 | 15 | 34.5 | 11 |
|   |   | Idris, Anand (1000) 3.0 |   |   |   |   |   |
|   |   | Wang, Michael (1182) 1.0 |   |   |   |   |   |
| 7 | SA-HNW | SA-HNW (1197.3) - Cnt: 3 | 3.5 | 14 | 23 | 55.5 | 8.5 |
|   |   | Iinuma, Kazumasa (1318) 1.5 |   |   |   |   |   |
|   |   | Cespedes, Patrick (1127) 1.0 |   |   |   |   |   |
|   |   | Chicaiza, Justin (1147) 1.0 |   |   |   |   |   |
| 8 | 139K | 139K (1142.0) - Cnt: 2 | 3.5 | 6 | 11.5 | 29.5 | 5.5 |
|   |   | Flores-Zeledon, Dana (1351) 2.0 |   |   |   |   |   |
|   |   | Pearce, Ruby (933) 1.5 |   |   |   |   |   |
| 9 | BSI | BSI (974.5) - Cnt: 2 | 3.0 | 7 | 14 | 33 | 6 |
|   |   | Polonsky, Brandon (1002) 2.0 |   |   |   |   |   |
|   |   | Krol, David (947) 1.0 |   |   |   |   |   |
| 10 | WAGNER | WAGNER (1262.5) - Cnt: 2 | 0.5 | 9.5 | 14 | 31 | 1.5 |
|   |   | Loja, Jonathan (1217) 0.5 |   |   |   |   |   |
|   |   | Eduardo, Ramirez (1308) 0.0 |   |   |   |   |   |
Team Roster and Standings. CIS Queens Chess Day at 150Q: JH-HS Novice (K-12 U1100)
| | | | | | | | |
| --- | --- | --- | --- | --- | --- | --- | --- |
|   | Code | Name | Score | TBrk[M] | TBrk[S] | TBrk[O] | TBrk[C] |
| 1 | 180K | 180K (964.0) - Cnt: 8 | 16.0 | 29 | 35.5 | 99.5 | 40 |
|   |   | Ergashev, Amirshoh (926) 4.0 |   |   |   |   |   |
|   |   | Yan, Alvin (841) 4.0 |   |   |   |   |   |
|   |   | Lin, Raymond (1021) 4.0 |   |   |   |   |   |
|   |   | Horvath, Marko (975) 4.0 |   |   |   |   |   |
| 2 | 160K | 160k (977.0) - Cnt: 5 | 11.0 | 32.5 | 37.5 | 93.5 | 29 |
|   |   | Wen Weng, Li (848) 3.0 |   |   |   |   |   |
|   |   | Huang, Zibin (923) 3.0 |   |   |   |   |   |
|   |   | Lu, Matthew (943) 2.5 |   |   |   |   |   |
|   |   | Wang, Raymond (1065) 2.5 |   |   |   |   |   |
| 3 | 126K | 126K (873.8) - Cnt: 9 | 11.0 | 27.5 | 32.5 | 83 | 27 |
|   |   | Mendoza, Antonio (795) 3.0 |   |   |   |   |   |
|   |   | Modzelewski, Robert (1026) 3.0 |   |   |   |   |   |
|   |   | Gabel, Emilia (543) 3.0 |   |   |   |   |   |
|   |   | Castillo, Leily (739) 2.0 |   |   |   |   |   |
| 4 | 216Q | 216Q (853.3) - Cnt: 4 | 10.0 | 29.5 | 35.5 | 91 | 26 |
|   |   | Nath, Partho (924) 3.0 |   |   |   |   |   |
|   |   | Navarette, Deigo (986) 3.0 |   |   |   |   |   |
|   |   | Saleh, Adeeb (760) 2.5 |   |   |   |   |   |
|   |   | Kumar, Hetish (743) 1.5 |   |   |   |   |   |
| 5 | 279X | 279X (819.5) - Cnt: 5 | 10.0 | 23 | 32.5 | 79 | 24 |
|   |   | Parrales, Justin (917) 3.0 |   |   |   |   |   |
|   |   | Canelas, Ramon (632) 3.0 |   |   |   |   |   |
|   |   | Bautista, Uladis (895) 2.0 |   |   |   |   |   |
|   |   | Okai-Koi, Jacob (391) 2.0 |   |   |   |   |   |
| 6 | 318K | 318k (729.3) - Cnt: 11 | 8.5 | 21 | 35.5 | 83.5 | 19 |
|   |   | Clementson, Tyrone (813) 2.5 |   |   |   |   |   |
|   |   | Miranda, Noah (828) 2.0 |   |   |   |   |   |
|   |   | Enferri, Mateo (695) 2.0 |   |   |   |   |   |
|   |   | Olivo, Augustus (499) 2.0 |   |   |   |   |   |
| 7 | SA | SA (759.5) - Cnt: 5 | 8.0 | 21.5 | 35.5 | 84 | 23.5 |
|   |   | Laljit, Christopher (704) 2.5 |   |   |   |   |   |
|   |   | Fox, Benjamin (890) 2.0 |   |   |   |   |   |
|   |   | Fox, Ethan (813) 2.0 |   |   |   |   |   |
|   |   | Minhas, Jagmeet (445) 1.5 |   |   |   |   |   |
| 8 | HPCMS | HPCMS (596.8) - Cnt: 7 | 7.0 | 20 | 31 | 80.5 | 16.5 |
|   |   | Dong, Ryan (701) 2.5 |   |   |   |   |   |
|   |   | Lasalle, Jaidan (578) 2.0 |   |   |   |   |   |
|   |   | Wu, Justin (569) 1.5 |   |   |   |   |   |
|   |   | Cohen, Lucas (539) 1.0 |   |   |   |   |   |
| 9 | 122Q | 122Q (626.0) - Cnt: 3 | 7.0 | 12 | 19.5 | 51 | 15 |
|   |   | Kogyal, Metok (558) 3.0 |   |   |   |   |   |
|   |   | Walsh, Liam (587) 2.0 |   |   |   |   |   |
|   |   | Armas, Xavier (733) 2.0 |   |   |   |   |   |
| 10 | SA-HNW | SA-HNW (693.7) - Cnt: 3 | 6.5 | 19 | 24 | 61 | 15.5 |
|   |   | Ararba, Solayman (684) 3.0 |   |   |   |   |   |
|   |   | Caldwell, Orion (864) 3.0 |   |   |   |   |   |
|   |   | Chicaiza, Andy (533) 0.5 |   |   |   |   |   |
| 11 | 223K | 223K (567.7) - Cnt: 3 | 6.0 | 10.5 | 16 | 39.5 | 11 |
|   |   | Wang, Edison (625) 3.0 |   |   |   |   |   |
|   |   | Cheung, Ho Yin (773) 2.0 |   |   |   |   |   |
|   |   | Davronov, Abdurahmon (305) 1.0 |   |   |   |   |   |
| 12 | WAGNER | WAGNER (737.0) - Cnt: 2 | 6.0 | 10.5 | 15 | 41.5 | 15 |
|   |   | Christofferson, Pabo (1008) 4.0 |   |   |   |   |   |
|   |   | Kang, Brian (466) 2.0 |   |   |   |   |   |
| 13 | SABX1 | SABX1 (798.0) - Cnt: 2 | 4.5 | 11.5 | 15 | 40.5 | 12 |
|   |   | Nguyen, Angelina (900) 3.0 |   |   |   |   |   |
|   |   | Samuel, Roy (696) 1.5 |   |   |   |   |   |
| 14 | 131M | 131M (580.5) - Cnt: 2 | 4.5 | 10.5 | 14.5 | 40 | 10.5 |
|   |   | Chen, Randy (728) 2.5 |   |   |   |   |   |
|   |   | Wang, Jason (433) 2.0 |   |   |   |   |   |
| 15 | ESCHS | ESCHS (936.0) - Cnt: 2 | 4.0 | 11 | 14 | 31.5 | 10 |
|   |   | Tom Wong, Jacob (936) 3.0 |   |   |   |   |   |
|   |   | Nagel, Gabriel (unr.) 1.0 |   |   |   |   |   |
| 16 | AAS | AAS (0.0) - Cnt: 2 | 3.0 | 9.5 | 16.5 | 41.5 | 9 |
|   |   | Yau, Jason (unr.) 2.0 |   |   |   |   |   |
|   |   | Braich, Harkamal (unr.) 1.0 |   |   |   |   |   |
| 17 | 390X | 390x (646.0) - Cnt: 2 | 3.0 | 9 | 17.5 | 41.5 | 9 |
|   |   | Castelan, Carlos (866) 2.0 |   |   |   |   |   |
|   |   | Galva, Daryll (426) 1.0 |   |   |   |   |   |
| 18 | 141Q | 141Q (531.0) - Cnt: 2 | 3.0 | 6.5 | 13.5 | 33 | 5 |
|   |   | Congrains, Johan (600) 2.0 |   |   |   |   |   |
|   |   | Parameswar, Suraj (462) 1.0 |   |   |   |   |   |
Team Roster and Standings. CIS Queens Chess Day at 150Q: JH-HS NRB (6-12 Unrated)
| | | | | | | | |
| --- | --- | --- | --- | --- | --- | --- | --- |
|   | Code | Name | Score | TBrk[M] | TBrk[S] | TBrk[O] | TBrk[C] |
| 1 | AAS | AAS (0.0) - Cnt: 5 | 13.5 | 31.5 | 35 | 96 | 34.5 |
|   |   | Velasquez, Johnathan (unr.) 4.0 |   |   |   |   |   |
|   |   | Lari, Eros (unr.) 4.0 |   |   |   |   |   |
|   |   | Turner, Asher (unr.) 3.0 |   |   |   |   |   |
|   |   | Kanina, Amy (unr.) 2.5 |   |   |   |   |   |
| 2 | HPCMS | HPCMS (0.0) - Cnt: 20 | 13.0 | 35 | 40.5 | 101 | 34 |
|   |   | Katwal, Kalvin (unr.) 4.0 |   |   |   |   |   |
|   |   | Huezo, Andrei (unr.) 3.0 |   |   |   |   |   |
|   |   | Iida, Mitsuki (unr.) 3.0 |   |   |   |   |   |
|   |   | Hernandez, Lesly (unr.) 3.0 |   |   |   |   |   |
| 3 | 30K | 30K (0.0) - Cnt: 10 | 12.0 | 24 | 24 | 62 | 27 |
|   |   | Alkjalaidi, Muhahmed (unr.) 3.5 |   |   |   |   |   |
|   |   | Au, Tony (unr.) 3.5 |   |   |   |   |   |
|   |   | Zhao, Brian (unr.) 2.5 |   |   |   |   |   |
|   |   | Truang, Tien (unr.) 2.5 |   |   |   |   |   |
| 4 | WAGNER | WAGNER (0.0) - Cnt: 8 | 9.5 | 23.5 | 32 | 81 | 24.5 |
|   |   | Patankar, Zaid (unr.) 3.0 |   |   |   |   |   |
|   |   | Chi, Weihao (unr.) 2.5 |   |   |   |   |   |
|   |   | Gurung, Tseten (unr.) 2.0 |   |   |   |   |   |
|   |   | Chua, Bryce (unr.) 2.0 |   |   |   |   |   |
| 5 | BCCS | BCCS (0.0) - Cnt: 5 | 9.0 | 23.5 | 33.5 | 88 | 23.5 |
|   |   | Diallo, Abdul (unr.) 3.0 |   |   |   |   |   |
|   |   | Elsamadicy, Rami (unr.) 2.5 |   |   |   |   |   |
|   |   | Zamor, Behold (unr.) 2.0 |   |   |   |   |   |
|   |   | Ellis, Chevaun (unr.) 1.5 |   |   |   |   |   |
| 6 | 266Q | 266Q (414.0) - Cnt: 8 | 9.0 | 15.5 | 27 | 67.5 | 18 |
|   |   | Hatzigeorgiou, Nickolaos (unr.) 3.0 |   |   |   |   |   |
|   |   | Singh, Simraj (unr.) 2.0 |   |   |   |   |   |
|   |   | Singh, Harman (unr.) 2.0 |   |   |   |   |   |
|   |   | Dharia, Shlok (unr.) 2.0 |   |   |   |   |   |
| 7 | AFEL | AFEL (0.0) - Cnt: 11 | 8.0 | 16 | 24 | 58.5 | 16 |
|   |   | Pedraza, Erwing (unr.) 4.0 |   |   |   |   |   |
|   |   | Soto, Bryan (unr.) 2.0 |   |   |   |   |   |
|   |   | Guzman, Nivia (unr.) 1.0 |   |   |   |   |   |
|   |   | Rodriguez, Oscar (unr.) 1.0 |   |   |   |   |   |
| 8 | 141Q | 141Q (0.0) - Cnt: 3 | 6.5 | 14.5 | 21 | 56 | 13 |
|   |   | Kolodziej, Matthew (unr.) 3.0 |   |   |   |   |   |
|   |   | Esquivel, Ronaldo (unr.) 2.0 |   |   |   |   |   |
|   |   | Shady, Anis (unr.) 1.5 |   |   |   |   |   |
| 9 | SA | SA (0.0) - Cnt: 2 | 5.0 | 7 | 11 | 27 | 8 |
|   |   | Corda, Anthony (unr.) 3.0 |   |   |   |   |   |
|   |   | Mattin, Ian (unr.) 2.0 |   |   |   |   |   |
| 10 | 390X | 390x (0.0) - Cnt: 3 | 4.5 | 13.5 | 21.5 | 54.5 | 9 |
|   |   | Boateng, Lamech (unr.) 2.5 |   |   |   |   |   |
|   |   | Soto, Angel (unr.) 1.5 |   |   |   |   |   |
|   |   | Velez, Tabatha (unr.) 0.5 |   |   |   |   |   |
| 11 | SCSNY | SCSNY (0.0) - Cnt: 3 | 4.0 | 7.5 | 15.5 | 42 | 13 |
|   |   | Morrison, Naveaha (unr.) 2.0 |   |   |   |   |   |
|   |   | Christie, Daniel (unr.) 1.0 |   |   |   |   |   |
|   |   | Adlam-Ferguson, Aaron (unr.) 1.0 |   |   |   |   |   |
| 12 | 126K | 126K (0.0) - Cnt: 2 | 4.0 | 6 | 13 | 28.5 | 8.5 |
|   |   | Martinez, Giselle (unr.) 2.0 |   |   |   |   |   |
|   |   | Stepney, Marcell (unr.) 2.0 |   |   |   |   |   |
| 13 | 122Q | 122Q (0.0) - Cnt: 4 | 3.5 | 16.5 | 27 | 67 | 8.5 |
|   |   | Pineiro, Evelyn (unr.) 1.5 |   |   |   |   |   |
|   |   | Schumacher, Margaret (unr.) 1.0 |   |   |   |   |   |
|   |   | Paster Zweibach, Nicholas (unr.) 0.5 |   |   |   |   |   |
|   |   | D'Angelo, Vincent (unr.) 0.5 |   |   |   |   |   |
Team Roster and Standings. CIS Queens Chess Day at 150Q: EL Novice (K-5 U1000)
| | | | | | | | |
| --- | --- | --- | --- | --- | --- | --- | --- |
|   | Code | Name | Score | TBrk[M] | TBrk[S] | TBrk[O] | TBrk[C] |
| 1 | 139K | 139K (836.8) - Cnt: 7 | 13.5 | 29.5 | 31.5 | 85.5 | 32.5 |
|   |   | Jyanchub, Tenzing (853) 4.0 |   |   |   |   |   |
|   |   | Bhattarai, Prayash (909) 4.0 |   |   |   |   |   |
|   |   | Zareie, Aida (804) 3.0 |   |   |   |   |   |
|   |   | Dowshen Flores, Abyl (540) 2.5 |   |   |   |   |   |
| 2 | 503K | 503K (847.5) - Cnt: 9 | 11.5 | 30 | 35 | 87.5 | 29.5 |
|   |   | Zou, Zengjin (819) 3.5 |   |   |   |   |   |
|   |   | Hernandez, Luis (833) 3.0 |   |   |   |   |   |
|   |   | Chavez, Joel (762) 2.5 |   |   |   |   |   |
|   |   | Lin, Vincent (843) 2.5 |   |   |   |   |   |
| 3 | 160K | 160k (800.3) - Cnt: 11 | 11.5 | 28 | 31 | 83 | 30.5 |
|   |   | Christy, Jaden (663) 3.0 |   |   |   |   |   |
|   |   | Huang, Danial (792) 3.0 |   |   |   |   |   |
|   |   | Liu, Jethro (730) 3.0 |   |   |   |   |   |
|   |   | Lin, Kyle (761) 2.5 |   |   |   |   |   |
| 4 | 230K | 230K (634.3) - Cnt: 4 | 8.5 | 24.5 | 31.5 | 76.5 | 21.5 |
|   |   | Li, Benjamin (802) 3.5 |   |   |   |   |   |
|   |   | Lerner Dreamer, Elijah (519) 2.5 |   |   |   |   |   |
|   |   | Rahman, Shammo (680) 1.5 |   |   |   |   |   |
|   |   | Sargent, Sam (536) 1.0 |   |   |   |   |   |
| 5 | 150Q | 150Q (666.3) - Cnt: 6 | 7.0 | 22.5 | 33 | 86.5 | 17 |
|   |   | Akashi, Kyle (711) 3.0 |   |   |   |   |   |
|   |   | Condon, Bronwyn (645) 2.0 |   |   |   |   |   |
|   |   | Hill, Myron (660) 1.0 |   |   |   |   |   |
|   |   | Abernathy, Liam (630) 1.0 |   |   |   |   |   |
| 6 | SABX1 | SABX1 (653.5) - Cnt: 4 | 6.5 | 15.5 | 26.5 | 70 | 14 |
|   |   | Jones, Dana (457) 2.0 |   |   |   |   |   |
|   |   | Reisoglu, Luna (643) 2.0 |   |   |   |   |   |
|   |   | Esquea, Hailey (578) 1.5 |   |   |   |   |   |
|   |   | Pelaez-Ortega, Eleazar (936) 1.0 |   |   |   |   |   |
| 7 | 307Q | 307Q (755.0) - Cnt: 2 | 6.0 | 6.5 | 6.5 | 21.5 | 11 |
|   |   | Chuchuca, Charly (786) 3.0 |   |   |   |   |   |
|   |   | Hernandez, Lorena (724) 3.0 |   |   |   |   |   |
| 8 | 279X | 279X (702.0) - Cnt: 2 | 4.0 | 8 | 16.5 | 38 | 10 |
|   |   | Cordero, David (767) 2.0 |   |   |   |   |   |
|   |   | Mendez, Dago (637) 2.0 |   |   |   |   |   |
Team Roster and Standings. CIS Queens Chess Day at 150Q: EL Rookie (K-5 U600)
| | | | | | | | |
| --- | --- | --- | --- | --- | --- | --- | --- |
|   | Code | Name | Score | TBrk[M] | TBrk[S] | TBrk[O] | TBrk[C] |
| 1 | 160K | 160k (548.8) - Cnt: 15 | 14.0 | 33 | 39.5 | 100 | 34 |
|   |   | Jiang, Tony (583) 4.0 |   |   |   |   |   |
|   |   | Zhu, Stacey (366) 4.0 |   |   |   |   |   |
|   |   | Tang, Brian (202) 3.0 |   |   |   |   |   |
|   |   | Chen, Eden (460) 3.0 |   |   |   |   |   |
| 2 | 279X | 279X (537.8) - Cnt: 7 | 12.0 | 29.5 | 40.5 | 104 | 32 |
|   |   | Febos, Kaly (566) 4.0 |   |   |   |   |   |
|   |   | Bonilla, Josue (472) 3.0 |   |   |   |   |   |
|   |   | Hernandez, Angel (502) 3.0 |   |   |   |   |   |
|   |   | Parrales, Brianna (552) 2.0 |   |   |   |   |   |
| 3 | 329Q | 329Q (415.0) - Cnt: 13 | 12.0 | 28 | 35 | 87.5 | 29 |
|   |   | Edwards, Demarco (491) 4.0 |   |   |   |   |   |
|   |   | Perez, Christian (340) 3.0 |   |   |   |   |   |
|   |   | Ortiz, Sebastian (346) 3.0 |   |   |   |   |   |
|   |   | Reddish, Cameron (105) 2.0 |   |   |   |   |   |
| 4 | 150Q | 150Q (308.5) - Cnt: 10 | 10.0 | 24.5 | 35.5 | 85.5 | 23 |
|   |   | Lin, Ivan (416) 3.0 |   |   |   |   |   |
|   |   | Kogyal, Gephel (202) 3.0 |   |   |   |   |   |
|   |   | Cobotic, Nikola (276) 2.0 |   |   |   |   |   |
|   |   | Canning, Mikah (340) 2.0 |   |   |   |   |   |
| 5 | 230K | 230K (318.5) - Cnt: 5 | 9.5 | 22.5 | 33.5 | 86.5 | 24.5 |
|   |   | Lee, Ivan (unr.) 3.0 |   |   |   |   |   |
|   |   | Hamilton, Caspar (306) 2.5 |   |   |   |   |   |
|   |   | Repik, Rian (unr.) 2.0 |   |   |   |   |   |
|   |   | Slater, Owen (331) 2.0 |   |   |   |   |   |
| 6 | 226X | 226X (352.5) - Cnt: 9 | 9.0 | 23 | 37.5 | 90.5 | 27 |
|   |   | Mensah, Daniel (376) 3.0 |   |   |   |   |   |
|   |   | Toledo, John (unr.) 2.0 |   |   |   |   |   |
|   |   | Boateng, Samuela (384) 2.0 |   |   |   |   |   |
|   |   | Cuevas, Gabriel (502) 2.0 |   |   |   |   |   |
| 7 | 124M | 124m (492.0) - Cnt: 2 | 6.5 | 17 | 19.5 | 50.5 | 18 |
|   |   | Yee, Sean (578) 3.5 |   |   |   |   |   |
|   |   | Lam, Chloe (406) 3.0 |   |   |   |   |   |
| 8 | 139K | 139K (330.5) - Cnt: 3 | 5.5 | 21.5 | 29 | 71 | 16.5 |
|   |   | Daniel, Ariam (484) 3.0 |   |   |   |   |   |
|   |   | Bhattarai, Lata (177) 1.5 |   |   |   |   |   |
|   |   | Puebla, Jordy (unr.) 1.0 |   |   |   |   |   |
| 9 | JCGCS | JCGCS (263.5) - Cnt: 2 | 5.0 | 8 | 13 | 32.5 | 10 |
|   |   | Gollapally, Arav (363) 3.0 |   |   |   |   |   |
|   |   | Velampalli, Akshaya (164) 2.0 |   |   |   |   |   |
| 10 | 130K | 130k (355.0) - Cnt: 2 | 5.0 | 8 | 11 | 28.5 | 10.5 |
|   |   | Coffey, Ronan (355) 3.0 |   |   |   |   |   |
|   |   | Ahmed, Afrah (unr.) 2.0 |   |   |   |   |   |
| 11 | 307Q | 307Q (355.0) - Cnt: 2 | 5.0 | 6 | 9 | 21.5 | 10 |
|   |   | Martinez, Kaylee (470) 3.0 |   |   |   |   |   |
|   |   | Reynoso, Daisy (240) 2.0 |   |   |   |   |   |
| 12 | 200M | 200M (245.7) - Cnt: 3 | 4.0 | 18 | 26 | 65 | 12 |
|   |   | Hernandez, Kevin (493) 3.0 |   |   |   |   |   |
|   |   | Brown, Jamir (136) 1.0 |   |   |   |   |   |
|   |   | Kendja, Chelsea (108) 0.0 |   |   |   |   |   |
| 13 | 180K | 180K (105.0) - Cnt: 2 | 3.5 | 11 | 19 | 42.5 | 9.5 |
|   |   | Guachiac Tambri, Fredy (unr.) 2.0 |   |   |   |   |   |
|   |   | Guachiac Tambri, Hany (105) 1.5 |   |   |   |   |   |
| 14 | 19Q | 19Q (0.0) - Cnt: 2 | 2.0 | 10 | 15 | 32 | 4 |
|   |   | Rivera, Jayden (unr.) 1.0 |   |   |   |   |   |
|   |   | Zhumi, Julio (unr.) 1.0 |   |   |   |   |   |
| 15 | A&L | A&L (310.0) - Cnt: 2 | 2.0 | 7 | 12.5 | 29.5 | 5 |
|   |   | Crawford, Sabine (310) 2.0 |   |   |   |   |   |
|   |   | Kunk, Cyra (unr.) 0.0 |   |   |   |   |   |
Team Roster and Standings. CIS Queens Chess Day at 150Q: EL NRB (K-5 Unrated)
| | | | | | | | |
| --- | --- | --- | --- | --- | --- | --- | --- |
|   | Code | Name | Score | TBrk[M] | TBrk[S] | TBrk[O] | TBrk[C] |
| 1 | 307Q | 307Q (555.0) - Cnt: 17 | 14.5 | 29.5 | 35 | 93.5 | 36 |
|   |   | Mozul, Lamb (unr.) 4.0 |   |   |   |   |   |
|   |   | Rivera, Bryan (unr.) 3.5 |   |   |   |   |   |
|   |   | Bautista, Yoltzi (unr.) 3.5 |   |   |   |   |   |
|   |   | Orea-Luna, Karen (unr.) 3.5 |   |   |   |   |   |
| 2 | 150Q | 150Q (0.0) - Cnt: 19 | 13.5 | 24 | 24 | 61.5 | 31.5 |
|   |   | Dickerson, Andrew (unr.) 4.0 |   |   |   |   |   |
|   |   | Connoly-Smith, Tallaluh (unr.) 3.5 |   |   |   |   |   |
|   |   | Kenney, Shane (unr.) 3.0 |   |   |   |   |   |
|   |   | Condon, Dylan (unr.) 3.0 |   |   |   |   |   |
| 3 | 19Q | 19Q (0.0) - Cnt: 4 | 11.5 | 24.5 | 30 | 78 | 29.5 |
|   |   | Pulgarin, Jayden (unr.) 3.5 |   |   |   |   |   |
|   |   | Cajamarca, Jaydee (unr.) 3.0 |   |   |   |   |   |
|   |   | Zhumi, Alexander (unr.) 3.0 |   |   |   |   |   |
|   |   | Rivera, Chloe (unr.) 2.0 |   |   |   |   |   |
| 4 | 166Q | 166Q (0.0) - Cnt: 4 | 10.5 | 26 | 30 | 75.5 | 26 |
|   |   | Tsering, Jigsal (unr.) 4.0 |   |   |   |   |   |
|   |   | Holmes, Sebastien (unr.) 3.0 |   |   |   |   |   |
|   |   | Tsering, Kunkhen (unr.) 2.5 |   |   |   |   |   |
|   |   | Pena, Soleil (unr.) 1.0 |   |   |   |   |   |
| 5 | 160K | 160k (0.0) - Cnt: 5 | 9.5 | 22 | 29 | 72 | 23.5 |
|   |   | Cao, Avril (unr.) 3.0 |   |   |   |   |   |
|   |   | Huang, Ronnie (unr.) 2.5 |   |   |   |   |   |
|   |   | Chen, Ling (unr.) 2.0 |   |   |   |   |   |
|   |   | Cheung, Zhuo Ni (unr.) 2.0 |   |   |   |   |   |
| 6 | 266Q | 266Q (0.0) - Cnt: 7 | 9.5 | 21.5 | 27 | 62.5 | 22 |
|   |   | Hatzigeorgiou, Gerasimos (unr.) 3.0 |   |   |   |   |   |
|   |   | Weeks, Taylor (unr.) 2.5 |   |   |   |   |   |
|   |   | D'Amato, Riley (unr.) 2.0 |   |   |   |   |   |
|   |   | Flythe, Earl (unr.) 2.0 |   |   |   |   |   |
| 7 | LTSAS | LTSAS (0.0) - Cnt: 6 | 8.5 | 24 | 28 | 71 | 21 |
|   |   | Barry, Marcus (unr.) 3.0 |   |   |   |   |   |
|   |   | Muhammed, Zuri (unr.) 2.5 |   |   |   |   |   |
|   |   | Burnett, Cole (unr.) 2.5 |   |   |   |   |   |
|   |   | Ali, Muhammed (unr.) 0.5 |   |   |   |   |   |
| 8 | 200M | 200M (0.0) - Cnt: 7 | 8.5 | 15 | 24 | 66.5 | 19 |
|   |   | Marte, Eddy (unr.) 2.5 |   |   |   |   |   |
|   |   | Lopez, James (unr.) 2.0 |   |   |   |   |   |
|   |   | McIntosh, Dominique (unr.) 2.0 |   |   |   |   |   |
|   |   | Lopez, Alessa (unr.) 2.0 |   |   |   |   |   |
| 9 | SCSNY | SCSNY (0.0) - Cnt: 6 | 7.5 | 8.5 | 19.5 | 48.5 | 18.5 |
|   |   | Rice, Tajmeir (unr.) 2.0 |   |   |   |   |   |
|   |   | Rhymer, Yvanni (unr.) 2.0 |   |   |   |   |   |
|   |   | Lhaden, Richen (unr.) 2.0 |   |   |   |   |   |
|   |   | Ramos, Kal-El (unr.) 1.5 |   |   |   |   |   |
| 10 | 165Q | 165Q (0.0) - Cnt: 2 | 7.0 | 11.5 | 14 | 38 | 17 |
|   |   | Rajesh Kumar, Sujana (unr.) 4.0 |   |   |   |   |   |
|   |   | Arvind, Samyuktha (unr.) 3.0 |   |   |   |   |   |
| 11 | 130K | 130k (0.0) - Cnt: 3 | 6.5 | 19 | 24 | 58 | 16.5 |
|   |   | Wells, Owen (unr.) 2.5 |   |   |   |   |   |
|   |   | Sobel, Jackson (unr.) 2.5 |   |   |   |   |   |
|   |   | Montagna, Francesca (unr.) 1.5 |   |   |   |   |   |
| 12 | 279X | 279X (0.0) - Cnt: 4 | 6.5 | 15.5 | 27.5 | 71 | 11.5 |
|   |   | Fulton, Zaniah (unr.) 2.0 |   |   |   |   |   |
|   |   | Araujo, Ashley (unr.) 2.0 |   |   |   |   |   |
|   |   | Rosario, Joimarie (unr.) 1.5 |   |   |   |   |   |
|   |   | Salant, Daniel (unr.) 1.0 |   |   |   |   |   |
| 13 | 329Q | 329Q (0.0) - Cnt: 2 | 5.5 | 9.5 | 10 | 26 | 9 |
|   |   | Collado, Miley (unr.) 3.0 |   |   |   |   |   |
|   |   | Daniel, Azahrie (unr.) 2.5 |   |   |   |   |   |
| 14 | 54K | 54K (0.0) - Cnt: 2 | 4.0 | 8 | 15 | 35 | 9.5 |
|   |   | Llanos, Ahylzah (unr.) 2.0 |   |   |   |   |   |
|   |   | Fyall, Paris (unr.) 2.0 |   |   |   |   |   |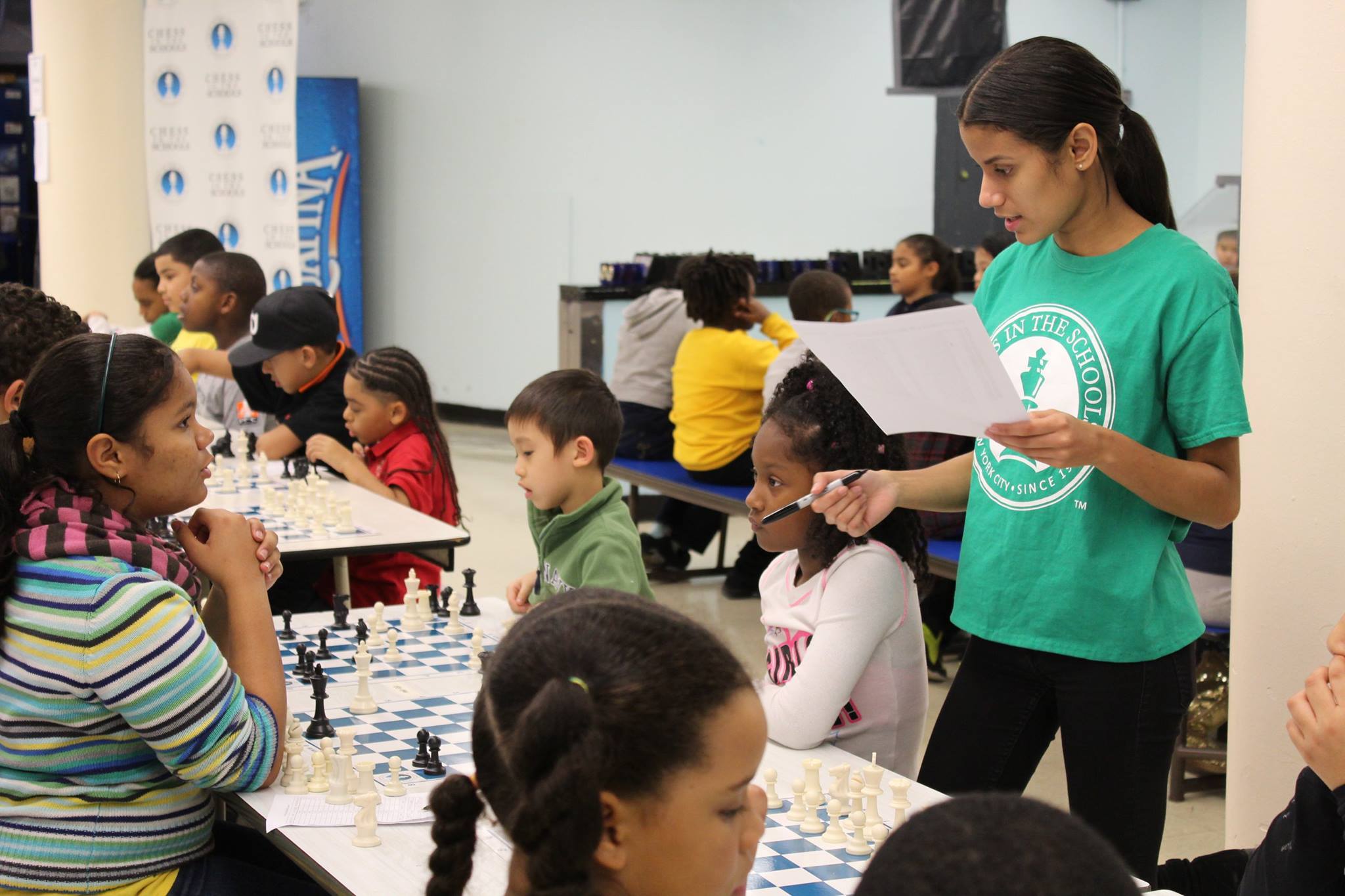 Schedule:
Check-in: 8:15 AM to 9:30 AM, Players arriving after 9:30 AM may not be able to play in the event.
NO on-site registration.  If space is available after round 1 starts we will add players.
Overflow tournament rooms will be on the 4th floor.
Team Rooms: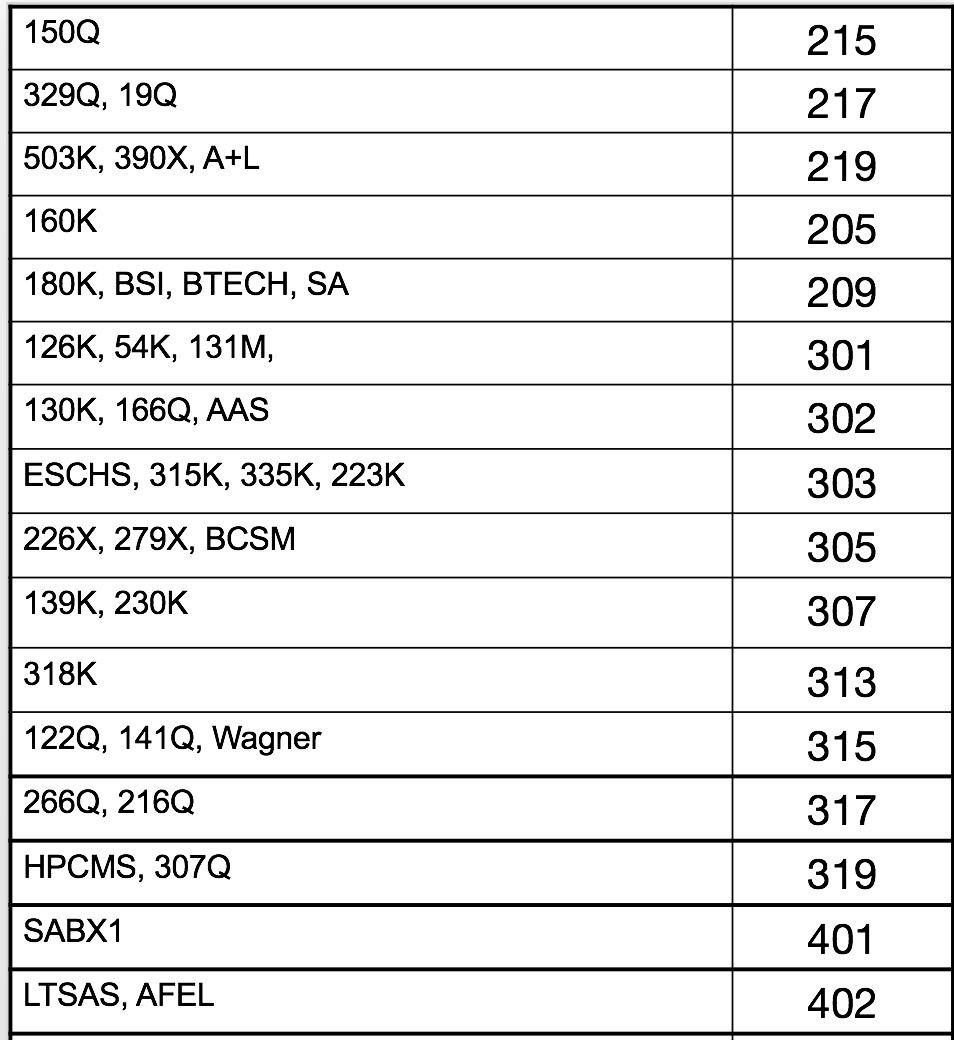 For all sections except "K-12 Open"
Round 1: 10:00 AM
Round 2: 11:15 AM
Round 3: 1:00 PM
Round 4: 2:15 PM
Awards: 3:30 PM
"K-12 Open"
Round 1: 10:00 AM
Round 2: 11:45 AM
Round 3: 1:45 AM
Awards, 3:30 PM
Sections:
K-12 Open (1500 & up)
K-12 Reserve (1000-1499)
JH-HS Novice (K-12 Under 1100)
JH-HS NRB (6-12 unrated)
EL Novice (K-5 Under 1000)
EL Rookie (K-5 Under 600)
EL NRB (K-5 unrated)
Time Control:
All sections except K-12 Open will be G/30 or G/25;d5
K-12 Open will be G/45 or G/40;d5
*If a player plans to leave the event early, the player, their coach, or parent should alert the computer TD and withdraw the student from the event.  All withdraw requests should be made as soon as possible, as pairings are made
Notes:
Sets, boards, and scoresheets provided. Bring a clock if you have one, and a pen or pencil for notation. CIS will allow for players to use chessclock apps on their smart phones as long as the phone is in airplane mode. Please note that pictures will be taken during the event.
CIS Queens Chess Day at 150Q: Open (K-12 1500+)
| | | | | | | | | | | | | | | | |
| --- | --- | --- | --- | --- | --- | --- | --- | --- | --- | --- | --- | --- | --- | --- | --- |
| # | Name | ID | Rtng | Post | Team | Grd | St | Rd 1 | Rd 2 | Rd 3 | Tot | TBrk[M] | TBrk[S] | TBrk[O] | TBrk[C] |
| 1 | Chen, Ryan | 15266991 | 1584 | 1671 | 539M | 8 | NY | W10 | W3 | W4 | 3.0 | 4 | 4.5 | 9 | 6 |
| 2 | Castillo, Devin | 14133938 | 1532 | 1653 |   | 12 | NY | W5 | W6 | W7 | 3.0 | 2.5 | 3.5 | 7 | 6 |
| 3 | Alperovich, Max | 15158312 | 1469 | 1523 | 239K | 6 | NY | W7 | L1 | W8 | 2.0 | 4 | 5 | 10 | 4 |
| 4 | Bejasa, Christopher | 14650203 | 1666 | 1657 | LAB-HS | 9 | NY | W9 | W11 | L1 | 2.0 | 4 | 4.5 | 9 | 5 |
| 5 | Chen, Leo | 15856304 | 1471 | 1505 | ESCHS | 8 | NY | L2 | B--- | W6 | 2.0 | 4 | 4 | 9 | 2 |
| 6 | Duong, Kevin | 15813287 | 1813 | 1766 | NASSAKEA | 3 | NY | W8 | L2 | L5 | 1.0 | 2.5 | 5.5 | 10 | 3 |
| 7 | Moran, Brendan | 15101226 | 1511 | 1492 | BALLETEC | 4 | NY | L3 | W10 | L2 | 1.0 | 2.5 | 5.5 | 10 | 2 |
| 8 | Zhang, Ben | 15238631 | 1507 | 1497 | 180K | 7 | NY | L6 | W9 | L3 | 1.0 | 2 | 4 | 8 | 2 |
| 9 | Fisher, Zane | 15674897 | 1489 | 1464 | A&L | 5 | NY | L4 | L8 | W11 | 1.0 | 1.5 | 3.5 | 9 | 1 |
| 10 | Karp, Richard | 15130704 | 1481 | 1447 | ESCHS | 8 | NY | L1 | L7 | B--- | 1.0 | 1 | 4 | 8 | 0 |
| 11 | Boyd, Bryce | 14342896 | 1207 | 1194 | MURROW | 12 | NY | B--- | L4 | L9 | 1.0 | 1 | 3 | 6 | 2 |
CIS Queens Chess Day at 150Q: Reserve (K-12 U1500)
| | | | | | | | | | | | | | | | | |
| --- | --- | --- | --- | --- | --- | --- | --- | --- | --- | --- | --- | --- | --- | --- | --- | --- |
| # | Name | ID | Rtng | Post | Team | Grd | St | Rd 1 | Rd 2 | Rd 3 | Rd 4 | Tot | TBrk[M] | TBrk[S] | TBrk[O] | TBrk[C] |
| 1 | Lian, Jonathan | 15811625 | 1173 | 1335 | 259K | 6 | NY | W41 | W7 | D2 | W27 | 3.5 | 8.5 | 9.5 | 22 | 9 |
| 2 | Garcia, Elian | 16083832 | 1406 | 1430 | 180K | 8 | NY | W19 | W42 | D1 | W8 | 3.5 | 8 | 9.5 | 26 | 9 |
| 3 | Tom Wong, Lucas | 15856483 | 1453 | 1474 | ESCHS | 8 | NY | W22 | W39 | W20 | D5 | 3.5 | 7.5 | 8.5 | 25.5 | 9.5 |
| 4 | Efthimiou, Peter | 15565236 | 1219 | 1303 | 122Q | 6 | NY | D24 | W32 | W23 | W15 | 3.5 | 6.5 | 8 | 22.5 | 8 |
| 5 | Jiang, Ivan | 15836578 | 1374 | 1426 | 160K | 5 | NY | W40 | W38 | W18 | D3 | 3.5 | 6.5 | 7.5 | 21.5 | 9.5 |
| 6 | Ann Perez, Lee | 15688938 | 1394 | 1411 | ESCHS | 9 | NY | D32 | W46 | W14 | W13 | 3.5 | 6.5 | 7 | 19 | 8 |
| 7 | Zhang, Joey | 15293503 | 1035 | 1215 | 318K | 7 | NY | W9 | L1 | W43 | W20 | 3.0 | 8.5 | 9.5 | 25 | 7 |
| 8 | Idris, Anand | 14171641 | 1000 | 1151 | STUY | 11 | NY | W44 | B--- | W10 | L2 | 3.0 | 8 | 8 | 19 | 8 |
| 9 | Wang, Richard | 15654804 | 1292 | 1293 | 201K | 6 | NY | L7 | W41 | W25 | W24 | 3.0 | 7 | 8 | 17.5 | 6 |
| 10 | Khong, Vernon | 15095092 | 1300 | 1306 | BTECH |   | NY | W25 | W21 | L8 | W18 | 3.0 | 6.5 | 8.5 | 24 | 8 |
| 11 | Sharifov, Azizjon | 15654846 | 1343 | 1347 | 223K | 9 | NY | W30 | L18 | W39 | W22 | 3.0 | 6 | 7 | 19 | 7 |
| 12 | Huang, Ryan | 15756505 | 1309 | 1313 | 150Q | 5 | NY | L21 | W40 | W28 | W19 | 3.0 | 6 | 7 | 16 | 6 |
| 13 | Alexander, Ethan | 15515275 | 1071 | 1195 | SABX1 | 6 | NY | W47 | D15 | W16 | L6 | 2.5 | 8.5 | 8.5 | 21.5 | 7.5 |
| 14 | Harding-Perkins, Christopher | 15927861 | 1114 | 1234 | 318K | 6 | NY | D17 | W26 | L6 | W32 | 2.5 | 8 | 9.5 | 21.5 | 6 |
| 15 | Rivera, Louis | 15675801 | 1256 | 1255 | ESCHS | 9 | NY | W34 | D13 | W31 | L4 | 2.5 | 7.5 | 9 | 24 | 7.5 |
| 16 | Figueroa, James | 15688965 | 1179 | 1178 | ESCHS | 9 | NY | D23 | W36 | L13 | W31 | 2.5 | 6 | 7.5 | 22 | 6 |
| 17 | Kue, Matthew | 14357705 | 1344 | 1314 | BTECH | 9 | NY | D14 | L31 | W35 | W34 | 2.5 | 5.5 | 6.5 | 17 | 5 |
| 18 | Garcia, Kristian | 15790696 | 1088 | 1189 | SAMW | 6 | NY | W33 | W11 | L5 | L10 | 2.0 | 6 | 11 | 28 | 7 |
| 19 | Zhang, Eric | 15834242 | 1138 | 1214 | 503K | 5 | NY | L2 | W29 | W33 | L12 | 2.0 | 5 | 10 | 21.5 | 5 |
| 20 | Mak, Alvin | 15829242 | 1173 | 1171 |   | 7 | NJ | W35 | W28 | L3 | L7 | 2.0 | 5 | 9.5 | 24 | 7 |
| 21 | Ye, Leo | 15612294 | 1087 | 1152 | 503K | 5 | NY | W12 | L10 | L22 | W39 | 2.0 | 5 | 9 | 23 | 5 |
| 22 | Rodriguez, Jonathan | 15690683 | 1168 | 1219 | BTECH | 9 | NY | L3 | W48 | W21 | L11 | 2.0 | 5 | 8.5 | 21.5 | 5 |
| 23 | Alperovich, Benjamin | 15812566 | 994 | 1091 | 49Q | 3 | NY | D16 | W37 | L4 | D26 | 2.0 | 4.5 | 9.5 | 21.5 | 5.5 |
| 24 | Shi, Raymond | 16138640 | 1004 | 1094 | 180K | 6 | NY | D4 | D43 | W42 | L9 | 2.0 | 4.5 | 9 | 21 | 5.5 |
| 25 | Scorcia, Yvonne | 14898636 | 1061 | 1129 | BTECH | 12 | NY | L10 | W47 | L9 | W38 | 2.0 | 4 | 7 | 18 | 4 |
| 26 | Steinhauer, Jake | 15192936 | 1336 | 1291 | 104M | 7 | NY | D31 | L14 | W46 | D23 | 2.0 | 3.5 | 6.5 | 18 | 4.5 |
| 27 | Aubry, Jonathan | 15624977 | 1432 | 1383 | ESCHS | 9 | NY | L42 | W44 | W38 | L1 | 2.0 | 3 | 7.5 | 19 | 5 |
| 28 | Polonsky, Brandon | 16331678 | 1002 | 1078 | BSI | 3 | NY | W45 | L20 | L12 | W46 | 2.0 | 2.5 | 6 | 16 | 5 |
| 29 | Flores-Zeledon, Dana | 15846836 | 1351 | 1300 | 139K | 5 | NY | L38 | L19 | W40 | W36 | 2.0 | 2.5 | 5.5 | 14 | 3 |
| 30 | Jacobs, Mila | 15926338 | 1113 | 1154 | ESCHS | 8 | NY | L11 | L33 | W47 | W43 | 2.0 | 2.5 | 5.5 | 13.5 | 3 |
| 31 | Ni, Bin | 15836542 | 1103 | 1118 | 180K | 7 | NY | D26 | W17 | L15 | L16 | 1.5 | 7 | 9.5 | 23 | 5 |
| 32 | Chen, Dehao | 15654790 | 1138 | 1142 | 180K | 6 | NY | D6 | L4 | W45 | L14 | 1.5 | 6.5 | 10 | 23.5 | 4 |
| 33 | Iinuma, Kazumasa | 15503726 | 1318 | 1255 | SA-HNW | 7 | NY | L18 | W30 | L19 | D35 | 1.5 | 5 | 7 | 17.5 | 3.5 |
| 34 | Cheung, Michael | 16153824 | 1013 | 1043 | 503K | 5 | NY | L15 | D45 | W37 | L17 | 1.5 | 4.5 | 7 | 17 | 3.5 |
| 35 | Pearce, Ruby | 16016600 | 933 | 935 | 139K | 4 | NY | L20 | B--- | L17 | D33 | 1.5 | 3.5 | 6 | 15.5 | 2.5 |
| 36 | Dong, Jason | 15811741 | 793 | 909 | ACLA | 12 | NY | D37 | L16 | W48 | L29 | 1.5 | 3.5 | 6 | 12 | 4 |
| 37 | Tratenberg, Beckett | 16169114 | 1170 | 1113 | 318K | 6 | NY | D36 | L23 | L34 | W45 | 1.5 | 3.5 | 5.5 | 14.5 | 3 |
| 38 | Chirilov, James | 16480806 | 1124 | 1118 |   | 4 | NY | W29 | L5 | L27 | L25 | 1.0 | 6 | 9.5 | 21.5 | 4 |
| 39 | Franco, Alfred | 16150385 | 1146 | 1134 |   |   | NY | W48 | L3 | L11 | L21 | 1.0 | 5 | 8.5 | 21.5 | 4 |
| 40 | Cespedes, Patrick | 15564233 | 1127 | 1120 | SA-HNW | 7 | NY | L5 | L12 | L29 | W47 | 1.0 | 5 | 8.5 | 18.5 | 1 |
| 41 | Krol, David | 16489937 | 947 | 977 | BSI | 5 | NY | L1 | L9 | L44 | W48 | 1.0 | 4.5 | 8 | 17 | 1 |
| 42 | Chicaiza, Justin | 15515578 | 1147 | 1148 | SA-HNW | 8 | NY | W27 | L2 | L24 | --- | 1.0 | 4 | 7.5 | 19.5 | 4 |
| 43 | Wang, Michael | 14697988 | 1182 | 1125 | STUY |   | NY | H--- | D24 | L7 | L30 | 1.0 | 4 | 7 | 15.5 | 3 |
| 44 | Bellamy, Sakura | 16138352 | 1205 | 1171 | MURROW | 11 | NY | L8 | L27 | W41 | --- | 1.0 | 3 | 5.5 | 14 | 2 |
| 45 | Loja, Jonathan | 15927326 | 1217 | 1116 | WAGNER | 10 | NY | L28 | D34 | L32 | L37 | 0.5 | 4.5 | 6.5 | 15.5 | 1.5 |
| 46 | Li, Nelson | 15927285 | 1155 | 1098 | 503K |   | NY | H--- | L6 | L26 | L28 | 0.5 | 4 | 7.5 | 17.5 | 1.5 |
| 47 | Eduardo, Ramirez | 15858040 | 1308 | 1184 | WAGNER | 10 | NY | L13 | L25 | L30 | L40 | 0.0 | 5 | 7.5 | 15.5 | 0 |
| 48 | Norbu, Chime | 15848290 | 1412 | 1269 | HPCMS | 7 | NY | L39 | L22 | L36 | L41 | 0.0 | 3.5 | 5.5 | 14 | 0 |
CIS Queens Chess Day at 150Q: JH-HS Novice (K-12 U1100)
| | | | | | | | | | | | | | | | | |
| --- | --- | --- | --- | --- | --- | --- | --- | --- | --- | --- | --- | --- | --- | --- | --- | --- |
| # | Name | ID | Rtng | Post | Team | Grd | St | Rd 1 | Rd 2 | Rd 3 | Rd 4 | Tot | TBrk[M] | TBrk[S] | TBrk[O] | TBrk[C] |
| 1 | Christofferson, Pabo | 15992478 | 1008 | 1099 | WAGNER | 7 | NY | W36 | W29 | W34 | W15 | 4.0 | 7.5 | 9.5 | 27 | 10 |
| 2 | Ergashev, Amirshoh | 16129928 | 926 | 1038 | 180K | 7 | NY | W41 | W35 | W27 | W8 | 4.0 | 7.5 | 9.5 | 26.5 | 10 |
| 3 | Yan, Alvin | 15625917 | 841 | 1070 | 180K | 7 | NY | W71 | W24 | W23 | W26 | 4.0 | 7.5 | 8.5 | 23 | 10 |
| 4 | Lin, Raymond | 16079134 | 1021 | 1110 | 180K | 6 | NY | W46 | W39 | W33 | W7 | 4.0 | 7 | 9 | 25 | 10 |
| 5 | Horvath, Marko | 16079422 | 975 | 1095 | 180K | 7 | NY | W70 | W38 | W37 | W6 | 4.0 | 7 | 8.5 | 25 | 10 |
| 6 | Huang, Austin | 16252662 | unr. | 1096 | 185Q | 6 | NY | W59 | W17 | W16 | L5 | 3.0 | 10 | 11.5 | 28.5 | 9 |
| 7 | Nath, Partho | 15524242 | 924 | 967 | 216Q | 7 | NY | W60 | W51 | W10 | L4 | 3.0 | 9 | 10.5 | 27 | 9 |
| 8 | Mendoza, Antonio | 15946807 | 795 | 910 | 126K | 8 | NY | W84 | W42 | W11 | L2 | 3.0 | 9 | 9 | 23 | 9 |
| 9 | Ararba, Solayman | 15791678 | 684 | 865 | SA-HNW | 6 | NY | W12 | L11 | W64 | W40 | 3.0 | 8 | 9 | 24.5 | 7 |
| 10 | Rajabov, Otabek | 16166272 | 817 | 883 | 180K | 7 | NY | W72 | W14 | L7 | W41 | 3.0 | 8 | 9 | 23 | 8 |
| 11 | Parrales, Justin | 15659733 | 917 | 928 | 279X | 7 | NY | W73 | W9 | L8 | W36 | 3.0 | 8 | 9 | 22 | 8 |
| 12 | Modzelewski, Robert | 15927656 | 1026 | 1008 | 126K | 8 | NY | L9 | W77 | W31 | W57 | 3.0 | 7.5 | 8.5 | 19 | 6 |
| 13 | Kogyal, Metok | 16170875 | 558 | 810 | 122Q | 6 | NY | W18 | L33 | W59 | W38 | 3.0 | 7 | 8.5 | 22.5 | 7 |
| 14 | Navarette, Deigo | 15519242 | 986 | 974 | 216Q | 7 | NY | W50 | L10 | W70 | W35 | 3.0 | 7 | 8.5 | 21 | 7 |
| 15 | Wen Weng, Li | 15916950 | 848 | 895 | 160K | 6 | NY | W78 | W65 | W40 | L1 | 3.0 | 7 | 8 | 22 | 9 |
| 16 | Nguyen, Angelina | 15508215 | 900 | 920 | SABX1 | 6 | NY | W82 | W44 | L6 | W43 | 3.0 | 7 | 8 | 21.5 | 8 |
| 17 | Caldwell, Orion | 15464090 | 864 | 889 | SA-HNW | 6 | NY | W74 | L6 | W49 | W47 | 3.0 | 7 | 8 | 20 | 7 |
| 18 | Huang, Zibin | 16211902 | 923 | 911 | 160K | 6 | NY | L13 | W45 | W82 | W44 | 3.0 | 7 | 8 | 17.5 | 6 |
| 19 | Tom Wong, Jacob | 16152340 | 936 | 948 | ESCHS | 7 | NY | D48 | W83 | W63 | D24 | 3.0 | 6 | 6.5 | 16.5 | 7.5 |
| 20 | Canelas, Ramon | 16491738 | 632 | 787 | 279X | 7 | NY | L42 | W84 | W39 | W37 | 3.0 | 6 | 6 | 17 | 6 |
| 21 | Wang, Edison | 16155931 | 625 | 771 | 223K | 6 | NY | L23 | W79 | W76 | W33 | 3.0 | 5.5 | 6 | 16.5 | 6 |
| 22 | Gabel, Emilia | 15941115 | 543 | 713 | 126K | 7 | NY | L25 | W86 | W66 | W34 | 3.0 | 5.5 | 5.5 | 17.5 | 6 |
| 23 | Lu, Matthew | 16081161 | 943 | 944 | 160K | 6 | NY | W21 | W66 | L3 | D28 | 2.5 | 9.5 | 10.5 | 27.5 | 7.5 |
| 24 | Wang, Raymond | 15950130 | 1065 | 1043 | 160K | 6 | NY | W43 | L3 | W46 | D19 | 2.5 | 9 | 11 | 26.5 | 6.5 |
| 25 | Ramirez, Selvin | 16215095 | 921 | 897 | 180K | 6 | NY | W22 | L28 | W50 | D32 | 2.5 | 8 | 10 | 24 | 6.5 |
| 26 | Scorcia, Renee | 14890158 | 1074 | 1040 | BTECH | 9 | NY | D61 | W54 | W28 | L3 | 2.5 | 8 | 9.5 | 25.5 | 7 |
| 27 | Saleh, Adeeb | 15472455 | 760 | 776 | 216Q | 7 | NY | W87 | D30 | L2 | W60 | 2.5 | 8 | 8 | 20.5 | 6.5 |
| 28 | Chen, Randy | 16512282 | 728 | 865 | 131M | 7 | NY | W47 | W25 | L26 | D23 | 2.5 | 7.5 | 9.5 | 26 | 7.5 |
| 29 | Clementson, Tyrone | 16262680 | 813 | 815 | 318K | 6 | NY | W52 | L1 | D60 | W61 | 2.5 | 7.5 | 9 | 21 | 6 |
| 30 | Chen, Xiang | 16079401 | 934 | 896 | 180K | 8 | NY | W49 | D27 | L35 | W55 | 2.5 | 6.5 | 8.5 | 21.5 | 6.5 |
| 31 | Laljit, Christopher | 15236854 | 704 | 766 | SA | 6 | NY | D64 | W48 | L12 | W63 | 2.5 | 6.5 | 7.5 | 18 | 6 |
| 32 | Dong, Ryan | 16488955 | 701 | 708 | HPCMS | 8 | NY | W67 | L34 | W54 | D25 | 2.5 | 6 | 7 | 20 | 6.5 |
| 33 | Bautista, Uladis | 15921608 | 895 | 872 | 279X | 7 | NY | W77 | W13 | L4 | L21 | 2.0 | 6 | 11 | 24 | 7 |
| 34 | Fox, Benjamin | 15886070 | 890 | 859 | SA | 10 | NY | W45 | W32 | L1 | L22 | 2.0 | 5.5 | 11.5 | 25.5 | 7 |
| 35 | Castillo, Leily | 16270680 | 739 | 766 | 126K | 7 | NY | W85 | L2 | W30 | L14 | 2.0 | 5.5 | 9.5 | 23.5 | 6 |
| 36 | Saleh, Nabeeh | 15927374 | 679 | 759 | 214Q | 7 | NY | L1 | W52 | W42 | L11 | 2.0 | 5 | 11 | 26 | 5 |
| 37 | Castelan, Carlos | 16327865 | 866 | 836 | 390X | 7 | NJ | W55 | W62 | L5 | L20 | 2.0 | 5 | 10.5 | 25.5 | 7 |
| 38 | Fox, Ethan | 15956790 | 813 | 793 | SA | 8 | NY | W69 | L5 | W53 | L13 | 2.0 | 5 | 10 | 23 | 6 |
| 39 | Miranda, Noah | 15922513 | 828 | 799 | 318K | 8 | NY | W56 | L4 | L20 | W81 | 2.0 | 5 | 10 | 21.5 | 5 |
| 40 | Mendoza, Christian | 15946813 | 935 | 888 | 126K | 8 | NY | W53 | W68 | L15 | L9 | 2.0 | 5 | 9 | 24 | 7 |
| 41 | Lasalle, Jaidan | 16315360 | 578 | 631 | HPCMS | 7 | NY | L2 | W85 | W51 | L10 | 2.0 | 5 | 9 | 23 | 5 |
| 42 | Yang, Andy | 15849952 | 977 | 918 | 160K | 6 | NY | W20 | L8 | L36 | W74 | 2.0 | 5 | 9 | 22 | 5 |
| 43 | Enferri, Mateo | 16301244 | 695 | 704 | 318K | 7 | NY | L24 | W56 | W65 | L16 | 2.0 | 4.5 | 8.5 | 21.5 | 5 |
| 44 | Perez, Joel | 16362740 | 714 | 703 | 126K | 7 | NY | W86 | L16 | W62 | L18 | 2.0 | 4.5 | 7.5 | 18.5 | 6 |
| 45 | Olivo, Augustus | 16523585 | 499 | 593 | 318K | 7 | NY | L34 | L18 | W58 | W67 | 2.0 | 4 | 8 | 19.5 | 3 |
| 46 | Castillo, Melody | 16278513 | 682 | 691 | 126K | 8 | NY | L4 | W71 | L24 | W69 | 2.0 | 3.5 | 8.5 | 20.5 | 4 |
| 47 | Yau, Jason | 16573662 | unr. | 720 | AAS | 11 |   | L28 | W73 | W68 | L17 | 2.0 | 3.5 | 7.5 | 19.5 | 5 |
| 48 | Congrains, Johan | 16325743 | 600 | 604 | 141Q | 8 | NY | D19 | L31 | D67 | W75 | 2.0 | 3.5 | 7.5 | 18 | 4 |
| 49 | Bugdayci, Alimente | 15777675 | 581 | 600 | 318K | 6 | NY | L30 | W80 | L17 | W65 | 2.0 | 3.5 | 7 | 17.5 | 4 |
| 50 | Firriolo, Devin | 15704966 | 644 | 641 |   | 9 | NY | L14 | W72 | L25 | W79 | 2.0 | 3.5 | 7 | 16.5 | 4 |
| 51 | Lutfiddinov, Shohruh | 16081903 | 792 | 743 | 180K | 7 | NY | W80 | L7 | L41 | W71 | 2.0 | 3 | 6.5 | 16 | 5 |
| 52 | Okai-Koi, Jacob | 15921588 | 391 | 539 | 279X | 7 | NY | L29 | L36 | W73 | W68 | 2.0 | 3 | 6.5 | 16 | 3 |
| 53 | Walsh, Liam | 15988068 | 587 | 599 | 122Q | 6 | NY | L40 | W75 | L38 | W64 | 2.0 | 3 | 6 | 18.5 | 4 |
| 54 | Dong, Andy | 16524567 | 101 | 224 | 318K | 6 | NY | B--- | L26 | L32 | W83 | 2.0 | 3 | 5.5 | 15 | 4 |
| 55 | Kang, Brian | 16493171 | 466 | 563 | WAGNER | 7 | NY | L37 | W76 | W84 | L30 | 2.0 | 3 | 5.5 | 14.5 | 5 |
| 56 | Wang, Jason | 16512297 | 433 | 502 | 131M | 8 | NY | L39 | L43 | W85 | W66 | 2.0 | 3 | 5 | 14 | 3 |
| 57 | Cheung, Ho Yin | 16219757 | 773 | 746 | 223K |   | NY | H--- | D64 | W81 | L12 | 2.0 | 2 | 5 | 12 | 5 |
| 58 | Armas, Xavier | 15839714 | 733 | 663 | 122Q | 6 | NY | L65 | W78 | L45 | W72 | 2.0 | 2 | 5 | 10 | 4 |
| 59 | Kumar, Hetish | 15516016 | 743 | 707 | 216Q | 7 | NY | L6 | W74 | L13 | D62 | 1.5 | 5.5 | 8.5 | 22.5 | 3.5 |
| 60 | Wu, Justin | 16488940 | 569 | 570 | HPCMS | 8 | NY | L7 | W87 | D29 | L27 | 1.5 | 5 | 8 | 21.5 | 4 |
| 61 | Samuel, Roy | 16261582 | 696 | 695 | SABX1 | 6 | NY | D26 | L63 | W83 | L29 | 1.5 | 4.5 | 7 | 19 | 4 |
| 62 | Minhas, Jagmeet | 15976285 | 445 | 536 | SA | 8 | NY | W76 | L37 | L44 | D59 | 1.5 | 4.5 | 6.5 | 17.5 | 4.5 |
| 63 | Cheung, Jacky | 16165441 | 919 | 865 | 30K |   | NY | H--- | W61 | L19 | L31 | 1.5 | 4 | 7 | 17.5 | 4.5 |
| 64 | Whittow, Malek | 16472916 | unr. | 540 | 318K |   |   | D31 | D57 | L9 | L53 | 1.0 | 6.5 | 9.5 | 22 | 3.5 |
| 65 | Braich, Harkamal | 16534983 | unr. | 511 | AAS | 11 | NY | W58 | L15 | L43 | L49 | 1.0 | 6 | 9 | 22 | 4 |
| 66 | Patruno, Dominick | 15481354 | 781 | 684 | RLS | 6 | NY | W79 | L23 | L22 | L56 | 1.0 | 5 | 8 | 17.5 | 4 |
| 67 | Nagel, Gabriel | 16561062 | unr. | 402 | ESCHS | 6 | NY | L32 | D82 | D48 | L45 | 1.0 | 5 | 7.5 | 15 | 2.5 |
| 68 | Chen, Eric | 15725303 | 757 | 669 | 220K | 6 | NY | W75 | L40 | L47 | L52 | 1.0 | 5 | 7 | 17 | 4 |
| 69 | Shen, Keira | 15687228 | 367 | 387 | SOF | 6 | NY | L38 | L70 | W77 | L46 | 1.0 | 4.5 | 6.5 | 14 | 2 |
| 70 | Trache, Stephanie | 16303042 | 631 | 632 | SA | 8 | NY | L5 | W69 | L14 | --- | 1.0 | 4 | 8 | 19 | 3 |
| 71 | Williams, Michael | 16331306 | 458 | 440 | 318K | 7 | NY | L3 | L46 | W87 | L51 | 1.0 | 4 | 8 | 19 | 2 |
| 72 | Galva, Daryll | 16279867 | 426 | 402 | 390X | 7 | NY | L10 | L50 | W86 | L58 | 1.0 | 4 | 7 | 16 | 2 |
| 73 | Cohen, Lucas | 16304223 | 539 | 490 | HPCMS | 7 | NY | L11 | L47 | L52 | W87 | 1.0 | 4 | 7 | 16 | 1 |
| 74 | Emam, Mohamed | 16311722 | 465 | 457 | HPCMS | 7 | NY | L17 | L59 | W80 | L42 | 1.0 | 4 | 7 | 15.5 | 2 |
| 75 | Wang, Thomas | 16591448 | unr. | 371 | 318K |   |   | L68 | L53 | W78 | L48 | 1.0 | 4 | 6 | 13 | 2 |
| 76 | Rodriguez, Elmer | 15833082 | 834 | 712 | 279X | 7 | NY | L62 | L55 | L21 | W84 | 1.0 | 3.5 | 6.5 | 15.5 | 1 |
| 77 | Hernandez, Suilary | 15833777 | 529 | 478 | 335K | 6 | NY | L33 | L12 | L69 | W85 | 1.0 | 3 | 6 | 15 | 1 |
| 78 | Parameswar, Suraj | 16273721 | 462 | 411 | 141Q | 7 | NY | L15 | L58 | L75 | W86 | 1.0 | 3 | 6 | 15 | 1 |
| 79 | Leurenceau, Anthony | 16313514 | 252 | 236 | HPCMS | 7 | NY | L66 | L21 | B--- | L50 | 1.0 | 3 | 6 | 14 | 1 |
| 80 | Davronov, Abdurahmon | 16469040 | 305 | 268 | 223K | 7 | NY | L51 | L49 | L74 | B--- | 1.0 | 3 | 5 | 11 | 0 |
| 81 | Flowers, Isaiah | 15297988 | 414 | 396 | 266Q |   | NY | H--- | H--- | L57 | L39 | 1.0 | 2 | 4 | 10 | 2.5 |
| 82 | Chicaiza, Andy | 16494058 | 533 | 506 | SA-HNW | 7 | NY | L16 | D67 | L18 | --- | 0.5 | 4 | 7 | 16.5 | 1.5 |
| 83 | Gonzalez, Andrew L | 16363633 | 586 | 498 | 126K |   | NY | H--- | L19 | L61 | L54 | 0.5 | 3 | 6 | 15.5 | 1.5 |
| 84 | Been, Max | 16227790 | 337 | 309 | HPCMS | 6 | NY | L8 | L20 | L55 | L76 | 0.0 | 6 | 9 | 21 | 0 |
| 85 | Tong, Yile | 16582163 | unr. | 100 | 318K |   |   | L35 | L41 | L56 | L77 | 0.0 | 5 | 7 | 15 | 0 |
| 86 | Alcantar, Diego | 16604410 | unr. | 100 | 318K |   |   | L44 | L22 | L72 | L78 | 0.0 | 4 | 7 | 15 | 0 |
| 87 | Moreno, Giovanni | 16579992 | unr. | 100 | 126K | 7 |   | L27 | L60 | L71 | L73 | 0.0 | 3.5 | 6 | 13.5 | 0 |
CIS Queens Chess Day at 150Q: JH-HS NRB (6-12 Unrated)
| | | | | | | | | | | | | | | | | |
| --- | --- | --- | --- | --- | --- | --- | --- | --- | --- | --- | --- | --- | --- | --- | --- | --- |
| # | Name | ID | Rtng | Post | Team | Grd | St | Rd 1 | Rd 2 | Rd 3 | Rd 4 | Tot | TBrk[M] | TBrk[S] | TBrk[O] | TBrk[C] |
| 1 | Velasquez, Johnathan |   | unr. | 1150 | AAS | 11 |   | W65 | W8 | W7 | W9 | 4.0 | 9 | 10 | 27 | 10 |
| 2 | Katwal, Kalvin |   | unr. | 1150 | HPCMS | 7 |   | W63 | W11 | W23 | W13 | 4.0 | 8.5 | 9.5 | 25 | 10 |
| 3 | Pedraza, Erwing |   | unr. | 1150 | AFEL | 9 |   | W56 | W46 | W10 | W15 | 4.0 | 7.5 | 8.5 | 23.5 | 10 |
| 4 | Lari, Eros |   | unr. | 1150 | AAS | 11 |   | W76 | W55 | W16 | W12 | 4.0 | 7.5 | 8 | 23 | 10 |
| 5 | Alkjalaidi, Muhahmed |   | unr. | 1150 | 30K |   |   | H--- | W49 | W14 | W22 | 3.5 | 7.5 | 7.5 | 19 | 7.5 |
| 6 | Au, Tony |   | unr. | 1150 | 30K |   |   | H--- | W81 | W44 | W24 | 3.5 | 4.5 | 4.5 | 12 | 7.5 |
| 7 | Huezo, Andrei |   | unr. | 1150 | HPCMS | 6 |   | W48 | W18 | L1 | W43 | 3.0 | 9 | 11 | 26 | 8 |
| 8 | Iida, Mitsuki |   | unr. | 1143 | HPCMS | 7 |   | W64 | L1 | W33 | W27 | 3.0 | 9 | 10 | 24 | 7 |
| 9 | Hernandez, Lesly |   | unr. | 1150 | HPCMS | 6 |   | W50 | W45 | W17 | L1 | 3.0 | 8.5 | 10 | 26 | 9 |
| 10 | Lentini, Nicholas |   | unr. | 1115 | HPCMS | 6 |   | W78 | W26 | L3 | W41 | 3.0 | 8.5 | 9 | 22.5 | 8 |
| 11 | Diallo, Abdul |   | unr. | 1098 | BCCS | 8 |   | W41 | L2 | W39 | W35 | 3.0 | 8 | 10 | 26 | 7 |
| 12 | Canavan, Aidan |   | unr. | 1084 | HPCMS | 7 |   | W47 | W36 | W52 | L4 | 3.0 | 8 | 10 | 25 | 9 |
| 13 | Patankar, Zaid |   | unr. | 1055 | WAGNER | 6 |   | W61 | W39 | W42 | L2 | 3.0 | 8 | 9.5 | 24 | 9 |
| 14 | Cuautle, Kevin |   | unr. | 1150 | HPCMS | 7 |   | W20 | W37 | L5 | W34 | 3.0 | 8 | 9.5 | 23.5 | 8 |
| 15 | Alvarez, Zabdiel |   | unr. | 1037 | HPCMS | 6 |   | W67 | W70 | W40 | L3 | 3.0 | 7.5 | 8.5 | 24 | 9 |
| 16 | Bornstein Brown, Naeem |   | unr. | 1067 | HPCMS | 7 |   | W69 | W34 | L4 | W37 | 3.0 | 7 | 8 | 22 | 8 |
| 17 | Turner, Asher |   | unr. | 1030 | AAS | 9 |   | W79 | W21 | L9 | W40 | 3.0 | 7 | 7.5 | 21.5 | 8 |
| 18 | Hatzigeorgiou, Nickolaos |   | unr. | 952 | 266Q | 7 |   | W72 | L7 | W68 | W31 | 3.0 | 6.5 | 7.5 | 19.5 | 7 |
| 19 | Manor, Daniel |   | unr. | 884 | HPCMS | 8 |   | L25 | W64 | W70 | W38 | 3.0 | 6 | 7 | 17.5 | 6 |
| 20 | Kolodziej, Matthew |   | unr. | 984 | 141Q | 8 |   | L14 | W76 | W46 | W42 | 3.0 | 6 | 6.5 | 19 | 6 |
| 21 | Corda, Anthony |   | unr. | 905 | SA | 7 |   | X85 | L17 | W75 | X52 | 3.0 | 4 | 4 | 11 | 5 |
| 22 | Sanchez, Christian |   | unr. | 1068 | 318K |   |   | W38 | D25 | W29 | L5 | 2.5 | 8.5 | 10.5 | 24.5 | 7.5 |
| 23 | Elsamadicy, Rami |   | unr. | 1008 | BCCS | 8 |   | W60 | W35 | L2 | D26 | 2.5 | 8.5 | 10 | 25 | 7.5 |
| 24 | Guerrero, Matthew |   | unr. | 1007 | HPCMS | 7 |   | D54 | W30 | W28 | L6 | 2.5 | 8.5 | 10 | 20.5 | 7 |
| 25 | Kanina, Amy |   | unr. | 980 | AAS | 9 |   | W19 | D22 | L27 | W57 | 2.5 | 8 | 9.5 | 24.5 | 6.5 |
| 26 | Boateng, Lamech |   | unr. | 920 | 390X | 7 |   | W66 | L10 | W36 | D23 | 2.5 | 7.5 | 8.5 | 23.5 | 6.5 |
| 27 | Zhao, Brian |   | unr. | 1014 | 30K |   |   | H--- | W73 | W25 | L8 | 2.5 | 6.5 | 6.5 | 15.5 | 6.5 |
| 28 | Chi, Weihao |   | unr. | 875 | WAGNER |   |   | H--- | W53 | L24 | W62 | 2.5 | 6 | 6 | 14.5 | 5.5 |
| 29 | Truang, Tien |   | unr. | 924 | 30K |   |   | H--- | W54 | L22 | W55 | 2.5 | 5.5 | 5.5 | 15.5 | 5.5 |
| 30 | Wei, Jun Way |   | unr. | 887 | 30K |   |   | H--- | L24 | W60 | W45 | 2.5 | 5.5 | 5.5 | 14.5 | 4.5 |
| 31 | Rivera, Jayden |   | unr. | 836 | 30K |   |   | H--- | W77 | W57 | L18 | 2.5 | 5 | 5 | 12.5 | 6.5 |
| 32 | Chen, Zicong |   | unr. | 804 | 30K |   |   | H--- | L57 | W54 | W59 | 2.5 | 4.5 | 4.5 | 11.5 | 4.5 |
| 33 | Ali, Hussam |   | unr. | 800 | 30K |   |   | H--- | W80 | L8 | W69 | 2.5 | 4.5 | 4.5 | 9.5 | 5.5 |
| 34 | Gurung, Tseten |   | unr. | 777 | WAGNER | 6 |   | X84 | L16 | W51 | L14 | 2.0 | 5 | 8 | 20 | 5 |
| 35 | Pichardo, Aiden |   | unr. | 808 | HPCMS | 7 |   | W58 | L23 | W47 | L11 | 2.0 | 4.5 | 9 | 21.5 | 6 |
| 36 | Chua, Bryce |   | unr. | 766 | WAGNER | 7 |   | W51 | L12 | L26 | W66 | 2.0 | 4.5 | 8.5 | 22.5 | 5 |
| 37 | Lim, Gina |   | unr. | 811 | WAGNER | 6 |   | X88 | L14 | W56 | L16 | 2.0 | 4.5 | 7.5 | 19.5 | 5 |
| 38 | Singh, Simraj |   | unr. | 740 | 266Q | 6 |   | L22 | W61 | W65 | L19 | 2.0 | 4 | 8 | 18.5 | 5 |
| 39 | Hernandez, Alec |   | unr. | 732 | HPCMS | 6 |   | W82 | L13 | L11 | W64 | 2.0 | 4 | 8 | 18 | 5 |
| 40 | Zamor, Behold |   | unr. | 716 | BCCS | 8 |   | W77 | W75 | L15 | L17 | 2.0 | 4 | 7.5 | 21 | 7 |
| 41 | McIntosh, Gabrielle |   | unr. | 738 | WAGNER | 8 |   | L11 | W78 | W66 | L10 | 2.0 | 4 | 7.5 | 19 | 5 |
| 42 | Yonezawa, Yamato |   | unr. | 704 | HPCMS | 6 |   | W81 | W68 | L13 | L20 | 2.0 | 4 | 7 | 19 | 7 |
| 43 | Delgado, Cassidy |   | unr. | 784 | ESCHS | 6 |   | W59 | L52 | W50 | L7 | 2.0 | 3.5 | 8 | 21 | 6 |
| 44 | Martinez, Giselle |   | unr. | 817 | 126K |   |   | H--- | W62 | L6 | D53 | 2.0 | 3.5 | 7 | 15 | 5 |
| 45 | Win, Eindra |   | unr. | 658 | WAGNER | 6 |   | B--- | L9 | W67 | L30 | 2.0 | 3.5 | 6.5 | 16.5 | 5 |
| 46 | Mattin, Ian |   | unr. | 728 | SA | 6 |   | X83 | L3 | L20 | X75 | 2.0 | 3 | 7 | 16 | 3 |
| 47 | Esquivel, Ronaldo |   | unr. | 679 | 141Q | 6 |   | L12 | W74 | L35 | W68 | 2.0 | 3 | 6.5 | 19 | 4 |
| 48 | Singh, Harman |   | unr. | 641 | 266Q | 6 |   | L7 | L56 | W79 | W71 | 2.0 | 2.5 | 6 | 14 | 3 |
| 49 | Stepney, Marcell |   | unr. | 763 | 126K |   |   | H--- | L5 | D58 | W65 | 2.0 | 2.5 | 6 | 13.5 | 3.5 |
| 50 | Dharia, Shlok |   | unr. | 698 | 266Q | 6 |   | L9 | W79 | L43 | X70 | 2.0 | 2.5 | 5.5 | 15.5 | 3 |
| 51 | Soto, Bryan |   | unr. | 588 | AFEL | 11 |   | L36 | W82 | L34 | W67 | 2.0 | 2.5 | 5.5 | 13 | 4 |
| 52 | Morrison, Naveaha |   | unr. | 768 | SCSNY | 8 |   | X87 | W43 | L12 | F21 | 2.0 | 2 | 5 | 15 | 6 |
| 53 | Elmosalami, Saif |   | unr. | 687 | 30K |   |   | H--- | L28 | W81 | D44 | 2.0 | 2 | 4.5 | 10.5 | 4 |
| 54 | Shady, Anis |   | unr. | 658 | 141Q | 7 |   | D24 | L29 | L32 | W77 | 1.5 | 5.5 | 8 | 18 | 3 |
| 55 | Coello, Mateo |   | unr. | 628 | LTSAS | 6 |   | W71 | L4 | D59 | L29 | 1.5 | 5 | 9 | 21.5 | 5 |
| 56 | Talley, Julissa |   | unr. | 659 | HPCMS | 7 |   | L3 | W48 | L37 | D58 | 1.5 | 5 | 9 | 21 | 3.5 |
| 57 | Juman, Jared |   | unr. | 700 | 266Q |   |   | H--- | W32 | L31 | L25 | 1.5 | 5 | 7.5 | 17.5 | 4.5 |
| 58 | Martinez, Justin |   | unr. | 627 | AAS | 11 |   | L35 | D60 | D49 | D56 | 1.5 | 5 | 7 | 15.5 | 3 |
| 59 | Pineiro, Evelyn |   | unr. | 557 | 122Q | 6 |   | L43 | W72 | D55 | L32 | 1.5 | 4.5 | 7 | 16.5 | 4 |
| 60 | Tang, Melanie |   | unr. | 585 | WAGNER | 6 |   | L23 | D58 | L30 | W76 | 1.5 | 4.5 | 7 | 16 | 2.5 |
| 61 | Ellis, Chevaun |   | unr. | 505 | BCCS | 8 |   | L13 | L38 | D77 | W78 | 1.5 | 3 | 6 | 16 | 2 |
| 62 | Dai, Ryan |   | unr. | 553 | 30K |   |   | H--- | L44 | W73 | L28 | 1.5 | 3 | 5.5 | 12.5 | 3.5 |
| 63 | Soto, Angel |   | unr. | 350 | 390X | 6 |   | L2 | L65 | B--- | D73 | 1.5 | 2 | 6 | 15 | 1.5 |
| 64 | Sukhu, Nicholas |   | unr. | 513 | 266Q | 6 |   | L8 | L19 | W74 | L39 | 1.0 | 5.5 | 8.5 | 18 | 2 |
| 65 | Pimentel Ushiyama, Seiji |   | unr. | 495 | HPCMS | 8 |   | L1 | W63 | L38 | L49 | 1.0 | 5 | 9 | 20 | 3 |
| 66 | Kalsang, Tenzin |   | unr. | 512 | HPCMS | 7 |   | L26 | W69 | L41 | L36 | 1.0 | 5 | 7.5 | 18.5 | 3 |
| 67 | Schumacher, Margaret |   | unr. | 435 | 122Q | 6 |   | L15 | W71 | L45 | L51 | 1.0 | 4.5 | 7.5 | 20 | 3 |
| 68 | Rosa, Jesus |   | unr. | 434 | BCCS | 8 |   | W80 | L42 | L18 | L47 | 1.0 | 4.5 | 7.5 | 18.5 | 4 |
| 69 | Chen, Allen |   | unr. | 420 | 131M | 8 |   | L16 | L66 | W80 | L33 | 1.0 | 4 | 7 | 17 | 2 |
| 70 | Christie, Daniel |   | unr. | 500 | SCSNY | 9 |   | W74 | L15 | L19 | F50 | 1.0 | 3.5 | 6.5 | 15 | 4 |
| 71 | Guzman, Nivia |   | unr. | 351 | AFEL | 9 |   | L55 | L67 | W72 | L48 | 1.0 | 3.5 | 5.5 | 12 | 2 |
| 72 | Hernandez, Brandon |   | unr. | 350 | HPCMS | 6 |   | L18 | L59 | L71 | W81 | 1.0 | 2.5 | 5.5 | 13 | 1 |
| 73 | Betancur, David |   | unr. | 350 | 266Q |   |   | H--- | L27 | L62 | D63 | 1.0 | 2.5 | 5 | 11.5 | 2 |
| 74 | Rodriguez, Oscar |   | unr. | 350 | AFEL | 10 |   | L70 | L47 | L64 | B--- | 1.0 | 2.5 | 4.5 | 10 | 0 |
| 75 | Adlam-Ferguson, Aaron |   | unr. | 475 | SCSNY | 7 |   | X86 | L40 | L21 | F46 | 1.0 | 2 | 4 | 12 | 3 |
| 76 | Martinez, Carlos |   | unr. | 350 | HPCMS | 7 |   | L4 | L20 | D78 | L60 | 0.5 | 5 | 9 | 19.5 | 1 |
| 77 | Paster Zweibach, Nicholas |   | unr. | 380 | 122Q | 6 |   | L40 | L31 | D61 | L54 | 0.5 | 5 | 7.5 | 18.5 | 1 |
| 78 | Velez, Tabatha |   | unr. | 350 | 390X | 7 |   | L10 | L41 | D76 | L61 | 0.5 | 4 | 7 | 16 | 1 |
| 79 | Martinez, Daisy |   | unr. | 350 | HPCMS | 7 |   | L17 | L50 | L48 | D80 | 0.5 | 4 | 7 | 14.5 | 0.5 |
| 80 | D'Angelo, Vincent |   | unr. | 350 | 122Q | 6 |   | L68 | L33 | L69 | D79 | 0.5 | 2.5 | 5 | 12 | 0.5 |
| 81 | Guzman, Nefelix |   | unr. | 350 | AFEL | 9 |   | L42 | L6 | L53 | L72 | 0.0 | 5 | 8.5 | 19.5 | 0 |
| 82 | Flowers, Isaiah | 15297988 | 414 | 384 | 266Q | 6 | NY | L39 | L51 | --- | --- | 0.0 | 2 | 4 | 9 | 0 |
| 83 | Loaisiga, Ernest |   | unr. | 350 | AFEL | 12 |   | F46 | --- | --- | --- | 0.0 | 0 | 0 | 0 | 0 |
| 84 | Uribe, Juan |   | unr. | 350 | AFEL | 12 |   | F34 | --- | --- | --- | 0.0 | 0 | 0 | 0 | 0 |
| 85 | Johnson, Jelaya |   | unr. | 484 | AFEL | 11 |   | F21 | --- | --- | --- | 0.0 | 0 | 0 | 0 | 0 |
| 86 | Quinones, Yaheriss |   | unr. | 350 | AFEL | 9 |   | F75 | --- | --- | --- | 0.0 | 0 | 0 | 0 | 0 |
| 87 | Santana, Eiron |   | unr. | 350 | AFEL | 12 |   | F52 | --- | --- | --- | 0.0 | 0 | 0 | 0 | 0 |
| 88 | Zapata, Iliana |   | unr. | 350 | AFEL | 12 |   | F37 | --- | --- | --- | 0.0 | 0 | 0 | 0 | 0 |
CIS Queens Chess Day at 150Q: EL Novice (K-5 U1000)
| | | | | | | | | | | | | | | | | |
| --- | --- | --- | --- | --- | --- | --- | --- | --- | --- | --- | --- | --- | --- | --- | --- | --- |
| # | Name | ID | Rtng | Post | Team | Grd | St | Rd 1 | Rd 2 | Rd 3 | Rd 4 | Tot | TBrk[M] | TBrk[S] | TBrk[O] | TBrk[C] |
| 1 | Jyanchub, Tenzing | 16165655 | 853 | 1003 | 139K | 5 | NY | W58 | W8 | W24 | W5 | 4.0 | 8 | 8 | 23 | 10 |
| 2 | Bhattarai, Prayash | 16263421 | 909 | 1020 | 139K | 5 | NY | W49 | W17 | W25 | W9 | 4.0 | 7.5 | 8.5 | 24 | 10 |
| 3 | Zou, Zengjin | 15979531 | 819 | 901 | 503K | 5 | NY | D41 | W43 | W19 | W6 | 3.5 | 7 | 8.5 | 22 | 8 |
| 4 | Li, Benjamin | 16149771 | 802 | 877 | 230K | 4 | NY | W46 | D55 | W42 | W18 | 3.5 | 5 | 5.5 | 15.5 | 8.5 |
| 5 | Hernandez, Luis | 15594631 | 833 | 938 | 503K | 5 | NY | W33 | W11 | W7 | L1 | 3.0 | 10 | 12 | 29 | 9 |
| 6 | Wadhia, Neil | 16178254 | 567 | 800 | LSPRINGS | 5 | NY | W20 | W28 | W27 | L3 | 3.0 | 8 | 10 | 26 | 9 |
| 7 | Christy, Jaden | 15707470 | 663 | 846 | 160K | 5 | NY | W10 | W26 | L5 | W32 | 3.0 | 8 | 10 | 26 | 8 |
| 8 | Akashi, Kyle | 16121388 | 711 | 842 | 150Q | 5 | NY | W29 | L1 | W35 | W26 | 3.0 | 8 | 9.5 | 25 | 7 |
| 9 | Huang, Danial | 16174664 | 792 | 865 | 160K | 5 | NY | W56 | W45 | W12 | L2 | 3.0 | 8 | 8 | 22 | 9 |
| 10 | Zareie, Aida | 16327761 | 804 | 842 | 139K | 4 | NY | L7 | W56 | W30 | W24 | 3.0 | 7 | 7 | 20 | 6 |
| 11 | Wadhia, Kyle | 16178260 | 680 | 838 | 59M | 2 | NY | W50 | L5 | W51 | W25 | 3.0 | 6 | 7 | 22 | 7 |
| 12 | Maung, Justin | 15632790 | 745 | 809 | 139Q | 5 | NY | W57 | W44 | L9 | W29 | 3.0 | 6 | 6 | 18 | 8 |
| 13 | Liu, Jethro | 16264638 | 730 | 750 | 160K | 4 | NY | L44 | W57 | W45 | W28 | 3.0 | 4 | 4 | 14 | 6 |
| 14 | Chuchuca, Charly | 16274525 | 786 | 873 | 307Q |   | NY | H--- | H--- | W46 | W16 | 3.0 | 3.5 | 3.5 | 10.5 | 5.5 |
| 15 | Hernandez, Lorena | 16236086 | 724 | 817 | 307Q |   | NY | H--- | H--- | W44 | W27 | 3.0 | 3 | 3 | 11 | 5.5 |
| 16 | Lin, Kyle | 16174658 | 761 | 799 | 160K | 4 | NY | W47 | D19 | W23 | L14 | 2.5 | 8 | 9 | 21 | 7.5 |
| 17 | Peterson, Samuel | 15975736 | 712 | 790 | 226X | 5 | NY | W52 | L2 | D21 | W38 | 2.5 | 8 | 9 | 21 | 6 |
| 18 | Chavez, Joel | 16165462 | 762 | 824 | 503K |   | NY | H--- | W41 | W22 | L4 | 2.5 | 7.5 | 7.5 | 17.5 | 6.5 |
| 19 | Dowshen Flores, Abyl | 16277457 | 540 | 717 | 139K | 3 | NY | W53 | D16 | L3 | W50 | 2.5 | 7 | 8 | 18.5 | 6.5 |
| 20 | Dong, William | 15950124 | 756 | 763 | 160K | 4 | NY | L6 | W34 | D38 | W40 | 2.5 | 6.5 | 8 | 21 | 5 |
| 21 | Lerner Dreamer, Elijah | 16267383 | 519 | 682 | 230K | 4 | NY | L24 | W49 | D17 | W39 | 2.5 | 6 | 7 | 19 | 5 |
| 22 | Lin, Becky | 15950103 | 858 | 840 | 160K | 5 | NY | D39 | W40 | L18 | W42 | 2.5 | 5.5 | 7 | 19 | 6 |
| 23 | Lin, Vincent | 16245047 | 843 | 825 | 503K | 4 | NY | D40 | W39 | L16 | W43 | 2.5 | 5.5 | 7 | 19 | 6 |
| 24 | Lei, Justine | 16460150 | 721 | 726 | 160K | 5 | NY | W21 | W35 | L1 | L10 | 2.0 | 5.5 | 11 | 25 | 7 |
| 25 | Cordero, David | 15893688 | 767 | 772 | 279X | 5 | NY | W48 | W30 | L2 | L11 | 2.0 | 5 | 10 | 24 | 7 |
| 26 | Chu, Runqing | 16440815 | 775 | 769 | SAUS | 2 | NY | W36 | L7 | W31 | L8 | 2.0 | 5 | 10 | 23 | 6 |
| 27 | Qui, Wayne | 16174670 | 790 | 767 | 160K | 5 | NY | W31 | W38 | L6 | L15 | 2.0 | 5 | 9.5 | 23.5 | 7 |
| 28 | Yang, Nicole | 16245053 | 766 | 748 | 503K | 5 | NY | W34 | L6 | W47 | L13 | 2.0 | 5 | 9 | 21 | 6 |
| 29 | Ye, Sophia | 16165456 | 875 | 837 | 503K | 5 | NY | L8 | W58 | W33 | L12 | 2.0 | 5 | 8 | 19 | 5 |
| 30 | Ke, Benjamin | 16124697 | 657 | 692 | 160K | 5 | NY | W37 | L25 | L10 | W47 | 2.0 | 4 | 8 | 19 | 5 |
| 31 | Condon, Bronwyn | 16121373 | 645 | 662 | 150Q | 4 | NY | L27 | W37 | L26 | W44 | 2.0 | 4 | 7 | 20 | 4 |
| 32 | Crawford, Gus | 16232605 | 757 | 736 | A&L | 4 | NY | L38 | W48 | W36 | L7 | 2.0 | 3.5 | 7.5 | 19 | 5 |
| 33 | Flores-Zeledon, Jonas | 16253843 | 678 | 715 | 139K | 3 | NY | L5 | W50 | L29 | W45 | 2.0 | 3 | 7 | 20 | 4 |
| 34 | Mendez, Dago | 15909602 | 637 | 658 | 279X | 5 | NY | L28 | L20 | W53 | W49 | 2.0 | 3 | 6.5 | 14 | 3 |
| 35 | Jones, Dana | 15791155 | 457 | 502 | SABX1 | 5 | NY | B--- | L24 | L8 | W46 | 2.0 | 3 | 6 | 17 | 4 |
| 36 | Reisoglu, Luna | 15791437 | 643 | 676 | SABX1 | 5 | NY | L26 | W54 | L32 | W51 | 2.0 | 3 | 6 | 16 | 4 |
| 37 | Winawer-Stein, Leo | 15935683 | 781 | 737 | 139K | 4 | NY | L30 | L31 | W56 | W48 | 2.0 | 3 | 5 | 11 | 3 |
| 38 | Esquea, Hailey | 15791422 | 578 | 610 | SABX1 | 5 | NY | W32 | L27 | D20 | L17 | 1.5 | 6.5 | 9 | 23 | 5 |
| 39 | Brown, Benjamin | 16257742 | 700 | 686 | 139K | 2 | NY | D22 | L23 | W41 | L21 | 1.5 | 6.5 | 9 | 20 | 4 |
| 40 | Rahman, Shammo | 16499536 | 680 | 673 | 230K | 3 | NY | D23 | L22 | W55 | L20 | 1.5 | 5.5 | 8 | 18.5 | 4 |
| 41 | Brody Gordon, Robert | 15718574 | 668 | 657 | 11M | 4 | NY | D3 | L18 | L39 | W55 | 1.5 | 4.5 | 8 | 20 | 3 |
| 42 | Guevara, Iker | 16233175 | 625 | 654 | 503K |   | NY | H--- | W52 | L4 | L22 | 1.5 | 3.5 | 7 | 15.5 | 4.5 |
| 43 | Xu, Nicole | 16083220 | 582 | 623 | 164K |   | NY | H--- | L3 | W52 | L23 | 1.5 | 3.5 | 7 | 15 | 3.5 |
| 44 | Sargent, Sam | 15933026 | 536 | 542 | 230K | 4 | NY | W13 | L12 | L15 | L31 | 1.0 | 8 | 11 | 23.5 | 4 |
| 45 | Leyman, Valerie | 16207932 | 636 | 612 | 196Q | 3 | NY | W54 | L9 | L13 | L33 | 1.0 | 6 | 9 | 20 | 4 |
| 46 | Hill, Myron | 16470073 | 660 | 621 | 150Q | 5 | NY | L4 | W51 | L14 | L35 | 1.0 | 5.5 | 9 | 22 | 3 |
| 47 | Abernathy, Liam | 16170284 | 630 | 596 | 150Q | 5 | NY | L16 | W53 | L28 | L30 | 1.0 | 5 | 7.5 | 19.5 | 3 |
| 48 | Libert, Sam | 16170881 | 639 | 606 | 150Q | 5 | NY | L25 | L32 | W54 | L37 | 1.0 | 5 | 7 | 16 | 2 |
| 49 | Velampalli, Akhil | 16522403 | 712 | 651 | JCGCS | 1 | NJ | L2 | L21 | W57 | L34 | 1.0 | 4.5 | 8.5 | 18 | 2 |
| 50 | Ramos, Kimberley | 15979525 | 839 | 752 | 503K | 5 | NY | L11 | L33 | W58 | L19 | 1.0 | 4.5 | 7.5 | 17.5 | 2 |
| 51 | Cui, Egan | 15941225 | 813 | 722 | 158M | 3 | NY | W55 | L46 | L11 | L36 | 1.0 | 3.5 | 6.5 | 15.5 | 4 |
| 52 | Pelaez-Ortega, Eleazar | 15508310 | 936 | 814 | SABX1 | 5 | NY | L17 | L42 | L43 | W58 | 1.0 | 3 | 5.5 | 14 | 1 |
| 53 | Hernandez, Jose | 16143634 | 745 | 651 | 335K | 3 | NY | L19 | L47 | L34 | W57 | 1.0 | 3 | 5.5 | 12.5 | 1 |
| 54 | Zurashvili, Tekla | 16065820 | 764 | 665 | 166Q | 4 | NY | L45 | L36 | L48 | W56 | 1.0 | 2 | 4 | 10 | 1 |
| 55 | Xiang Chen, Tian | 16134123 | 664 | 596 | 160K | 5 | NY | L51 | D4 | L40 | L41 | 0.5 | 4 | 7.5 | 19.5 | 1.5 |
| 56 | Law, Gabriel | 16145281 | 649 | 568 | 150Q | 5 | NY | L9 | L10 | L37 | L54 | 0.0 | 6 | 9 | 19 | 0 |
| 57 | Gao, Maggie | 16245068 | 554 | 480 | 503K | 5 | NY | L12 | L13 | L49 | L53 | 0.0 | 5 | 8 | 17 | 0 |
| 58 | Wei Jiang, Ting | 16183887 | 703 | 627 | 160K | 4 | NY | L1 | L29 | L50 | L52 | 0.0 | 4 | 8 | 18 | 0 |
CIS Queens Chess Day at 150Q: EL Rookie (K-5 U600)
| | | | | | | | | | | | | | | | | |
| --- | --- | --- | --- | --- | --- | --- | --- | --- | --- | --- | --- | --- | --- | --- | --- | --- |
| # | Name | ID | Rtng | Post | Team | Grd | St | Rd 1 | Rd 2 | Rd 3 | Rd 4 | Tot | TBrk[M] | TBrk[S] | TBrk[O] | TBrk[C] |
| 1 | Jiang, Tony | 16500493 | 583 | 732 | 160K | 5 | NY | W16 | W20 | W11 | W10 | 4.0 | 9 | 12 | 30 | 10 |
| 2 | Febos, Kaly | 15893694 | 566 | 733 | 279X | 5 | NY | W12 | W14 | W15 | W8 | 4.0 | 9 | 12 | 30 | 10 |
| 3 | Zhu, Stacey | 16477227 | 366 | 614 | 160K | 4 | NY | W78 | W31 | W17 | W13 | 4.0 | 8 | 9 | 24 | 10 |
| 4 | Edwards, Demarco | 16501412 | 491 | 644 | 329Q | 4 | NY | W66 | W46 | W25 | W7 | 4.0 | 7.5 | 8.5 | 24.5 | 10 |
| 5 | Yee, Sean | 16056104 | 578 | 648 | 124M | 2 | NY | W62 | W37 | D6 | W9 | 3.5 | 8.5 | 10 | 26 | 9 |
| 6 | Soto, Angeri | 16286822 | 441 | 577 | 335K | 3 | NY | W71 | W56 | D5 | W30 | 3.5 | 7 | 7.5 | 21.5 | 9 |
| 7 | Mensah, Daniel | 16557127 | 376 | 537 | 226X | 5 | NY | W59 | W18 | W19 | L4 | 3.0 | 10 | 11.5 | 27.5 | 9 |
| 8 | Lam, Chloe | 16268626 | 406 | 526 | 124M | 3 | NY | W73 | W29 | W26 | L2 | 3.0 | 8.5 | 9.5 | 24.5 | 9 |
| 9 | Perez, Christian | 16500184 | 340 | 513 | 329Q | 4 | NY | W74 | W30 | W21 | L5 | 3.0 | 8.5 | 9.5 | 24 | 9 |
| 10 | Lin, Ivan | 16175563 | 416 | 549 | 150Q | 4 | NY | W33 | W38 | W34 | L1 | 3.0 | 8 | 10 | 27 | 9 |
| 11 | Bonilla, Josue | 16171397 | 472 | 509 | 279X | 5 | NY | W57 | W35 | L1 | W36 | 3.0 | 8 | 9.5 | 24.5 | 8 |
| 12 | Tang, Brian | 16559914 | 202 | 409 | 160K | 3 | NY | L2 | W59 | W39 | W32 | 3.0 | 8 | 9.5 | 24.5 | 6 |
| 13 | Hernandez, Kevin | 16529297 | 493 | 524 | 200M | 5 | NY | W68 | W36 | W32 | L3 | 3.0 | 8 | 9 | 26 | 9 |
| 14 | Ortiz, Sebastian | 16382104 | 346 | 472 | 329Q | 3 | NY | W52 | L2 | W63 | W50 | 3.0 | 8 | 9 | 22 | 7 |
| 15 | Chen, Eden | 16489875 | 460 | 486 | 160K | 5 | NY | W40 | W63 | L2 | W54 | 3.0 | 8 | 9 | 21.5 | 8 |
| 16 | Kogyal, Gephel | 16170901 | 202 | 398 | 150Q | 4 | NY | L1 | W69 | W51 | W42 | 3.0 | 8 | 9 | 21 | 6 |
| 17 | Daniel, Ariam | 16168937 | 484 | 503 | 139K | 4 | NY | W61 | W64 | L3 | W47 | 3.0 | 7.5 | 8.5 | 23 | 8 |
| 18 | Lee, Ivan | 16582953 | unr. | 575 | 230K | 4 |   | W45 | L7 | W35 | W37 | 3.0 | 7 | 9 | 23 | 7 |
| 19 | Hernandez, Angel | 15893708 | 502 | 513 | 279X | 3 | NY | W67 | W49 | L7 | W41 | 3.0 | 7 | 8 | 22 | 8 |
| 20 | Coffey, Ronan | 16527971 | 355 | 458 | 130K | 4 | NY | W69 | L1 | W68 | W34 | 3.0 | 7 | 8 | 21 | 7 |
| 21 | Wu, Brian | 16558686 | 478 | 477 | 160K | 5 | NY | W81 | W72 | L9 | W44 | 3.0 | 5.5 | 5.5 | 17 | 8 |
| 22 | Jiang, Benson | 16558671 | 430 | 424 | 160K | 3 | NY | L63 | W40 | W65 | W31 | 3.0 | 5 | 6 | 16 | 6 |
| 23 | Gollapally, Arav | 16522843 | 363 | 412 | JCGCS | 1 | NJ | L29 | W73 | W64 | W33 | 3.0 | 5 | 6 | 16 | 6 |
| 24 | Martinez, Kaylee | 16274504 | 470 | 541 | 307Q |   | NY | H--- | H--- | W48 | W29 | 3.0 | 4 | 4 | 10 | 5.5 |
| 25 | Hamilton, Caspar | 16513861 | 306 | 416 | 230K | 3 | NY | W77 | W42 | L4 | D26 | 2.5 | 8.5 | 9.5 | 25.5 | 7.5 |
| 26 | Liu, Ethan | 16491833 | 504 | 491 | 160K | 5 | NY | W65 | W58 | L8 | D25 | 2.5 | 7 | 8 | 24.5 | 7.5 |
| 27 | He, Benson | 16158135 | 538 | 471 | 160K | 4 | NY | L56 | D57 | W71 | W61 | 2.5 | 4.5 | 5 | 14 | 4.5 |
| 28 | Huang, Jerry | 16511801 | 570 | 547 | 160K | 5 | NY | H--- | W80 | L30 | W58 | 2.5 | 4 | 4 | 12.5 | 5.5 |
| 29 | Guachiac Tambri, Fredy | 16581902 | unr. | 448 | 180K | 3 |   | W23 | L8 | W46 | L24 | 2.0 | 6 | 11 | 25.5 | 6 |
| 30 | Parrales, Brianna | 16368452 | 552 | 526 | 279X | 5 | NY | W43 | L9 | W28 | L6 | 2.0 | 5.5 | 11 | 27.5 | 6 |
| 31 | Toledo, John | 16527772 | unr. | 412 | 226X | 5 | NY | W41 | L3 | W75 | L22 | 2.0 | 5 | 10 | 25 | 6 |
| 32 | Boateng, Samuela | 16272288 | 384 | 371 | 226X | 5 | NY | W53 | W39 | L13 | L12 | 2.0 | 5 | 10 | 23 | 7 |
| 33 | Jiang, Jimmy | 16577775 | unr. | 397 | 160K | 5 |   | L10 | W45 | W49 | L23 | 2.0 | 5 | 10 | 23 | 5 |
| 34 | Rodriguez De, Ashleigh | 15893735 | 531 | 479 | 279X | 3 | NY | W48 | W75 | L10 | L20 | 2.0 | 5 | 9 | 24 | 7 |
| 35 | Cobotic, Nikola | 16266813 | 276 | 294 | 150Q | 4 | NY | W51 | L11 | L18 | W79 | 2.0 | 5 | 9 | 21 | 5 |
| 36 | Vanreusel, Rajeev | 16392906 | 261 | 303 | 122Q | 3 | NY | W83 | L13 | W38 | L11 | 2.0 | 5 | 8 | 22 | 6 |
| 37 | Alonzo, Jose | 16274730 | 361 | 360 | 160K | 4 | NY | W60 | L5 | W66 | L18 | 2.0 | 4.5 | 9 | 21 | 6 |
| 38 | Rodriguez, Michael | 16596686 | unr. | 323 | 279X | 4 |   | W47 | L10 | L36 | W64 | 2.0 | 4 | 8 | 24 | 5 |
| 39 | Repik, Rian | 16578763 | unr. | 304 | 230K | 3 |   | W44 | L32 | L12 | W67 | 2.0 | 4 | 8 | 21 | 5 |
| 40 | Reddish, Cameron | 16560026 | 105 | 197 | 329Q | 4 | NY | L15 | L22 | W74 | W76 | 2.0 | 4 | 8 | 17 | 3 |
| 41 | Li, Aaron | 16511796 | 346 | 329 | 160K | 3 | NY | L31 | W53 | W72 | L19 | 2.0 | 4 | 7.5 | 20 | 5 |
| 42 | Herrera, Juan | 16502840 | 483 | 424 | 329Q | 4 | NY | W82 | L25 | W56 | L16 | 2.0 | 4 | 7 | 18 | 6 |
| 43 | Chavez, Alexander | 16459827 | 202 | 257 | 329Q | 4 | NY | L30 | W52 | L50 | W72 | 2.0 | 4 | 6.5 | 17 | 4 |
| 44 | Crawford, Sabine | 16440910 | 310 | 289 | A&L | 3 | NY | L39 | W60 | W70 | L21 | 2.0 | 3.5 | 7.5 | 18 | 5 |
| 45 | Canning, Mikah | 16170896 | 340 | 324 | 150Q | 5 | NY | L18 | L33 | W69 | W57 | 2.0 | 3.5 | 7.5 | 16.5 | 3 |
| 46 | Chen, Nathan | 16500507 | 325 | 321 | 160K | 3 | NY | W76 | L4 | L29 | W63 | 2.0 | 3 | 8 | 22 | 5 |
| 47 | Slater, Owen | 16497682 | 331 | 304 | 230K | 3 | NY | L38 | W78 | W67 | L17 | 2.0 | 3 | 7 | 17 | 5 |
| 48 | Velampalli, Akshaya | 16542522 | 164 | 227 | JCGCS | 1 | NJ | L34 | W74 | L24 | W70 | 2.0 | 3 | 7 | 16.5 | 4 |
| 49 | Compres, Adrian | 16456441 | 336 | 314 | 329Q | 4 | NY | W79 | L19 | L33 | W71 | 2.0 | 3 | 6.5 | 17 | 5 |
| 50 | Cuevas, Gabriel | 16175610 | 502 | 430 | 226X | 5 | NY | L64 | W81 | W43 | L14 | 2.0 | 3 | 6 | 15 | 5 |
| 51 | Dejesus, Justin | 16573092 | unr. | 221 | 329Q | 4 |   | L35 | W82 | L16 | W66 | 2.0 | 3 | 6 | 14 | 4 |
| 52 | Nieves, Zoey | 16580228 | unr. | 234 | 226X | 2 |   | L14 | L43 | W81 | W65 | 2.0 | 3 | 6 | 14 | 3 |
| 53 | Gazzah, Khairy | 16575187 | unr. | 266 | 150Q | 4 |   | L32 | L41 | W83 | W75 | 2.0 | 3 | 5 | 16 | 3 |
| 54 | Reynoso, Daisy | 16236044 | 240 | 265 | 307Q |   | NY | H--- | H--- | W55 | L15 | 2.0 | 2 | 5 | 11.5 | 4.5 |
| 55 | Ahmed, Afrah | 16560047 | unr. | 177 | 130K |   | NY | H--- | H--- | L54 | W68 | 2.0 | 1 | 3 | 7.5 | 3.5 |
| 56 | Bhattarai, Lata | 16498575 | 177 | 222 | 139K | 4 | NY | W27 | L6 | L42 | D59 | 1.5 | 6 | 9.5 | 22 | 4.5 |
| 57 | Guachiac Tambri, Hany | 16561935 | 105 | 171 | 180K | 3 | NY | L11 | D27 | W80 | L45 | 1.5 | 5 | 8 | 17 | 3.5 |
| 58 | Alvarado, Sean | 16491723 | 355 | 311 | 279X | 5 | NY | W70 | L26 | D61 | L28 | 1.5 | 5 | 7.5 | 20 | 5 |
| 59 | Kim, Braydon | 16587086 | unr. | 219 | 150Q | 4 |   | L7 | L12 | W84 | D56 | 1.5 | 4.5 | 7.5 | 19.5 | 2.5 |
| 60 | Bloom, Caleb | 16576950 | unr. | 142 | 185Q | 3 |   | L37 | L44 | D62 | W77 | 1.5 | 4.5 | 6.5 | 15 | 2 |
| 61 | Mendieta, Luis | 16456435 | 120 | 176 | 329Q | 3 | NY | L17 | W84 | D58 | L27 | 1.5 | 4 | 7 | 17.5 | 4 |
| 62 | Suazo, Jonathan | 16471798 | 227 | 192 | 160K | 4 | NY | L5 | L70 | D60 | W80 | 1.5 | 3 | 6.5 | 15.5 | 2 |
| 63 | Puebla, Jordy | 16578804 | unr. | 215 | 139K | 2 |   | W22 | L15 | L14 | L46 | 1.0 | 8 | 11 | 26 | 4 |
| 64 | Tenezaca, Adrian | 16358372 | 151 | 169 | 150Q | 5 | NY | W50 | L17 | L23 | L38 | 1.0 | 7 | 10 | 24 | 4 |
| 65 | Chacon, Blake | 16502834 | 156 | 133 | 329Q | 4 | NY | L26 | W79 | L22 | L52 | 1.0 | 5.5 | 8.5 | 18.5 | 3 |
| 66 | Brown, Jamir | 16518825 | 136 | 118 | 200M | 5 | NY | L4 | W77 | L37 | L51 | 1.0 | 5 | 9 | 22 | 3 |
| 67 | Zheng, Wiki | 16019773 | 150 | 129 | 160K | 3 | NY | L19 | W76 | L47 | L39 | 1.0 | 5 | 8 | 20 | 3 |
| 68 | Nieves, Anaya | 16383690 | 148 | 129 | 226X | 5 | NY | L13 | W83 | L20 | L55 | 1.0 | 5 | 8 | 19.5 | 3 |
| 69 | Rivera, Jayden | 16588706 | unr. | 108 | 19Q | 4 |   | L20 | L16 | L45 | W82 | 1.0 | 5 | 8 | 16 | 1 |
| 70 | Zhumi, Julio | 16588692 | unr. | 100 | 19Q | 4 |   | L58 | W62 | L44 | L48 | 1.0 | 5 | 7 | 16 | 3 |
| 71 | Armas, Victoria | 16367458 | 102 | 100 | 150Q | 1 | NY | L6 | B--- | L27 | L49 | 1.0 | 4.5 | 8 | 18.5 | 2 |
| 72 | Pinales, Joshua | 16502374 | 101 | 100 | 226X | 5 | NY | B--- | L21 | L41 | L43 | 1.0 | 4 | 7 | 17 | 3 |
| 73 | Dodds, Samantha | 16572234 | unr. | 100 | 150Q | 5 |   | L8 | L23 | L76 | W83 | 1.0 | 4 | 7 | 17 | 1 |
| 74 | Herrera, Kevin | 16582080 | unr. | 100 | 226X | 5 |   | L9 | L48 | L40 | W81 | 1.0 | 4 | 7 | 16 | 1 |
| 75 | Mars, Jeremiah | 16461168 | 301 | 229 | 329Q | 4 | NY | W84 | L34 | L31 | L53 | 1.0 | 4 | 6 | 16 | 4 |
| 76 | Moy, Andrew | 16577650 | unr. | 100 | 230K | 4 |   | L46 | L67 | W73 | L40 | 1.0 | 4 | 6 | 12 | 2 |
| 77 | Chillogalli, Andrea | 16590100 | unr. | 100 | 329Q | 3 |   | L25 | L66 | W78 | L60 | 1.0 | 3.5 | 6 | 13.5 | 2 |
| 78 | Kim, Jana | 16587092 | unr. | 100 | 150Q | 4 |   | L3 | L47 | L77 | W84 | 1.0 | 3 | 7 | 17 | 1 |
| 79 | Nieves, Joel | 1660404 | unr. | 100 | 226X | 2 |   | L49 | L65 | W82 | L35 | 1.0 | 3 | 5 | 13 | 2 |
| 80 | Cordova, Sonny | 16524950 | 122 | 100 | 503K |   | NY | H--- | L28 | L57 | L62 | 0.5 | 3 | 5.5 | 11 | 1.5 |
| 81 | Kendja, Chelsea | 16518790 | 108 | 100 | 200M | 5 | NY | L21 | L50 | L52 | L74 | 0.0 | 5 | 8 | 17 | 0 |
| 82 | Tapia, Adrienne | 16116016 | 114 | 100 | CRS | 3 | NY | L42 | L51 | L79 | L69 | 0.0 | 4 | 6 | 13 | 0 |
| 83 | Perez, Walter | 16589591 | unr. | 100 | 329Q | 2 |   | L36 | L68 | L53 | L73 | 0.0 | 4 | 6 | 13 | 0 |
| 84 | Kunk, Cyra | 16577115 | unr. | 100 | A&L | 3 |   | L75 | L61 | L59 | L78 | 0.0 | 3.5 | 5 | 11.5 | 0 |
CIS Queens Chess Day at 150Q: EL NRB (K-5 Unrated)
| | | | | | | | | | | | | | | | | |
| --- | --- | --- | --- | --- | --- | --- | --- | --- | --- | --- | --- | --- | --- | --- | --- | --- |
| # | Name | ID | Rtng | Post | Team | Grd | St | Rd 1 | Rd 2 | Rd 3 | Rd 4 | Tot | TBrk[M] | TBrk[S] | TBrk[O] | TBrk[C] |
| 1 | Mozul, Lamb |   | unr. | 1150 | 307Q | 4 |   | W73 | W16 | W38 | W11 | 4.0 | 7.5 | 8.5 | 25 | 10 |
| 2 | Tsering, Jigsal |   | unr. | 1150 | 166Q | 4 |   | W28 | X90 | W72 | W14 | 4.0 | 6 | 6 | 16 | 9 |
| 3 | Rajesh Kumar, Sujana |   | unr. | 1150 | 165Q | 2 |   | W78 | W71 | W41 | W33 | 4.0 | 4.5 | 5.5 | 17 | 10 |
| 4 | Dickerson, Andrew |   | unr. | 1186 | 150Q | 5 |   | W74 | X88 | X79 | W10 | 4.0 | 4 | 4 | 11 | 8 |
| 5 | Rivera, Bryan |   | unr. | 1150 | 307Q | 5 |   | W52 | D6 | W43 | W24 | 3.5 | 8 | 9.5 | 25 | 8.5 |
| 6 | Pulgarin, Jayden |   | unr. | 1150 | 19Q | 4 |   | W86 | D5 | W58 | W23 | 3.5 | 7.5 | 7.5 | 20.5 | 8.5 |
| 7 | Bautista, Yoltzi |   | unr. | 1150 | 307Q | 5 |   | W61 | W77 | W25 | D9 | 3.5 | 7 | 8.5 | 23.5 | 9.5 |
| 8 | Orea-Luna, Karen |   | unr. | 1150 | 307Q | 4 |   | D26 | W68 | W31 | W27 | 3.5 | 7 | 8.5 | 20 | 8 |
| 9 | Connoly-Smith, Tallaluh |   | unr. | 1147 | 150Q | 3 |   | W63 | X89 | W40 | D7 | 3.5 | 6.5 | 6.5 | 15.5 | 8.5 |
| 10 | Hatzigeorgiou, Gerasimos |   | unr. | 1150 | 266Q | 4 |   | W87 | W19 | W49 | L4 | 3.0 | 8.5 | 9 | 22 | 9 |
| 11 | Cao, Avril |   | unr. | 1150 | 160K | 3 |   | X91 | W65 | W18 | L1 | 3.0 | 8 | 8 | 20.5 | 8 |
| 12 | Juarez, Beverly |   | unr. | 1105 | 307Q | 3 |   | W29 | D24 | W35 | D30 | 3.0 | 7.5 | 10 | 24.5 | 8 |
| 13 | Barry, Marcus |   | unr. | 1043 | LTSAS | 5 |   | W46 | W20 | L14 | W39 | 3.0 | 7.5 | 9.5 | 25 | 8 |
| 14 | Kenney, Shane |   | unr. | 1150 | 150Q | 4 |   | X89 | W63 | W13 | L2 | 3.0 | 7.5 | 7.5 | 18 | 8 |
| 15 | Arvind, Samyuktha |   | unr. | 1014 | 165Q | 5 |   | D23 | W53 | D30 | W45 | 3.0 | 7 | 8.5 | 21 | 7 |
| 16 | Cajamarca, Jaydee |   | unr. | 1000 | 19Q | 4 |   | W85 | L1 | W60 | W50 | 3.0 | 7 | 7 | 17.5 | 7 |
| 17 | Martinez, Geanna |   | unr. | 918 | 307Q | 5 |   | W56 | L18 | W75 | W44 | 3.0 | 6.5 | 7 | 18 | 7 |
| 18 | Holmes, Sebastien |   | unr. | 1060 | 166Q | 4 |   | W72 | W17 | L11 | X57 | 3.0 | 6.5 | 6.5 | 18 | 7 |
| 19 | Condon, Dylan |   | unr. | 973 | 150Q | 1 |   | W47 | L10 | W71 | W85 | 3.0 | 6 | 6 | 17 | 7 |
| 20 | Zhumi, Alexander |   | unr. | 953 | 19Q | 3 |   | W84 | L13 | W73 | W41 | 3.0 | 5.5 | 6.5 | 18 | 7 |
| 21 | Lojano, Erick |   | unr. | 978 | 307Q |   |   | H--- | W69 | D39 | W52 | 3.0 | 5 | 5 | 12.5 | 6.5 |
| 22 | Collado, Miley |   | unr. | 899 | 329Q | 4 |   | L71 | W78 | X89 | X49 | 3.0 | 2 | 2 | 5 | 4 |
| 23 | Tamay, Priscilla |   | unr. | 939 | 307Q | 3 |   | D15 | W70 | W64 | L6 | 2.5 | 8.5 | 10 | 23.5 | 7 |
| 24 | Huang, Ronnie |   | unr. | 1007 | 160K | 3 |   | W80 | D12 | W37 | L5 | 2.5 | 8.5 | 9 | 23 | 7.5 |
| 25 | Wells, Owen |   | unr. | 947 | 130K | 3 |   | W45 | W48 | L7 | D29 | 2.5 | 8 | 9.5 | 24 | 7.5 |
| 26 | Yarin, Elijah |   | unr. | 992 | 150Q | 3 |   | D8 | D44 | D28 | W58 | 2.5 | 8 | 9.5 | 23 | 5.5 |
| 27 | Sobel, Jackson |   | unr. | 905 | 130K | 3 |   | D37 | W79 | W36 | L8 | 2.5 | 8 | 9.5 | 22 | 7 |
| 28 | Daniel, Azahrie |   | unr. | 946 | 329Q | 4 |   | L2 | W75 | D26 | W65 | 2.5 | 7.5 | 8 | 21 | 5 |
| 29 | Marjchrzak, Jacob |   | unr. | 887 | 150Q | 3 |   | L12 | W80 | W46 | D25 | 2.5 | 7.5 | 8 | 20.5 | 5.5 |
| 30 | Muhammed, Zuri |   | unr. | 1034 | LTSAS |   |   | H--- | W59 | D15 | D12 | 2.5 | 7.5 | 7.5 | 18.5 | 6 |
| 31 | Weeks, Taylor |   | unr. | 862 | 266Q | 3 |   | D62 | W54 | L8 | X70 | 2.5 | 7 | 7 | 14.5 | 5 |
| 32 | Robles, Oliver |   | unr. | 802 | 307Q | 4 |   | X92 | L38 | W48 | D34 | 2.5 | 6.5 | 6.5 | 18 | 5.5 |
| 33 | Tsering, Kunkhen |   | unr. | 753 | 166Q | 2 |   | D42 | X91 | W81 | L3 | 2.5 | 6.5 | 6.5 | 16.5 | 6 |
| 34 | Guallpa, Kevin |   | unr. | 847 | 150Q | 4 |   | D58 | D57 | W47 | D32 | 2.5 | 6 | 7.5 | 18.5 | 6 |
| 35 | Burnett, Cole |   | unr. | 889 | LTSAS |   |   | H--- | W62 | L12 | W64 | 2.5 | 6 | 6 | 15.5 | 5.5 |
| 36 | Marte, Eddy |   | unr. | 861 | 200M |   |   | H--- | W82 | L27 | W38 | 2.5 | 5 | 5 | 15.5 | 5.5 |
| 37 | Kelvin Tineo, Frank |   | unr. | 795 | 226X | 4 |   | D27 | W42 | L24 | D51 | 2.0 | 4.5 | 9 | 23.5 | 5.5 |
| 38 | Rivera, Chloe |   | unr. | 791 | 19Q | 4 |   | W76 | W32 | L1 | L36 | 2.0 | 4.5 | 9 | 22 | 7 |
| 39 | Farciet, Irving |   | unr. | 761 | 150Q | 2 |   | D59 | W83 | D21 | L13 | 2.0 | 4.5 | 8 | 19.5 | 6 |
| 40 | Lopez, James |   | unr. | 784 | 200M | 5 |   | W50 | L49 | L9 | W74 | 2.0 | 4 | 8 | 21.5 | 5 |
| 41 | Elashry, Rayan |   | unr. | 846 | 150Q | 4 |   | X88 | W74 | L3 | L20 | 2.0 | 4 | 8 | 19 | 6 |
| 42 | Llanos, Ahylzah |   | unr. | 679 | 54K | 4 |   | D33 | L37 | W68 | D55 | 2.0 | 4 | 7.5 | 18 | 4.5 |
| 43 | Fyall, Paris |   | unr. | 828 | 54K |   |   | H--- | W51 | L5 | D53 | 2.0 | 4 | 7.5 | 17 | 5 |
| 44 | Lin, Steven |   | unr. | 852 | 139K |   |   | H--- | D26 | W77 | L17 | 2.0 | 4 | 7 | 16.5 | 5 |
| 45 | D'Amato, Riley |   | unr. | 671 | 266Q | 5 |   | L25 | W66 | X91 | L15 | 2.0 | 4 | 7 | 16.5 | 4 |
| 46 | Bloom, Brady |   | unr. | 734 | 185Q | 1 |   | L13 | W76 | L29 | W72 | 2.0 | 3.5 | 7 | 17.5 | 4 |
| 47 | Fulton, Zaniah |   | unr. | 702 | 279X | 4 |   | L19 | W87 | L34 | W71 | 2.0 | 3.5 | 7 | 17 | 4 |
| 48 | McIntosh, Dominique |   | unr. | 693 | 200M | 3 |   | W66 | L25 | L32 | W75 | 2.0 | 3.5 | 6.5 | 18 | 5 |
| 49 | Rice, Tajmeir |   | unr. | 820 | SCSNY | 4 |   | W60 | W40 | L10 | F22 | 2.0 | 3.5 | 6.5 | 17.5 | 7 |
| 50 | Rhymer, Yvanni |   | unr. | 638 | SCSNY | 3 |   | L40 | B--- | W61 | L16 | 2.0 | 3.5 | 6.5 | 15.5 | 4 |
| 51 | Araujo, Ashley |   | unr. | 663 | 279X | 4 |   | D81 | L43 | W62 | D37 | 2.0 | 3.5 | 6 | 15.5 | 4.5 |
| 52 | Chen, Ling |   | unr. | 838 | 160K | 3 |   | L5 | W86 | X88 | L21 | 2.0 | 3 | 6.5 | 15 | 4 |
| 53 | Cheung, Zhuo Ni |   | unr. | 725 | 160K | 3 |   | H--- | L15 | W82 | D43 | 2.0 | 2.5 | 5.5 | 13.5 | 4 |
| 54 | Lopez, Alessa |   | unr. | 692 | 200M |   |   | H--- | L31 | D59 | W73 | 2.0 | 2.5 | 4.5 | 11.5 | 3.5 |
| 55 | Flythe, Earl |   | unr. | 613 | 266Q |   |   | H--- | L58 | W87 | D42 | 2.0 | 2 | 4 | 9.5 | 4 |
| 56 | Nallogongu, Tanvi |   | unr. | 584 | 150Q | 2 |   | L17 | L72 | W86 | W76 | 2.0 | 1.5 | 4.5 | 11 | 3 |
| 57 | Lhaden, Richen |   | unr. | 753 | SCSNY |   |   | H--- | D34 | X90 | F18 | 2.0 | 0 | 2.5 | 6 | 4 |
| 58 | Hernandez, Isael |   | unr. | 772 | 307Q | 3 |   | D34 | W55 | L6 | L26 | 1.5 | 7 | 10.5 | 24 | 5 |
| 59 | Garcia, Michael |   | unr. | 618 | 307Q | 3 |   | D39 | L30 | D54 | D67 | 1.5 | 5.5 | 8 | 18 | 3.5 |
| 60 | Lopez, Ismaella |   | unr. | 587 | 200M | 3 |   | L49 | W84 | L16 | D61 | 1.5 | 5 | 8 | 18.5 | 3.5 |
| 61 | Dodds, Ian |   | unr. | 573 | 150Q | 3 |   | L7 | W67 | L50 | D60 | 1.5 | 4.5 | 8 | 19.5 | 3.5 |
| 62 | Bueno, Julian |   | unr. | 585 | 150Q | 4 |   | D31 | L35 | L51 | W82 | 1.5 | 4.5 | 7 | 16.5 | 3 |
| 63 | Rosario, Joimarie |   | unr. | 635 | 279X | 4 |   | L9 | L14 | D66 | X84 | 1.5 | 4 | 7 | 18.5 | 1 |
| 64 | Lorenzo, Juan |   | unr. | 589 | 200M |   |   | H--- | W81 | L23 | L35 | 1.5 | 3 | 5.5 | 14.5 | 4.5 |
| 65 | Flythe, Bryce |   | unr. | 613 | 266Q |   |   | H--- | L11 | W83 | L28 | 1.5 | 3 | 5.5 | 14.5 | 3.5 |
| 66 | Montagna, Francesca |   | unr. | 513 | 130K | 4 |   | L48 | L45 | D63 | W81 | 1.5 | 3 | 5 | 12 | 2 |
| 67 | Meyer, Eli |   | unr. | 483 | 266Q | 3 |   | L77 | L61 | W85 | D59 | 1.5 | 3 | 4.5 | 11 | 2.5 |
| 68 | Colter, Makayla |   | unr. | 534 | 200M |   |   | H--- | L8 | L42 | W83 | 1.5 | 2.5 | 6 | 14 | 2.5 |
| 69 | Velez, Logan |   | unr. | 495 | 150Q |   |   | H--- | L21 | L70 | W80 | 1.5 | 2.5 | 5.5 | 11 | 2.5 |
| 70 | Ramos, Kal-El |   | unr. | 637 | SCSNY |   |   | H--- | L23 | W69 | F31 | 1.5 | 1.5 | 4 | 9.5 | 3.5 |
| 71 | Pena, Soleil |   | unr. | 667 | 166Q | 4 |   | W22 | L3 | L19 | L47 | 1.0 | 7 | 11 | 25 | 4 |
| 72 | Zuviydov, Danik |   | unr. | 597 | 307Q | 5 |   | L18 | W56 | L2 | L46 | 1.0 | 6.5 | 10 | 23 | 3 |
| 73 | Walsh, Jack |   | unr. | 507 | 150Q | 3 |   | L1 | W85 | L20 | L54 | 1.0 | 5 | 9 | 20.5 | 3 |
| 74 | Salant, Daniel |   | unr. | 550 | 279X | 4 |   | L4 | L41 | W78 | L40 | 1.0 | 4.5 | 7.5 | 20 | 2 |
| 75 | Sallent, Eli |   | unr. | 550 | 150Q | 3 |   | X90 | L28 | L17 | L48 | 1.0 | 4.5 | 7.5 | 17 | 3 |
| 76 | Delgado, Isis |   | unr. | 350 | SABX3 | 1 |   | L38 | L46 | B--- | L56 | 1.0 | 4 | 6 | 14 | 1 |
| 77 | Bermejo, Karla |   | unr. | 637 | 150Q | 4 |   | W67 | L7 | L44 | --- | 1.0 | 3.5 | 7 | 17 | 4 |
| 78 | Odenthal, Vivien |   | unr. | 449 | 150Q | 3 |   | L3 | L22 | L74 | W86 | 1.0 | 3 | 7 | 16 | 1 |
| 79 | Walker, Tiquan |   | unr. | 495 | SCSNY | 5 |   | B--- | L27 | F4 | --- | 1.0 | 0 | 2.5 | 7 | 3 |
| 80 | Robles, Dulce |   | unr. | 350 | 307Q | 4 |   | L24 | L29 | D84 | L69 | 0.5 | 5 | 7.5 | 16.5 | 1 |
| 81 | Carpenter, Touma |   | unr. | 350 | 150Q | 1 |   | D51 | L64 | L33 | L66 | 0.5 | 5 | 7 | 17 | 2 |
| 82 | Vats, Dhamanjay |   | unr. | 350 | 266Q |   |   | H--- | L36 | L53 | L62 | 0.5 | 3.5 | 6 | 12.5 | 1.5 |
| 83 | Ali, Muhammed |   | unr. | 350 | LTSAS |   |   | H--- | L39 | L65 | L68 | 0.5 | 3 | 5 | 12 | 1.5 |
| 84 | Clay, Jada |   | unr. | 350 | SCSNY | 2 |   | L20 | L60 | D80 | F63 | 0.5 | 2 | 5 | 11.5 | 1 |
| 85 | Carson, Jada |   | unr. | 350 | LTSAS | 4 |   | L16 | L73 | L67 | L19 | 0.0 | 5.5 | 8.5 | 19.5 | 0 |
| 86 | Dexter, Arlington |   | unr. | 350 | LTSAS | 1 |   | L6 | L52 | L56 | L78 | 0.0 | 4.5 | 8 | 16.5 | 0 |
| 87 | Aref, Mariam |   | unr. | 350 | 150Q | 4 |   | L10 | L47 | L55 | --- | 0.0 | 4 | 7 | 17 | 0 |
| 88 | Chuchuca, Charly | 16274525 | 786 | 786 | 307Q | 4 | NY | F22 | F4 | F52 | --- | 0.0 | 0 | 0 | 0 | 0 |
| 89 | Hernandez, Lorena | 16236086 | 724 | 724 | 307Q | 5 | NY | F14 | F9 | F22 | --- | 0.0 | 0 | 0 | 0 | 0 |
| 90 | Martinez, Kaylee | 16274504 | 470 | 470 | 307Q | 5 | NY | F75 | F2 | F57 | --- | 0.0 | 0 | 0 | 0 | 0 |
| 91 | Reynoso, Daisy | 16236044 | 240 | 240 | 307Q | 5 | NY | F11 | F33 | F45 | --- | 0.0 | 0 | 0 | 0 | 0 |
| 92 | Wang, William |   | unr. | 384 | 160K | 0 |   | F32 | U--- | U--- | --- | 0.0 | 0 | 0 | 0 | 0 |
Team Roster and Standings. CIS Queens Chess Day at 150Q: Open (K-12 1500+)
| | | | | | | | |
| --- | --- | --- | --- | --- | --- | --- | --- |
|   | Code | Name | Score | TBrk[M] | TBrk[S] | TBrk[O] | TBrk[C] |
| 1 | ESCHS | ESCHS (1476.0) - Cnt: 2 | 3.0 | 5 | 8 | 17 | 2 |
|   |   | Chen, Leo (1471) 2.0 |   |   |   |   |   |
|   |   | Karp, Richard (1481) 1.0 |   |   |   |   |   |
Team Roster and Standings. CIS Queens Chess Day at 150Q: Reserve (K-12 U1500)
| | | | | | | | |
| --- | --- | --- | --- | --- | --- | --- | --- |
|   | Code | Name | Score | TBrk[M] | TBrk[S] | TBrk[O] | TBrk[C] |
| 1 | ESCHS | ESCHS (1383.8) - Cnt: 6 | 12.0 | 27.5 | 32 | 90.5 | 31 |
|   |   | Tom Wong, Lucas (1453) 3.5 |   |   |   |   |   |
|   |   | Ann Perez, Lee (1394) 3.5 |   |   |   |   |   |
|   |   | Rivera, Louis (1256) 2.5 |   |   |   |   |   |
|   |   | Figueroa, James (1179) 2.5 |   |   |   |   |   |
| 2 | BTECH | BTECH (1218.3) - Cnt: 4 | 9.5 | 21 | 30.5 | 80.5 | 22 |
|   |   | Khong, Vernon (1300) 3.0 |   |   |   |   |   |
|   |   | Kue, Matthew (1344) 2.5 |   |   |   |   |   |
|   |   | Rodriguez, Jonathan (1168) 2.0 |   |   |   |   |   |
|   |   | Scorcia, Yvonne (1061) 2.0 |   |   |   |   |   |
| 3 | 180K | 180K (1162.8) - Cnt: 4 | 8.5 | 26 | 38 | 93.5 | 23.5 |
|   |   | Garcia, Elian (1406) 3.5 |   |   |   |   |   |
|   |   | Shi, Raymond (1004) 2.0 |   |   |   |   |   |
|   |   | Ni, Bin (1103) 1.5 |   |   |   |   |   |
|   |   | Chen, Dehao (1138) 1.5 |   |   |   |   |   |
| 4 | 318K | 318k (1106.3) - Cnt: 3 | 7.0 | 20 | 24.5 | 61 | 16 |
|   |   | Zhang, Joey (1035) 3.0 |   |   |   |   |   |
|   |   | Harding-Perkins, Christopher (1114) 2.5 |   |   |   |   |   |
|   |   | Tratenberg, Beckett (1170) 1.5 |   |   |   |   |   |
| 5 | 503K | 503K (1098.3) - Cnt: 4 | 6.0 | 18.5 | 33.5 | 79 | 15 |
|   |   | Zhang, Eric (1138) 2.0 |   |   |   |   |   |
|   |   | Ye, Leo (1087) 2.0 |   |   |   |   |   |
|   |   | Cheung, Michael (1013) 1.5 |   |   |   |   |   |
|   |   | Li, Nelson (1155) 0.5 |   |   |   |   |   |
| 6 | STUY | STUY (1091.0) - Cnt: 2 | 4.0 | 12 | 15 | 34.5 | 11 |
|   |   | Idris, Anand (1000) 3.0 |   |   |   |   |   |
|   |   | Wang, Michael (1182) 1.0 |   |   |   |   |   |
| 7 | SA-HNW | SA-HNW (1197.3) - Cnt: 3 | 3.5 | 14 | 23 | 55.5 | 8.5 |
|   |   | Iinuma, Kazumasa (1318) 1.5 |   |   |   |   |   |
|   |   | Cespedes, Patrick (1127) 1.0 |   |   |   |   |   |
|   |   | Chicaiza, Justin (1147) 1.0 |   |   |   |   |   |
| 8 | 139K | 139K (1142.0) - Cnt: 2 | 3.5 | 6 | 11.5 | 29.5 | 5.5 |
|   |   | Flores-Zeledon, Dana (1351) 2.0 |   |   |   |   |   |
|   |   | Pearce, Ruby (933) 1.5 |   |   |   |   |   |
| 9 | BSI | BSI (974.5) - Cnt: 2 | 3.0 | 7 | 14 | 33 | 6 |
|   |   | Polonsky, Brandon (1002) 2.0 |   |   |   |   |   |
|   |   | Krol, David (947) 1.0 |   |   |   |   |   |
| 10 | WAGNER | WAGNER (1262.5) - Cnt: 2 | 0.5 | 9.5 | 14 | 31 | 1.5 |
|   |   | Loja, Jonathan (1217) 0.5 |   |   |   |   |   |
|   |   | Eduardo, Ramirez (1308) 0.0 |   |   |   |   |   |
Team Roster and Standings. CIS Queens Chess Day at 150Q: JH-HS Novice (K-12 U1100)
| | | | | | | | |
| --- | --- | --- | --- | --- | --- | --- | --- |
|   | Code | Name | Score | TBrk[M] | TBrk[S] | TBrk[O] | TBrk[C] |
| 1 | 180K | 180K (964.0) - Cnt: 8 | 16.0 | 29 | 35.5 | 99.5 | 40 |
|   |   | Ergashev, Amirshoh (926) 4.0 |   |   |   |   |   |
|   |   | Yan, Alvin (841) 4.0 |   |   |   |   |   |
|   |   | Lin, Raymond (1021) 4.0 |   |   |   |   |   |
|   |   | Horvath, Marko (975) 4.0 |   |   |   |   |   |
| 2 | 160K | 160k (977.0) - Cnt: 5 | 11.0 | 32.5 | 37.5 | 93.5 | 29 |
|   |   | Wen Weng, Li (848) 3.0 |   |   |   |   |   |
|   |   | Huang, Zibin (923) 3.0 |   |   |   |   |   |
|   |   | Lu, Matthew (943) 2.5 |   |   |   |   |   |
|   |   | Wang, Raymond (1065) 2.5 |   |   |   |   |   |
| 3 | 126K | 126K (873.8) - Cnt: 9 | 11.0 | 27.5 | 32.5 | 83 | 27 |
|   |   | Mendoza, Antonio (795) 3.0 |   |   |   |   |   |
|   |   | Modzelewski, Robert (1026) 3.0 |   |   |   |   |   |
|   |   | Gabel, Emilia (543) 3.0 |   |   |   |   |   |
|   |   | Castillo, Leily (739) 2.0 |   |   |   |   |   |
| 4 | 216Q | 216Q (853.3) - Cnt: 4 | 10.0 | 29.5 | 35.5 | 91 | 26 |
|   |   | Nath, Partho (924) 3.0 |   |   |   |   |   |
|   |   | Navarette, Deigo (986) 3.0 |   |   |   |   |   |
|   |   | Saleh, Adeeb (760) 2.5 |   |   |   |   |   |
|   |   | Kumar, Hetish (743) 1.5 |   |   |   |   |   |
| 5 | 279X | 279X (819.5) - Cnt: 5 | 10.0 | 23 | 32.5 | 79 | 24 |
|   |   | Parrales, Justin (917) 3.0 |   |   |   |   |   |
|   |   | Canelas, Ramon (632) 3.0 |   |   |   |   |   |
|   |   | Bautista, Uladis (895) 2.0 |   |   |   |   |   |
|   |   | Okai-Koi, Jacob (391) 2.0 |   |   |   |   |   |
| 6 | 318K | 318k (729.3) - Cnt: 11 | 8.5 | 21 | 35.5 | 83.5 | 19 |
|   |   | Clementson, Tyrone (813) 2.5 |   |   |   |   |   |
|   |   | Miranda, Noah (828) 2.0 |   |   |   |   |   |
|   |   | Enferri, Mateo (695) 2.0 |   |   |   |   |   |
|   |   | Olivo, Augustus (499) 2.0 |   |   |   |   |   |
| 7 | SA | SA (759.5) - Cnt: 5 | 8.0 | 21.5 | 35.5 | 84 | 23.5 |
|   |   | Laljit, Christopher (704) 2.5 |   |   |   |   |   |
|   |   | Fox, Benjamin (890) 2.0 |   |   |   |   |   |
|   |   | Fox, Ethan (813) 2.0 |   |   |   |   |   |
|   |   | Minhas, Jagmeet (445) 1.5 |   |   |   |   |   |
| 8 | HPCMS | HPCMS (596.8) - Cnt: 7 | 7.0 | 20 | 31 | 80.5 | 16.5 |
|   |   | Dong, Ryan (701) 2.5 |   |   |   |   |   |
|   |   | Lasalle, Jaidan (578) 2.0 |   |   |   |   |   |
|   |   | Wu, Justin (569) 1.5 |   |   |   |   |   |
|   |   | Cohen, Lucas (539) 1.0 |   |   |   |   |   |
| 9 | 122Q | 122Q (626.0) - Cnt: 3 | 7.0 | 12 | 19.5 | 51 | 15 |
|   |   | Kogyal, Metok (558) 3.0 |   |   |   |   |   |
|   |   | Walsh, Liam (587) 2.0 |   |   |   |   |   |
|   |   | Armas, Xavier (733) 2.0 |   |   |   |   |   |
| 10 | SA-HNW | SA-HNW (693.7) - Cnt: 3 | 6.5 | 19 | 24 | 61 | 15.5 |
|   |   | Ararba, Solayman (684) 3.0 |   |   |   |   |   |
|   |   | Caldwell, Orion (864) 3.0 |   |   |   |   |   |
|   |   | Chicaiza, Andy (533) 0.5 |   |   |   |   |   |
| 11 | 223K | 223K (567.7) - Cnt: 3 | 6.0 | 10.5 | 16 | 39.5 | 11 |
|   |   | Wang, Edison (625) 3.0 |   |   |   |   |   |
|   |   | Cheung, Ho Yin (773) 2.0 |   |   |   |   |   |
|   |   | Davronov, Abdurahmon (305) 1.0 |   |   |   |   |   |
| 12 | WAGNER | WAGNER (737.0) - Cnt: 2 | 6.0 | 10.5 | 15 | 41.5 | 15 |
|   |   | Christofferson, Pabo (1008) 4.0 |   |   |   |   |   |
|   |   | Kang, Brian (466) 2.0 |   |   |   |   |   |
| 13 | SABX1 | SABX1 (798.0) - Cnt: 2 | 4.5 | 11.5 | 15 | 40.5 | 12 |
|   |   | Nguyen, Angelina (900) 3.0 |   |   |   |   |   |
|   |   | Samuel, Roy (696) 1.5 |   |   |   |   |   |
| 14 | 131M | 131M (580.5) - Cnt: 2 | 4.5 | 10.5 | 14.5 | 40 | 10.5 |
|   |   | Chen, Randy (728) 2.5 |   |   |   |   |   |
|   |   | Wang, Jason (433) 2.0 |   |   |   |   |   |
| 15 | ESCHS | ESCHS (936.0) - Cnt: 2 | 4.0 | 11 | 14 | 31.5 | 10 |
|   |   | Tom Wong, Jacob (936) 3.0 |   |   |   |   |   |
|   |   | Nagel, Gabriel (unr.) 1.0 |   |   |   |   |   |
| 16 | AAS | AAS (0.0) - Cnt: 2 | 3.0 | 9.5 | 16.5 | 41.5 | 9 |
|   |   | Yau, Jason (unr.) 2.0 |   |   |   |   |   |
|   |   | Braich, Harkamal (unr.) 1.0 |   |   |   |   |   |
| 17 | 390X | 390x (646.0) - Cnt: 2 | 3.0 | 9 | 17.5 | 41.5 | 9 |
|   |   | Castelan, Carlos (866) 2.0 |   |   |   |   |   |
|   |   | Galva, Daryll (426) 1.0 |   |   |   |   |   |
| 18 | 141Q | 141Q (531.0) - Cnt: 2 | 3.0 | 6.5 | 13.5 | 33 | 5 |
|   |   | Congrains, Johan (600) 2.0 |   |   |   |   |   |
|   |   | Parameswar, Suraj (462) 1.0 |   |   |   |   |   |
Team Roster and Standings. CIS Queens Chess Day at 150Q: JH-HS NRB (6-12 Unrated)
| | | | | | | | |
| --- | --- | --- | --- | --- | --- | --- | --- |
|   | Code | Name | Score | TBrk[M] | TBrk[S] | TBrk[O] | TBrk[C] |
| 1 | AAS | AAS (0.0) - Cnt: 5 | 13.5 | 31.5 | 35 | 96 | 34.5 |
|   |   | Velasquez, Johnathan (unr.) 4.0 |   |   |   |   |   |
|   |   | Lari, Eros (unr.) 4.0 |   |   |   |   |   |
|   |   | Turner, Asher (unr.) 3.0 |   |   |   |   |   |
|   |   | Kanina, Amy (unr.) 2.5 |   |   |   |   |   |
| 2 | HPCMS | HPCMS (0.0) - Cnt: 20 | 13.0 | 35 | 40.5 | 101 | 34 |
|   |   | Katwal, Kalvin (unr.) 4.0 |   |   |   |   |   |
|   |   | Huezo, Andrei (unr.) 3.0 |   |   |   |   |   |
|   |   | Iida, Mitsuki (unr.) 3.0 |   |   |   |   |   |
|   |   | Hernandez, Lesly (unr.) 3.0 |   |   |   |   |   |
| 3 | 30K | 30K (0.0) - Cnt: 10 | 12.0 | 24 | 24 | 62 | 27 |
|   |   | Alkjalaidi, Muhahmed (unr.) 3.5 |   |   |   |   |   |
|   |   | Au, Tony (unr.) 3.5 |   |   |   |   |   |
|   |   | Zhao, Brian (unr.) 2.5 |   |   |   |   |   |
|   |   | Truang, Tien (unr.) 2.5 |   |   |   |   |   |
| 4 | WAGNER | WAGNER (0.0) - Cnt: 8 | 9.5 | 23.5 | 32 | 81 | 24.5 |
|   |   | Patankar, Zaid (unr.) 3.0 |   |   |   |   |   |
|   |   | Chi, Weihao (unr.) 2.5 |   |   |   |   |   |
|   |   | Gurung, Tseten (unr.) 2.0 |   |   |   |   |   |
|   |   | Chua, Bryce (unr.) 2.0 |   |   |   |   |   |
| 5 | BCCS | BCCS (0.0) - Cnt: 5 | 9.0 | 23.5 | 33.5 | 88 | 23.5 |
|   |   | Diallo, Abdul (unr.) 3.0 |   |   |   |   |   |
|   |   | Elsamadicy, Rami (unr.) 2.5 |   |   |   |   |   |
|   |   | Zamor, Behold (unr.) 2.0 |   |   |   |   |   |
|   |   | Ellis, Chevaun (unr.) 1.5 |   |   |   |   |   |
| 6 | 266Q | 266Q (414.0) - Cnt: 8 | 9.0 | 15.5 | 27 | 67.5 | 18 |
|   |   | Hatzigeorgiou, Nickolaos (unr.) 3.0 |   |   |   |   |   |
|   |   | Singh, Simraj (unr.) 2.0 |   |   |   |   |   |
|   |   | Singh, Harman (unr.) 2.0 |   |   |   |   |   |
|   |   | Dharia, Shlok (unr.) 2.0 |   |   |   |   |   |
| 7 | AFEL | AFEL (0.0) - Cnt: 11 | 8.0 | 16 | 24 | 58.5 | 16 |
|   |   | Pedraza, Erwing (unr.) 4.0 |   |   |   |   |   |
|   |   | Soto, Bryan (unr.) 2.0 |   |   |   |   |   |
|   |   | Guzman, Nivia (unr.) 1.0 |   |   |   |   |   |
|   |   | Rodriguez, Oscar (unr.) 1.0 |   |   |   |   |   |
| 8 | 141Q | 141Q (0.0) - Cnt: 3 | 6.5 | 14.5 | 21 | 56 | 13 |
|   |   | Kolodziej, Matthew (unr.) 3.0 |   |   |   |   |   |
|   |   | Esquivel, Ronaldo (unr.) 2.0 |   |   |   |   |   |
|   |   | Shady, Anis (unr.) 1.5 |   |   |   |   |   |
| 9 | SA | SA (0.0) - Cnt: 2 | 5.0 | 7 | 11 | 27 | 8 |
|   |   | Corda, Anthony (unr.) 3.0 |   |   |   |   |   |
|   |   | Mattin, Ian (unr.) 2.0 |   |   |   |   |   |
| 10 | 390X | 390x (0.0) - Cnt: 3 | 4.5 | 13.5 | 21.5 | 54.5 | 9 |
|   |   | Boateng, Lamech (unr.) 2.5 |   |   |   |   |   |
|   |   | Soto, Angel (unr.) 1.5 |   |   |   |   |   |
|   |   | Velez, Tabatha (unr.) 0.5 |   |   |   |   |   |
| 11 | SCSNY | SCSNY (0.0) - Cnt: 3 | 4.0 | 7.5 | 15.5 | 42 | 13 |
|   |   | Morrison, Naveaha (unr.) 2.0 |   |   |   |   |   |
|   |   | Christie, Daniel (unr.) 1.0 |   |   |   |   |   |
|   |   | Adlam-Ferguson, Aaron (unr.) 1.0 |   |   |   |   |   |
| 12 | 126K | 126K (0.0) - Cnt: 2 | 4.0 | 6 | 13 | 28.5 | 8.5 |
|   |   | Martinez, Giselle (unr.) 2.0 |   |   |   |   |   |
|   |   | Stepney, Marcell (unr.) 2.0 |   |   |   |   |   |
| 13 | 122Q | 122Q (0.0) - Cnt: 4 | 3.5 | 16.5 | 27 | 67 | 8.5 |
|   |   | Pineiro, Evelyn (unr.) 1.5 |   |   |   |   |   |
|   |   | Schumacher, Margaret (unr.) 1.0 |   |   |   |   |   |
|   |   | Paster Zweibach, Nicholas (unr.) 0.5 |   |   |   |   |   |
|   |   | D'Angelo, Vincent (unr.) 0.5 |   |   |   |   |   |
Team Roster and Standings. CIS Queens Chess Day at 150Q: EL Novice (K-5 U1000)
| | | | | | | | |
| --- | --- | --- | --- | --- | --- | --- | --- |
|   | Code | Name | Score | TBrk[M] | TBrk[S] | TBrk[O] | TBrk[C] |
| 1 | 139K | 139K (836.8) - Cnt: 7 | 13.5 | 29.5 | 31.5 | 85.5 | 32.5 |
|   |   | Jyanchub, Tenzing (853) 4.0 |   |   |   |   |   |
|   |   | Bhattarai, Prayash (909) 4.0 |   |   |   |   |   |
|   |   | Zareie, Aida (804) 3.0 |   |   |   |   |   |
|   |   | Dowshen Flores, Abyl (540) 2.5 |   |   |   |   |   |
| 2 | 503K | 503K (847.5) - Cnt: 9 | 11.5 | 30 | 35 | 87.5 | 29.5 |
|   |   | Zou, Zengjin (819) 3.5 |   |   |   |   |   |
|   |   | Hernandez, Luis (833) 3.0 |   |   |   |   |   |
|   |   | Chavez, Joel (762) 2.5 |   |   |   |   |   |
|   |   | Lin, Vincent (843) 2.5 |   |   |   |   |   |
| 3 | 160K | 160k (800.3) - Cnt: 11 | 11.5 | 28 | 31 | 83 | 30.5 |
|   |   | Christy, Jaden (663) 3.0 |   |   |   |   |   |
|   |   | Huang, Danial (792) 3.0 |   |   |   |   |   |
|   |   | Liu, Jethro (730) 3.0 |   |   |   |   |   |
|   |   | Lin, Kyle (761) 2.5 |   |   |   |   |   |
| 4 | 230K | 230K (634.3) - Cnt: 4 | 8.5 | 24.5 | 31.5 | 76.5 | 21.5 |
|   |   | Li, Benjamin (802) 3.5 |   |   |   |   |   |
|   |   | Lerner Dreamer, Elijah (519) 2.5 |   |   |   |   |   |
|   |   | Rahman, Shammo (680) 1.5 |   |   |   |   |   |
|   |   | Sargent, Sam (536) 1.0 |   |   |   |   |   |
| 5 | 150Q | 150Q (666.3) - Cnt: 6 | 7.0 | 22.5 | 33 | 86.5 | 17 |
|   |   | Akashi, Kyle (711) 3.0 |   |   |   |   |   |
|   |   | Condon, Bronwyn (645) 2.0 |   |   |   |   |   |
|   |   | Hill, Myron (660) 1.0 |   |   |   |   |   |
|   |   | Abernathy, Liam (630) 1.0 |   |   |   |   |   |
| 6 | SABX1 | SABX1 (653.5) - Cnt: 4 | 6.5 | 15.5 | 26.5 | 70 | 14 |
|   |   | Jones, Dana (457) 2.0 |   |   |   |   |   |
|   |   | Reisoglu, Luna (643) 2.0 |   |   |   |   |   |
|   |   | Esquea, Hailey (578) 1.5 |   |   |   |   |   |
|   |   | Pelaez-Ortega, Eleazar (936) 1.0 |   |   |   |   |   |
| 7 | 307Q | 307Q (755.0) - Cnt: 2 | 6.0 | 6.5 | 6.5 | 21.5 | 11 |
|   |   | Chuchuca, Charly (786) 3.0 |   |   |   |   |   |
|   |   | Hernandez, Lorena (724) 3.0 |   |   |   |   |   |
| 8 | 279X | 279X (702.0) - Cnt: 2 | 4.0 | 8 | 16.5 | 38 | 10 |
|   |   | Cordero, David (767) 2.0 |   |   |   |   |   |
|   |   | Mendez, Dago (637) 2.0 |   |   |   |   |   |
Team Roster and Standings. CIS Queens Chess Day at 150Q: EL Rookie (K-5 U600)
| | | | | | | | |
| --- | --- | --- | --- | --- | --- | --- | --- |
|   | Code | Name | Score | TBrk[M] | TBrk[S] | TBrk[O] | TBrk[C] |
| 1 | 160K | 160k (548.8) - Cnt: 15 | 14.0 | 33 | 39.5 | 100 | 34 |
|   |   | Jiang, Tony (583) 4.0 |   |   |   |   |   |
|   |   | Zhu, Stacey (366) 4.0 |   |   |   |   |   |
|   |   | Tang, Brian (202) 3.0 |   |   |   |   |   |
|   |   | Chen, Eden (460) 3.0 |   |   |   |   |   |
| 2 | 279X | 279X (537.8) - Cnt: 7 | 12.0 | 29.5 | 40.5 | 104 | 32 |
|   |   | Febos, Kaly (566) 4.0 |   |   |   |   |   |
|   |   | Bonilla, Josue (472) 3.0 |   |   |   |   |   |
|   |   | Hernandez, Angel (502) 3.0 |   |   |   |   |   |
|   |   | Parrales, Brianna (552) 2.0 |   |   |   |   |   |
| 3 | 329Q | 329Q (415.0) - Cnt: 13 | 12.0 | 28 | 35 | 87.5 | 29 |
|   |   | Edwards, Demarco (491) 4.0 |   |   |   |   |   |
|   |   | Perez, Christian (340) 3.0 |   |   |   |   |   |
|   |   | Ortiz, Sebastian (346) 3.0 |   |   |   |   |   |
|   |   | Reddish, Cameron (105) 2.0 |   |   |   |   |   |
| 4 | 150Q | 150Q (308.5) - Cnt: 10 | 10.0 | 24.5 | 35.5 | 85.5 | 23 |
|   |   | Lin, Ivan (416) 3.0 |   |   |   |   |   |
|   |   | Kogyal, Gephel (202) 3.0 |   |   |   |   |   |
|   |   | Cobotic, Nikola (276) 2.0 |   |   |   |   |   |
|   |   | Canning, Mikah (340) 2.0 |   |   |   |   |   |
| 5 | 230K | 230K (318.5) - Cnt: 5 | 9.5 | 22.5 | 33.5 | 86.5 | 24.5 |
|   |   | Lee, Ivan (unr.) 3.0 |   |   |   |   |   |
|   |   | Hamilton, Caspar (306) 2.5 |   |   |   |   |   |
|   |   | Repik, Rian (unr.) 2.0 |   |   |   |   |   |
|   |   | Slater, Owen (331) 2.0 |   |   |   |   |   |
| 6 | 226X | 226X (352.5) - Cnt: 9 | 9.0 | 23 | 37.5 | 90.5 | 27 |
|   |   | Mensah, Daniel (376) 3.0 |   |   |   |   |   |
|   |   | Toledo, John (unr.) 2.0 |   |   |   |   |   |
|   |   | Boateng, Samuela (384) 2.0 |   |   |   |   |   |
|   |   | Cuevas, Gabriel (502) 2.0 |   |   |   |   |   |
| 7 | 124M | 124m (492.0) - Cnt: 2 | 6.5 | 17 | 19.5 | 50.5 | 18 |
|   |   | Yee, Sean (578) 3.5 |   |   |   |   |   |
|   |   | Lam, Chloe (406) 3.0 |   |   |   |   |   |
| 8 | 139K | 139K (330.5) - Cnt: 3 | 5.5 | 21.5 | 29 | 71 | 16.5 |
|   |   | Daniel, Ariam (484) 3.0 |   |   |   |   |   |
|   |   | Bhattarai, Lata (177) 1.5 |   |   |   |   |   |
|   |   | Puebla, Jordy (unr.) 1.0 |   |   |   |   |   |
| 9 | JCGCS | JCGCS (263.5) - Cnt: 2 | 5.0 | 8 | 13 | 32.5 | 10 |
|   |   | Gollapally, Arav (363) 3.0 |   |   |   |   |   |
|   |   | Velampalli, Akshaya (164) 2.0 |   |   |   |   |   |
| 10 | 130K | 130k (355.0) - Cnt: 2 | 5.0 | 8 | 11 | 28.5 | 10.5 |
|   |   | Coffey, Ronan (355) 3.0 |   |   |   |   |   |
|   |   | Ahmed, Afrah (unr.) 2.0 |   |   |   |   |   |
| 11 | 307Q | 307Q (355.0) - Cnt: 2 | 5.0 | 6 | 9 | 21.5 | 10 |
|   |   | Martinez, Kaylee (470) 3.0 |   |   |   |   |   |
|   |   | Reynoso, Daisy (240) 2.0 |   |   |   |   |   |
| 12 | 200M | 200M (245.7) - Cnt: 3 | 4.0 | 18 | 26 | 65 | 12 |
|   |   | Hernandez, Kevin (493) 3.0 |   |   |   |   |   |
|   |   | Brown, Jamir (136) 1.0 |   |   |   |   |   |
|   |   | Kendja, Chelsea (108) 0.0 |   |   |   |   |   |
| 13 | 180K | 180K (105.0) - Cnt: 2 | 3.5 | 11 | 19 | 42.5 | 9.5 |
|   |   | Guachiac Tambri, Fredy (unr.) 2.0 |   |   |   |   |   |
|   |   | Guachiac Tambri, Hany (105) 1.5 |   |   |   |   |   |
| 14 | 19Q | 19Q (0.0) - Cnt: 2 | 2.0 | 10 | 15 | 32 | 4 |
|   |   | Rivera, Jayden (unr.) 1.0 |   |   |   |   |   |
|   |   | Zhumi, Julio (unr.) 1.0 |   |   |   |   |   |
| 15 | A&L | A&L (310.0) - Cnt: 2 | 2.0 | 7 | 12.5 | 29.5 | 5 |
|   |   | Crawford, Sabine (310) 2.0 |   |   |   |   |   |
|   |   | Kunk, Cyra (unr.) 0.0 |   |   |   |   |   |
Team Roster and Standings. CIS Queens Chess Day at 150Q: EL NRB (K-5 Unrated)
| | | | | | | | |
| --- | --- | --- | --- | --- | --- | --- | --- |
|   | Code | Name | Score | TBrk[M] | TBrk[S] | TBrk[O] | TBrk[C] |
| 1 | 307Q | 307Q (555.0) - Cnt: 17 | 14.5 | 29.5 | 35 | 93.5 | 36 |
|   |   | Mozul, Lamb (unr.) 4.0 |   |   |   |   |   |
|   |   | Rivera, Bryan (unr.) 3.5 |   |   |   |   |   |
|   |   | Bautista, Yoltzi (unr.) 3.5 |   |   |   |   |   |
|   |   | Orea-Luna, Karen (unr.) 3.5 |   |   |   |   |   |
| 2 | 150Q | 150Q (0.0) - Cnt: 19 | 13.5 | 24 | 24 | 61.5 | 31.5 |
|   |   | Dickerson, Andrew (unr.) 4.0 |   |   |   |   |   |
|   |   | Connoly-Smith, Tallaluh (unr.) 3.5 |   |   |   |   |   |
|   |   | Kenney, Shane (unr.) 3.0 |   |   |   |   |   |
|   |   | Condon, Dylan (unr.) 3.0 |   |   |   |   |   |
| 3 | 19Q | 19Q (0.0) - Cnt: 4 | 11.5 | 24.5 | 30 | 78 | 29.5 |
|   |   | Pulgarin, Jayden (unr.) 3.5 |   |   |   |   |   |
|   |   | Cajamarca, Jaydee (unr.) 3.0 |   |   |   |   |   |
|   |   | Zhumi, Alexander (unr.) 3.0 |   |   |   |   |   |
|   |   | Rivera, Chloe (unr.) 2.0 |   |   |   |   |   |
| 4 | 166Q | 166Q (0.0) - Cnt: 4 | 10.5 | 26 | 30 | 75.5 | 26 |
|   |   | Tsering, Jigsal (unr.) 4.0 |   |   |   |   |   |
|   |   | Holmes, Sebastien (unr.) 3.0 |   |   |   |   |   |
|   |   | Tsering, Kunkhen (unr.) 2.5 |   |   |   |   |   |
|   |   | Pena, Soleil (unr.) 1.0 |   |   |   |   |   |
| 5 | 160K | 160k (0.0) - Cnt: 5 | 9.5 | 22 | 29 | 72 | 23.5 |
|   |   | Cao, Avril (unr.) 3.0 |   |   |   |   |   |
|   |   | Huang, Ronnie (unr.) 2.5 |   |   |   |   |   |
|   |   | Chen, Ling (unr.) 2.0 |   |   |   |   |   |
|   |   | Cheung, Zhuo Ni (unr.) 2.0 |   |   |   |   |   |
| 6 | 266Q | 266Q (0.0) - Cnt: 7 | 9.5 | 21.5 | 27 | 62.5 | 22 |
|   |   | Hatzigeorgiou, Gerasimos (unr.) 3.0 |   |   |   |   |   |
|   |   | Weeks, Taylor (unr.) 2.5 |   |   |   |   |   |
|   |   | D'Amato, Riley (unr.) 2.0 |   |   |   |   |   |
|   |   | Flythe, Earl (unr.) 2.0 |   |   |   |   |   |
| 7 | LTSAS | LTSAS (0.0) - Cnt: 6 | 8.5 | 24 | 28 | 71 | 21 |
|   |   | Barry, Marcus (unr.) 3.0 |   |   |   |   |   |
|   |   | Muhammed, Zuri (unr.) 2.5 |   |   |   |   |   |
|   |   | Burnett, Cole (unr.) 2.5 |   |   |   |   |   |
|   |   | Ali, Muhammed (unr.) 0.5 |   |   |   |   |   |
| 8 | 200M | 200M (0.0) - Cnt: 7 | 8.5 | 15 | 24 | 66.5 | 19 |
|   |   | Marte, Eddy (unr.) 2.5 |   |   |   |   |   |
|   |   | Lopez, James (unr.) 2.0 |   |   |   |   |   |
|   |   | McIntosh, Dominique (unr.) 2.0 |   |   |   |   |   |
|   |   | Lopez, Alessa (unr.) 2.0 |   |   |   |   |   |
| 9 | SCSNY | SCSNY (0.0) - Cnt: 6 | 7.5 | 8.5 | 19.5 | 48.5 | 18.5 |
|   |   | Rice, Tajmeir (unr.) 2.0 |   |   |   |   |   |
|   |   | Rhymer, Yvanni (unr.) 2.0 |   |   |   |   |   |
|   |   | Lhaden, Richen (unr.) 2.0 |   |   |   |   |   |
|   |   | Ramos, Kal-El (unr.) 1.5 |   |   |   |   |   |
| 10 | 165Q | 165Q (0.0) - Cnt: 2 | 7.0 | 11.5 | 14 | 38 | 17 |
|   |   | Rajesh Kumar, Sujana (unr.) 4.0 |   |   |   |   |   |
|   |   | Arvind, Samyuktha (unr.) 3.0 |   |   |   |   |   |
| 11 | 130K | 130k (0.0) - Cnt: 3 | 6.5 | 19 | 24 | 58 | 16.5 |
|   |   | Wells, Owen (unr.) 2.5 |   |   |   |   |   |
|   |   | Sobel, Jackson (unr.) 2.5 |   |   |   |   |   |
|   |   | Montagna, Francesca (unr.) 1.5 |   |   |   |   |   |
| 12 | 279X | 279X (0.0) - Cnt: 4 | 6.5 | 15.5 | 27.5 | 71 | 11.5 |
|   |   | Fulton, Zaniah (unr.) 2.0 |   |   |   |   |   |
|   |   | Araujo, Ashley (unr.) 2.0 |   |   |   |   |   |
|   |   | Rosario, Joimarie (unr.) 1.5 |   |   |   |   |   |
|   |   | Salant, Daniel (unr.) 1.0 |   |   |   |   |   |
| 13 | 329Q | 329Q (0.0) - Cnt: 2 | 5.5 | 9.5 | 10 | 26 | 9 |
|   |   | Collado, Miley (unr.) 3.0 |   |   |   |   |   |
|   |   | Daniel, Azahrie (unr.) 2.5 |   |   |   |   |   |
| 14 | 54K | 54K (0.0) - Cnt: 2 | 4.0 | 8 | 15 | 35 | 9.5 |
|   |   | Llanos, Ahylzah (unr.) 2.0 |   |   |   |   |   |
|   |   | Fyall, Paris (unr.) 2.0 |   |   |   |   |   |