DYCD Chess Masters Tournament at PS 11M

Saturday, November 23, 2019
6th Annual DYCD Chess Masters Tournament: HS Open (Grades 9-12)
| | | | | | | | | | | | | | | | | | | |
| --- | --- | --- | --- | --- | --- | --- | --- | --- | --- | --- | --- | --- | --- | --- | --- | --- | --- | --- |
| # | Place | Name | ID | Rtng | Post | Team | Grd | Sex | St | Rd 1 | Rd 2 | Rd 3 | Rd 4 | Tot | TB-Med | TB-Op. cumul. | TB-Cumul. | TB-Solkoff |
| 1 | 1 | Ergashev, Amirshoh |   | unr. | 958 | 180K | 9 | M | NY | W3 | W2 | B--- | D3 | 3.5 | 4 | 10 | 8.5 | 4 |
| 2 | 2 | Duong, Hao |   | unr. | 750 |   | 11 | M | NY | B--- | L1 | W3 | B--- | 3.0 | 4 | 11 | 5 | 4 |
| 3 | 3 | Williams, Darrien |   | unr. | 542 | 126K | 10 | F | NY | L1 | B--- | L2 | D1 | 1.5 | 5 | 22 | 2.5 | 8 |
6th Annual DYCD Chess Masters Tournament: JH Open (Grades 6-8)
| | | | | | | | | | | | | | | | | | | |
| --- | --- | --- | --- | --- | --- | --- | --- | --- | --- | --- | --- | --- | --- | --- | --- | --- | --- | --- |
| # | Place | Name | ID | Rtng | Post | Team | Grd | Sex | St | Rd 1 | Rd 2 | Rd 3 | Rd 4 | Tot | TB-Med | TB-Op. cumul. | TB-Cumul. | TB-Solkoff |
| 1 | 1-12 | Chen, De Hao |   | unr. | 1150 | 180K | 8 | M |   | W46 | W114 | W25 | W24 | 4.0 | 9 | 29 | 10 | 11 |
| 2 |   | Huang, Ryan |   | unr. | 1745 | 122Q | 7 | M |   | W98 | W20 | W30 | W27 | 4.0 | 9 | 29 | 10 | 11 |
| 3 |   | Saquisili, Omar | 15234224 | 1298 | 1361 | 180K | 7 | M | NY | W222 | W23 | W22 | W19 | 4.0 | 9 | 25 | 10 | 9.5 |
| 4 |   | Wang, Raymond |   | unr. | 1150 | 180K | 6 | M |   | W73 | W33 | W102 | W39 | 4.0 | 8.5 | 27.5 | 10 | 10.5 |
| 5 |   | Jiang, Tony |   | unr. | 1150 | 180K | 7 | M |   | W187 | W31 | W68 | W18 | 4.0 | 8 | 24.5 | 10 | 9 |
| 6 |   | Daczka-Filion, Aaro |   | unr. | 1150 | 312M | 6 | M |   | W225 | W41 | W88 | W28 | 4.0 | 8 | 23.5 | 10 | 8.5 |
| 7 |   | Mutha, Siddhartha |   | unr. | 1150 | 312M | 7 | M | NY | W70 | W89 | W100 | W36 | 4.0 | 7.5 | 27.5 | 10 | 9.5 |
| 8 |   | Lin, Raymond |   | unr. | 1150 | 180K | 8 | M |   | W108 | W136 | W67 | W26 | 4.0 | 7.5 | 26.5 | 10 | 9.5 |
| 9 |   | Lin, Becky | 15950103 | 849 | 997 | 180K | 7 | F | NY | W141 | W116 | W92 | W17 | 4.0 | 7 | 24 | 10 | 9 |
| 10 |   | Ramirez, Selvin | 16215095 | 1216 | 1242 | 180K | 8 | M | NY | W138 | W180 | W93 | W21 | 4.0 | 7 | 24 | 10 | 8 |
| 11 |   | Liu, Jethro | 16264638 | 1012 | 1089 | 180K | 6 | M | NY | W194 | W122 | W113 | W35 | 4.0 | 7 | 23 | 10 | 8 |
| 12 |   | Lin, Kyle |   | unr. | 1150 | 180K | 6 | M |   | W228 | W115 | W87 | W29 | 4.0 | 7 | 21.5 | 10 | 7.5 |
| 13 | 13-16 | Huang, Daniel |   | unr. | 1150 | 180K | 7 | M |   | W49 | W95 | W72 | D14 | 3.5 | 9 | 29 | 9.5 | 11 |
| 14 |   | Prohdania, Tisun |   | unr. | 1150 | 218X | 6 | M |   | W219 | W32 | W69 | D13 | 3.5 | 9 | 25 | 9.5 | 10 |
| 15 |   | Castro, Juan |   | unr. | 1150 | BCNY |   |   |   | H--- | W215 | W78 | W75 | 3.5 | 6 | 14 | 7.5 | 6 |
| 16 |   | Larios, Emilio |   | unr. | 1150 | 238K |   |   |   | H--- | W178 | W174 | W82 | 3.5 | 5.5 | 13.5 | 7.5 | 5.5 |
| 17 | 17-66 | Pinero, Bengie |   | unr. | 1119 | ACCION | 8 | M |   | W182 | W45 | W47 | L9 | 3.0 | 10 | 28 | 9 | 11 |
| 18 |   | Sako, Mohamed |   | unr. | 1150 | PROMISE | 7 | M |   | X245 | W43 | W34 | L5 | 3.0 | 10 | 25 | 8 | 10 |
| 19 |   | Traore, Ben |   | unr. | 1145 | PROMISE | 7 | M |   | W58 | W117 | W71 | L3 | 3.0 | 9.5 | 28.5 | 9 | 11.5 |
| 20 |   | Davronov, Sobir | 16920874 | 690 | 892 | 228K | 7 | M | NY | W62 | L2 | W74 | W103 | 3.0 | 9.5 | 27.5 | 7 | 11.5 |
| 21 |   | Wen, Jaylene |   | unr. | 1003 | 312M | 6 | F |   | W140 | W44 | W101 | L10 | 3.0 | 9 | 28 | 9 | 11 |
| 22 |   | Taylor, Ryan |   | unr. | 1210 | 234K | 7 | M |   | W128 | W51 | L3 | W95 | 3.0 | 9 | 28 | 8 | 11 |
| 23 |   | Mukhtarov, Kamranbek |   | unr. | 1140 | 228K | 7 | M |   | W52 | L3 | W117 | W100 | 3.0 | 9 | 28 | 7 | 11 |
| 24 |   | Lerner, Justin | 16844261 | 577 | 780 | 228K | 7 | M | NY | W144 | W142 | W38 | L1 | 3.0 | 9 | 27 | 9 | 11 |
| 25 |   | Rivera, Ernesto |   | unr. | 1150 | 126K | 6 | M |   | W145 | W48 | L1 | W119 | 3.0 | 9 | 25 | 8 | 11 |
| 26 |   | McDonald, Jaylen |   | unr. | 1133 | MECPS | 6 | M |   | W139 | W99 | W96 | L8 | 3.0 | 8 | 26 | 9 | 10 |
| 27 |   | Shi, Raymond | 16138640 | 1345 | 1348 | 180K | 8 | M | NY | W103 | W196 | W97 | L2 | 3.0 | 8 | 26 | 9 | 9 |
| 28 |   | Robinson, Jaylin |   | unr. | 1050 | PROMISE | 8 | M |   | W120 | W183 | W118 | L6 | 3.0 | 8 | 26 | 9 | 9 |
| 29 |   | Bueno, Matthew |   | unr. | 1150 | 141Q | 7 | M | NY | W218 | W185 | W42 | L12 | 3.0 | 8 | 24 | 9 | 9 |
| 30 |   | He, Benson | 16158135 | 682 | 819 | 180K | 6 | M | NY | W125 | W127 | L2 | W109 | 3.0 | 8 | 24 | 8 | 9.5 |
| 31 |   | Been, Max | 16227790 | 429 | 649 | HPCMS | 8 | M | NY | W165 | L5 | W129 | W120 | 3.0 | 8 | 22.5 | 7 | 9.5 |
| 32 |   | Perez, Skyler |   | unr. | 1086 | 126K | 7 | F | NY | W148 | L14 | W99 | W91 | 3.0 | 7.5 | 24.5 | 7 | 9 |
| 33 |   | Hadas, Leo |   | unr. | 1087 | 141Q | 6 |   |   | W168 | L4 | W202 | W90 | 3.0 | 7.5 | 24.5 | 7 | 8.5 |
| 34 |   | Peck, Canon |   | unr. | 1150 | 126K | 7 | M | NY | W50 | W198 | L18 | W98 | 3.0 | 7.5 | 23 | 8 | 8.5 |
| 35 |   | Perrera Press, Daniel |   | unr. | 1034 |   | 5 | M |   | W189 | W107 | W91 | L11 | 3.0 | 7.5 | 22.5 | 9 | 8.5 |
| 36 |   | Jaime, Justin Elij | 17020242 | 247 | 520 | 126K | 7 | M | NY | W191 | W188 | W40 | L7 | 3.0 | 7.5 | 22 | 9 | 8 |
| 37 |   | Moreno-Lopez, Shesit |   | unr. | 873 | 180K | 7 | F |   | W164 | D74 | D53 | W124 | 3.0 | 7.5 | 22 | 7.5 | 9 |
| 38 |   | Elsabagh, Moustafa | 17027287 | unr. | 967 | 141Q | 7 | M | NY | W195 | W106 | L24 | W88 | 3.0 | 7 | 25 | 8 | 8 |
| 39 |   | Wong, Harrison |   | unr. | 1087 | 312M | 6 | M |   | W204 | W186 | W90 | L4 | 3.0 | 7 | 23 | 9 | 8 |
| 40 |   | Williams, Christian |   | unr. | 904 | PROMISE | 7 | M | NY | W181 | W111 | L36 | W89 | 3.0 | 7 | 23 | 8 | 8 |
| 41 |   | Lhaden, Rinchen |   | unr. | 1093 | WOODSIDE | 6 | F |   | W184 | L6 | W183 | W121 | 3.0 | 7 | 23 | 7 | 8 |
| 42 |   | DeFeo, Draco |   | unr. | 1047 | 234K | 6 | M | NY | W223 | W104 | L29 | W93 | 3.0 | 7 | 22.5 | 8 | 7.5 |
| 43 |   | Suriel, Ernest |   | unr. | 1070 | 118X | 6 | M | NY | W80 | L18 | W190 | W96 | 3.0 | 7 | 22.5 | 7 | 8 |
| 44 |   | Aguilar, Jhony | 16901393 | 556 | 732 | 123X | 8 | M | NY | W109 | L21 | W166 | W154 | 3.0 | 7 | 22 | 7 | 8.5 |
| 45 |   | Gutierrez, Roniel |   | unr. | 950 | 131X | 6 | M |   | W129 | L17 | W127 | W132 | 3.0 | 7 | 22 | 7 | 8.5 |
| 46 |   | Lin, Ivan |   | unr. | 954 | 122Q | 6 | M |   | L1 | W197 | W182 | W101 | 3.0 | 7 | 22 | 6 | 8 |
| 47 |   | Mirukaj, Jason |   | unr. | 1000 | 498X | 6 | M |   | W158 | W105 | L17 | W131 | 3.0 | 7 | 21.5 | 8 | 8.5 |
| 48 |   | Facey, Jasmine |   | unr. | 1030 | 228K | 7 | F |   | W157 | L25 | W123 | W114 | 3.0 | 7 | 21.5 | 7 | 8.5 |
| 49 |   | Lomidze, Luka | 16328063 | 685 | 769 | 104K | 8 | M | NY | L13 | W162 | W180 | W125 | 3.0 | 7 | 21 | 6 | 8 |
| 50 |   | Gonzalez Lopez, Christofer |   | unr. | 988 | 498X | 6 | M |   | L34 | W226 | W105 | W118 | 3.0 | 7 | 21 | 6 | 7.5 |
| 51 |   | Ikromjonov, Najmiddin |   | unr. | 995 | 228K | 8 | M |   | W240 | L22 | W134 | W113 | 3.0 | 7 | 19 | 7 | 7 |
| 52 |   | Perez, Kevin |   | unr. | 1008 | 180K | 8 | M |   | L23 | W222 | W122 | W94 | 3.0 | 7 | 19 | 6 | 7.5 |
| 53 |   | Sy, Yahya Seigue | 16959675 | 637 | 706 | 123X | 8 | M | NY | D156 | W220 | D37 | W92 | 3.0 | 6.5 | 21.5 | 7 | 7.5 |
| 54 |   | Dillard, Chance |   | unr. | 1150 | BCNY |   |   |   | H--- | W86 | W176 | D63 | 3.0 | 6.5 | 15 | 7 | 6.5 |
| 55 |   | Barango-Tariah, Da'Saki |   | unr. | 915 | 323Q | 6 | M |   | W149 | L90 | W171 | W110 | 3.0 | 6 | 20.5 | 7 | 7.5 |
| 56 |   | Cruz, Miguel |   | unr. | 952 | 123X | 6 | M |   | W126 | L88 | W192 | W104 | 3.0 | 6 | 20 | 7 | 7 |
| 57 |   | Hernandez, Lesly |   | unr. | 971 | HPCMS | 8 | F |   | L87 | W189 | W111 | W106 | 3.0 | 6 | 19.5 | 6 | 7 |
| 58 |   | Aziz, Mohamed |   | unr. | 863 | 104K | 7 | M |   | L19 | W206 | W188 | W133 | 3.0 | 6 | 19.5 | 6 | 6.5 |
| 59 |   | HUERTA,ITZAEL | 16922776 | 963 | 975 | 126K |   |   | NY | H--- | W110 | W156 | D71 | 3.0 | 6 | 18.5 | 7 | 6 |
| 60 |   | McMenemy, Justin |   | unr. | 1023 | 104K | 7 | M |   | W239 | L87 | W126 | W97 | 3.0 | 6 | 18 | 7 | 6 |
| 61 |   | Diyarza, Ryan |   | unr. | 800 | 104K | 8 | M |   | L94 | W191 | W152 | W135 | 3.0 | 6 | 17 | 6 | 6.5 |
| 62 |   | Wu, Amy |   | unr. | 843 | 180K | 8 | F |   | L20 | W213 | W184 | W128 | 3.0 | 6 | 15 | 6 | 6.5 |
| 63 |   | Khalil, Yousef |   | unr. | 1150 | 238K |   |   |   | H--- | W224 | W137 | D54 | 3.0 | 5.5 | 14 | 7 | 5.5 |
| 64 |   | Estrada, Arion |   | unr. | 930 | 126K | 7 | M |   | L89 | W210 | W181 | W102 | 3.0 | 5 | 18 | 6 | 6 |
| 65 |   | Sze, Hai Li | 16152994 | 128 | 332 | 180K | 8 | F | NY | B--- | L92 | W187 | W112 | 3.0 | 5 | 15 | 6 | 5 |
| 66 |   | Shi, Fionna |   | unr. | 941 | 180K | 8 | F |   | W229 | L91 | W203 | W87 | 3.0 | 4.5 | 16.5 | 7 | 5 |
| 67 | 67-86 | Garcia, Ethan |   | unr. | 950 | 218X | 7 | M |   | W227 | W79 | L8 | D72 | 2.5 | 9 | 24 | 7.5 | 9.5 |
| 68 |   | Annamunthodo, John | 16920152 | 245 | 499 | 323Q | 6 | M | NY | W212 | W94 | L5 | D69 | 2.5 | 8.5 | 25.5 | 7.5 | 9.5 |
| 69 |   | Miranda, Catherine |   | unr. | 801 | 104K | 7 | F |   | W172 | W84 | L14 | D68 | 2.5 | 8.5 | 25 | 7.5 | 10 |
| 70 |   | Zhu, Joanne |   | unr. | 933 | 104K | 8 | F |   | L7 | W147 | W160 | D76 | 2.5 | 8.5 | 23 | 5.5 | 10 |
| 71 |   | Uralov, Jamshid | 16155952 | 777 | 857 | 180K | 6 | M | NY | W134 | W146 | L19 | D59 | 2.5 | 8 | 25 | 7.5 | 10 |
| 72 |   | Ikromjonov, Azam | 16967351 | 627 | 717 | 228K | 7 | M | NY | W200 | W112 | L13 | D67 | 2.5 | 8 | 25 | 7.5 | 9 |
| 73 |   | Cabeza, Gabriel |   | unr. | 802 | PROMISE | 8 | M |   | L4 | D81 | W179 | W157 | 2.5 | 8 | 20.5 | 4.5 | 9.5 |
| 74 |   | Carrillo, Lucas | 16984505 | 552 | 670 | 123X | 8 | M | NY | W207 | D37 | L20 | W156 | 2.5 | 7.5 | 21.5 | 6.5 | 8.5 |
| 75 |   | McLaurin, Cameron |   | unr. | 1104 | PROMISE |   |   |   | H--- | W216 | W77 | L15 | 2.5 | 7 | 15 | 6.5 | 7 |
| 76 |   | Burchak, Modest |   | unr. | 880 | 122Q | 6 | M | NY | L93 | W223 | W115 | D70 | 2.5 | 6.5 | 18 | 5.5 | 7 |
| 77 |   | Shermuhamandadov, Elyor |   | unr. | 899 | 238K |   |   |   | H--- | W85 | L75 | W161 | 2.5 | 6.5 | 15.5 | 5.5 | 6.5 |
| 78 |   | Bahriev, Hosen |   | unr. | 960 | 238K |   |   |   | H--- | W175 | L15 | W159 | 2.5 | 6.5 | 14.5 | 5.5 | 6.5 |
| 79 |   | Mohamed, Sameer |   | unr. | 800 | 123X | 7 | M |   | W166 | L67 | D108 | W177 | 2.5 | 6 | 19 | 6 | 7.5 |
| 80 |   | De Leon, Geycha |   | unr. | 807 | 29X | 8 | F |   | L43 | D158 | W175 | W174 | 2.5 | 6 | 16.5 | 4.5 | 7.5 |
| 81 |   | Watson, Isaac | 17065925 | 397 | 473 | 104K | 7 | M | NY | L92 | D73 | W213 | W165 | 2.5 | 6 | 15 | 4.5 | 6.5 |
| 82 |   | Azuara, Edgar |   | unr. | 950 | BCNY |   |   |   | H--- | W193 | W153 | L16 | 2.5 | 6 | 14 | 6.5 | 6 |
| 83 |   | Pacheco, Izel |   | unr. | 725 | 126K | 6 | F |   | L107 | D130 | W215 | W170 | 2.5 | 5.5 | 15 | 4.5 | 6.5 |
| 84 |   | Marupova, Jasmina |   | unr. | 663 | 192K | 7 | F |   | W226 | L69 | D159 | W176 | 2.5 | 5 | 16.5 | 6 | 5.5 |
| 85 |   | Perez, Estelin |   | unr. | 713 | 29X | 8 | M |   | D193 | L77 | W216 | W173 | 2.5 | 5 | 14 | 5 | 6 |
| 86 |   | Mahecha, Santiago |   | unr. | 863 | 122Q |   |   |   | H--- | L54 | W234 | W164 | 2.5 | 5 | 12 | 4.5 | 5 |
| 87 | 87-155 | Canete, Gabriel |   | unr. | 1000 | 192K | 7 | M |   | W57 | W60 | L12 | L66 | 2.0 | 6 | 30 | 7 | 13 |
| 88 |   | Munoz, Joseph |   | unr. | 911 | ACCION | 8 | M |   | W150 | W56 | L6 | L38 | 2.0 | 6 | 28 | 7 | 12 |
| 89 |   | Uznadze, Lazare |   | unr. | 866 | 104K | 8 | M |   | W64 | L7 | W185 | L40 | 2.0 | 6 | 28 | 6 | 11 |
| 90 |   | Hookcumcharm, Jadon |   | unr. | 824 | 240K | 7 | M |   | W230 | W55 | L39 | L33 | 2.0 | 6 | 23.5 | 7 | 9.5 |
| 91 |   | Lara, Esterlin |   | unr. | 817 | ACCION | 8 | M |   | X221 | W66 | L35 | L32 | 2.0 | 6 | 23 | 6 | 9 |
| 92 |   | Ruzimurodov, Sherbek |   | unr. | 626 | 192K | 7 | M |   | W81 | W65 | L9 | L53 | 2.0 | 5.5 | 27.5 | 7 | 12 |
| 93 |   | Payne, Hunter |   | unr. | 904 | PROMISE | 8 | M |   | W76 | W202 | L10 | L42 | 2.0 | 5.5 | 27.5 | 7 | 10.5 |
| 94 |   | Kovaev, Max |   | unr. | 746 | 240K | 7 | M |   | W61 | L68 | W107 | L52 | 2.0 | 5.5 | 24.5 | 6 | 10.5 |
| 95 |   | Pringle, Jamil |   | unr. | 886 | 104K | 7 | M |   | W119 | L13 | W144 | L22 | 2.0 | 5 | 26.5 | 6 | 10.5 |
| 96 |   | Brown, Elijah |   | unr. | 855 | ACCION | 8 | M |   | W132 | W143 | L26 | L43 | 2.0 | 5 | 26 | 7 | 10 |
| 97 |   | Johnson, Khaleel |   | unr. | 973 | 131X | 6 | M |   | W123 | W121 | L27 | L60 | 2.0 | 5 | 26 | 7 | 10 |
| 98 |   | Jiang, Tingwei |   | unr. | 930 | 180K | 6 | M |   | L2 | W141 | W116 | L34 | 2.0 | 5 | 26 | 5 | 11 |
| 99 |   | Chen, Sophie |   | unr. | 830 | 180K | 8 | F |   | W131 | L26 | L32 | W185 | 2.0 | 5 | 25 | 5 | 9 |
| 100 |   | Samassi, Yaya | 16066226 | 194 | 384 | PROMISE | 7 | M | NY | W206 | W133 | L7 | L23 | 2.0 | 5 | 24.5 | 7 | 10 |
| 101 |   | Calixto, Jilverto | 16922761 | 265 | 462 | 126K | 7 | M | NY | W167 | W135 | L21 | L46 | 2.0 | 5 | 24.5 | 7 | 9.5 |
| 102 |   | Ahuatl, Luis |   | unr. | 809 | 123X | 8 | M |   | W151 | W160 | L4 | L64 | 2.0 | 5 | 23.5 | 7 | 10.5 |
| 103 |   | Gathers, Madison |   | unr. | 832 | 394K | 8 | F |   | L27 | W155 | W149 | L20 | 2.0 | 5 | 23 | 5 | 10 |
| 104 |   | Shaban, Mohamed |   | unr. | 773 | 104K | 7 | M |   | W147 | L42 | W186 | L56 | 2.0 | 5 | 22 | 6 | 9 |
| 105 |   | Kurchevskaya, Diana |   | unr. | 798 | 192K | 8 | F | NY | W130 | L47 | L50 | W197 | 2.0 | 5 | 20 | 5 | 9 |
| 106 |   | Chen, Pingrong |   | unr. | 665 | 180K | 8 | F |   | W236 | L38 | W142 | L57 | 2.0 | 5 | 19.5 | 6 | 8.5 |
| 107 |   | Ke, Rebecca |   | unr. | 725 | 180K | 8 | F |   | W83 | L35 | L94 | W196 | 2.0 | 4.5 | 23.5 | 5 | 8.5 |
| 108 |   | Rodriguez, Alvin |   | unr. | 825 | KIPP STA | 8 | M |   | L8 | W172 | D79 | D137 | 2.0 | 4.5 | 23 | 4.5 | 10 |
| 109 |   | Bhattarai, Prajwal |   | unr. | 658 | 141Q | 6 |   |   | L44 | W169 | W168 | L30 | 2.0 | 4.5 | 21 | 5 | 9 |
| 110 |   | Da Silva, Kylia |   | unr. | 732 | 141Q | 6 | F |   | W162 | L59 | W167 | L55 | 2.0 | 4.5 | 20 | 6 | 9 |
| 111 |   | Huang, Ethan |   | unr. | 671 | 234K | 7 | M |   | W173 | L40 | L57 | W218 | 2.0 | 4.5 | 20 | 5 | 8.5 |
| 112 |   | Marin, Felipe |   | unr. | 504 | 141Q | 6 | M |   | W214 | L72 | W140 | L65 | 2.0 | 4.5 | 19 | 6 | 8 |
| 113 |   | Paramendswar, Rohan |   | unr. | 763 | 141Q | 7 | M |   | W208 | W199 | L11 | L51 | 2.0 | 4 | 23 | 7 | 9 |
| 114 |   | Turner-Cephus, Julien |   | unr. | 800 | PROMISE | 6 | M | NY | W190 | L1 | W201 | L48 | 2.0 | 4 | 23 | 6 | 9 |
| 115 |   | Ridouane, Yassine |   | unr. | 784 | 141Q | 6 | M |   | W171 | L12 | L76 | W186 | 2.0 | 4 | 23 | 5 | 9 |
| 116 |   | Carrillo, Justin |   | unr. | 817 | 131X | 7 | M |   | W124 | L9 | L98 | W182 | 2.0 | 4 | 23 | 5 | 9 |
| 117 |   | Palmer, Jackson | 16988101 | 157 | 348 | 498X | 6 | M | NY | W211 | L19 | L23 | W180 | 2.0 | 4 | 21.5 | 5 | 8 |
| 118 |   | Zhang, Yuqi |   | unr. | 729 | 180K | 8 | F |   | W197 | W205 | L28 | L50 | 2.0 | 4 | 21 | 7 | 8 |
| 119 |   | Das, Anik |   | unr. | 776 | ACCION | 8 | M |   | L95 | W208 | W143 | L25 | 2.0 | 4 | 21 | 5 | 8 |
| 120 |   | Beard, Dorian |   | unr. | 619 | 240K | 6 | M |   | L28 | W233 | W198 | L31 | 2.0 | 4 | 21 | 5 | 7.5 |
| 121 |   | Stepanova, Valeria |   | unr. | 805 | 180K | 7 | F |   | W163 | L97 | W138 | L41 | 2.0 | 4 | 20.5 | 6 | 8.5 |
| 122 |   | Portilla, Albert |   | unr. | 743 | 88K | 6 | M |   | W217 | L11 | L52 | W209 | 2.0 | 4 | 20 | 5 | 9 |
| 123 |   | Doumbia, Chaka |   | unr. | 787 | PROMISE | 6 | M | NY | L97 | W145 | L48 | W190 | 2.0 | 4 | 20 | 4 | 8 |
| 124 |   | Diouf, Muhammad |   | unr. | 680 | PROMISE | 7 | M |   | L116 | W194 | W146 | L37 | 2.0 | 4 | 19.5 | 5 | 8 |
| 125 |   | Quic, Dilan |   | unr. | 612 | ACCION | 8 | M |   | L30 | W214 | W199 | L49 | 2.0 | 4 | 19.5 | 5 | 8 |
| 126 |   | Chen, Melody |   | unr. | 652 | 180K | 8 | F |   | L56 | W204 | L60 | W188 | 2.0 | 4 | 19 | 4 | 7.5 |
| 127 |   | Traore, Souleymane |   | unr. | 662 | PROMISE | 8 | M |   | X243 | L30 | L45 | W205 | 2.0 | 4 | 19 | 4 | 7 |
| 128 |   | Ware, Samantha |   | unr. | 659 | 498X | 6 | F |   | L22 | W231 | W196 | L62 | 2.0 | 4 | 18.5 | 5 | 7.5 |
| 129 |   | Ramiriez, Christopher |   | unr. | 618 | 192K | 7 | M |   | L45 | W229 | L31 | W198 | 2.0 | 4 | 18.5 | 4 | 7.5 |
| 130 |   | Yensi, Edwin |   | unr. | 735 | BERRYHOM | 7 | M |   | L105 | D83 | W158 | D136 | 2.0 | 4 | 17.5 | 4 | 8 |
| 131 |   | Lumsford, Aine |   | unr. | 701 | 122Q | 6 | F | NY | L99 | W240 | W148 | L47 | 2.0 | 4 | 17 | 5 | 7 |
| 132 |   | Young, Aidan |   | unr. | 720 | KIPP STA | 6 | M | NY | L96 | W163 | W205 | L45 | 2.0 | 3.5 | 20.5 | 5 | 7.5 |
| 133 |   | Clerveaux, Rodney |   | unr. | 563 | 898K | 6 | M |   | W161 | L100 | W195 | L58 | 2.0 | 3.5 | 20 | 6 | 7.5 |
| 134 |   | Herbandex, Alec |   | unr. | 679 | HPCMS | 8 | M |   | L71 | W232 | L51 | W199 | 2.0 | 3.5 | 19 | 4 | 7 |
| 135 |   | Jiang, Lina |   | unr. | 554 | 180K | 8 | F |   | W169 | L101 | W209 | L61 | 2.0 | 3.5 | 18.5 | 6 | 7.5 |
| 136 |   | Caesar, Malon |   | unr. | 705 | 898K | 7 | F |   | W235 | L8 | D170 | D130 | 2.0 | 3.5 | 18.5 | 5.5 | 8 |
| 137 |   | Farrow-Ellis, Jordan |   | unr. | 827 | BCNY |   |   |   | H--- | W177 | L63 | D108 | 2.0 | 3.5 | 15 | 5 | 6.5 |
| 138 |   | McEnaney, Sebastian |   | unr. | 754 | 323Q | 6 | M |   | L10 | W217 | L121 | W202 | 2.0 | 3 | 21 | 4 | 8 |
| 139 |   | Chan, Terence |   | unr. | 714 | 180K | 6 | M |   | L26 | D157 | W178 | D153 | 2.0 | 3 | 19 | 4 | 7.5 |
| 140 |   | Rahman, Shajiq |   | unr. | 548 | KIPP: WA | 8 | M |   | L21 | W200 | L112 | W212 | 2.0 | 3 | 19 | 4 | 7 |
| 141 |   | Attar, Ali |   | unr. | 716 | 104K | 6 | M |   | L9 | L98 | W227 | W184 | 2.0 | 3 | 18.5 | 3 | 7.5 |
| 142 |   | Di Laura, Sabatino |   | unr. | 596 | 498X | 7 | M |   | W242 | L24 | L106 | W203 | 2.0 | 3 | 18 | 5 | 7 |
| 143 |   | Smith, Dakota |   | unr. | 648 | 394K | 7 | F |   | W201 | L96 | L119 | W194 | 2.0 | 3 | 17 | 5 | 6 |
| 144 |   | Santos, Eduardo |   | unr. | 626 | 123X | 7 | M |   | L24 | W242 | L95 | W208 | 2.0 | 3 | 17 | 4 | 7 |
| 145 |   | Hamouche, Adam |   | unr. | 702 | 192K | 7 | M |   | L25 | L123 | W238 | W183 | 2.0 | 3 | 16.5 | 3 | 6.5 |
| 146 |   | Lhaden, Tenzom |   | unr. | 611 | WOODSIDE | 7 | F |   | W232 | L71 | L124 | W195 | 2.0 | 3 | 16 | 5 | 6 |
| 147 |   | Lopez, Hector |   | unr. | 652 | 153K | 7 | M | NY | L104 | L70 | W225 | W201 | 2.0 | 3 | 15 | 3 | 6 |
| 148 |   | Yang, Vivian |   | unr. | 639 | 180K | 8 | F |   | L32 | W237 | L131 | W204 | 2.0 | 3 | 14.5 | 4 | 6.5 |
| 149 |   | Canavan, Colin |   | unr. | 658 | HPCMS | 7 | M |   | L55 | W225 | L103 | W200 | 2.0 | 3 | 14.5 | 4 | 6.5 |
| 150 |   | Sahid, Nihat |   | unr. | 630 | 240K | 7 | F |   | L88 | L181 | W223 | W192 | 2.0 | 2 | 13.5 | 3 | 4.5 |
| 151 |   | Cumberbatch, James |   | unr. | 564 | 355Q | 6 | M |   | L102 | L192 | W228 | W210 | 2.0 | 2 | 12.5 | 3 | 4.5 |
| 152 |   | Utkiov, Nozimjon |   | unr. | 635 | 238K |   |   |   | H--- | D209 | L61 | W181 | 2.0 | 2 | 12 | 4 | 5 |
| 153 |   | Elimami, Ichrak |   | unr. | 587 | 238K |   |   |   | H--- | B--- | L82 | D139 | 2.0 | 2 | 10.5 | 4 | 4.5 |
| 154 |   | Oliva, Oliver |   | unr. | 598 | ACCION |   |   |   | H--- | H--- | W221 | L44 | 2.0 | 2 | 8 | 4.5 | 5 |
| 155 |   | Garrett, James |   | unr. | 477 | KIPP ACA | 7 | M |   | L180 | L103 | W231 | W191 | 2.0 | 1.5 | 10.5 | 3 | 4 |
| 156 | 156-179 | Begollari, Isabel |   | unr. | 605 | 180K | 8 | F |   | D53 | W179 | L59 | L74 | 1.5 | 7 | 23 | 5 | 10 |
| 157 |   | Bombaj, Christian |   | unr. | 617 | 141Q | 6 | M |   | L48 | D139 | W207 | L73 | 1.5 | 5.5 | 17.5 | 3.5 | 8.5 |
| 158 |   | Chen, Rachel |   | unr. | 628 | 180K | 8 | F |   | L47 | D80 | L130 | W224 | 1.5 | 5 | 18.5 | 2.5 | 8 |
| 159 |   | Ollivierre, Kiefe |   | unr. | 545 | 394K | 6 | M |   | D224 | D170 | D84 | L78 | 1.5 | 4.5 | 17.5 | 4.5 | 7 |
| 160 |   | Vilchis, Goivani |   | unr. | 621 | 126K | 6 | M |   | W210 | L102 | L70 | D163 | 1.5 | 4.5 | 17 | 4.5 | 7 |
| 161 |   | Melikova, Sabrina |   | unr. | 474 | 192K | 7 | F |   | L133 | W211 | D173 | L77 | 1.5 | 4.5 | 17 | 4 | 7 |
| 162 |   | Cumberbatch, Jayden |   | unr. | 544 | 355Q | 7 | M |   | L110 | L49 | W217 | D171 | 1.5 | 4.5 | 16.5 | 2.5 | 7.5 |
| 163 |   | Ang, Edrick |   | unr. | 537 | HPCMS | 8 | M |   | L121 | L132 | W219 | D160 | 1.5 | 4.5 | 16.5 | 2.5 | 6.5 |
| 164 |   | Stratton, Lamarr |   | unr. | 507 | KIPP ACA | 8 | M |   | L37 | D207 | W220 | L86 | 1.5 | 4.5 | 16 | 3.5 | 7.5 |
| 165 |   | Gonzalez, Logan |   | unr. | 359 | 123X | 8 | M |   | L31 | D187 | W193 | L81 | 1.5 | 4.5 | 16 | 3.5 | 7.5 |
| 166 |   | Thornton, Kobe |   | unr. | 495 | KIPP STA | 6 | M |   | L79 | W235 | L44 | D169 | 1.5 | 4.5 | 16 | 3.5 | 7.5 |
| 167 |   | Zitalpopoca, David |   | unr. | 433 | 192K | 6 | M |   | L101 | W227 | L110 | D168 | 1.5 | 4 | 17 | 3.5 | 6 |
| 168 |   | Hu, Carry |   | unr. | 476 | 180K | 8 | F |   | L33 | W230 | L109 | D167 | 1.5 | 4 | 16 | 3.5 | 7 |
| 169 |   | Maria, Andy |   | unr. | 425 | ACCION | 8 | M |   | L135 | L109 | W230 | D166 | 1.5 | 4 | 15 | 2.5 | 6 |
| 170 |   | Utkurov, Shazod |   | unr. | 563 | 238K |   |   |   | H--- | D159 | D136 | L83 | 1.5 | 3.5 | 14.5 | 4 | 6 |
| 171 |   | Rivera, Yanelly |   | unr. | 565 | 123X | 8 | F |   | L115 | W241 | L55 | D162 | 1.5 | 3.5 | 14.5 | 3.5 | 6.5 |
| 172 |   | Reyes, John |   | unr. | 484 | KIPP: WA | 7 | M |   | L69 | L108 | D211 | W226 | 1.5 | 3.5 | 14.5 | 2 | 6 |
| 173 |   | Aguilar, Marlin |   | unr. | 498 | 240K | 7 | F |   | L111 | W239 | D161 | L85 | 1.5 | 3.5 | 14 | 4 | 6 |
| 174 |   | Farrow-Ellis, Jayden |   | unr. | 579 | BCNY |   |   |   | H--- | W234 | L16 | L80 | 1.5 | 3 | 13.5 | 4.5 | 6.5 |
| 175 |   | Santana, Matthew |   | unr. | 565 | BCNY |   |   |   | H--- | L78 | L80 | W233 | 1.5 | 3 | 11 | 2.5 | 5.5 |
| 176 |   | Gualpa, Alexandra |   | unr. | 350 | 238K |   |   |   | H--- | B--- | L54 | L84 | 1.5 | 2.5 | 13 | 3.5 | 5.5 |
| 177 |   | Bahviev, Hasan |   | unr. | 522 | 238K |   |   |   | H--- | L137 | W224 | L79 | 1.5 | 2.5 | 13 | 3.5 | 5 |
| 178 |   | Ameen, Tareke |   | unr. | 521 | BOULEVAR |   |   |   | H--- | L16 | L139 | W234 | 1.5 | 2.5 | 13 | 2.5 | 6 |
| 179 |   | Caraballo, Louis |   | unr. | 461 | BCNY |   |   |   | H--- | L156 | L73 | W222 | 1.5 | 2 | 10.5 | 2.5 | 4.5 |
| 180 | 180-221 | Castillo, Carlos |   | unr. | 416 | ACCION | 8 | M |   | W155 | L10 | L49 | L117 | 1.0 | 7 | 24 | 4 | 11 |
| 181 |   | Hawkins, Liev |   | unr. | 526 | 88K | 6 | M |   | L40 | W150 | L64 | L152 | 1.0 | 7 | 21 | 3 | 10 |
| 182 |   | Lu, Eric |   | unr. | 497 | 180K | 8 | M |   | L17 | W212 | L46 | L116 | 1.0 | 6 | 22 | 3 | 9 |
| 183 |   | Dyesi, Dartagnan |   | unr. | 513 | 234K | 8 | M | NY | W233 | L28 | L41 | L145 | 1.0 | 5.5 | 20 | 4 | 8.5 |
| 184 |   | Monnastine, Hendrin |   | unr. | 465 | 240K | 6 | M |   | L41 | W228 | L62 | L141 | 1.0 | 5.5 | 16.5 | 3 | 8.5 |
| 185 |   | Gibbs, Jayceon |   | unr. | 585 | 898K | 7 | M |   | W203 | L29 | L89 | L99 | 1.0 | 5 | 23 | 4 | 8 |
| 186 |   | Colbert, Johari |   | unr. | 575 | 126K | 7 | M | NY | W192 | L39 | L104 | L115 | 1.0 | 5 | 23 | 4 | 8 |
| 187 |   | Bseibes, Christopher |   | unr. | 171 | 104K | 7 | M |   | L5 | D165 | L65 | D206 | 1.0 | 5 | 21 | 2 | 9 |
| 188 |   | Haynes, Kenneth |   | unr. | 405 | 234K | 6 | M |   | X244 | L36 | L58 | L126 | 1.0 | 5 | 19 | 3 | 8 |
| 189 |   | Young, Malachi |   | unr. | 371 | PROMISE | 6 | M |   | L35 | L57 | D206 | D216 | 1.0 | 5 | 18.5 | 1.5 | 8 |
| 190 |   | Wilson, Lelani |   | unr. | 523 | 240K | 8 | F |   | L114 | W219 | L43 | L123 | 1.0 | 5 | 18 | 3 | 8 |
| 191 |   | Morrow, Terrence |   | unr. | 343 | ACCION | 6 | M |   | L36 | L61 | X242 | L155 | 1.0 | 5 | 18 | 1 | 8 |
| 192 |   | Marupova, Shahzoda |   | unr. | 434 | 192K | 7 | F |   | L186 | W151 | L56 | L150 | 1.0 | 5 | 17 | 3 | 8 |
| 193 |   | Naba, Nadia |   | unr. | 362 | 122Q | 6 | F | NY | D85 | L82 | L165 | D207 | 1.0 | 5 | 17 | 2.5 | 7.5 |
| 194 |   | Drew, Stephon |   | unr. | 458 | KIPP ACA | 7 | M |   | L11 | L124 | W232 | L143 | 1.0 | 4.5 | 20.5 | 2 | 8.5 |
| 195 |   | Liu, Yilin |   | unr. | 389 | 180K | 8 | F |   | L38 | W236 | L133 | L146 | 1.0 | 4.5 | 19.5 | 3 | 7.5 |
| 196 |   | Madronxhi, Sarah |   | unr. | 396 | 104K | 7 | F |   | W213 | L27 | L128 | L107 | 1.0 | 4.5 | 19 | 4 | 7.5 |
| 197 |   | Gooden, Dwayne |   | unr. | 496 | 355Q | 6 | M |   | L118 | L46 | W237 | L105 | 1.0 | 4.5 | 18.5 | 2 | 7.5 |
| 198 |   | Lee, James |   | unr. | 379 | 88K | 6 | M |   | W237 | L34 | L120 | L129 | 1.0 | 4.5 | 17.5 | 4 | 7.5 |
| 199 |   | Canizares, Carlasia |   | unr. | 403 | BERRYHOM | 7 | F |   | W231 | L113 | L125 | L134 | 1.0 | 4.5 | 16.5 | 4 | 6.5 |
| 200 |   | Maldonado, Xavier |   | unr. | 394 | 126K | 6 | M |   | L72 | L140 | W229 | L149 | 1.0 | 4.5 | 16 | 2 | 7 |
| 201 |   | Baker, Jevon |   | unr. | 416 | 355Q | 6 | M |   | L143 | W238 | L114 | L147 | 1.0 | 4.5 | 14.5 | 3 | 6.5 |
| 202 |   | Rahman, Siana |   | unr. | 530 | 104K | 7 | F |   | W241 | L93 | L33 | L138 | 1.0 | 4 | 18 | 4 | 7 |
| 203 |   | Alachouzos, Skevos |   | unr. | 375 | 141Q | 6 | M |   | L185 | W218 | L66 | L142 | 1.0 | 4 | 18 | 3 | 7 |
| 204 |   | Jackson, Wyatt |   | unr. | 448 | 131X | 6 | F |   | L39 | L126 | W241 | L148 | 1.0 | 4 | 17 | 2 | 7 |
| 205 |   | Tsakinis, Sophia |   | unr. | 414 | 104K | 7 | F |   | W238 | L118 | L132 | L127 | 1.0 | 4 | 16.5 | 4 | 6 |
| 206 |   | Mendez, Steven |   | unr. | 217 | 88K | 6 | M |   | L100 | L58 | D189 | D187 | 1.0 | 4 | 16.5 | 1.5 | 7 |
| 207 |   | Olimova, Jasmina |   | unr. | 386 | 192K | 7 | F |   | L74 | D164 | L157 | D193 | 1.0 | 4 | 16 | 2 | 6.5 |
| 208 |   | Kyprislidis, Alexander |   | unr. | 405 | 122Q | 6 | M |   | L113 | L119 | W240 | L144 | 1.0 | 4 | 16 | 2 | 6 |
| 209 |   | Comrie, Kaelan |   | unr. | 400 | BCNY |   |   |   | H--- | D152 | L135 | L122 | 1.0 | 4 | 15 | 3 | 6 |
| 210 |   | Sutton, Kaylee |   | unr. | 375 | 131X | 6 | F |   | L160 | L64 | W236 | L151 | 1.0 | 4 | 14 | 2 | 7 |
| 211 |   | Griboff, Isaiah |   | unr. | 243 | 240K | 7 | M |   | L117 | L161 | D172 | D215 | 1.0 | 4 | 13 | 1.5 | 6 |
| 212 |   | Watington, Ralph |   | unr. | 308 | KIPP STA | 6 | M |   | L68 | L182 | W235 | L140 | 1.0 | 3.5 | 15 | 2 | 6 |
| 213 |   | Flores, Karen | 17089551 | 185 | 156 | 29X | 8 | F | NY | L196 | L62 | L81 | B--- | 1.0 | 3.5 | 14.5 | 0 | 6.5 |
| 214 |   | Lopez, Kayla |   | unr. | 350 | 104K | 7 | F |   | L112 | L125 | D222 | D220 | 1.0 | 3.5 | 14 | 1.5 | 5.5 |
| 215 |   | Ariza, Darwin |   | unr. | 350 | 238K |   |   |   | H--- | L15 | L83 | D211 | 1.0 | 3.5 | 13.5 | 2 | 7 |
| 216 |   | Ayzenberg, Andrew |   | unr. | 396 | 238K |   |   |   | H--- | L75 | L85 | D189 | 1.0 | 3.5 | 13 | 2 | 6 |
| 217 |   | Vargas, Julia |   | unr. | 405 | 192K | 8 | F |   | L122 | L138 | L162 | W240 | 1.0 | 3.5 | 11.5 | 1 | 5.5 |
| 218 |   | Tan, Yongxin |   | unr. | 393 | 180K | 8 | F |   | L29 | L203 | W239 | L111 | 1.0 | 3 | 17 | 2 | 6 |
| 219 |   | Riguard, Madison |   | unr. | 359 | 356Q | 7 | F |   | L14 | L190 | L163 | W241 | 1.0 | 2.5 | 15 | 1 | 6 |
| 220 |   | Nicoloas, Leslie |   | unr. | 266 | 238K |   |   |   | H--- | L53 | L164 | D214 | 1.0 | 2.5 | 12 | 2 | 5.5 |
| 221 |   | Ka, Mamendiaga |   | unr. | 468 | 29X | 8 | M |   | F91 | --- | L154 | W239 | 1.0 | 0 | 4.5 | 1 | 2 |
| 222 | 222-238 | Jarrett, Makayla |   | unr. | 350 | 355Q | 6 | F |   | L3 | L52 | D214 | L179 | 0.5 | 5.5 | 20 | 1 | 9.5 |
| 223 |   | McField, Thomas |   | unr. | 350 | KIPP: WA | 7 | M |   | L42 | L76 | L150 | D236 | 0.5 | 5 | 17 | 0.5 | 8 |
| 224 |   | Yousef, Mahammad |   | unr. | 350 | 240K | 6 | M |   | D159 | L63 | L177 | L158 | 0.5 | 4.5 | 17.5 | 2 | 7.5 |
| 225 |   | Kuzma, Kateryna |   | unr. | 350 | 192K | 7 | F |   | L6 | L149 | L147 | D232 | 0.5 | 4.5 | 17.5 | 0.5 | 8.5 |
| 226 |   | Cruz, Aimee |   | unr. | 350 | 240K | 6 | F |   | L84 | L50 | D233 | L172 | 0.5 | 4.5 | 15 | 1 | 7.5 |
| 227 |   | Glover, Isyss |   | unr. | 350 | 898K | 7 | F |   | L67 | L167 | L141 | D231 | 0.5 | 4 | 14.5 | 0.5 | 6.5 |
| 228 |   | Sutherland, Tenaj |   | unr. | 350 | 898K | 6 | F |   | L12 | L184 | L151 | D238 | 0.5 | 3.5 | 16.5 | 0.5 | 7.5 |
| 229 |   | Sine, Jahmir |   | unr. | 350 | 898K | 6 | M |   | L66 | L129 | L200 | D237 | 0.5 | 3.5 | 13.5 | 0.5 | 6.5 |
| 230 |   | Morales, Matthew |   | unr. | 350 | 192K | 6 | M |   | L90 | L168 | L169 | D235 | 0.5 | 3.5 | 13.5 | 0.5 | 5.5 |
| 231 |   | Paul, Dimiya |   | unr. | 350 | 104K | 7 | F |   | L199 | L128 | L155 | D227 | 0.5 | 3.5 | 12.5 | 0.5 | 5.5 |
| 232 |   | Young, Glen |   | unr. | 350 | 355Q | 6 | M |   | L146 | L134 | L194 | D225 | 0.5 | 3.5 | 11.5 | 0.5 | 5.5 |
| 233 |   | Rivera, Larissa |   | unr. | 350 | ACCION | 6 | F |   | L183 | L120 | D226 | L175 | 0.5 | 3 | 12.5 | 1 | 5 |
| 234 |   | Khalil, Jenna |   | unr. | 350 | 238K |   |   |   | H--- | L174 | L86 | L178 | 0.5 | 3 | 11.5 | 1.5 | 5.5 |
| 235 |   | Capellan, Yessica |   | unr. | 350 | 126K | 6 | F |   | L136 | L166 | L212 | D230 | 0.5 | 3 | 11.5 | 0.5 | 5 |
| 236 |   | Sanon, Anthony |   | unr. | 350 | 104K | 7 | M |   | L106 | L195 | L210 | D223 | 0.5 | 2.5 | 11.5 | 0.5 | 4.5 |
| 237 |   | Muhammad, Nasir |   | unr. | 350 | 240K | 6 | M |   | L198 | L148 | L197 | D229 | 0.5 | 2.5 | 10.5 | 0.5 | 4.5 |
| 238 |   | Garcia, Raul |   | unr. | 350 | KIPP STA | 6 | M | NY | L205 | L201 | L145 | D228 | 0.5 | 2.5 | 10.5 | 0.5 | 4.5 |
| 239 | 239-245 | Scott-Clement, D'Ann |   | unr. | 350 | 394K | 7 | F |   | L60 | L173 | L218 | L221 | 0.0 | 4.5 | 14 | 0 | 7.5 |
| 240 |   | Parris, Steven |   | unr. | 350 | 240K | 0 | M |   | L51 | L131 | L208 | L217 | 0.0 | 4 | 15 | 0 | 7 |
| 241 |   | Moe, Amir |   | unr. | 350 | 240K | 6 | M |   | L202 | L171 | L204 | L219 | 0.0 | 3 | 10.5 | 0 | 4.5 |
| 242 |   | Dinkins, Tahjee |   | unr. | 350 | BERRYHOM | 7 | M |   | L142 | L144 | F191 | --- | 0.0 | 2 | 9 | 0 | 4 |
| 243 |   | Garibaldo, Omar |   | unr. | 350 | BERRYHOM | 7 | M |   | F127 | --- | --- | --- | 0.0 | 0 | 0 | 0 | 0 |
| 244 |   | Castle, Anabella |   | unr. | 350 | 180K | 8 | F |   | F188 | --- | --- | --- | 0.0 | 0 | 0 | 0 | 0 |
| 245 |   | Ratliff, Tyiel |   | unr. | 750 | 898K | 6 | M |   | F18 | --- | --- | --- | 0.0 | 0 | 0 | 0 | 0 |
6th Annual DYCD Chess Masters Tournament: EL Open (Grades K-5)
| | | | | | | | | | | | | | | | | | | |
| --- | --- | --- | --- | --- | --- | --- | --- | --- | --- | --- | --- | --- | --- | --- | --- | --- | --- | --- |
| # | Place | Name | ID | Rtng | Post | Team | Grd | Sex | St | Rd 1 | Rd 2 | Rd 3 | Rd 4 | Tot | TB-Med | TB-Op. cumul. | TB-Cumul. | TB-Solkoff |
| 1 | 1-6 | Jones, Taylor |   | unr. | 1150 |   | 5 | M |   | W84 | W14 | W12 | W8 | 4.0 | 9 | 26.5 | 10 | 10 |
| 2 |   | Guachiac Tambriz, Hany |   | unr. | 1150 | 180K | 5 | F |   | W60 | W29 | W20 | W9 | 4.0 | 8.5 | 26.5 | 10 | 10.5 |
| 3 |   | Jiang, Aaron |   | unr. | 1150 | CPC-SACC | 5 | M |   | W76 | W17 | W25 | W13 | 4.0 | 8.5 | 26.5 | 10 | 9.5 |
| 4 |   | Guachiac Tambriz, Fredy |   | unr. | 1150 | 180K | 5 | M |   | W30 | W45 | W15 | W26 | 4.0 | 8 | 25.5 | 10 | 10 |
| 5 |   | Feng, Jia Xuan |   | unr. | 1150 | 153K | 3 | M |   | W50 | W75 | W24 | W11 | 4.0 | 7.5 | 24.5 | 10 | 8.5 |
| 6 |   | Jiang, Jason |   | unr. | 1150 | CPC-SACC | 5 | M |   | W86 | W62 | W27 | W7 | 4.0 | 7 | 22.5 | 10 | 8 |
| 7 | 7-23 | Jimenez, Allen |   | unr. | 1150 | 366M | 5 | M |   | W39 | W16 | W28 | L6 | 3.0 | 9.5 | 29.5 | 9 | 11.5 |
| 8 |   | Gao, Sabinra |   | unr. | 1150 | CPC-SACC | 5 | F |   | W33 | W18 | W38 | L1 | 3.0 | 9.5 | 29 | 9 | 11.5 |
| 9 |   | Morales, Ean |   | unr. | 1150 | 366M | 2 | M |   | W32 | W41 | W19 | L2 | 3.0 | 9.5 | 27.5 | 9 | 11 |
| 10 |   | Zhang, Nathan |   | unr. | 1093 | 153K | 3 | M |   | W21 | W22 | L11 | W47 | 3.0 | 9 | 28 | 8 | 11 |
| 11 |   | Kelley, Nazadur |   | unr. | 1150 | 40K | 4 | M |   | W96 | W40 | W10 | L5 | 3.0 | 9 | 23 | 9 | 9 |
| 12 |   | Doumbia, Youssouf |   | unr. | 1090 | PROMISE | 5 | M | NY | W53 | W64 | L1 | W38 | 3.0 | 8 | 26 | 8 | 9.5 |
| 13 |   | Munduzbaeva, Aisulu |   | unr. | 1140 | 180K | 5 | F |   | W79 | W37 | W43 | L3 | 3.0 | 8 | 25 | 9 | 9 |
| 14 |   | Brown, Kamden |   | unr. | 1091 | PROMISE | 3 | M | NY | W69 | L1 | W51 | W43 | 3.0 | 8 | 23.5 | 7 | 9.5 |
| 15 |   | Tosic, Neyla |   | unr. | 1140 |   | 4 | F |   | W87 | W42 | L4 | W37 | 3.0 | 8 | 23 | 8 | 9 |
| 16 |   | Kuang, Ethan |   | unr. | 1050 | CPC-SACC | 4 | M |   | W58 | L7 | W62 | W31 | 3.0 | 7.5 | 23.5 | 7 | 9 |
| 17 |   | Rodriguez, Engel |   | unr. | 1075 | 48M | 5 | M | NY | W89 | L3 | W45 | W52 | 3.0 | 7.5 | 23 | 7 | 8.5 |
| 18 |   | Singh, Brahmjot |   | unr. | 1033 | 96Q | 5 | M |   | W91 | L8 | W40 | W44 | 3.0 | 7 | 21.5 | 7 | 8 |
| 19 |   | Macoto, Brian |   | unr. | 988 | 218X | 5 | M |   | W93 | W54 | L9 | W46 | 3.0 | 7 | 21 | 8 | 8 |
| 20 |   | Rodriguez, Geneury |   | unr. | 1100 | 366M | 4 | M |   | W83 | W80 | L2 | W39 | 3.0 | 7 | 20 | 8 | 8 |
| 21 |   | Dong, Cody |   | unr. | 1011 | CPC-SACC | 4 | M |   | L10 | W83 | W49 | W42 | 3.0 | 7 | 20 | 6 | 8 |
| 22 |   | Castillo, Ylanna |   | unr. | 861 | 366M | 4 | F |   | W81 | L10 | W77 | W41 | 3.0 | 5.5 | 19 | 7 | 6.5 |
| 23 |   | Firuzova, Anisakhon |   | unr. | 920 | 180K | 5 | F |   | L24 | W95 | W75 | W57 | 3.0 | 5.5 | 17.5 | 6 | 6 |
| 24 | 24-36 | Paulino, Julian |   | unr. | 1030 | 366M | 5 | M |   | W23 | W55 | L5 | D29 | 2.5 | 9.5 | 27.5 | 7.5 | 11.5 |
| 25 |   | Lau, Anna | 16365666 | 433 | 639 | 180K | 5 | F | NY | W34 | W59 | L3 | D30 | 2.5 | 9 | 25 | 7.5 | 11 |
| 26 |   | Peguero, Gianna |   | unr. | 975 | 366M | 5 | F |   | D31 | W90 | W48 | L4 | 2.5 | 8.5 | 25 | 7 | 9.5 |
| 27 |   | Quadri, Aliter |   | unr. | 975 | 123X | M | M |   | W74 | W52 | L6 | D28 | 2.5 | 8 | 25 | 7.5 | 9.5 |
| 28 |   | Clay, Jada |   | unr. | 955 | WOODSIDE | 4 | F |   | W65 | W49 | L7 | D27 | 2.5 | 7.5 | 24 | 7.5 | 9 |
| 29 |   | Almonte, Justin |   | unr. | 997 | 48M | 3 | M |   | W78 | L2 | W76 | D24 | 2.5 | 7.5 | 23.5 | 6.5 | 8.5 |
| 30 |   | Cornacchio, Lorenzo |   | unr. | 830 | 366M | 4 | M |   | L4 | W87 | W78 | D25 | 2.5 | 7.5 | 21.5 | 5.5 | 8.5 |
| 31 |   | Hinton, Jerimiah |   | unr. | 875 | 40K | 5 | M |   | D26 | W88 | W63 | L16 | 2.5 | 7 | 22 | 7 | 8 |
| 32 |   | Tavarez, Erickson |   | unr. | 847 | 96Q | 5 | M |   | L9 | D34 | W65 | W70 | 2.5 | 7 | 21 | 4.5 | 8.5 |
| 33 |   | Benitez, Scarlet |   | unr. | 846 | 366M | 4 | F |   | L8 | W91 | D35 | W68 | 2.5 | 7 | 19.5 | 5 | 8 |
| 34 |   | Brown, Gerard |   | unr. | 755 | 40K | 4 | M |   | L25 | D32 | W85 | W64 | 2.5 | 6.5 | 19.5 | 4.5 | 7.5 |
| 35 |   | Rodriguez, Daniel |   | unr. | 843 | 88K | 4 | M |   | L37 | W79 | D33 | W63 | 2.5 | 6 | 18 | 5 | 7 |
| 36 |   | Sabai, El Haddje |   | unr. | 784 | PROMISE | 3 | M | NY | D63 | L44 | W69 | W75 | 2.5 | 5 | 17.5 | 5 | 6 |
| 37 | 37-61 | Deleon, Ethan |   | unr. | 883 | 153K | 3 | M |   | W35 | L13 | W54 | L15 | 2.0 | 5.5 | 27 | 6 | 10.5 |
| 38 |   | Alexander, Whiteside |   | unr. | 855 | BERRYHOM | 5 | F |   | W72 | W46 | L8 | L12 | 2.0 | 5 | 25.5 | 7 | 9.5 |
| 39 |   | Reyes, Justin |   | unr. | 843 | 48M | 4 | M |   | L7 | W58 | W55 | L20 | 2.0 | 5 | 25 | 5 | 10 |
| 40 |   | Jiang, Alvin |   | unr. | 796 | CPC-SACC | 2 | M |   | W57 | L11 | L18 | W82 | 2.0 | 5 | 24 | 5 | 9 |
| 41 |   | Ergashev, Iskandar | 17062355 | 387 | 441 | 180K | 4 | M | NY | B--- | L9 | W59 | L22 | 2.0 | 5 | 21 | 5 | 8 |
| 42 |   | Charles, Nathan |   | unr. | 763 | 96Q | 4 | M | NY | W61 | L15 | W89 | L21 | 2.0 | 5 | 20 | 6 | 9 |
| 43 |   | Gao, Jayden |   | unr. | 791 | CPC-SACC | 2 | M |   | W68 | W70 | L13 | L14 | 2.0 | 4.5 | 25 | 7 | 9 |
| 44 |   | Gubareva, Angelica |   | unr. | 726 | 153K | 3 | F |   | D85 | W36 | D47 | L18 | 2.0 | 4.5 | 20.5 | 6 | 8.5 |
| 45 |   | Robles, Leury |   | unr. | 838 | 366M | 4 | M |   | W77 | L4 | L17 | W81 | 2.0 | 4 | 23 | 5 | 9 |
| 46 |   | Taylor, Jada |   | unr. | 746 | PROMISE | 4 | M | NY | W51 | L38 | W82 | L19 | 2.0 | 4 | 22 | 6 | 8 |
| 47 |   | Veras, Emma |   | unr. | 739 | 48M | 4 | F |   | D48 | W94 | D44 | L10 | 2.0 | 4 | 21.5 | 6 | 7.5 |
| 48 |   | Reavis, Xavier |   | unr. | 682 | 96Q | 4 | M |   | D47 | W92 | L26 | D56 | 2.0 | 4 | 20.5 | 5.5 | 7.5 |
| 49 |   | Pass, Cameron |   | unr. | 713 | 40K | 5 | M |   | W67 | L28 | L21 | W92 | 2.0 | 4 | 19.5 | 5 | 8 |
| 50 |   | Pereyra, Jean |   | unr. | 700 | 366M | 4 | M |   | L5 | D71 | W90 | D53 | 2.0 | 3.5 | 19.5 | 4 | 8.5 |
| 51 |   | Johnson, Zya |   | unr. | 703 | 48M | 5 | F |   | L46 | W72 | L14 | W84 | 2.0 | 3.5 | 18 | 4 | 7.5 |
| 52 |   | Novas, Bryant |   | unr. | 718 | 218X | 5 | M |   | X99 | L27 | W81 | L17 | 2.0 | 3.5 | 17.5 | 5 | 6.5 |
| 53 |   | Chen, Daniel |   | unr. | 687 | CPC-SACC | 5 | M |   | L12 | D66 | W94 | D50 | 2.0 | 3.5 | 17 | 4 | 7 |
| 54 |   | Olivos, Andrea |   | unr. | 698 | 48M | 2 | F |   | W82 | L19 | L37 | W89 | 2.0 | 3 | 20 | 5 | 7 |
| 55 |   | Lopez, Ariana |   | unr. | 709 | 153K | 3 | F |   | W95 | L24 | L39 | W79 | 2.0 | 3 | 15.5 | 5 | 6 |
| 56 |   | Perez, Richard |   | unr. | 648 | 153K | 3 | M |   | L62 | W86 | D68 | D48 | 2.0 | 3 | 15.5 | 4.5 | 6 |
| 57 |   | Malendez, Cristtian |   | unr. | 643 | NORTHSID | 3 | M |   | L40 | W96 | W80 | L23 | 2.0 | 3 | 15 | 5 | 6 |
| 58 |   | Giraldi, Alan |   | unr. | 675 | 366M | 5 | M |   | L16 | L39 | W98 | W88 | 2.0 | 3 | 15 | 3 | 6 |
| 59 |   | Matute, Anthony |   | unr. | 495 | 40K | 4 | M |   | W98 | L25 | L41 | W77 | 2.0 | 2.5 | 15.5 | 5 | 5 |
| 60 |   | Wong, Madison |   | unr. | 688 | CPC-SACC | 4 | F |   | L2 | L77 | W83 | W80 | 2.0 | 2 | 18 | 3 | 7 |
| 61 |   | Chen, Vivian |   | unr. | 615 | UIOM | 4 | F |   | L42 | L76 | W87 | W78 | 2.0 | 2 | 13 | 3 | 5 |
| 62 | 62-74 | Skinner, Johyla |   | unr. | 716 | 48M | 2 | F |   | W56 | L6 | L16 | D74 | 1.5 | 6.5 | 24 | 4.5 | 10.5 |
| 63 |   | Cooper, Daniel |   | unr. | 621 | 96Q | 4 | M |   | D36 | W85 | L31 | L35 | 1.5 | 6 | 19.5 | 5 | 8.5 |
| 64 |   | McMillian, Jahlani |   | unr. | 615 | 96Q | 5 | M |   | W66 | L12 | D70 | L34 | 1.5 | 5.5 | 20.5 | 5 | 8.5 |
| 65 |   | Guachiac Tambriz, Ishmael |   | unr. | 575 | 180K | 2 | M |   | L28 | D67 | L32 | W95 | 1.5 | 4.5 | 16 | 2.5 | 7 |
| 66 |   | Almonte, Johan |   | unr. | 513 | 48M | 3 | M |   | L64 | D53 | D67 | D71 | 1.5 | 4.5 | 15 | 3 | 6.5 |
| 67 |   | Berkeley, Aisis |   | unr. | 513 | PROMISE | 3 | M |   | L49 | D65 | D66 | D72 | 1.5 | 4.5 | 13 | 3 | 6.5 |
| 68 |   | Ashby, Mia |   | unr. | 563 | BERRYHOM | 5 | F |   | L43 | W97 | D56 | L33 | 1.5 | 4 | 16.5 | 4 | 6.5 |
| 69 |   | Clayborne, Elijah |   | unr. | 548 | NORTHSID | 3 | M |   | L14 | D84 | L36 | W94 | 1.5 | 4 | 16.5 | 2.5 | 7 |
| 70 |   | Valdez-Garcia, Jayden |   | unr. | 561 | PROMISE | 3 | M | NY | W97 | L43 | D64 | L32 | 1.5 | 3.5 | 16.5 | 5 | 6 |
| 71 |   | Hawkins, Samiyah |   | unr. | 534 | PROMISE | 3 | M |   | L75 | D50 | D88 | D66 | 1.5 | 3.5 | 14 | 3 | 5.5 |
| 72 |   | Faisal, Azqa |   | unr. | 518 | 153K | 5 | F |   | L38 | L51 | W97 | D67 | 1.5 | 3.5 | 14 | 2.5 | 5.5 |
| 73 |   | Rodriguez, Alaina |   | unr. | 465 | BERRYHOM | 5 | F |   | L80 | L78 | D86 | W76 | 1.5 | 3 | 11.5 | 2 | 4 |
| 74 |   | Hussain, Noah |   | unr. | 559 | 96Q | 5 | M |   | L27 | L81 | W96 | D62 | 1.5 | 2.5 | 15 | 2.5 | 5 |
| 75 | 75-93 | Rahman, Aydin |   | unr. | 575 | 366M | 2 | M |   | W71 | L5 | L23 | L36 | 1.0 | 7 | 24 | 4 | 11 |
| 76 |   | Kieta, Mamadou |   | unr. | 509 | PROMISE | 3 | M | NY | L3 | W61 | L29 | L73 | 1.0 | 6 | 21.5 | 3 | 10 |
| 77 |   | Turner-Cephus, Joshua |   | unr. | 484 | PROMISE | 4 | M | NY | L45 | W60 | L22 | L59 | 1.0 | 6 | 20 | 3 | 9 |
| 78 |   | Taylor, Janiyah |   | unr. | 474 | PROMISE | 3 | F | NY | L29 | W73 | L30 | L61 | 1.0 | 6 | 17 | 3 | 8.5 |
| 79 |   | Zapata, Abiel |   | unr. | 466 | 96Q | 4 | M |   | L13 | L35 | W93 | L55 | 1.0 | 5.5 | 20 | 2 | 8.5 |
| 80 |   | Frazier, Joselyn |   | unr. | 462 | 96Q | 4 | F |   | W73 | L20 | L57 | L60 | 1.0 | 5.5 | 18 | 4 | 8.5 |
| 81 |   | Ferguson, Daneya |   | unr. | 499 | 40K | 4 | F |   | L22 | W74 | L52 | L45 | 1.0 | 5 | 19.5 | 3 | 8 |
| 82 |   | Shannon, Ryan |   | unr. | 450 | UIOM | 3 | M |   | L54 | W93 | L46 | L40 | 1.0 | 5 | 17 | 3 | 7 |
| 83 |   | Sarr, Fatima |   | unr. | 517 | PROMISE | 3 | M | NY | L20 | L21 | L60 | W98 | 1.0 | 5 | 17 | 1 | 8 |
| 84 |   | Zhang, Matthew |   | unr. | 450 | 153K | 2 | M | NY | L1 | D69 | D92 | L51 | 1.0 | 4.5 | 19.5 | 2.5 | 8.5 |
| 85 |   | Sabio, Omari |   | unr. | 462 | PROMISE | 3 | M | NY | D44 | L63 | L34 | D90 | 1.0 | 4.5 | 18 | 2.5 | 7 |
| 86 |   | Mann, Mya |   | unr. | 395 | 96Q | 4 | F |   | L6 | L56 | D73 | D91 | 1.0 | 4.5 | 18 | 1.5 | 8.5 |
| 87 |   | Johnson, Rosa |   | unr. | 440 | PROMISE | 4 | F | NY | L15 | L30 | L61 | W97 | 1.0 | 4.5 | 16.5 | 1 | 7.5 |
| 88 |   | Goodman, Angela |   | unr. | 416 | BERRYHOM | 5 | F |   | D90 | L31 | D71 | L58 | 1.0 | 4.5 | 15.5 | 3 | 7 |
| 89 |   | Li, Ying Ying |   | unr. | 484 | 153K | 3 | F |   | L17 | W98 | L42 | L54 | 1.0 | 4 | 18 | 3 | 7 |
| 90 |   | Salsbury, Genevieve |   | unr. | 451 | UIOM | 5 | F |   | D88 | L26 | L50 | D85 | 1.0 | 4 | 16.5 | 2.5 | 6.5 |
| 91 |   | Chen, Winnie |   | unr. | 450 | UIOM | 5 | F |   | L18 | L33 | D95 | D86 | 1.0 | 4 | 14.5 | 1.5 | 7 |
| 92 |   | Cruz, Eleanor |   | unr. | 391 | 48M | 2 | F |   | D94 | L48 | D84 | L49 | 1.0 | 3.5 | 15 | 3 | 5.5 |
| 93 |   | Fernandez, Nyree |   | unr. | 350 | NORTHSID | 3 | F |   | L19 | L82 | L79 | W96 | 1.0 | 2 | 13 | 1 | 5 |
| 94 | 94-95 | Doumbia, Daouda |   | unr. | 350 | PROMISE | 2 | M | NY | D92 | L47 | L53 | L69 | 0.5 | 4.5 | 15.5 | 2 | 6.5 |
| 95 |   | Martinez, Ronald |   | unr. | 350 | 48M | 4 | M |   | L55 | L23 | D91 | L65 | 0.5 | 4.5 | 15 | 1 | 7.5 |
| 96 | 96-99 | Bisono, Michael |   | unr. | 350 | 48M | 2 | M |   | L11 | L57 | L74 | L93 | 0.0 | 4.5 | 17.5 | 0 | 7.5 |
| 97 |   | Tavarez, Keith |   | unr. | 350 | 48M | 2 | M |   | L70 | L68 | L72 | L87 | 0.0 | 4 | 12.5 | 0 | 5.5 |
| 98 |   | Skinner, Johnyla |   | unr. | 350 | 48M | 2 | F |   | L59 | L89 | L58 | L83 | 0.0 | 4 | 12 | 0 | 6 |
| 99 |   | Avellino, Justin |   | unr. | 350 | 48M | 4 | M |   | F52 | --- | --- | --- | 0.0 | 0 | 0 | 0 | 0 |
Team Roster and Standings. 6th Annual DYCD Chess Masters Tournament: HS Open (Grades 9-12)
| | | | | | | | |
| --- | --- | --- | --- | --- | --- | --- | --- |
|   | Code | Name | Score | TBrk[M] | TBrk[S] | TBrk[O] | TBrk[C] |
Team Roster and Standings. 6th Annual DYCD Chess Masters Tournament: JH Open (Grades 6-8)
| | | | | | | | |
| --- | --- | --- | --- | --- | --- | --- | --- |
|   | Code | Name | Score | TBrk[M] | TBrk[S] | TBrk[O] | TBrk[C] |
| 1 | 180K | 180K (1217.8) | 16.0 | 34.5 | 40 | 106 | 40 |
|   |   | Chen, De Hao (unr.) 4.0 |   |   |   |   |   |
|   |   | Saquisili, Omar (1298) 4.0 |   |   |   |   |   |
|   |   | Wang, Raymond (unr.) 4.0 |   |   |   |   |   |
|   |   | Jiang, Tony (unr.) 4.0 |   |   |   |   |   |
| 2 | 312M | 312M (0.0) | 14.0 | 31.5 | 37 | 102 | 38 |
|   |   | Daczka-Filion, Aaro (unr.) 4.0 |   |   |   |   |   |
|   |   | Mutha, Siddhartha (unr.) 4.0 |   |   |   |   |   |
|   |   | Wen, Jaylene (unr.) 3.0 |   |   |   |   |   |
|   |   | Wong, Harrison (unr.) 3.0 |   |   |   |   |   |
| 3 | 228K | 228K (631.3) | 12.0 | 34.5 | 42 | 104 | 30 |
|   |   | Davronov, Sobir (690) 3.0 |   |   |   |   |   |
|   |   | Mukhtarov, Kamranbek (unr.) 3.0 |   |   |   |   |   |
|   |   | Lerner, Justin (577) 3.0 |   |   |   |   |   |
|   |   | Facey, Jasmine (unr.) 3.0 |   |   |   |   |   |
| 4 | PROMISE | PROMISE (194.0) | 12.0 | 34.5 | 38.5 | 102.5 | 34 |
|   |   | Sako, Mohamed (unr.) 3.0 |   |   |   |   |   |
|   |   | Traore, Ben (unr.) 3.0 |   |   |   |   |   |
|   |   | Robinson, Jaylin (unr.) 3.0 |   |   |   |   |   |
|   |   | Williams, Christian (unr.) 3.0 |   |   |   |   |   |
| 5 | 126K | 126K (491.7) | 12.0 | 31.5 | 36.5 | 94.5 | 32 |
|   |   | Rivera, Ernesto (unr.) 3.0 |   |   |   |   |   |
|   |   | Perez, Skyler (unr.) 3.0 |   |   |   |   |   |
|   |   | Peck, Canon (unr.) 3.0 |   |   |   |   |   |
|   |   | Jaime, Justin Elij (247) 3.0 |   |   |   |   |   |
| 6 | 122Q | 122Q (0.0) | 12.0 | 27.5 | 31 | 81 | 26 |
|   |   | Huang, Ryan (unr.) 4.0 |   |   |   |   |   |
|   |   | Lin, Ivan (unr.) 3.0 |   |   |   |   |   |
|   |   | Burchak, Modest (unr.) 2.5 |   |   |   |   |   |
|   |   | Mahecha, Santiago (unr.) 2.5 |   |   |   |   |   |
| 7 | 104K | 104K (541.0) | 12.0 | 25 | 27 | 75.5 | 25 |
|   |   | Lomidze, Luka (685) 3.0 |   |   |   |   |   |
|   |   | Aziz, Mohamed (unr.) 3.0 |   |   |   |   |   |
|   |   | Diyarza, Ryan (unr.) 3.0 |   |   |   |   |   |
|   |   | McMenemy, Justin (unr.) 3.0 |   |   |   |   |   |
| 8 | 123X | 123X (581.7) | 11.5 | 27 | 31.5 | 85 | 27.5 |
|   |   | Aguilar, Jhony (556) 3.0 |   |   |   |   |   |
|   |   | Sy, Yahya Seigue (637) 3.0 |   |   |   |   |   |
|   |   | Cruz, Miguel (unr.) 3.0 |   |   |   |   |   |
|   |   | Carrillo, Lucas (552) 2.5 |   |   |   |   |   |
| 9 | 238K | 238K (0.0) | 11.5 | 24 | 24 | 57.5 | 25.5 |
|   |   | Larios, Emilio (unr.) 3.5 |   |   |   |   |   |
|   |   | Khalil, Yousef (unr.) 3.0 |   |   |   |   |   |
|   |   | Shermuhamandadov, Elyor (unr.) 2.5 |   |   |   |   |   |
|   |   | Bahriev, Hosen (unr.) 2.5 |   |   |   |   |   |
| 10 | 141Q | 141Q (0.0) | 11.0 | 27 | 34.5 | 94.5 | 29 |
|   |   | Bueno, Matthew (unr.) 3.0 |   |   |   |   |   |
|   |   | Hadas, Leo (unr.) 3.0 |   |   |   |   |   |
|   |   | Elsabagh, Moustafa (unr.) 3.0 |   |   |   |   |   |
|   |   | Bhattarai, Prajwal (unr.) 2.0 |   |   |   |   |   |
| 11 | BCNY | BCNY (0.0) | 11.0 | 22 | 25 | 58 | 26 |
|   |   | Castro, Juan (unr.) 3.5 |   |   |   |   |   |
|   |   | Dillard, Chance (unr.) 3.0 |   |   |   |   |   |
|   |   | Azuara, Edgar (unr.) 2.5 |   |   |   |   |   |
|   |   | Farrow-Ellis, Jordan (unr.) 2.0 |   |   |   |   |   |
| 12 | 498X | 498X (157.0) | 10.0 | 22 | 31.5 | 82.5 | 24 |
|   |   | Mirukaj, Jason (unr.) 3.0 |   |   |   |   |   |
|   |   | Gonzalez Lopez, Christofer (unr.) 3.0 |   |   |   |   |   |
|   |   | Palmer, Jackson (157) 2.0 |   |   |   |   |   |
|   |   | Ware, Samantha (unr.) 2.0 |   |   |   |   |   |
| 13 | HPCMS | HPCMS (429.0) | 10.0 | 20.5 | 30 | 75.5 | 21 |
|   |   | Been, Max (429) 3.0 |   |   |   |   |   |
|   |   | Hernandez, Lesly (unr.) 3.0 |   |   |   |   |   |
|   |   | Herbandex, Alec (unr.) 2.0 |   |   |   |   |   |
|   |   | Canavan, Colin (unr.) 2.0 |   |   |   |   |   |
| 14 | ACCION | ACCION (0.0) | 9.0 | 27 | 42 | 105 | 29 |
|   |   | Pinero, Bengie (unr.) 3.0 |   |   |   |   |   |
|   |   | Munoz, Joseph (unr.) 2.0 |   |   |   |   |   |
|   |   | Lara, Esterlin (unr.) 2.0 |   |   |   |   |   |
|   |   | Brown, Elijah (unr.) 2.0 |   |   |   |   |   |
| 15 | 234K | 234K (0.0) | 9.0 | 26 | 35.5 | 90.5 | 25 |
|   |   | Taylor, Ryan (unr.) 3.0 |   |   |   |   |   |
|   |   | DeFeo, Draco (unr.) 3.0 |   |   |   |   |   |
|   |   | Huang, Ethan (unr.) 2.0 |   |   |   |   |   |
|   |   | Dyesi, Dartagnan (unr.) 1.0 |   |   |   |   |   |
| 16 | 192K | 192K (0.0) | 8.5 | 21.5 | 39.5 | 94 | 25 |
|   |   | Marupova, Jasmina (unr.) 2.5 |   |   |   |   |   |
|   |   | Canete, Gabriel (unr.) 2.0 |   |   |   |   |   |
|   |   | Ruzimurodov, Sherbek (unr.) 2.0 |   |   |   |   |   |
|   |   | Kurchevskaya, Diana (unr.) 2.0 |   |   |   |   |   |
| 17 | 131X | 131X (0.0) | 8.0 | 20 | 34.5 | 88 | 21 |
|   |   | Gutierrez, Roniel (unr.) 3.0 |   |   |   |   |   |
|   |   | Johnson, Khaleel (unr.) 2.0 |   |   |   |   |   |
|   |   | Carrillo, Justin (unr.) 2.0 |   |   |   |   |   |
|   |   | Jackson, Wyatt (unr.) 1.0 |   |   |   |   |   |
| 18 | 240K | 240K (0.0) | 8.0 | 17.5 | 32 | 82.5 | 21 |
|   |   | Hookcumcharm, Jadon (unr.) 2.0 |   |   |   |   |   |
|   |   | Kovaev, Max (unr.) 2.0 |   |   |   |   |   |
|   |   | Beard, Dorian (unr.) 2.0 |   |   |   |   |   |
|   |   | Sahid, Nihat (unr.) 2.0 |   |   |   |   |   |
| 19 | 323Q | 323Q (245.0) | 7.5 | 17.5 | 25 | 67 | 18.5 |
|   |   | Barango-Tariah, Da'Saki (unr.) 3.0 |   |   |   |   |   |
|   |   | Annamunthodo, John (245) 2.5 |   |   |   |   |   |
|   |   | McEnaney, Sebastian (unr.) 2.0 |   |   |   |   |   |
| 20 | 29X | 29X (185.0) | 7.0 | 14.5 | 22 | 49.5 | 10.5 |
|   |   | De Leon, Geycha (unr.) 2.5 |   |   |   |   |   |
|   |   | Perez, Estelin (unr.) 2.5 |   |   |   |   |   |
|   |   | Flores, Karen (185) 1.0 |   |   |   |   |   |
|   |   | Ka, Mamendiaga (unr.) 1.0 |   |   |   |   |   |
| 21 | KIPP STA | KIPP STA (0.0) | 6.5 | 16 | 31 | 74.5 | 15 |
|   |   | Rodriguez, Alvin (unr.) 2.0 |   |   |   |   |   |
|   |   | Young, Aidan (unr.) 2.0 |   |   |   |   |   |
|   |   | Thornton, Kobe (unr.) 1.5 |   |   |   |   |   |
|   |   | Watington, Ralph (unr.) 1.0 |   |   |   |   |   |
| 22 | 218X | 218X (0.0) | 6.0 | 18 | 19.5 | 49 | 17 |
|   |   | Prohdania, Tisun (unr.) 3.5 |   |   |   |   |   |
|   |   | Garcia, Ethan (unr.) 2.5 |   |   |   |   |   |
| 23 | 394K | 394K (0.0) | 5.5 | 17 | 30.5 | 71.5 | 14.5 |
|   |   | Gathers, Madison (unr.) 2.0 |   |   |   |   |   |
|   |   | Smith, Dakota (unr.) 2.0 |   |   |   |   |   |
|   |   | Ollivierre, Kiefe (unr.) 1.5 |   |   |   |   |   |
|   |   | Scott-Clement, D'Ann (unr.) 0.0 |   |   |   |   |   |
| 24 | 898K | 898K (0.0) | 5.5 | 16 | 30 | 76 | 16 |
|   |   | Caesar, Malon (unr.) 2.0 |   |   |   |   |   |
|   |   | Clerveaux, Rodney (unr.) 2.0 |   |   |   |   |   |
|   |   | Gibbs, Jayceon (unr.) 1.0 |   |   |   |   |   |
|   |   | Glover, Isyss (unr.) 0.5 |   |   |   |   |   |
| 25 | 355Q | 355Q (0.0) | 5.5 | 15.5 | 26 | 62 | 10.5 |
|   |   | Cumberbatch, James (unr.) 2.0 |   |   |   |   |   |
|   |   | Cumberbatch, Jayden (unr.) 1.5 |   |   |   |   |   |
|   |   | Gooden, Dwayne (unr.) 1.0 |   |   |   |   |   |
|   |   | Baker, Jevon (unr.) 1.0 |   |   |   |   |   |
| 26 | 88K | 88K (0.0) | 5.0 | 19.5 | 33.5 | 75 | 13.5 |
|   |   | Portilla, Albert (unr.) 2.0 |   |   |   |   |   |
|   |   | Hawkins, Liev (unr.) 1.0 |   |   |   |   |   |
|   |   | Lee, James (unr.) 1.0 |   |   |   |   |   |
|   |   | Mendez, Steven (unr.) 1.0 |   |   |   |   |   |
| 27 | WOODSIDE | WOODSIDE (0.0) | 5.0 | 10 | 14 | 39 | 12 |
|   |   | Lhaden, Rinchen (unr.) 3.0 |   |   |   |   |   |
|   |   | Lhaden, Tenzom (unr.) 2.0 |   |   |   |   |   |
| 28 | KIPP ACA | KIPP ACA (0.0) | 4.5 | 10.5 | 20 | 47 | 8.5 |
|   |   | Garrett, James (unr.) 2.0 |   |   |   |   |   |
|   |   | Stratton, Lamarr (unr.) 1.5 |   |   |   |   |   |
|   |   | Drew, Stephon (unr.) 1.0 |   |   |   |   |   |
| 29 | KIPP: WA | KIPP: WA (0.0) | 4.0 | 11.5 | 21 | 50.5 | 6.5 |
|   |   | Rahman, Shajiq (unr.) 2.0 |   |   |   |   |   |
|   |   | Reyes, John (unr.) 1.5 |   |   |   |   |   |
|   |   | McField, Thomas (unr.) 0.5 |   |   |   |   |   |
| 30 | BERRYHOM | BERRYHOM (0.0) | 3.0 | 10.5 | 18.5 | 43 | 8 |
|   |   | Yensi, Edwin (unr.) 2.0 |   |   |   |   |   |
|   |   | Canizares, Carlasia (unr.) 1.0 |   |   |   |   |   |
|   |   | Dinkins, Tahjee (unr.) 0.0 |   |   |   |   |   |
|   |   | Garibaldo, Omar (unr.) 0.0 |   |   |   |   |   |
Team Roster and Standings. 6th Annual DYCD Chess Masters Tournament: EL Open (Grades K-5)
| | | | | | | | |
| --- | --- | --- | --- | --- | --- | --- | --- |
|   | Code | Name | Score | TBrk[M] | TBrk[S] | TBrk[O] | TBrk[C] |
| 1 | CPC-SACC | CPC-SACC (0.0) | 14.0 | 32.5 | 38 | 101.5 | 36 |
|   |   | Jiang, Aaron (unr.) 4.0 |   |   |   |   |   |
|   |   | Jiang, Jason (unr.) 4.0 |   |   |   |   |   |
|   |   | Gao, Sabinra (unr.) 3.0 |   |   |   |   |   |
|   |   | Kuang, Ethan (unr.) 3.0 |   |   |   |   |   |
| 2 | 180K | 180K (410.0) | 14.0 | 30 | 35.5 | 94.5 | 35 |
|   |   | Guachiac Tambriz, Hany (unr.) 4.0 |   |   |   |   |   |
|   |   | Guachiac Tambriz, Fredy (unr.) 4.0 |   |   |   |   |   |
|   |   | Munduzbaeva, Aisulu (unr.) 3.0 |   |   |   |   |   |
|   |   | Firuzova, Anisakhon (unr.) 3.0 |   |   |   |   |   |
| 3 | 366M | 366M (0.0) | 12.0 | 31.5 | 37 | 96 | 33 |
|   |   | Jimenez, Allen (unr.) 3.0 |   |   |   |   |   |
|   |   | Morales, Ean (unr.) 3.0 |   |   |   |   |   |
|   |   | Rodriguez, Geneury (unr.) 3.0 |   |   |   |   |   |
|   |   | Castillo, Ylanna (unr.) 3.0 |   |   |   |   |   |
| 4 | 153K | 153K (0.0) | 11.0 | 26.5 | 38.5 | 100 | 30 |
|   |   | Feng, Jia Xuan (unr.) 4.0 |   |   |   |   |   |
|   |   | Zhang, Nathan (unr.) 3.0 |   |   |   |   |   |
|   |   | Deleon, Ethan (unr.) 2.0 |   |   |   |   |   |
|   |   | Gubareva, Angelica (unr.) 2.0 |   |   |   |   |   |
| 5 | PROMISE | PROMISE (0.0) | 10.5 | 25 | 33 | 89 | 26 |
|   |   | Doumbia, Youssouf (unr.) 3.0 |   |   |   |   |   |
|   |   | Brown, Kamden (unr.) 3.0 |   |   |   |   |   |
|   |   | Sabai, El Haddje (unr.) 2.5 |   |   |   |   |   |
|   |   | Taylor, Jada (unr.) 2.0 |   |   |   |   |   |
| 6 | 40K | 40K (0.0) | 10.0 | 26.5 | 32.5 | 84 | 25.5 |
|   |   | Kelley, Nazadur (unr.) 3.0 |   |   |   |   |   |
|   |   | Hinton, Jerimiah (unr.) 2.5 |   |   |   |   |   |
|   |   | Brown, Gerard (unr.) 2.5 |   |   |   |   |   |
|   |   | Pass, Cameron (unr.) 2.0 |   |   |   |   |   |
| 7 | 48M | 48M (0.0) | 9.5 | 24 | 34.5 | 93 | 24.5 |
|   |   | Rodriguez, Engel (unr.) 3.0 |   |   |   |   |   |
|   |   | Almonte, Justin (unr.) 2.5 |   |   |   |   |   |
|   |   | Reyes, Justin (unr.) 2.0 |   |   |   |   |   |
|   |   | Veras, Emma (unr.) 2.0 |   |   |   |   |   |
| 8 | 96Q | 96Q (0.0) | 9.5 | 23 | 33 | 83 | 23 |
|   |   | Singh, Brahmjot (unr.) 3.0 |   |   |   |   |   |
|   |   | Tavarez, Erickson (unr.) 2.5 |   |   |   |   |   |
|   |   | Charles, Nathan (unr.) 2.0 |   |   |   |   |   |
|   |   | Reavis, Xavier (unr.) 2.0 |   |   |   |   |   |
| 9 | BERRYHOM | BERRYHOM (0.0) | 6.0 | 16.5 | 27 | 69 | 16 |
|   |   | Alexander, Whiteside (unr.) 2.0 |   |   |   |   |   |
|   |   | Ashby, Mia (unr.) 1.5 |   |   |   |   |   |
|   |   | Rodriguez, Alaina (unr.) 1.5 |   |   |   |   |   |
|   |   | Goodman, Angela (unr.) 1.0 |   |   |   |   |   |
| 10 | UIOM | UIOM (0.0) | 5.0 | 15 | 25.5 | 61 | 10 |
|   |   | Chen, Vivian (unr.) 2.0 |   |   |   |   |   |
|   |   | Shannon, Ryan (unr.) 1.0 |   |   |   |   |   |
|   |   | Chen, Winnie (unr.) 1.0 |   |   |   |   |   |
|   |   | Salsbury, Genevieve (unr.) 1.0 |   |   |   |   |   |
| 11 | 218X | 218X (0.0) | 5.0 | 10.5 | 14.5 | 38.5 | 13 |
|   |   | Macoto, Brian (unr.) 3.0 |   |   |   |   |   |
|   |   | Novas, Bryant (unr.) 2.0 |   |   |   |   |   |
| 12 | NORTHSID | NORTHSID (0.0) | 4.5 | 9 | 18 | 44.5 | 8.5 |
|   |   | Malendez, Cristtian (unr.) 2.0 |   |   |   |   |   |
|   |   | Clayborne, Elijah (unr.) 1.5 |   |   |   |   |   |
|   |   | Fernandez, Nyree (unr.) 1.0 |   |   |   |   |   |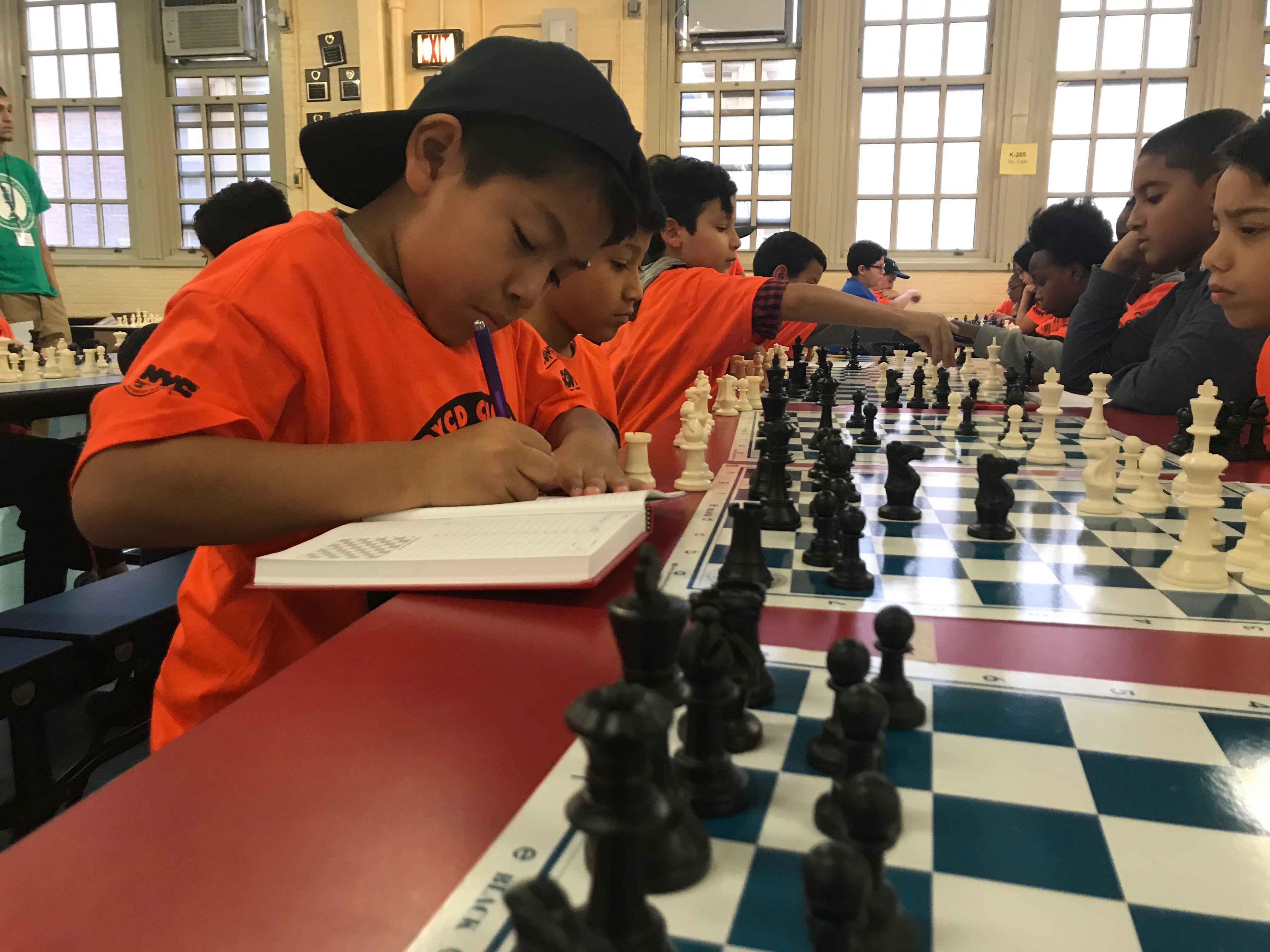 Sections:
HS Open (Grades 9-12)
JHS Open (Grades 6-8)
EL Open (Grades PK-5)
Time Control: 
All sections will be G/30
Schedule:
Check -in: 8:15 AM to 9:30 AM
Round 1: 10:00 AM
Round 2: 11:15 AM
Round 3: 1:00 PM
Round 4: 2:15 PM
Awards: 3:30 PM.
Team room assignments for the event: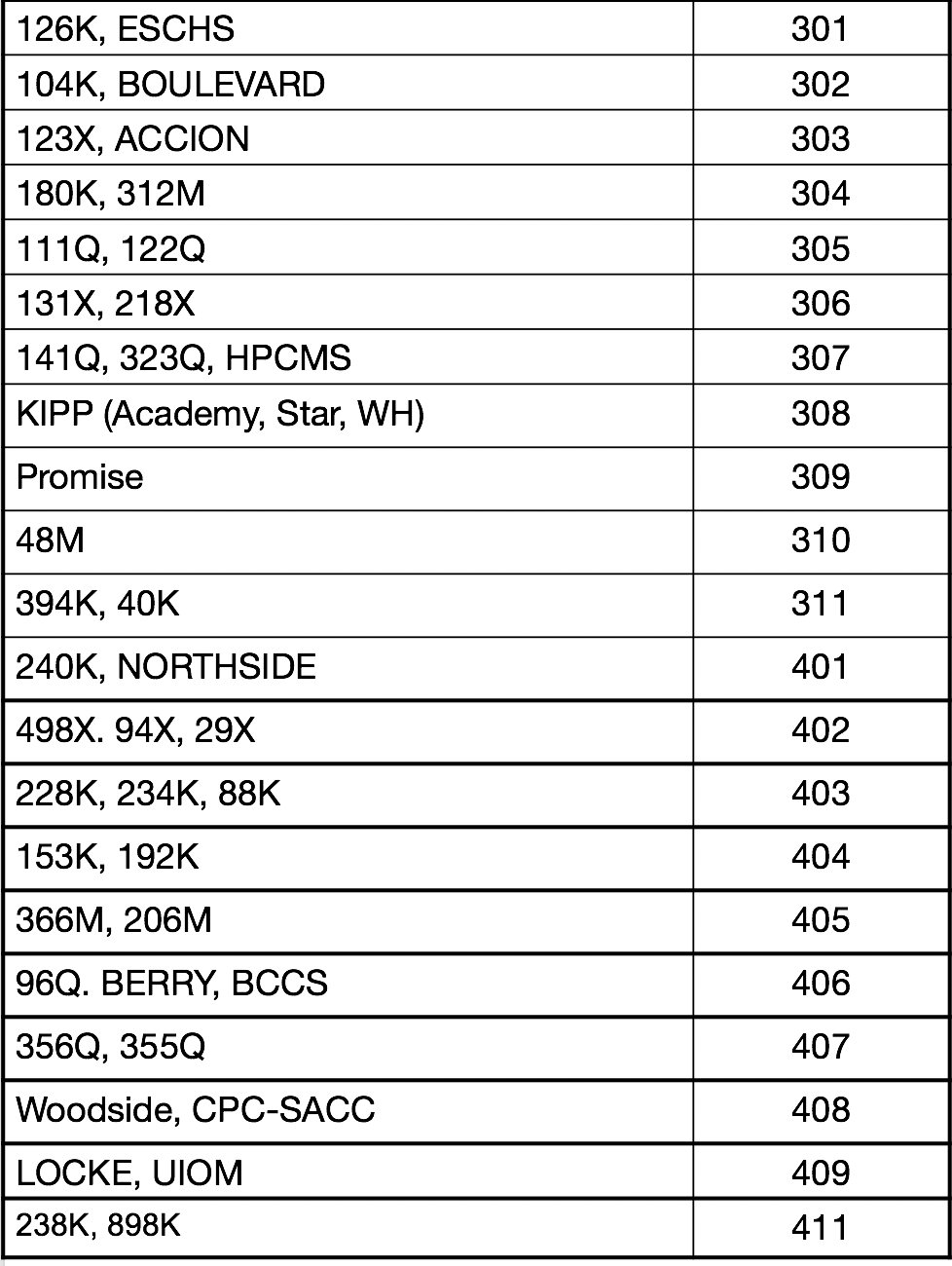 Notes:
Sets, boards, and scoresheets provided. Bring a clock if you have one, and a pen or pencil for notation. Please note that pictures will be taken during the event.
Advance Registrations. 6th Annual DYCD Chess Masters Tournament (566 players) - 11/22/2019 9:43 AM
| | | | | | | | |
| --- | --- | --- | --- | --- | --- | --- | --- |
| Name | Section | Rtng | ID | USCF exp. | Byes rds | Team | Flag |
| Abdelghani, Laith | EL Open | unr |   |   |   | 94X |   |
| Abdulkhamidova, Tomiriz | JH Open | unr |   |   |   | 104K |   |
| Adens, Jayden | EL Open | unr |   |   |   | 111Q |   |
| Adlam-Ferguson, Aaron | HS Open | unr |   |   |   | WOODSIDE |   |
| Aguilar, Jhony | JH Open | 556 | 16901393 | 12/31/2019 |   | 123X |   |
| Aguilar, Marlin | JH Open | unr |   |   |   | 240K |   |
| Ahsan, Tajreen | JH Open | unr |   |   |   | 180K |   |
| Ahuatl, Luis | JH Open | unr |   |   |   | 123X |   |
| Akhere, Abigail | JH Open | unr |   |   |   | 323Q |   |
| Alabarces, Marco | JH Open | unr |   |   |   | 126K |   |
| Alachouzos, Skevos | JH Open | unr |   |   |   | 141Q |   |
| Alexander, Whiteside | EL Open | unr |   |   |   | BERRYHOM |   |
| Alexis, Ethan | EL Open | unr |   |   |   | WOODSIDE |   |
| Alkabass, Reem | JH Open | unr |   |   |   | 192K |   |
| Allen, Christopher | JH Open | unr |   |   |   | KIPP STA |   |
| Alleyne, Brandon | JH Open | unr |   |   |   | ESCHS |   |
| Almonte, Johan | EL Open | unr |   |   |   | 48M |   |
| Almonte, Justin | EL Open | unr |   |   |   | 48M |   |
| Alshami, Mohamed | JH Open | unr |   |   |   | 104K |   |
| Ameen, Tareke | HS Open | unr |   |   |   | BOULEVAR |   |
| Ang, Edrick | JH Open | unr |   |   |   | HPCMS |   |
| Angulo, Marisol | JH Open | unr |   |   |   | 123X |   |
| Annamunthodo, John | JH Open | 245 | 16920152 | 1/31/2020 |   | 323Q |   |
| Anthony, Jaylen | JH Open | unr |   |   |   | CPC-SACC |   |
| Araujo, Guillermo | EL Open | unr |   |   |   | 48M |   |
| Ariza, Darwin | JH Open | unr |   |   |   | 238K |   |
| Ashby, Mia | EL Open | unr |   |   |   | BERRYHOM |   |
| Asmoah Okyere, Elliot | JH Open | unr |   |   |   | 498X |   |
| Atkinson, Kiana | JH Open | unr |   |   |   | 898K |   |
| Attar, Ali | JH Open | unr |   |   |   | 104K |   |
| Attia, Sama | JH Open | unr |   |   |   |   |   |
| Avellino, Justin | EL Open | unr |   |   |   | 48M |   |
| Ayzenberg, Andrew | JH Open | unr |   |   |   | 238K |   |
| Aziz, Mohamed | JH Open | unr |   |   |   | 104K |   |
| Azura, Edgar | JH Open | unr |   |   |   | LOCKE |   |
| Baez, Angel | JH Open | unr |   |   |   | 356Q |   |
| Bahriev, Husen | JH Open | unr |   |   |   | 238K |   |
| Bahviev, Hasan | JH Open | unr |   |   |   | 238K |   |
| Baker, Jevon | JH Open | unr |   |   |   | 355Q |   |
| Balkaran, Curvon | EL Open | unr |   |   |   | PS129 |   |
| Barango-Tariah, Da'Saki | JH Open | unr |   |   |   | 323Q |   |
| Barrientos, Sebastian | EL Open | unr |   |   |   | 366M |   |
| Basant, George | JH Open | unr |   |   |   | 88K |   |
| Battle, Jayleandaris | EL Open | unr |   |   |   | PROMISE |   |
| Beard, Dorian | JH Open | unr |   |   |   | 240K |   |
| Been, Max | JH Open | 429 | 16227790 | 1/31/2020 |   | HPCMS |   |
| Begollari, Isabel | JH Open | unr |   |   |   | 180K |   |
| Benitez, Scarlet | EL Open | unr |   |   |   | 366M |   |
| Berkeley, Aisis | EL Open | unr |   |   |   | PROMISE |   |
| Bhattarai, Prajwal | JH Open | unr |   |   |   | 141Q |   |
| Bisono, Michael | EL Open | unr |   |   |   | 48M |   |
| Blackman, Kayla | EL Open | unr |   |   |   | NORTHSID |   |
| Blow, Kelvin | JH Open | unr |   |   |   | 126K |   |
| Bombaj, Christian | JH Open | unr |   |   |   | 141Q |   |
| Braca, Erion | JH Open | unr |   |   |   | 234K |   |
| Braunson, Trinity | EL Open | unr |   |   |   | 94X |   |
| Brim, Zhamir | EL Open | unr |   |   |   | 111Q |   |
| Brown, Allen | JH Open | unr |   |   |   | PROMISE |   |
| Brown, Elijah | JH Open | unr |   |   |   | ACCION |   |
| Brown, Gerard | EL Open | unr |   |   |   | 40K |   |
| Brown, Jaheym | JH Open | unr |   |   |   | 111Q |   |
| Bseibes, Christopher | JH Open | unr |   |   |   | 104K |   |
| Bueno, Matthew | JH Open | unr |   |   |   | 141Q |   |
| Burns, Davion | JH Open | unr |   |   |   | WOODSIDE |   |
| Burrell, Jayla | JH Open | unr |   |   |   | 126K |   |
| Cabeza, Gabriel | JH Open | unr |   |   |   | PROMISE |   |
| Cabeza, Jayden | JH Open | unr |   |   |   | 123X |   |
| Caesar, Malon | JH Open | unr |   |   |   | 898K |   |
| Calixto, Jilverto | JH Open | 265 | 16922761 | 1/31/2020 |   | 126K |   |
| Canavan, Colin | JH Open | unr |   |   |   | HPCMS |   |
| Canete, Gabriel | JH Open | unr |   |   |   | 192K |   |
| Canizares, Carlasia | JH Open | unr |   |   |   | BERRYHOM |   |
| Capellan, Yessica | JH Open | unr |   |   |   | 126K |   |
| Carrillo, Justin | JH Open | unr |   |   |   | 131X |   |
| Carrillo, Lucas | JH Open | 552 | 16984505 | 2/29/2020 |   | 123X |   |
| Carvalho, David | JH Open | unr |   |   |   | 122Q |   |
| Castillo, Carlos | JH Open | unr |   |   |   | ACCION |   |
| Castillo, Frarlenny | JH Open | unr |   |   |   | 123X |   |
| Castillo, Ylanna | EL Open | unr |   |   |   | 366M |   |
| Castle, Anabella | JH Open | unr |   |   |   | 180K |   |
| Cedillo, Railey | JH Open | unr |   |   |   | 240K |   |
| Chan, Terence | JH Open | unr |   |   |   | 180K |   |
| Chasi, Yessenia | EL Open | unr |   |   |   | 218X |   |
| Chavez, Jayden | EL Open | unr |   |   |   | 48M |   |
| Chen, Daniel | EL Open | unr |   |   |   | CPC-SACC |   |
| Chen, De Hao | JH Open | unr |   |   |   | 180K |   |
| Chen, Melody | JH Open | unr |   |   |   | 180K |   |
| Chen, Pingrong | JH Open | unr |   |   |   | 180K |   |
| Chen, Rachel | JH Open | unr |   |   |   | 180K |   |
| Chen, Sophie | JH Open | unr |   |   |   | 180K |   |
| Chen, Vivian | EL Open | unr |   |   |   | UIOM |   |
| Chen, Winnie | EL Open | unr |   |   |   | UIOM |   |
| Chillogalli, Kevin | JH Open | 416 | 16381761 | 9/30/2020 |   | HPCMS |   |
| Christie, Daniel | HS Open | unr |   |   |   | WOODSIDE |   |
| Chu, Thomas | EL Open | unr |   |   |   | 153K |   |
| Cintronelle, Jayden | JH Open | unr |   |   |   | KIPP STA |   |
| Cisse, Inza | JH Open | unr |   |   |   | PROMISE |   |
| Clay, Jada | EL Open | unr |   |   |   | WOODSIDE |   |
| Clayborne, Elijah | EL Open | unr |   |   |   | NORTHSID |   |
| Clerveaux, Rodney | JH Open | unr |   |   |   | 898K |   |
| Coleman, Brandon | JH Open | unr |   |   |   | PROMISE |   |
| Comrie, Kaelan | JH Open | unr |   |   |   | LOCKE |   |
| Connolly, Vivianna | JH Open | unr |   |   |   | 104K |   |
| Cook, David | EL Open | unr |   |   |   | 111Q |   |
| Cooper, Christian | EL Open | unr |   |   |   | 40K |   |
| Cooper, Daniel | EL Open | unr |   |   |   | 96Q |   |
| Cornacchio, Lorenzo | EL Open | unr |   |   |   | 366M |   |
| Corniel, Jaslenne | JH Open | unr |   |   |   | KIPP: WA |   |
| Crandall, Dayahne | EL Open | unr |   |   |   | 40K |   |
| Cruz, Aimee | JH Open | unr |   |   |   | 240K |   |
| Cruz, Eleanor | EL Open | unr |   |   |   | 48M |   |
| Cruz, Helki | JH Open | unr |   |   |   | KIPP: WA |   |
| Cruz, Kayla | JH Open | unr |   |   |   | 123X |   |
| Cruz, Miguel | JH Open | unr |   |   |   | 123X |   |
| Cueto, Edwin | EL Open | unr |   |   |   | NORTHSID |   |
| Cumberbatch, James | JH Open | unr |   |   |   | 355Q |   |
| Cumberbatch, Jayden | JH Open | unr |   |   |   | 355Q |   |
| Da Silva, Kylia | JH Open | unr |   |   |   | 141Q |   |
| Daczka-Filion, Aaro | JH Open | unr |   |   |   | 312M |   |
| Daniels, Jeremiah | JH Open | unr |   |   |   | 29X |   |
| Das, Anik | JH Open | unr |   |   |   | ACCION |   |
| Davis, Anthony | EL Open | unr |   |   |   | WOODSIDE |   |
| Davronov, Sobir | JH Open | 690 | 16920874 | 1/31/2020 |   | 228K |   |
| De Leon, Geycha | JH Open | unr |   |   |   | 29X |   |
| Del Rosario, Aneuris | EL Open | unr |   |   |   | 48M |   |
| Deleon, Ethan | EL Open | unr |   |   |   | 153K |   |
| Demarcos, Jayla | JH Open | unr |   |   |   | 238K |   |
| Demorcy, Marcky | EL Open | unr |   |   |   | 40K |   |
| Di Laura, Sabatino | JH Open | unr |   |   |   | 498X |   |
| Diaz, Bryden | EL Open | unr |   |   |   | 48M |   |
| Diaz, Jariatt | JH Open | unr |   |   |   | ACCION |   |
| Diego, Juan | JH Open | unr |   |   |   | LOCKE |   |
| Dillard, Chance | JH Open | 289 | 15791396 | *10/31/2017 |   | LOCKE |   |
| Dilone, Emma | EL Open | 130 | 16697693 | *4/30/2019 |   | 40K |   |
| Dinkins, Tahjee | JH Open | unr |   |   |   | BERRYHOM |   |
| Diouf, Muhammad | JH Open | unr |   |   |   | PROMISE |   |
| Diyarza, Ryan | JH Open | unr |   |   |   | 104K |   |
| Dominguez, Randell | HS Open | unr |   |   |   | LOCKE |   |
| Dong, Cody | EL Open | unr |   |   |   |   |   |
| Dove, Jordan | HS Open | unr |   |   |   | WOODSIDE |   |
| Drew, Stephon | JH Open | unr |   |   |   | KIPP ACA |   |
| Dumas, Carter | JH Open | unr |   |   |   | 111Q |   |
| Dumas, Chauncey | EL Open | unr |   |   |   | 111Q |   |
| Duperval, Isabelle | JH Open | unr |   |   |   | 180K |   |
| Edwards, Quadir | JH Open | unr |   |   |   | KIPP ACA |   |
| Elemikan, Ropo | EL Open | unr |   |   |   | PROMISE |   |
| Elsabagh, Moustafa | JH Open | unr | 17027287 | 3/31/2020 |   | 141Q |   |
| Ergashev, Iskandar | EL Open | 387 | 17062355 | 5/31/2020 |   | 180K |   |
| Estrada, Arion | JH Open | unr |   |   |   | 126K |   |
| Eugieio, Willson | EL Open | unr |   |   |   | 218X |   |
| Eusebio, Jayden | EL Open | unr |   |   |   | 94X |   |
| Facey, Jasmine | JH Open | unr |   |   |   | 228K |   |
| Faisal, Azqa | EL Open | unr |   |   |   | 153K |   |
| Farrow-Ellis, Jayden | JH Open | unr |   |   |   | LOCKE |   |
| Farrow-Ellis, Jordan | JH Open | unr |   |   |   | LOCKE |   |
| Faulkner, Giovanni | JH Open | unr |   |   |   | 355Q |   |
| Feliz, Jaylen | JH Open | unr |   |   |   | BCCS |   |
| Felton, Andre | JH Open | unr |   |   |   | 394K |   |
| Feng, Jia Xuan | EL Open | unr |   |   |   | 153K |   |
| Ferguson, Daneya | EL Open | unr |   |   |   | 40K |   |
| Fernandez, Nyree | EL Open | unr |   |   |   | NORTHSID |   |
| Firuzova, Anisakhon | EL Open | unr |   |   |   | 180K |   |
| Flores, Karen | JH Open | 185 | 17089551 | 7/31/2020 |   | 29X |   |
| Fofana, John Joel | JH Open | unr |   |   |   | PROMISE |   |
| Fotana, Ibrahim | EL Open | unr |   |   |   | NORTHSID |   |
| Frazier, Joselyn | EL Open | unr |   |   |   | 96Q |   |
| Freeman, Da'John | EL Open | unr |   |   |   | 40K |   |
| Gallindo, Aquilles | JH Open | unr |   |   |   | 218X |   |
| Gao, Jayden | EL Open | unr |   |   |   |   |   |
| Gao, Sabinra | EL Open | unr |   |   |   |   |   |
| Garcia, Ethan | JH Open | unr |   |   |   | 218X |   |
| Garcia, Jubielly | JH Open | unr |   |   |   | 192K |   |
| Garcia, Litzy | JH Open | unr |   |   |   | 192K |   |
| Garcia, Yiordan | EL Open | unr |   |   |   | 48M |   |
| Garcio, Mauricio | JH Open | unr |   |   |   | 240K |   |
| Garibaldo, Omar | JH Open | unr |   |   |   | BERRYHOM |   |
| Garrett, James | JH Open | unr |   |   |   | KIPP ACA |   |
| Gathers, Madison | JH Open | unr |   |   |   | 394K |   |
| Gazzah, Khairy | JH Open | 279 | 16575187 | 2/29/2020 |   | 122Q |   |
| Gealap, Eva | JH Open | unr |   |   |   | 122Q |   |
| Geiger, Janasia | JH Open | unr |   |   |   | 394K |   |
| Gibbs, Jayceon | JH Open | unr |   |   |   | 898K |   |
| Giraldi, Alan | EL Open | unr |   |   |   | 366M |   |
| Glover, Isyss | JH Open | unr |   |   |   | 898K |   |
| Gomez, Katherine | JH Open | unr |   |   |   | 131X |   |
| Gomez, Scott | EL Open | unr |   |   |   | 94X |   |
| Gonzalez Lopez, Christofer | JH Open | unr |   |   |   | 498X |   |
| Gonzalez, Logan | JH Open | unr |   |   |   | 123X |   |
| Gooden, Dwayne | JH Open | unr |   |   |   | 355Q |   |
| Goodman, Angela | EL Open | unr |   |   |   | BERRYHOM |   |
| Graham, Jada | EL Open | unr |   |   |   | 48M |   |
| Green, Mia | JH Open | unr |   |   |   | 88K |   |
| Greenedge, Randall | JH Open | unr |   |   |   | 126K |   |
| Griboff, Isaiah | JH Open | unr |   |   |   | 240K |   |
| Grillo, Joseph | JH Open | unr |   |   |   | 498X |   |
| Guachiac Tambriz, Fredy | EL Open | unr |   |   |   | 180K |   |
| Guachiac Tambriz, Hany | EL Open | unr |   |   |   | 180K |   |
| Guachiac Tambriz, Ishmael | EL Open | unr |   |   |   | 180K |   |
| Gualpa, Alexandra | JH Open | unr |   |   |   | 238K |   |
| Gubareva, Angelica | EL Open | unr |   |   |   | 153K |   |
| Gutierrez, Roniel | JH Open | unr |   |   |   | 131X |   |
| Guzman, Adonis | EL Open | unr |   |   |   | 48M |   |
| Guzman, Nalecia | JH Open | unr |   |   |   | ACCION |   |
| Guzman, Rachel | JH Open | unr |   |   |   | 394K |   |
| Hadas, Leo | JH Open | unr |   |   |   | 141Q |   |
| Hall, Tyler | JH Open | unr |   |   |   | 898K |   |
| Hamed, Ziyad | JH Open | unr |   |   |   | WOODSIDE |   |
| Hamouche, Adam | JH Open | unr |   |   |   | 192K |   |
| Haque, Surraya | JH Open | unr |   |   |   | 104K |   |
| Hawkins, Liev | JH Open | unr |   |   |   | 88K |   |
| Hawkins, Samiyah | EL Open | unr |   |   |   | PROMISE |   |
| Haynes, Kenneth | JH Open | unr |   |   |   | 234K |   |
| He, Benson | JH Open | 682 | 16158135 | 12/31/2019 |   | 180K |   |
| Herbandex, Alec | JH Open | unr |   |   |   | HPCMS |   |
| Hernandez, Frankellys | EL Open | unr |   |   |   | 94X |   |
| Hernandez, Jeremy | JH Open | unr |   |   |   | ACCION |   |
| Hernandez, Lesly | JH Open | unr |   |   |   | HPCMS |   |
| Hidalgo, Jayden | EL Open | unr |   |   |   | 48M |   |
| Hill, Deshawn | JH Open | unr |   |   |   | 111Q |   |
| Hinton, Jerimiah | EL Open | unr |   |   |   | 40K |   |
| Hollis, Jayden | JH Open | unr |   |   |   | 394K |   |
| Hollis, Jayla | JH Open | unr |   |   |   | 394K |   |
| Hookcumcharm, Jadon | JH Open | unr |   |   |   | 240K |   |
| Hu, Carry | JH Open | unr |   |   |   | 180K |   |
| Huang, Daniel | JH Open | unr |   |   |   | 180K |   |
| Huang, Ethan | JH Open | unr |   |   |   | 234K |   |
| Huang, Ryan | JH Open | unr |   |   |   | 122Q |   |
| Huepa, Rodi | JH Open | unr |   |   |   | 126K |   |
| Huerta, Miguel | JH Open | unr |   |   |   | 123X |   |
| Hussain, Noah | EL Open | unr |   |   |   | 96Q |   |
| Ikromjonov, Azam | JH Open | 627 | 16967351 | 2/29/2020 |   | 228K |   |
| Ikromjonov, Najmiddin | JH Open | unr |   |   |   | 228K |   |
| Jackson, Wyatt | JH Open | unr |   |   |   | 131X |   |
| Jaime, Justin Elij | JH Open | 247 | 17020242 | 3/31/2021 |   | 126K |   |
| Jalplay, Jaslene | EL Open | unr |   |   |   | 218X |   |
| Jarrett, Makayla | JH Open | unr |   |   |   | 355Q |   |
| Jiang, Aaron | EL Open | unr |   |   |   |   |   |
| Jiang, Alvin | EL Open | unr |   |   |   |   |   |
| Jiang, Jason | EL Open | unr |   |   |   |   |   |
| Jiang, Lina | JH Open | unr |   |   |   | 180K |   |
| Jiang, Tingwei | JH Open | unr |   |   |   | 180K |   |
| Jiang, Tony | JH Open | unr |   |   |   | 180K |   |
| Jimenez, Allen | EL Open | unr |   |   |   | 366M |   |
| Jimenez, Ryan | JH Open | unr |   |   |   | KIPP: WA |   |
| Johnson, Zya | EL Open | unr |   |   |   | 48M |   |
| Jolly, Justin | JH Open | unr |   |   |   | HPCMS |   |
| Jones, Taylor | EL Open | unr |   |   |   |   |   |
| Jordan, Quaniece | EL Open | unr |   |   |   | PROMISE |   |
| Joseph-Roberts, Caleb | JH Open | unr |   |   |   | KIPP STA |   |
| Juania, Andro | JH Open | unr |   |   |   | 238K |   |
| Jules, Frantsky | JH Open | unr |   |   |   | 356Q |   |
| Ka, Mamendiaga | JH Open | unr |   |   |   | 29X |   |
| Kapanadze, George | JH Open | unr |   |   |   | 104K |   |
| Ke, Rebecca | JH Open | unr |   |   |   | 180K |   |
| Kelley, Nazadur | EL Open | unr |   |   |   | 40K |   |
| Khalil, Jenna | JH Open | unr |   |   |   | 238K |   |
| Khusainova, Sangira | JH Open | unr |   |   |   | 240K |   |
| King, Israel | JH Open | unr |   |   |   | 111Q |   |
| Kovaev, Max | JH Open | unr |   |   |   | 240K |   |
| Kovalyov, Aliana | JH Open | unr |   |   |   | 104K |   |
| Kuang, Ethan | EL Open | unr |   |   |   | CPC-SACC |   |
| Kuzma, Kateryna | JH Open | unr |   |   |   | 192K |   |
| Kyprislidis, Alexander | JH Open | unr |   |   |   | 122Q |   |
| Kyprislidis, Isabel | JH Open | unr |   |   |   | 122Q |   |
| Laboy, Jayson | EL Open | unr |   |   |   | UIOM |   |
| Lapointe, Francesca | JH Open | unr |   |   |   | 356Q |   |
| Lara, Esterlin | JH Open | unr |   |   |   | ACCION |   |
| Larios, Emilio | JH Open | unr |   |   |   | 238K |   |
| Laster, Zedeki | EL Open | unr |   |   |   | 40K |   |
| Lau, Anna | EL Open | 433 | 16365666 | 5/31/2020 |   | 180K |   |
| Leader, Xavier | JH Open | unr |   |   |   | 131X |   |
| Lee, James | JH Open | unr |   |   |   | 88K |   |
| Leon, Jose | JH Open | unr |   |   |   | 131X |   |
| Leonor, Jordin | JH Open | unr |   |   |   | KIPP ACA |   |
| Lerner, Justin | JH Open | 577 | 16844261 | 11/30/2019 |   | 228K |   |
| Lhaden, Rinchen | JH Open | unr |   |   |   | WOODSIDE |   |
| Lhaden, Sonam | EL Open | unr |   |   |   | WOODSIDE |   |
| Lhaden, Tenzom | JH Open | unr |   |   |   | WOODSIDE |   |
| Lhaden, Tsyang | EL Open | unr |   |   |   | WOODSIDE |   |
| Li, Ying Ying | EL Open | unr |   |   |   | 153K |   |
| Lin, Becky | JH Open | 849 | 15950103 | 5/31/2020 |   | 180K |   |
| Lin, Ivan | JH Open | unr |   |   |   | 122Q |   |
| Lin, Kyle | JH Open | unr |   |   |   | 180K |   |
| Lin, Raymond | JH Open | unr |   |   |   | 180K |   |
| Liu, Jethro | JH Open | 1012 | 16264638 | 2/28/2021 |   | 180K |   |
| Liu, Yilin | JH Open | unr |   |   |   | 180K |   |
| Lomidze, Luka | JH Open | 685 | 16328063 | 3/31/2020 |   | 104K |   |
| Lopez, Ariana | EL Open | unr |   |   |   | 153K |   |
| Lopez, David | JH Open | unr |   |   |   | 206M |   |
| Lopez, Kayla | JH Open | unr |   |   |   | 104K |   |
| Lopez, Sara | JH Open | unr |   |   |   | 206M |   |
| Lu, Eric | JH Open | unr |   |   |   | 180K |   |
| Luna, Franly | EL Open | unr |   |   |   | 94X |   |
| Macoto, Brian | EL Open | unr |   |   |   | 218X |   |
| Madrigal, Estrella | EL Open | unr |   |   |   | 48M |   |
| Madronxhi, Sarah | JH Open | unr |   |   |   | 104K |   |
| Mahecha, Santiago | JH Open | unr |   |   |   | 122Q |   |
| Maksudov, Faridun | JH Open | unr |   |   |   | 192K |   |
| Maldonado, Israel | JH Open | unr |   |   |   | 126K |   |
| Maldonado, Xavier | JH Open | unr |   |   |   | 126K |   |
| Malendez, Cristtian | EL Open | unr |   |   |   | NORTHSID |   |
| Mann, Mya | EL Open | unr |   |   |   | 96Q |   |
| Maria, Andy | JH Open | unr |   |   |   | ACCION |   |
| Marin, Felipe | JH Open | unr |   |   |   | 141Q |   |
| Marlow, Janice | EL Open | unr |   |   |   | NORTHSID |   |
| Martinez, Andriel | EL Open | unr |   |   |   | 40K |   |
| Martinez, Ashley | JH Open | unr |   |   |   | 88K |   |
| Martinez, Hidia | JH Open | unr |   |   |   | 126K |   |
| Martinez, Ronald | EL Open | unr |   |   |   | 48M |   |
| Marupova, Jasmina | JH Open | unr |   |   |   | 192K |   |
| Marupova, Shahzoda | JH Open | unr |   |   |   | 192K |   |
| Massenburg, Elijah | HS Open | unr |   |   |   | LOCKE |   |
| Massey, Noah | JH Open | unr |   |   |   | BERRYHOM |   |
| Matos, Ixchel | JH Open | unr |   |   |   | HPCMS |   |
| Matute, Anthony | EL Open | unr |   |   |   | 40K |   |
| McDonald, Jaylen | JH Open | unr |   |   |   | CPC-SACC |   |
| McEnaney, Sebastian | JH Open | unr |   |   |   | 323Q |   |
| McField, Thomas | JH Open | unr |   |   |   | KIPP: WA |   |
| McIntosh, Elijah | HS Open | unr |   |   |   | O'DWYER |   |
| McIntosh, Jeremiah | HS Open | unr |   |   |   | O'DWYER |   |
| McLaurin, Cameron | JH Open | unr |   |   |   | PROMISE |   |
| McMenemy, Justin | JH Open | unr |   |   |   | 104K |   |
| McMillian, Jahlani | EL Open | unr |   |   |   | 96Q |   |
| McNair, Sahara | JH Open | unr |   |   |   | 126K |   |
| McNeely, Anton | JH Open | unr |   |   |   | 206M |   |
| Medina, Alex | JH Open | unr |   |   |   | PROMISE |   |
| Mejia, Lian | EL Open | unr |   |   |   | 48M |   |
| Melendez-Johnson, Donovan | JH Open | unr |   |   |   | 111Q |   |
| Melikova, Sabrina | JH Open | unr |   |   |   | 192K |   |
| Mendez, Jean Marc | EL Open | unr |   |   |   | 48M |   |
| Mendez, Steven | JH Open | unr |   |   |   | 88K |   |
| Mighty, Shemiah | EL Open | unr |   |   |   | 94X |   |
| Miller, Sean | JH Open | unr |   |   |   | KIPP ACA |   |
| Miranda, Catherine | JH Open | unr |   |   |   | 104K |   |
| Mitchell, Christopher | JH Open | unr |   |   |   |   |   |
| Mitchell, Justin | EL Open | unr |   |   |   |   |   |
| Mitchell, Myah | HS Open | unr |   |   |   |   |   |
| Moe, Amir | JH Open | unr |   |   |   | 240K |   |
| Mohamed, Sameer | JH Open | unr |   |   |   | 123X |   |
| Monnastine, Hendrin | JH Open | unr |   |   |   | 240K |   |
| Morales, Christopher | JH Open | unr |   |   |   | 206M |   |
| Morales, Ean | EL Open | unr |   |   |   | 366M |   |
| Morales, Matthew | JH Open | unr |   |   |   | 192K |   |
| Moreno-Lopez, Shesit | JH Open | unr |   |   |   | 180K |   |
| Morris, Clarissa | JH Open | unr |   |   |   | WOODSIDE |   |
| Morrison, Naveaha | HS Open | unr |   |   |   | WOODSIDE |   |
| Morrow, Terrence | JH Open | unr |   |   |   | ACCION |   |
| Mukhtarov, Kamranbek | JH Open | unr |   |   |   | 228K |   |
| Mukhtorov, Muhammadnur | JH Open | unr |   |   |   | 228K |   |
| Munduzbaeva, Aisulu | EL Open | unr |   |   |   | 180K |   |
| Munoz, Joseph | JH Open | unr |   |   |   | ACCION |   |
| Munoz, Sally | JH Open | unr |   |   |   | ACCION |   |
| Murray, Christopher | HS Open | unr |   |   |   | 111Q |   |
| Mustafin, Amir | JH Open | unr |   |   |   | 240K |   |
| Mustafin, Emil | JH Open | unr |   |   |   | 240K |   |
| Mutha, Siddartha | EL Open | unr |   |   |   |   |   |
| Namgyal, Tenzin | JH Open | unr |   |   |   | 122Q |   |
| Nelson, Nikka | JH Open | unr |   |   |   | 394K |   |
| Nero, Jamai | JH Open | unr |   |   |   | 394K |   |
| Nicolas, Leslie | JH Open | unr |   |   |   | 238K |   |
| Nieves, Xavier | EL Open | unr |   |   |   | 111Q |   |
| Novas, Bryant | EL Open | unr |   |   |   | 218X |   |
| Ocasio, Jason | JH Open | unr |   |   |   | 498X |   |
| Oghaego, Ikenna | JH Open | unr |   |   |   | 355Q |   |
| Ogunsola, Fisayo | JH Open | unr |   |   |   | 323Q |   |
| Ojeda, Gabrial | JH Open | unr |   |   |   | 218X |   |
| Olimova, Jasmina | JH Open | unr |   |   |   | 192K |   |
| Oliva, Oliver | JH Open | unr |   |   |   | ACCION |   |
| Olivos, Andrea | EL Open | unr |   |   |   | 48M |   |
| Ollivierre, Kiefe | JH Open | unr |   |   |   | 394K |   |
| Orellana, Dennis | EL Open | unr |   |   |   | 48M |   |
| Ortega, Edwin | JH Open | unr |   |   |   | 29X |   |
| Ortega, Jasmine | JH Open | unr |   |   |   | 238K |   |
| Osby, Sincere | HS Open | unr |   |   |   | BOULEVAR |   |
| Osby, Sincere | JH Open | unr |   |   |   | BOULEVAR |   |
| Pacheco, Izel | JH Open | unr |   |   |   | 126K |   |
| Palmer, Jackson | JH Open | 157 | 16988101 | 2/29/2020 |   | 498X |   |
| Pan, Cham | EL Open | unr |   |   |   | CPC-SACC |   |
| Paramendswar, Rohan | JH Open | unr |   |   |   | 141Q |   |
| Parkes, Samyah | JH Open | unr |   |   |   | 394K |   |
| Parkinson, Quentin | JH Open | unr |   |   |   | 88K |   |
| Parra, Alexis | EL Open | unr |   |   |   | 48M |   |
| Parris, Steven | JH Open | unr |   |   |   | 240K |   |
| Pass, Cameron | EL Open | unr |   |   |   | 40K |   |
| Paul , Aiden | EL Open | unr |   |   |   | 40K |   |
| Paul, Dimiya | JH Open | unr |   |   |   | 104K |   |
| Paulino, Julian | EL Open | unr |   |   |   | 366M |   |
| Payne, Hunter | JH Open | unr |   |   |   | PROMISE |   |
| Pearto, Joel | JH Open | unr |   |   |   | 356Q |   |
| Peck, Benjamin | JH Open | unr |   |   |   | 126K |   |
| Peguero, Gianna | EL Open | unr |   |   |   | 366M |   |
| Pena, Michael | JH Open | unr |   |   |   | 88K |   |
| Perdomo, Lila | JH Open | unr |   |   |   |   |   |
| Pereyra, Jean | EL Open | unr |   |   |   | 366M |   |
| Perez, Estelin | JH Open | unr |   |   |   | 29X |   |
| Perez, Jaylene | EL Open | unr |   |   |   | 48M |   |
| Perez, Kevin | JH Open | unr |   |   |   | 180K |   |
| Perez, Richard | EL Open | unr |   |   |   | 153K |   |
| Perez, Trinity | JH Open | unr |   |   |   | 131X |   |
| Perrera Press, Daniel | EL Open | unr |   |   |   |   |   |
| Pettigrew, Alani | JH Open | unr |   |   |   | 394K |   |
| Pinero, Bengie | JH Open | unr |   |   |   | ACCION |   |
| Pittman, Zyann | EL Open | unr |   |   |   | WOODSIDE |   |
| Plunkett, Jahmere | JH Open | unr |   |   |   | 240K |   |
| Polanco, Adalberto | EL Open | unr |   |   |   | 48M |   |
| Polanco, Laisha | EL Open | unr |   |   |   | 48M |   |
| Politis, Jayvin | JH Open | unr |   |   |   | 126K |   |
| Portilla, Albert | JH Open | unr |   |   |   | 88K |   |
| Powell, Tristan | JH Open | unr |   |   |   | 355Q |   |
| Pringle, Jamil | JH Open | unr |   |   |   | 104K |   |
| Prohdania, Tisun | JH Open | unr |   |   |   | 218X |   |
| Quadri, Aliter | EL Open | unr |   |   |   | 123X |   |
| Quic, Dilan | JH Open | unr |   |   |   | ACCION |   |
| Quiroga, John | JH Open | unr |   |   |   | 122Q |   |
| Raghubir, Teshana | EL Open | unr |   |   |   | 96Q |   |
| Rahman, Aydin | EL Open | unr |   |   |   | 366M |   |
| Rahman, Shajiq | JH Open | unr |   |   |   | KIPP: WA |   |
| Rahman, Siana | JH Open | unr |   |   |   | 104K |   |
| Ramirez, Selvin | JH Open | 1216 | 16215095 | 1/31/2020 |   | 180K |   |
| Ramiriez, Christopher | JH Open | unr |   |   |   | 192K |   |
| Ramos, Brianna | JH Open | unr |   |   |   | 498X |   |
| Ratliff, Tyiel | JH Open | unr |   |   |   | 898K |   |
| Rattray, Christian | EL Open | 118 | 17035361 | 4/30/2020 |   | NORTHSID |   |
| Ravelo, Adrian | JH Open | unr |   |   |   | BCCS |   |
| Reavis, Xavier | EL Open | unr |   |   |   | 96Q |   |
| Reinoso, William | EL Open | unr |   |   |   | 218X |   |
| Reyes, Diego | HS Open | unr |   |   |   | ACCION |   |
| Reyes, Jayden | EL Open | unr |   |   |   | 48M |   |
| Reyes, John | JH Open | unr |   |   |   | KIPP: WA |   |
| Reyes, Justin | EL Open | unr |   |   |   | 48M |   |
| Richardson, Cedric | JH Open | unr |   |   |   | 238K |   |
| Ridouane, Yassine | JH Open | unr |   |   |   | 141Q |   |
| Riguard, Madison | JH Open | unr |   |   |   | 356Q |   |
| Rivera, Ernesto | JH Open | unr |   |   |   | 126K |   |
| Rivera, Jenayah Ma | HS Open | 707 | 16916045 | 1/31/2020 |   | ESCHS |   |
| Rivera, Larissa | JH Open | unr |   |   |   | ACCION |   |
| Rivera, Marcus | JH Open | unr |   |   |   | 206M |   |
| Rivera, Yanelly | JH Open | unr |   |   |   | 123X |   |
| Robinson, Jaisean | EL Open | unr |   |   |   | 40K |   |
| Robinson, Jaylin | JH Open | unr |   |   |   | PROMISE |   |
| Robles, Leury | EL Open | unr |   |   |   | 366M |   |
| Robles, Omar | JH Open | unr |   |   |   | 131X |   |
| Rodriguez, Alaina | EL Open | unr |   |   |   | BERRYHOM |   |
| Rodriguez, Alvin | JH Open | unr |   |   |   | KIPP STA |   |
| Rodriguez, Brandon | HS Open | unr |   |   |   | ACCION |   |
| Rodriguez, Daniel | EL Open | unr |   |   |   | 88K |   |
| Rodriguez, Engel | EL Open | unr |   |   |   | 48M |   |
| Rodriguez, Geneury | EL Open | unr |   |   |   | 366M |   |
| Rodriguez, Jayce | EL Open | unr |   |   |   | NORTHSID |   |
| Rojas, Ainslie | JH Open | unr |   |   |   | 104K |   |
| Roman, Jeyniel | EL Open | unr |   |   |   | 94X |   |
| Rosado, Jenna Emel | HS Open | 510 | 16987024 | 2/29/2020 |   | ESCHS |   |
| Ruzimurodov, Sherbek | JH Open | unr |   |   |   | 192K |   |
| Sahid, Nihat | JH Open | unr |   |   |   | 240K |   |
| Sako, Mohamed | JH Open | unr |   |   |   | PROMISE |   |
| Salakhutdinou, Ikromjon | JH Open | unr |   |   |   | 240K |   |
| Salakhutdinov, Mokihra | JH Open | unr |   |   |   | 240K |   |
| Salazaar, Hancel | EL Open | unr |   |   |   | 48M |   |
| Salguero, Edwin | JH Open | unr |   |   |   | BERRYHOM |   |
| Salimov, Sobir | JH Open | 528 | 15919484 | *1/31/2017 |   | 180K |   |
| Salsbury, Genevieve | EL Open | unr |   |   |   | UIOM |   |
| Samassi, Yaya | JH Open | 194 | 16066226 | 4/30/2020 |   | PROMISE |   |
| Sanchez, Elizabeth | JH Open | unr |   |   |   | 898K |   |
| Sanchez, Ogimah | JH Open | unr |   |   |   | LOCKE |   |
| Sanon, Anthony | JH Open | unr |   |   |   | 104K |   |
| Santana, Aneudy | EL Open | unr |   |   |   | UIOM |   |
| Santana, Carlos | EL Open | unr |   |   |   | 94X |   |
| Santana, Matthew | JH Open | unr |   |   |   | LOCKE |   |
| Santana, Rubi | JH Open | unr |   |   |   | 126K |   |
| Santiago, Jasmin | JH Open | unr |   |   |   | BCCS |   |
| Santos, Eduardo | JH Open | unr |   |   |   | 123X |   |
| Santos, Edward | EL Open | unr |   |   |   | 48M |   |
| Saquisili, Henry | JH Open | 843 | 16129688 | 1/31/2020 |   | 180K |   |
| Saquisili, Omar | JH Open | 1298 | 15234224 | 12/31/2019 |   | 180K |   |
| Sarr, Baba | JH Open | unr |   |   |   | PROMISE |   |
| Sayegh, Chloe | JH Open | unr |   |   |   | 104K |   |
| Scott, Edwin | EL Open | unr |   |   |   | UIOM |   |
| Scott-Clement, D'Ann | JH Open | unr |   |   |   | 394K |   |
| Shaban, Mohamed | JH Open | unr |   |   |   | 104K |   |
| Shannon, Ryan | EL Open | unr |   |   |   | UIOM |   |
| Shea, Eryn | EL Open | unr |   |   |   | 111Q |   |
| Shermuhammadov, Elyor | JH Open | unr |   |   |   | 238K |   |
| Shi, Fionna | JH Open | unr |   |   |   | 180K |   |
| Shi, Raymond | JH Open | 1345 | 16138640 | 11/30/2019 |   | 180K |   |
| Sine, Jahmir | JH Open | unr |   |   |   | 898K |   |
| Singh, Brahmjot | EL Open | unr |   |   |   | 96Q |   |
| Skerving, Goddell | JH Open | unr |   |   |   | KIPP STA |   |
| Skinner, Johnyla | EL Open | unr |   |   |   | 48M |   |
| Skinner, Johyla | EL Open | unr |   |   |   | 48M |   |
| Smith, Dakota | JH Open | unr |   |   |   | 394K |   |
| Smith, Seven | JH Open | unr |   |   |   | PROMISE |   |
| Soumahoro, Ayouba | JH Open | unr |   |   |   | PROMISE |   |
| Staley, Paige | JH Open | unr |   |   |   | HPCMS |   |
| Stepanova, Valeria | JH Open | unr |   |   |   | 180K |   |
| Stevens, Corey | JH Open | unr |   |   |   | WOODSIDE |   |
| Stewart, Jayleel | JH Open | unr |   |   |   | PROMISE |   |
| Stratton, Lamarr | JH Open | unr |   |   |   | KIPP ACA |   |
| Suarez, Heaven | JH Open | unr |   |   |   | KIPP STA |   |
| Suarez, Marc-Anthony | JH Open | unr |   |   |   | ESCHS |   |
| Sutherland, Tenaj | JH Open | unr |   |   |   | 898K |   |
| Sutton, Kaylee | JH Open | unr |   |   |   | 131X |   |
| Sy, Oumar | HS Open | unr |   |   |   | LOCKE |   |
| Sy, Yahya Seigue | JH Open | 637 | 16959675 | 2/29/2020 |   | 123X |   |
| Sze, Hai Li | JH Open | 128 | 16152994 | *10/31/2017 |   | 180K |   |
| Szrites, Mark | JH Open | unr |   |   |   | HPCMS |   |
| Tabora, Michael | JH Open | unr |   |   |   | 104K |   |
| Tan, Yongxin | JH Open | unr |   |   |   | 180K |   |
| Taub, Oliver | JH Open | unr |   |   |   | 88K |   |
| Tavarez, Erickson | EL Open | unr |   |   |   | 96Q |   |
| Tavarez, Keith | EL Open | unr |   |   |   | 48M |   |
| Taylor, Davon | JH Open | unr |   |   |   | PROMISE |   |
| Taylor, Garvey | JH Open | unr |   |   |   | LOCKE |   |
| Taylor, Ryan | JH Open | unr |   |   |   | 234K |   |
| Thode, Adrian | EL Open | unr |   |   |   | 94X |   |
| Thornton, Kobe | JH Open | unr |   |   |   | KIPP STA |   |
| Timite, Sekeu | EL Open | unr |   |   |   | PROMISE |   |
| Toribio, Josiah | JH Open | unr |   |   |   | BCCS |   |
| Tosic, Neyla | EL Open | unr |   |   |   |   |   |
| Traore, Ben | JH Open | unr |   |   |   | PROMISE |   |
| Traore, Souleymane | JH Open | unr |   |   |   | PROMISE |   |
| Tsakinis, Sophia | JH Open | unr |   |   |   | 104K |   |
| Tyre, Blake | JH Open | unr |   |   |   | LOCKE |   |
| Unknown, Yourmajesty | HS Open | unr |   |   |   | BOULEVAR |   |
| Uralov, Jamshid | JH Open | 777 | 16155952 | 11/30/2019 |   | 180K |   |
| Utkivov, Nozimjon | JH Open | unr |   |   |   | 238K |   |
| Utkurov, Shahzod | JH Open | unr |   |   |   | 238K |   |
| Uznadze, Lazare | JH Open | unr |   |   |   | 104K |   |
| Vargas, Julia | JH Open | unr |   |   |   | 192K |   |
| Vargas, Yeimy | JH Open | unr |   |   |   | 238K |   |
| Vega, Vianci | JH Open | unr |   |   |   | 123X |   |
| Velez, Jason | EL Open | unr |   |   |   | UIOM |   |
| Ventura, Jose | JH Open | unr |   |   |   | 498X |   |
| Veras, Chastelyn | EL Open | unr |   |   |   | NORTHSID |   |
| Veras, Emma | EL Open | unr |   |   |   | 48M |   |
| Vidal, Guissepe | JH Open | unr |   |   |   | KIPP STA |   |
| Vilchis, Goivani | JH Open | unr |   |   |   | 126K |   |
| Walker, Asa | JH Open | unr |   |   |   | KIPP STA |   |
| Wang, Raymond | JH Open | unr |   |   |   | 180K |   |
| Ware, Samantha | JH Open | unr |   |   |   | 498X |   |
| Washington, Mia | JH Open | unr |   |   |   | 394K |   |
| Watington, Ralph | JH Open | unr |   |   |   | KIPP STA |   |
| Watson, Isaac | JH Open | 397 | 17065925 | 5/31/2021 |   | 104K |   |
| Weaver, Ayden | JH Open | unr |   |   |   | PROMISE |   |
| Wen, Jaylene | JH Open | unr |   |   |   | 312M |   |
| White, Tyler | JH Open | unr |   |   |   | 111Q |   |
| Williams, Malachi | JH Open | unr |   |   |   | ACCION |   |
| Williams, Xzavion | JH Open | unr |   |   |   | 111Q |   |
| Wilson, Lelani | JH Open | unr |   |   |   | 240K |   |
| Winch, Finn | JH Open | unr |   |   |   | ESCHS |   |
| Wong, Harrison | JH Open | unr |   |   |   | 312M |   |
| Wong, Madison | EL Open | unr |   |   |   | CPC-SACC |   |
| Worrell, Donovan | EL Open | unr |   |   |   | 111Q |   |
| Wu, Amy | JH Open | unr |   |   |   | 180K |   |
| Yang, Vivian | JH Open | unr |   |   |   | 180K |   |
| Yensi, Edwin | JH Open | unr |   |   |   | BERRYHOM |   |
| Young, Glen | JH Open | unr |   |   |   | 355Q |   |
| Young, Malachi | JH Open | unr |   |   |   | PROMISE |   |
| Yousef, Mahammad | JH Open | unr |   |   |   | 240K |   |
| Yu, Jayden | JH Open | unr |   |   |   | ESCHS |   |
| Zapata, Abiel | EL Open | unr |   |   |   | 96Q |   |
| Zhang, Nathan | EL Open | unr |   |   |   | 153K |   |
| Zhang, Yuqi | JH Open | unr |   |   |   | 180K |   |
| Zheng, Eric | JH Open | unr |   |   |   | 180K |   |
| Zhu, Joanne | JH Open | unr |   |   |   | 104K |   |
| Zitalpopoca, David | JH Open | unr |   |   |   | 192K |   |
| Zuniga, Anthony | JH Open | unr |   |   |   | 192K |   |
6th Annual DYCD Chess Masters Tournament: HS Open (Grades 9-12)
| | | | | | | | | | | | | | | | | | | |
| --- | --- | --- | --- | --- | --- | --- | --- | --- | --- | --- | --- | --- | --- | --- | --- | --- | --- | --- |
| # | Place | Name | ID | Rtng | Post | Team | Grd | Sex | St | Rd 1 | Rd 2 | Rd 3 | Rd 4 | Tot | TB-Med | TB-Op. cumul. | TB-Cumul. | TB-Solkoff |
| 1 | 1 | Ergashev, Amirshoh |   | unr. | 958 | 180K | 9 | M | NY | W3 | W2 | B--- | D3 | 3.5 | 4 | 10 | 8.5 | 4 |
| 2 | 2 | Duong, Hao |   | unr. | 750 |   | 11 | M | NY | B--- | L1 | W3 | B--- | 3.0 | 4 | 11 | 5 | 4 |
| 3 | 3 | Williams, Darrien |   | unr. | 542 | 126K | 10 | F | NY | L1 | B--- | L2 | D1 | 1.5 | 5 | 22 | 2.5 | 8 |
6th Annual DYCD Chess Masters Tournament: JH Open (Grades 6-8)
| | | | | | | | | | | | | | | | | | | |
| --- | --- | --- | --- | --- | --- | --- | --- | --- | --- | --- | --- | --- | --- | --- | --- | --- | --- | --- |
| # | Place | Name | ID | Rtng | Post | Team | Grd | Sex | St | Rd 1 | Rd 2 | Rd 3 | Rd 4 | Tot | TB-Med | TB-Op. cumul. | TB-Cumul. | TB-Solkoff |
| 1 | 1-12 | Chen, De Hao |   | unr. | 1150 | 180K | 8 | M |   | W46 | W114 | W25 | W24 | 4.0 | 9 | 29 | 10 | 11 |
| 2 |   | Huang, Ryan |   | unr. | 1745 | 122Q | 7 | M |   | W98 | W20 | W30 | W27 | 4.0 | 9 | 29 | 10 | 11 |
| 3 |   | Saquisili, Omar | 15234224 | 1298 | 1361 | 180K | 7 | M | NY | W222 | W23 | W22 | W19 | 4.0 | 9 | 25 | 10 | 9.5 |
| 4 |   | Wang, Raymond |   | unr. | 1150 | 180K | 6 | M |   | W73 | W33 | W102 | W39 | 4.0 | 8.5 | 27.5 | 10 | 10.5 |
| 5 |   | Jiang, Tony |   | unr. | 1150 | 180K | 7 | M |   | W187 | W31 | W68 | W18 | 4.0 | 8 | 24.5 | 10 | 9 |
| 6 |   | Daczka-Filion, Aaro |   | unr. | 1150 | 312M | 6 | M |   | W225 | W41 | W88 | W28 | 4.0 | 8 | 23.5 | 10 | 8.5 |
| 7 |   | Mutha, Siddhartha |   | unr. | 1150 | 312M | 7 | M | NY | W70 | W89 | W100 | W36 | 4.0 | 7.5 | 27.5 | 10 | 9.5 |
| 8 |   | Lin, Raymond |   | unr. | 1150 | 180K | 8 | M |   | W108 | W136 | W67 | W26 | 4.0 | 7.5 | 26.5 | 10 | 9.5 |
| 9 |   | Lin, Becky | 15950103 | 849 | 997 | 180K | 7 | F | NY | W141 | W116 | W92 | W17 | 4.0 | 7 | 24 | 10 | 9 |
| 10 |   | Ramirez, Selvin | 16215095 | 1216 | 1242 | 180K | 8 | M | NY | W138 | W180 | W93 | W21 | 4.0 | 7 | 24 | 10 | 8 |
| 11 |   | Liu, Jethro | 16264638 | 1012 | 1089 | 180K | 6 | M | NY | W194 | W122 | W113 | W35 | 4.0 | 7 | 23 | 10 | 8 |
| 12 |   | Lin, Kyle |   | unr. | 1150 | 180K | 6 | M |   | W228 | W115 | W87 | W29 | 4.0 | 7 | 21.5 | 10 | 7.5 |
| 13 | 13-16 | Huang, Daniel |   | unr. | 1150 | 180K | 7 | M |   | W49 | W95 | W72 | D14 | 3.5 | 9 | 29 | 9.5 | 11 |
| 14 |   | Prohdania, Tisun |   | unr. | 1150 | 218X | 6 | M |   | W219 | W32 | W69 | D13 | 3.5 | 9 | 25 | 9.5 | 10 |
| 15 |   | Castro, Juan |   | unr. | 1150 | BCNY |   |   |   | H--- | W215 | W78 | W75 | 3.5 | 6 | 14 | 7.5 | 6 |
| 16 |   | Larios, Emilio |   | unr. | 1150 | 238K |   |   |   | H--- | W178 | W174 | W82 | 3.5 | 5.5 | 13.5 | 7.5 | 5.5 |
| 17 | 17-66 | Pinero, Bengie |   | unr. | 1119 | ACCION | 8 | M |   | W182 | W45 | W47 | L9 | 3.0 | 10 | 28 | 9 | 11 |
| 18 |   | Sako, Mohamed |   | unr. | 1150 | PROMISE | 7 | M |   | X245 | W43 | W34 | L5 | 3.0 | 10 | 25 | 8 | 10 |
| 19 |   | Traore, Ben |   | unr. | 1145 | PROMISE | 7 | M |   | W58 | W117 | W71 | L3 | 3.0 | 9.5 | 28.5 | 9 | 11.5 |
| 20 |   | Davronov, Sobir | 16920874 | 690 | 892 | 228K | 7 | M | NY | W62 | L2 | W74 | W103 | 3.0 | 9.5 | 27.5 | 7 | 11.5 |
| 21 |   | Wen, Jaylene |   | unr. | 1003 | 312M | 6 | F |   | W140 | W44 | W101 | L10 | 3.0 | 9 | 28 | 9 | 11 |
| 22 |   | Taylor, Ryan |   | unr. | 1210 | 234K | 7 | M |   | W128 | W51 | L3 | W95 | 3.0 | 9 | 28 | 8 | 11 |
| 23 |   | Mukhtarov, Kamranbek |   | unr. | 1140 | 228K | 7 | M |   | W52 | L3 | W117 | W100 | 3.0 | 9 | 28 | 7 | 11 |
| 24 |   | Lerner, Justin | 16844261 | 577 | 780 | 228K | 7 | M | NY | W144 | W142 | W38 | L1 | 3.0 | 9 | 27 | 9 | 11 |
| 25 |   | Rivera, Ernesto |   | unr. | 1150 | 126K | 6 | M |   | W145 | W48 | L1 | W119 | 3.0 | 9 | 25 | 8 | 11 |
| 26 |   | McDonald, Jaylen |   | unr. | 1133 | MECPS | 6 | M |   | W139 | W99 | W96 | L8 | 3.0 | 8 | 26 | 9 | 10 |
| 27 |   | Shi, Raymond | 16138640 | 1345 | 1348 | 180K | 8 | M | NY | W103 | W196 | W97 | L2 | 3.0 | 8 | 26 | 9 | 9 |
| 28 |   | Robinson, Jaylin |   | unr. | 1050 | PROMISE | 8 | M |   | W120 | W183 | W118 | L6 | 3.0 | 8 | 26 | 9 | 9 |
| 29 |   | Bueno, Matthew |   | unr. | 1150 | 141Q | 7 | M | NY | W218 | W185 | W42 | L12 | 3.0 | 8 | 24 | 9 | 9 |
| 30 |   | He, Benson | 16158135 | 682 | 819 | 180K | 6 | M | NY | W125 | W127 | L2 | W109 | 3.0 | 8 | 24 | 8 | 9.5 |
| 31 |   | Been, Max | 16227790 | 429 | 649 | HPCMS | 8 | M | NY | W165 | L5 | W129 | W120 | 3.0 | 8 | 22.5 | 7 | 9.5 |
| 32 |   | Perez, Skyler |   | unr. | 1086 | 126K | 7 | F | NY | W148 | L14 | W99 | W91 | 3.0 | 7.5 | 24.5 | 7 | 9 |
| 33 |   | Hadas, Leo |   | unr. | 1087 | 141Q | 6 |   |   | W168 | L4 | W202 | W90 | 3.0 | 7.5 | 24.5 | 7 | 8.5 |
| 34 |   | Peck, Canon |   | unr. | 1150 | 126K | 7 | M | NY | W50 | W198 | L18 | W98 | 3.0 | 7.5 | 23 | 8 | 8.5 |
| 35 |   | Perrera Press, Daniel |   | unr. | 1034 |   | 5 | M |   | W189 | W107 | W91 | L11 | 3.0 | 7.5 | 22.5 | 9 | 8.5 |
| 36 |   | Jaime, Justin Elij | 17020242 | 247 | 520 | 126K | 7 | M | NY | W191 | W188 | W40 | L7 | 3.0 | 7.5 | 22 | 9 | 8 |
| 37 |   | Moreno-Lopez, Shesit |   | unr. | 873 | 180K | 7 | F |   | W164 | D74 | D53 | W124 | 3.0 | 7.5 | 22 | 7.5 | 9 |
| 38 |   | Elsabagh, Moustafa | 17027287 | unr. | 967 | 141Q | 7 | M | NY | W195 | W106 | L24 | W88 | 3.0 | 7 | 25 | 8 | 8 |
| 39 |   | Wong, Harrison |   | unr. | 1087 | 312M | 6 | M |   | W204 | W186 | W90 | L4 | 3.0 | 7 | 23 | 9 | 8 |
| 40 |   | Williams, Christian |   | unr. | 904 | PROMISE | 7 | M | NY | W181 | W111 | L36 | W89 | 3.0 | 7 | 23 | 8 | 8 |
| 41 |   | Lhaden, Rinchen |   | unr. | 1093 | WOODSIDE | 6 | F |   | W184 | L6 | W183 | W121 | 3.0 | 7 | 23 | 7 | 8 |
| 42 |   | DeFeo, Draco |   | unr. | 1047 | 234K | 6 | M | NY | W223 | W104 | L29 | W93 | 3.0 | 7 | 22.5 | 8 | 7.5 |
| 43 |   | Suriel, Ernest |   | unr. | 1070 | 118X | 6 | M | NY | W80 | L18 | W190 | W96 | 3.0 | 7 | 22.5 | 7 | 8 |
| 44 |   | Aguilar, Jhony | 16901393 | 556 | 732 | 123X | 8 | M | NY | W109 | L21 | W166 | W154 | 3.0 | 7 | 22 | 7 | 8.5 |
| 45 |   | Gutierrez, Roniel |   | unr. | 950 | 131X | 6 | M |   | W129 | L17 | W127 | W132 | 3.0 | 7 | 22 | 7 | 8.5 |
| 46 |   | Lin, Ivan |   | unr. | 954 | 122Q | 6 | M |   | L1 | W197 | W182 | W101 | 3.0 | 7 | 22 | 6 | 8 |
| 47 |   | Mirukaj, Jason |   | unr. | 1000 | 498X | 6 | M |   | W158 | W105 | L17 | W131 | 3.0 | 7 | 21.5 | 8 | 8.5 |
| 48 |   | Facey, Jasmine |   | unr. | 1030 | 228K | 7 | F |   | W157 | L25 | W123 | W114 | 3.0 | 7 | 21.5 | 7 | 8.5 |
| 49 |   | Lomidze, Luka | 16328063 | 685 | 769 | 104K | 8 | M | NY | L13 | W162 | W180 | W125 | 3.0 | 7 | 21 | 6 | 8 |
| 50 |   | Gonzalez Lopez, Christofer |   | unr. | 988 | 498X | 6 | M |   | L34 | W226 | W105 | W118 | 3.0 | 7 | 21 | 6 | 7.5 |
| 51 |   | Ikromjonov, Najmiddin |   | unr. | 995 | 228K | 8 | M |   | W240 | L22 | W134 | W113 | 3.0 | 7 | 19 | 7 | 7 |
| 52 |   | Perez, Kevin |   | unr. | 1008 | 180K | 8 | M |   | L23 | W222 | W122 | W94 | 3.0 | 7 | 19 | 6 | 7.5 |
| 53 |   | Sy, Yahya Seigue | 16959675 | 637 | 706 | 123X | 8 | M | NY | D156 | W220 | D37 | W92 | 3.0 | 6.5 | 21.5 | 7 | 7.5 |
| 54 |   | Dillard, Chance |   | unr. | 1150 | BCNY |   |   |   | H--- | W86 | W176 | D63 | 3.0 | 6.5 | 15 | 7 | 6.5 |
| 55 |   | Barango-Tariah, Da'Saki |   | unr. | 915 | 323Q | 6 | M |   | W149 | L90 | W171 | W110 | 3.0 | 6 | 20.5 | 7 | 7.5 |
| 56 |   | Cruz, Miguel |   | unr. | 952 | 123X | 6 | M |   | W126 | L88 | W192 | W104 | 3.0 | 6 | 20 | 7 | 7 |
| 57 |   | Hernandez, Lesly |   | unr. | 971 | HPCMS | 8 | F |   | L87 | W189 | W111 | W106 | 3.0 | 6 | 19.5 | 6 | 7 |
| 58 |   | Aziz, Mohamed |   | unr. | 863 | 104K | 7 | M |   | L19 | W206 | W188 | W133 | 3.0 | 6 | 19.5 | 6 | 6.5 |
| 59 |   | HUERTA,ITZAEL | 16922776 | 963 | 975 | 126K |   |   | NY | H--- | W110 | W156 | D71 | 3.0 | 6 | 18.5 | 7 | 6 |
| 60 |   | McMenemy, Justin |   | unr. | 1023 | 104K | 7 | M |   | W239 | L87 | W126 | W97 | 3.0 | 6 | 18 | 7 | 6 |
| 61 |   | Diyarza, Ryan |   | unr. | 800 | 104K | 8 | M |   | L94 | W191 | W152 | W135 | 3.0 | 6 | 17 | 6 | 6.5 |
| 62 |   | Wu, Amy |   | unr. | 843 | 180K | 8 | F |   | L20 | W213 | W184 | W128 | 3.0 | 6 | 15 | 6 | 6.5 |
| 63 |   | Khalil, Yousef |   | unr. | 1150 | 238K |   |   |   | H--- | W224 | W137 | D54 | 3.0 | 5.5 | 14 | 7 | 5.5 |
| 64 |   | Estrada, Arion |   | unr. | 930 | 126K | 7 | M |   | L89 | W210 | W181 | W102 | 3.0 | 5 | 18 | 6 | 6 |
| 65 |   | Sze, Hai Li | 16152994 | 128 | 332 | 180K | 8 | F | NY | B--- | L92 | W187 | W112 | 3.0 | 5 | 15 | 6 | 5 |
| 66 |   | Shi, Fionna |   | unr. | 941 | 180K | 8 | F |   | W229 | L91 | W203 | W87 | 3.0 | 4.5 | 16.5 | 7 | 5 |
| 67 | 67-86 | Garcia, Ethan |   | unr. | 950 | 218X | 7 | M |   | W227 | W79 | L8 | D72 | 2.5 | 9 | 24 | 7.5 | 9.5 |
| 68 |   | Annamunthodo, John | 16920152 | 245 | 499 | 323Q | 6 | M | NY | W212 | W94 | L5 | D69 | 2.5 | 8.5 | 25.5 | 7.5 | 9.5 |
| 69 |   | Miranda, Catherine |   | unr. | 801 | 104K | 7 | F |   | W172 | W84 | L14 | D68 | 2.5 | 8.5 | 25 | 7.5 | 10 |
| 70 |   | Zhu, Joanne |   | unr. | 933 | 104K | 8 | F |   | L7 | W147 | W160 | D76 | 2.5 | 8.5 | 23 | 5.5 | 10 |
| 71 |   | Uralov, Jamshid | 16155952 | 777 | 857 | 180K | 6 | M | NY | W134 | W146 | L19 | D59 | 2.5 | 8 | 25 | 7.5 | 10 |
| 72 |   | Ikromjonov, Azam | 16967351 | 627 | 717 | 228K | 7 | M | NY | W200 | W112 | L13 | D67 | 2.5 | 8 | 25 | 7.5 | 9 |
| 73 |   | Cabeza, Gabriel |   | unr. | 802 | PROMISE | 8 | M |   | L4 | D81 | W179 | W157 | 2.5 | 8 | 20.5 | 4.5 | 9.5 |
| 74 |   | Carrillo, Lucas | 16984505 | 552 | 670 | 123X | 8 | M | NY | W207 | D37 | L20 | W156 | 2.5 | 7.5 | 21.5 | 6.5 | 8.5 |
| 75 |   | McLaurin, Cameron |   | unr. | 1104 | PROMISE |   |   |   | H--- | W216 | W77 | L15 | 2.5 | 7 | 15 | 6.5 | 7 |
| 76 |   | Burchak, Modest |   | unr. | 880 | 122Q | 6 | M | NY | L93 | W223 | W115 | D70 | 2.5 | 6.5 | 18 | 5.5 | 7 |
| 77 |   | Shermuhamandadov, Elyor |   | unr. | 899 | 238K |   |   |   | H--- | W85 | L75 | W161 | 2.5 | 6.5 | 15.5 | 5.5 | 6.5 |
| 78 |   | Bahriev, Hosen |   | unr. | 960 | 238K |   |   |   | H--- | W175 | L15 | W159 | 2.5 | 6.5 | 14.5 | 5.5 | 6.5 |
| 79 |   | Mohamed, Sameer |   | unr. | 800 | 123X | 7 | M |   | W166 | L67 | D108 | W177 | 2.5 | 6 | 19 | 6 | 7.5 |
| 80 |   | De Leon, Geycha |   | unr. | 807 | 29X | 8 | F |   | L43 | D158 | W175 | W174 | 2.5 | 6 | 16.5 | 4.5 | 7.5 |
| 81 |   | Watson, Isaac | 17065925 | 397 | 473 | 104K | 7 | M | NY | L92 | D73 | W213 | W165 | 2.5 | 6 | 15 | 4.5 | 6.5 |
| 82 |   | Azuara, Edgar |   | unr. | 950 | BCNY |   |   |   | H--- | W193 | W153 | L16 | 2.5 | 6 | 14 | 6.5 | 6 |
| 83 |   | Pacheco, Izel |   | unr. | 725 | 126K | 6 | F |   | L107 | D130 | W215 | W170 | 2.5 | 5.5 | 15 | 4.5 | 6.5 |
| 84 |   | Marupova, Jasmina |   | unr. | 663 | 192K | 7 | F |   | W226 | L69 | D159 | W176 | 2.5 | 5 | 16.5 | 6 | 5.5 |
| 85 |   | Perez, Estelin |   | unr. | 713 | 29X | 8 | M |   | D193 | L77 | W216 | W173 | 2.5 | 5 | 14 | 5 | 6 |
| 86 |   | Mahecha, Santiago |   | unr. | 863 | 122Q |   |   |   | H--- | L54 | W234 | W164 | 2.5 | 5 | 12 | 4.5 | 5 |
| 87 | 87-155 | Canete, Gabriel |   | unr. | 1000 | 192K | 7 | M |   | W57 | W60 | L12 | L66 | 2.0 | 6 | 30 | 7 | 13 |
| 88 |   | Munoz, Joseph |   | unr. | 911 | ACCION | 8 | M |   | W150 | W56 | L6 | L38 | 2.0 | 6 | 28 | 7 | 12 |
| 89 |   | Uznadze, Lazare |   | unr. | 866 | 104K | 8 | M |   | W64 | L7 | W185 | L40 | 2.0 | 6 | 28 | 6 | 11 |
| 90 |   | Hookcumcharm, Jadon |   | unr. | 824 | 240K | 7 | M |   | W230 | W55 | L39 | L33 | 2.0 | 6 | 23.5 | 7 | 9.5 |
| 91 |   | Lara, Esterlin |   | unr. | 817 | ACCION | 8 | M |   | X221 | W66 | L35 | L32 | 2.0 | 6 | 23 | 6 | 9 |
| 92 |   | Ruzimurodov, Sherbek |   | unr. | 626 | 192K | 7 | M |   | W81 | W65 | L9 | L53 | 2.0 | 5.5 | 27.5 | 7 | 12 |
| 93 |   | Payne, Hunter |   | unr. | 904 | PROMISE | 8 | M |   | W76 | W202 | L10 | L42 | 2.0 | 5.5 | 27.5 | 7 | 10.5 |
| 94 |   | Kovaev, Max |   | unr. | 746 | 240K | 7 | M |   | W61 | L68 | W107 | L52 | 2.0 | 5.5 | 24.5 | 6 | 10.5 |
| 95 |   | Pringle, Jamil |   | unr. | 886 | 104K | 7 | M |   | W119 | L13 | W144 | L22 | 2.0 | 5 | 26.5 | 6 | 10.5 |
| 96 |   | Brown, Elijah |   | unr. | 855 | ACCION | 8 | M |   | W132 | W143 | L26 | L43 | 2.0 | 5 | 26 | 7 | 10 |
| 97 |   | Johnson, Khaleel |   | unr. | 973 | 131X | 6 | M |   | W123 | W121 | L27 | L60 | 2.0 | 5 | 26 | 7 | 10 |
| 98 |   | Jiang, Tingwei |   | unr. | 930 | 180K | 6 | M |   | L2 | W141 | W116 | L34 | 2.0 | 5 | 26 | 5 | 11 |
| 99 |   | Chen, Sophie |   | unr. | 830 | 180K | 8 | F |   | W131 | L26 | L32 | W185 | 2.0 | 5 | 25 | 5 | 9 |
| 100 |   | Samassi, Yaya | 16066226 | 194 | 384 | PROMISE | 7 | M | NY | W206 | W133 | L7 | L23 | 2.0 | 5 | 24.5 | 7 | 10 |
| 101 |   | Calixto, Jilverto | 16922761 | 265 | 462 | 126K | 7 | M | NY | W167 | W135 | L21 | L46 | 2.0 | 5 | 24.5 | 7 | 9.5 |
| 102 |   | Ahuatl, Luis |   | unr. | 809 | 123X | 8 | M |   | W151 | W160 | L4 | L64 | 2.0 | 5 | 23.5 | 7 | 10.5 |
| 103 |   | Gathers, Madison |   | unr. | 832 | 394K | 8 | F |   | L27 | W155 | W149 | L20 | 2.0 | 5 | 23 | 5 | 10 |
| 104 |   | Shaban, Mohamed |   | unr. | 773 | 104K | 7 | M |   | W147 | L42 | W186 | L56 | 2.0 | 5 | 22 | 6 | 9 |
| 105 |   | Kurchevskaya, Diana |   | unr. | 798 | 192K | 8 | F | NY | W130 | L47 | L50 | W197 | 2.0 | 5 | 20 | 5 | 9 |
| 106 |   | Chen, Pingrong |   | unr. | 665 | 180K | 8 | F |   | W236 | L38 | W142 | L57 | 2.0 | 5 | 19.5 | 6 | 8.5 |
| 107 |   | Ke, Rebecca |   | unr. | 725 | 180K | 8 | F |   | W83 | L35 | L94 | W196 | 2.0 | 4.5 | 23.5 | 5 | 8.5 |
| 108 |   | Rodriguez, Alvin |   | unr. | 825 | KIPP STA | 8 | M |   | L8 | W172 | D79 | D137 | 2.0 | 4.5 | 23 | 4.5 | 10 |
| 109 |   | Bhattarai, Prajwal |   | unr. | 658 | 141Q | 6 |   |   | L44 | W169 | W168 | L30 | 2.0 | 4.5 | 21 | 5 | 9 |
| 110 |   | Da Silva, Kylia |   | unr. | 732 | 141Q | 6 | F |   | W162 | L59 | W167 | L55 | 2.0 | 4.5 | 20 | 6 | 9 |
| 111 |   | Huang, Ethan |   | unr. | 671 | 234K | 7 | M |   | W173 | L40 | L57 | W218 | 2.0 | 4.5 | 20 | 5 | 8.5 |
| 112 |   | Marin, Felipe |   | unr. | 504 | 141Q | 6 | M |   | W214 | L72 | W140 | L65 | 2.0 | 4.5 | 19 | 6 | 8 |
| 113 |   | Paramendswar, Rohan |   | unr. | 763 | 141Q | 7 | M |   | W208 | W199 | L11 | L51 | 2.0 | 4 | 23 | 7 | 9 |
| 114 |   | Turner-Cephus, Julien |   | unr. | 800 | PROMISE | 6 | M | NY | W190 | L1 | W201 | L48 | 2.0 | 4 | 23 | 6 | 9 |
| 115 |   | Ridouane, Yassine |   | unr. | 784 | 141Q | 6 | M |   | W171 | L12 | L76 | W186 | 2.0 | 4 | 23 | 5 | 9 |
| 116 |   | Carrillo, Justin |   | unr. | 817 | 131X | 7 | M |   | W124 | L9 | L98 | W182 | 2.0 | 4 | 23 | 5 | 9 |
| 117 |   | Palmer, Jackson | 16988101 | 157 | 348 | 498X | 6 | M | NY | W211 | L19 | L23 | W180 | 2.0 | 4 | 21.5 | 5 | 8 |
| 118 |   | Zhang, Yuqi |   | unr. | 729 | 180K | 8 | F |   | W197 | W205 | L28 | L50 | 2.0 | 4 | 21 | 7 | 8 |
| 119 |   | Das, Anik |   | unr. | 776 | ACCION | 8 | M |   | L95 | W208 | W143 | L25 | 2.0 | 4 | 21 | 5 | 8 |
| 120 |   | Beard, Dorian |   | unr. | 619 | 240K | 6 | M |   | L28 | W233 | W198 | L31 | 2.0 | 4 | 21 | 5 | 7.5 |
| 121 |   | Stepanova, Valeria |   | unr. | 805 | 180K | 7 | F |   | W163 | L97 | W138 | L41 | 2.0 | 4 | 20.5 | 6 | 8.5 |
| 122 |   | Portilla, Albert |   | unr. | 743 | 88K | 6 | M |   | W217 | L11 | L52 | W209 | 2.0 | 4 | 20 | 5 | 9 |
| 123 |   | Doumbia, Chaka |   | unr. | 787 | PROMISE | 6 | M | NY | L97 | W145 | L48 | W190 | 2.0 | 4 | 20 | 4 | 8 |
| 124 |   | Diouf, Muhammad |   | unr. | 680 | PROMISE | 7 | M |   | L116 | W194 | W146 | L37 | 2.0 | 4 | 19.5 | 5 | 8 |
| 125 |   | Quic, Dilan |   | unr. | 612 | ACCION | 8 | M |   | L30 | W214 | W199 | L49 | 2.0 | 4 | 19.5 | 5 | 8 |
| 126 |   | Chen, Melody |   | unr. | 652 | 180K | 8 | F |   | L56 | W204 | L60 | W188 | 2.0 | 4 | 19 | 4 | 7.5 |
| 127 |   | Traore, Souleymane |   | unr. | 662 | PROMISE | 8 | M |   | X243 | L30 | L45 | W205 | 2.0 | 4 | 19 | 4 | 7 |
| 128 |   | Ware, Samantha |   | unr. | 659 | 498X | 6 | F |   | L22 | W231 | W196 | L62 | 2.0 | 4 | 18.5 | 5 | 7.5 |
| 129 |   | Ramiriez, Christopher |   | unr. | 618 | 192K | 7 | M |   | L45 | W229 | L31 | W198 | 2.0 | 4 | 18.5 | 4 | 7.5 |
| 130 |   | Yensi, Edwin |   | unr. | 735 | BERRYHOM | 7 | M |   | L105 | D83 | W158 | D136 | 2.0 | 4 | 17.5 | 4 | 8 |
| 131 |   | Lumsford, Aine |   | unr. | 701 | 122Q | 6 | F | NY | L99 | W240 | W148 | L47 | 2.0 | 4 | 17 | 5 | 7 |
| 132 |   | Young, Aidan |   | unr. | 720 | KIPP STA | 6 | M | NY | L96 | W163 | W205 | L45 | 2.0 | 3.5 | 20.5 | 5 | 7.5 |
| 133 |   | Clerveaux, Rodney |   | unr. | 563 | 898K | 6 | M |   | W161 | L100 | W195 | L58 | 2.0 | 3.5 | 20 | 6 | 7.5 |
| 134 |   | Herbandex, Alec |   | unr. | 679 | HPCMS | 8 | M |   | L71 | W232 | L51 | W199 | 2.0 | 3.5 | 19 | 4 | 7 |
| 135 |   | Jiang, Lina |   | unr. | 554 | 180K | 8 | F |   | W169 | L101 | W209 | L61 | 2.0 | 3.5 | 18.5 | 6 | 7.5 |
| 136 |   | Caesar, Malon |   | unr. | 705 | 898K | 7 | F |   | W235 | L8 | D170 | D130 | 2.0 | 3.5 | 18.5 | 5.5 | 8 |
| 137 |   | Farrow-Ellis, Jordan |   | unr. | 827 | BCNY |   |   |   | H--- | W177 | L63 | D108 | 2.0 | 3.5 | 15 | 5 | 6.5 |
| 138 |   | McEnaney, Sebastian |   | unr. | 754 | 323Q | 6 | M |   | L10 | W217 | L121 | W202 | 2.0 | 3 | 21 | 4 | 8 |
| 139 |   | Chan, Terence |   | unr. | 714 | 180K | 6 | M |   | L26 | D157 | W178 | D153 | 2.0 | 3 | 19 | 4 | 7.5 |
| 140 |   | Rahman, Shajiq |   | unr. | 548 | KIPP: WA | 8 | M |   | L21 | W200 | L112 | W212 | 2.0 | 3 | 19 | 4 | 7 |
| 141 |   | Attar, Ali |   | unr. | 716 | 104K | 6 | M |   | L9 | L98 | W227 | W184 | 2.0 | 3 | 18.5 | 3 | 7.5 |
| 142 |   | Di Laura, Sabatino |   | unr. | 596 | 498X | 7 | M |   | W242 | L24 | L106 | W203 | 2.0 | 3 | 18 | 5 | 7 |
| 143 |   | Smith, Dakota |   | unr. | 648 | 394K | 7 | F |   | W201 | L96 | L119 | W194 | 2.0 | 3 | 17 | 5 | 6 |
| 144 |   | Santos, Eduardo |   | unr. | 626 | 123X | 7 | M |   | L24 | W242 | L95 | W208 | 2.0 | 3 | 17 | 4 | 7 |
| 145 |   | Hamouche, Adam |   | unr. | 702 | 192K | 7 | M |   | L25 | L123 | W238 | W183 | 2.0 | 3 | 16.5 | 3 | 6.5 |
| 146 |   | Lhaden, Tenzom |   | unr. | 611 | WOODSIDE | 7 | F |   | W232 | L71 | L124 | W195 | 2.0 | 3 | 16 | 5 | 6 |
| 147 |   | Lopez, Hector |   | unr. | 652 | 153K | 7 | M | NY | L104 | L70 | W225 | W201 | 2.0 | 3 | 15 | 3 | 6 |
| 148 |   | Yang, Vivian |   | unr. | 639 | 180K | 8 | F |   | L32 | W237 | L131 | W204 | 2.0 | 3 | 14.5 | 4 | 6.5 |
| 149 |   | Canavan, Colin |   | unr. | 658 | HPCMS | 7 | M |   | L55 | W225 | L103 | W200 | 2.0 | 3 | 14.5 | 4 | 6.5 |
| 150 |   | Sahid, Nihat |   | unr. | 630 | 240K | 7 | F |   | L88 | L181 | W223 | W192 | 2.0 | 2 | 13.5 | 3 | 4.5 |
| 151 |   | Cumberbatch, James |   | unr. | 564 | 355Q | 6 | M |   | L102 | L192 | W228 | W210 | 2.0 | 2 | 12.5 | 3 | 4.5 |
| 152 |   | Utkiov, Nozimjon |   | unr. | 635 | 238K |   |   |   | H--- | D209 | L61 | W181 | 2.0 | 2 | 12 | 4 | 5 |
| 153 |   | Elimami, Ichrak |   | unr. | 587 | 238K |   |   |   | H--- | B--- | L82 | D139 | 2.0 | 2 | 10.5 | 4 | 4.5 |
| 154 |   | Oliva, Oliver |   | unr. | 598 | ACCION |   |   |   | H--- | H--- | W221 | L44 | 2.0 | 2 | 8 | 4.5 | 5 |
| 155 |   | Garrett, James |   | unr. | 477 | KIPP ACA | 7 | M |   | L180 | L103 | W231 | W191 | 2.0 | 1.5 | 10.5 | 3 | 4 |
| 156 | 156-179 | Begollari, Isabel |   | unr. | 605 | 180K | 8 | F |   | D53 | W179 | L59 | L74 | 1.5 | 7 | 23 | 5 | 10 |
| 157 |   | Bombaj, Christian |   | unr. | 617 | 141Q | 6 | M |   | L48 | D139 | W207 | L73 | 1.5 | 5.5 | 17.5 | 3.5 | 8.5 |
| 158 |   | Chen, Rachel |   | unr. | 628 | 180K | 8 | F |   | L47 | D80 | L130 | W224 | 1.5 | 5 | 18.5 | 2.5 | 8 |
| 159 |   | Ollivierre, Kiefe |   | unr. | 545 | 394K | 6 | M |   | D224 | D170 | D84 | L78 | 1.5 | 4.5 | 17.5 | 4.5 | 7 |
| 160 |   | Vilchis, Goivani |   | unr. | 621 | 126K | 6 | M |   | W210 | L102 | L70 | D163 | 1.5 | 4.5 | 17 | 4.5 | 7 |
| 161 |   | Melikova, Sabrina |   | unr. | 474 | 192K | 7 | F |   | L133 | W211 | D173 | L77 | 1.5 | 4.5 | 17 | 4 | 7 |
| 162 |   | Cumberbatch, Jayden |   | unr. | 544 | 355Q | 7 | M |   | L110 | L49 | W217 | D171 | 1.5 | 4.5 | 16.5 | 2.5 | 7.5 |
| 163 |   | Ang, Edrick |   | unr. | 537 | HPCMS | 8 | M |   | L121 | L132 | W219 | D160 | 1.5 | 4.5 | 16.5 | 2.5 | 6.5 |
| 164 |   | Stratton, Lamarr |   | unr. | 507 | KIPP ACA | 8 | M |   | L37 | D207 | W220 | L86 | 1.5 | 4.5 | 16 | 3.5 | 7.5 |
| 165 |   | Gonzalez, Logan |   | unr. | 359 | 123X | 8 | M |   | L31 | D187 | W193 | L81 | 1.5 | 4.5 | 16 | 3.5 | 7.5 |
| 166 |   | Thornton, Kobe |   | unr. | 495 | KIPP STA | 6 | M |   | L79 | W235 | L44 | D169 | 1.5 | 4.5 | 16 | 3.5 | 7.5 |
| 167 |   | Zitalpopoca, David |   | unr. | 433 | 192K | 6 | M |   | L101 | W227 | L110 | D168 | 1.5 | 4 | 17 | 3.5 | 6 |
| 168 |   | Hu, Carry |   | unr. | 476 | 180K | 8 | F |   | L33 | W230 | L109 | D167 | 1.5 | 4 | 16 | 3.5 | 7 |
| 169 |   | Maria, Andy |   | unr. | 425 | ACCION | 8 | M |   | L135 | L109 | W230 | D166 | 1.5 | 4 | 15 | 2.5 | 6 |
| 170 |   | Utkurov, Shazod |   | unr. | 563 | 238K |   |   |   | H--- | D159 | D136 | L83 | 1.5 | 3.5 | 14.5 | 4 | 6 |
| 171 |   | Rivera, Yanelly |   | unr. | 565 | 123X | 8 | F |   | L115 | W241 | L55 | D162 | 1.5 | 3.5 | 14.5 | 3.5 | 6.5 |
| 172 |   | Reyes, John |   | unr. | 484 | KIPP: WA | 7 | M |   | L69 | L108 | D211 | W226 | 1.5 | 3.5 | 14.5 | 2 | 6 |
| 173 |   | Aguilar, Marlin |   | unr. | 498 | 240K | 7 | F |   | L111 | W239 | D161 | L85 | 1.5 | 3.5 | 14 | 4 | 6 |
| 174 |   | Farrow-Ellis, Jayden |   | unr. | 579 | BCNY |   |   |   | H--- | W234 | L16 | L80 | 1.5 | 3 | 13.5 | 4.5 | 6.5 |
| 175 |   | Santana, Matthew |   | unr. | 565 | BCNY |   |   |   | H--- | L78 | L80 | W233 | 1.5 | 3 | 11 | 2.5 | 5.5 |
| 176 |   | Gualpa, Alexandra |   | unr. | 350 | 238K |   |   |   | H--- | B--- | L54 | L84 | 1.5 | 2.5 | 13 | 3.5 | 5.5 |
| 177 |   | Bahviev, Hasan |   | unr. | 522 | 238K |   |   |   | H--- | L137 | W224 | L79 | 1.5 | 2.5 | 13 | 3.5 | 5 |
| 178 |   | Ameen, Tareke |   | unr. | 521 | BOULEVAR |   |   |   | H--- | L16 | L139 | W234 | 1.5 | 2.5 | 13 | 2.5 | 6 |
| 179 |   | Caraballo, Louis |   | unr. | 461 | BCNY |   |   |   | H--- | L156 | L73 | W222 | 1.5 | 2 | 10.5 | 2.5 | 4.5 |
| 180 | 180-221 | Castillo, Carlos |   | unr. | 416 | ACCION | 8 | M |   | W155 | L10 | L49 | L117 | 1.0 | 7 | 24 | 4 | 11 |
| 181 |   | Hawkins, Liev |   | unr. | 526 | 88K | 6 | M |   | L40 | W150 | L64 | L152 | 1.0 | 7 | 21 | 3 | 10 |
| 182 |   | Lu, Eric |   | unr. | 497 | 180K | 8 | M |   | L17 | W212 | L46 | L116 | 1.0 | 6 | 22 | 3 | 9 |
| 183 |   | Dyesi, Dartagnan |   | unr. | 513 | 234K | 8 | M | NY | W233 | L28 | L41 | L145 | 1.0 | 5.5 | 20 | 4 | 8.5 |
| 184 |   | Monnastine, Hendrin |   | unr. | 465 | 240K | 6 | M |   | L41 | W228 | L62 | L141 | 1.0 | 5.5 | 16.5 | 3 | 8.5 |
| 185 |   | Gibbs, Jayceon |   | unr. | 585 | 898K | 7 | M |   | W203 | L29 | L89 | L99 | 1.0 | 5 | 23 | 4 | 8 |
| 186 |   | Colbert, Johari |   | unr. | 575 | 126K | 7 | M | NY | W192 | L39 | L104 | L115 | 1.0 | 5 | 23 | 4 | 8 |
| 187 |   | Bseibes, Christopher |   | unr. | 171 | 104K | 7 | M |   | L5 | D165 | L65 | D206 | 1.0 | 5 | 21 | 2 | 9 |
| 188 |   | Haynes, Kenneth |   | unr. | 405 | 234K | 6 | M |   | X244 | L36 | L58 | L126 | 1.0 | 5 | 19 | 3 | 8 |
| 189 |   | Young, Malachi |   | unr. | 371 | PROMISE | 6 | M |   | L35 | L57 | D206 | D216 | 1.0 | 5 | 18.5 | 1.5 | 8 |
| 190 |   | Wilson, Lelani |   | unr. | 523 | 240K | 8 | F |   | L114 | W219 | L43 | L123 | 1.0 | 5 | 18 | 3 | 8 |
| 191 |   | Morrow, Terrence |   | unr. | 343 | ACCION | 6 | M |   | L36 | L61 | X242 | L155 | 1.0 | 5 | 18 | 1 | 8 |
| 192 |   | Marupova, Shahzoda |   | unr. | 434 | 192K | 7 | F |   | L186 | W151 | L56 | L150 | 1.0 | 5 | 17 | 3 | 8 |
| 193 |   | Naba, Nadia |   | unr. | 362 | 122Q | 6 | F | NY | D85 | L82 | L165 | D207 | 1.0 | 5 | 17 | 2.5 | 7.5 |
| 194 |   | Drew, Stephon |   | unr. | 458 | KIPP ACA | 7 | M |   | L11 | L124 | W232 | L143 | 1.0 | 4.5 | 20.5 | 2 | 8.5 |
| 195 |   | Liu, Yilin |   | unr. | 389 | 180K | 8 | F |   | L38 | W236 | L133 | L146 | 1.0 | 4.5 | 19.5 | 3 | 7.5 |
| 196 |   | Madronxhi, Sarah |   | unr. | 396 | 104K | 7 | F |   | W213 | L27 | L128 | L107 | 1.0 | 4.5 | 19 | 4 | 7.5 |
| 197 |   | Gooden, Dwayne |   | unr. | 496 | 355Q | 6 | M |   | L118 | L46 | W237 | L105 | 1.0 | 4.5 | 18.5 | 2 | 7.5 |
| 198 |   | Lee, James |   | unr. | 379 | 88K | 6 | M |   | W237 | L34 | L120 | L129 | 1.0 | 4.5 | 17.5 | 4 | 7.5 |
| 199 |   | Canizares, Carlasia |   | unr. | 403 | BERRYHOM | 7 | F |   | W231 | L113 | L125 | L134 | 1.0 | 4.5 | 16.5 | 4 | 6.5 |
| 200 |   | Maldonado, Xavier |   | unr. | 394 | 126K | 6 | M |   | L72 | L140 | W229 | L149 | 1.0 | 4.5 | 16 | 2 | 7 |
| 201 |   | Baker, Jevon |   | unr. | 416 | 355Q | 6 | M |   | L143 | W238 | L114 | L147 | 1.0 | 4.5 | 14.5 | 3 | 6.5 |
| 202 |   | Rahman, Siana |   | unr. | 530 | 104K | 7 | F |   | W241 | L93 | L33 | L138 | 1.0 | 4 | 18 | 4 | 7 |
| 203 |   | Alachouzos, Skevos |   | unr. | 375 | 141Q | 6 | M |   | L185 | W218 | L66 | L142 | 1.0 | 4 | 18 | 3 | 7 |
| 204 |   | Jackson, Wyatt |   | unr. | 448 | 131X | 6 | F |   | L39 | L126 | W241 | L148 | 1.0 | 4 | 17 | 2 | 7 |
| 205 |   | Tsakinis, Sophia |   | unr. | 414 | 104K | 7 | F |   | W238 | L118 | L132 | L127 | 1.0 | 4 | 16.5 | 4 | 6 |
| 206 |   | Mendez, Steven |   | unr. | 217 | 88K | 6 | M |   | L100 | L58 | D189 | D187 | 1.0 | 4 | 16.5 | 1.5 | 7 |
| 207 |   | Olimova, Jasmina |   | unr. | 386 | 192K | 7 | F |   | L74 | D164 | L157 | D193 | 1.0 | 4 | 16 | 2 | 6.5 |
| 208 |   | Kyprislidis, Alexander |   | unr. | 405 | 122Q | 6 | M |   | L113 | L119 | W240 | L144 | 1.0 | 4 | 16 | 2 | 6 |
| 209 |   | Comrie, Kaelan |   | unr. | 400 | BCNY |   |   |   | H--- | D152 | L135 | L122 | 1.0 | 4 | 15 | 3 | 6 |
| 210 |   | Sutton, Kaylee |   | unr. | 375 | 131X | 6 | F |   | L160 | L64 | W236 | L151 | 1.0 | 4 | 14 | 2 | 7 |
| 211 |   | Griboff, Isaiah |   | unr. | 243 | 240K | 7 | M |   | L117 | L161 | D172 | D215 | 1.0 | 4 | 13 | 1.5 | 6 |
| 212 |   | Watington, Ralph |   | unr. | 308 | KIPP STA | 6 | M |   | L68 | L182 | W235 | L140 | 1.0 | 3.5 | 15 | 2 | 6 |
| 213 |   | Flores, Karen | 17089551 | 185 | 156 | 29X | 8 | F | NY | L196 | L62 | L81 | B--- | 1.0 | 3.5 | 14.5 | 0 | 6.5 |
| 214 |   | Lopez, Kayla |   | unr. | 350 | 104K | 7 | F |   | L112 | L125 | D222 | D220 | 1.0 | 3.5 | 14 | 1.5 | 5.5 |
| 215 |   | Ariza, Darwin |   | unr. | 350 | 238K |   |   |   | H--- | L15 | L83 | D211 | 1.0 | 3.5 | 13.5 | 2 | 7 |
| 216 |   | Ayzenberg, Andrew |   | unr. | 396 | 238K |   |   |   | H--- | L75 | L85 | D189 | 1.0 | 3.5 | 13 | 2 | 6 |
| 217 |   | Vargas, Julia |   | unr. | 405 | 192K | 8 | F |   | L122 | L138 | L162 | W240 | 1.0 | 3.5 | 11.5 | 1 | 5.5 |
| 218 |   | Tan, Yongxin |   | unr. | 393 | 180K | 8 | F |   | L29 | L203 | W239 | L111 | 1.0 | 3 | 17 | 2 | 6 |
| 219 |   | Riguard, Madison |   | unr. | 359 | 356Q | 7 | F |   | L14 | L190 | L163 | W241 | 1.0 | 2.5 | 15 | 1 | 6 |
| 220 |   | Nicoloas, Leslie |   | unr. | 266 | 238K |   |   |   | H--- | L53 | L164 | D214 | 1.0 | 2.5 | 12 | 2 | 5.5 |
| 221 |   | Ka, Mamendiaga |   | unr. | 468 | 29X | 8 | M |   | F91 | --- | L154 | W239 | 1.0 | 0 | 4.5 | 1 | 2 |
| 222 | 222-238 | Jarrett, Makayla |   | unr. | 350 | 355Q | 6 | F |   | L3 | L52 | D214 | L179 | 0.5 | 5.5 | 20 | 1 | 9.5 |
| 223 |   | McField, Thomas |   | unr. | 350 | KIPP: WA | 7 | M |   | L42 | L76 | L150 | D236 | 0.5 | 5 | 17 | 0.5 | 8 |
| 224 |   | Yousef, Mahammad |   | unr. | 350 | 240K | 6 | M |   | D159 | L63 | L177 | L158 | 0.5 | 4.5 | 17.5 | 2 | 7.5 |
| 225 |   | Kuzma, Kateryna |   | unr. | 350 | 192K | 7 | F |   | L6 | L149 | L147 | D232 | 0.5 | 4.5 | 17.5 | 0.5 | 8.5 |
| 226 |   | Cruz, Aimee |   | unr. | 350 | 240K | 6 | F |   | L84 | L50 | D233 | L172 | 0.5 | 4.5 | 15 | 1 | 7.5 |
| 227 |   | Glover, Isyss |   | unr. | 350 | 898K | 7 | F |   | L67 | L167 | L141 | D231 | 0.5 | 4 | 14.5 | 0.5 | 6.5 |
| 228 |   | Sutherland, Tenaj |   | unr. | 350 | 898K | 6 | F |   | L12 | L184 | L151 | D238 | 0.5 | 3.5 | 16.5 | 0.5 | 7.5 |
| 229 |   | Sine, Jahmir |   | unr. | 350 | 898K | 6 | M |   | L66 | L129 | L200 | D237 | 0.5 | 3.5 | 13.5 | 0.5 | 6.5 |
| 230 |   | Morales, Matthew |   | unr. | 350 | 192K | 6 | M |   | L90 | L168 | L169 | D235 | 0.5 | 3.5 | 13.5 | 0.5 | 5.5 |
| 231 |   | Paul, Dimiya |   | unr. | 350 | 104K | 7 | F |   | L199 | L128 | L155 | D227 | 0.5 | 3.5 | 12.5 | 0.5 | 5.5 |
| 232 |   | Young, Glen |   | unr. | 350 | 355Q | 6 | M |   | L146 | L134 | L194 | D225 | 0.5 | 3.5 | 11.5 | 0.5 | 5.5 |
| 233 |   | Rivera, Larissa |   | unr. | 350 | ACCION | 6 | F |   | L183 | L120 | D226 | L175 | 0.5 | 3 | 12.5 | 1 | 5 |
| 234 |   | Khalil, Jenna |   | unr. | 350 | 238K |   |   |   | H--- | L174 | L86 | L178 | 0.5 | 3 | 11.5 | 1.5 | 5.5 |
| 235 |   | Capellan, Yessica |   | unr. | 350 | 126K | 6 | F |   | L136 | L166 | L212 | D230 | 0.5 | 3 | 11.5 | 0.5 | 5 |
| 236 |   | Sanon, Anthony |   | unr. | 350 | 104K | 7 | M |   | L106 | L195 | L210 | D223 | 0.5 | 2.5 | 11.5 | 0.5 | 4.5 |
| 237 |   | Muhammad, Nasir |   | unr. | 350 | 240K | 6 | M |   | L198 | L148 | L197 | D229 | 0.5 | 2.5 | 10.5 | 0.5 | 4.5 |
| 238 |   | Garcia, Raul |   | unr. | 350 | KIPP STA | 6 | M | NY | L205 | L201 | L145 | D228 | 0.5 | 2.5 | 10.5 | 0.5 | 4.5 |
| 239 | 239-245 | Scott-Clement, D'Ann |   | unr. | 350 | 394K | 7 | F |   | L60 | L173 | L218 | L221 | 0.0 | 4.5 | 14 | 0 | 7.5 |
| 240 |   | Parris, Steven |   | unr. | 350 | 240K | 0 | M |   | L51 | L131 | L208 | L217 | 0.0 | 4 | 15 | 0 | 7 |
| 241 |   | Moe, Amir |   | unr. | 350 | 240K | 6 | M |   | L202 | L171 | L204 | L219 | 0.0 | 3 | 10.5 | 0 | 4.5 |
| 242 |   | Dinkins, Tahjee |   | unr. | 350 | BERRYHOM | 7 | M |   | L142 | L144 | F191 | --- | 0.0 | 2 | 9 | 0 | 4 |
| 243 |   | Garibaldo, Omar |   | unr. | 350 | BERRYHOM | 7 | M |   | F127 | --- | --- | --- | 0.0 | 0 | 0 | 0 | 0 |
| 244 |   | Castle, Anabella |   | unr. | 350 | 180K | 8 | F |   | F188 | --- | --- | --- | 0.0 | 0 | 0 | 0 | 0 |
| 245 |   | Ratliff, Tyiel |   | unr. | 750 | 898K | 6 | M |   | F18 | --- | --- | --- | 0.0 | 0 | 0 | 0 | 0 |
6th Annual DYCD Chess Masters Tournament: EL Open (Grades K-5)
| | | | | | | | | | | | | | | | | | | |
| --- | --- | --- | --- | --- | --- | --- | --- | --- | --- | --- | --- | --- | --- | --- | --- | --- | --- | --- |
| # | Place | Name | ID | Rtng | Post | Team | Grd | Sex | St | Rd 1 | Rd 2 | Rd 3 | Rd 4 | Tot | TB-Med | TB-Op. cumul. | TB-Cumul. | TB-Solkoff |
| 1 | 1-6 | Jones, Taylor |   | unr. | 1150 |   | 5 | M |   | W84 | W14 | W12 | W8 | 4.0 | 9 | 26.5 | 10 | 10 |
| 2 |   | Guachiac Tambriz, Hany |   | unr. | 1150 | 180K | 5 | F |   | W60 | W29 | W20 | W9 | 4.0 | 8.5 | 26.5 | 10 | 10.5 |
| 3 |   | Jiang, Aaron |   | unr. | 1150 | CPC-SACC | 5 | M |   | W76 | W17 | W25 | W13 | 4.0 | 8.5 | 26.5 | 10 | 9.5 |
| 4 |   | Guachiac Tambriz, Fredy |   | unr. | 1150 | 180K | 5 | M |   | W30 | W45 | W15 | W26 | 4.0 | 8 | 25.5 | 10 | 10 |
| 5 |   | Feng, Jia Xuan |   | unr. | 1150 | 153K | 3 | M |   | W50 | W75 | W24 | W11 | 4.0 | 7.5 | 24.5 | 10 | 8.5 |
| 6 |   | Jiang, Jason |   | unr. | 1150 | CPC-SACC | 5 | M |   | W86 | W62 | W27 | W7 | 4.0 | 7 | 22.5 | 10 | 8 |
| 7 | 7-23 | Jimenez, Allen |   | unr. | 1150 | 366M | 5 | M |   | W39 | W16 | W28 | L6 | 3.0 | 9.5 | 29.5 | 9 | 11.5 |
| 8 |   | Gao, Sabinra |   | unr. | 1150 | CPC-SACC | 5 | F |   | W33 | W18 | W38 | L1 | 3.0 | 9.5 | 29 | 9 | 11.5 |
| 9 |   | Morales, Ean |   | unr. | 1150 | 366M | 2 | M |   | W32 | W41 | W19 | L2 | 3.0 | 9.5 | 27.5 | 9 | 11 |
| 10 |   | Zhang, Nathan |   | unr. | 1093 | 153K | 3 | M |   | W21 | W22 | L11 | W47 | 3.0 | 9 | 28 | 8 | 11 |
| 11 |   | Kelley, Nazadur |   | unr. | 1150 | 40K | 4 | M |   | W96 | W40 | W10 | L5 | 3.0 | 9 | 23 | 9 | 9 |
| 12 |   | Doumbia, Youssouf |   | unr. | 1090 | PROMISE | 5 | M | NY | W53 | W64 | L1 | W38 | 3.0 | 8 | 26 | 8 | 9.5 |
| 13 |   | Munduzbaeva, Aisulu |   | unr. | 1140 | 180K | 5 | F |   | W79 | W37 | W43 | L3 | 3.0 | 8 | 25 | 9 | 9 |
| 14 |   | Brown, Kamden |   | unr. | 1091 | PROMISE | 3 | M | NY | W69 | L1 | W51 | W43 | 3.0 | 8 | 23.5 | 7 | 9.5 |
| 15 |   | Tosic, Neyla |   | unr. | 1140 |   | 4 | F |   | W87 | W42 | L4 | W37 | 3.0 | 8 | 23 | 8 | 9 |
| 16 |   | Kuang, Ethan |   | unr. | 1050 | CPC-SACC | 4 | M |   | W58 | L7 | W62 | W31 | 3.0 | 7.5 | 23.5 | 7 | 9 |
| 17 |   | Rodriguez, Engel |   | unr. | 1075 | 48M | 5 | M | NY | W89 | L3 | W45 | W52 | 3.0 | 7.5 | 23 | 7 | 8.5 |
| 18 |   | Singh, Brahmjot |   | unr. | 1033 | 96Q | 5 | M |   | W91 | L8 | W40 | W44 | 3.0 | 7 | 21.5 | 7 | 8 |
| 19 |   | Macoto, Brian |   | unr. | 988 | 218X | 5 | M |   | W93 | W54 | L9 | W46 | 3.0 | 7 | 21 | 8 | 8 |
| 20 |   | Rodriguez, Geneury |   | unr. | 1100 | 366M | 4 | M |   | W83 | W80 | L2 | W39 | 3.0 | 7 | 20 | 8 | 8 |
| 21 |   | Dong, Cody |   | unr. | 1011 | CPC-SACC | 4 | M |   | L10 | W83 | W49 | W42 | 3.0 | 7 | 20 | 6 | 8 |
| 22 |   | Castillo, Ylanna |   | unr. | 861 | 366M | 4 | F |   | W81 | L10 | W77 | W41 | 3.0 | 5.5 | 19 | 7 | 6.5 |
| 23 |   | Firuzova, Anisakhon |   | unr. | 920 | 180K | 5 | F |   | L24 | W95 | W75 | W57 | 3.0 | 5.5 | 17.5 | 6 | 6 |
| 24 | 24-36 | Paulino, Julian |   | unr. | 1030 | 366M | 5 | M |   | W23 | W55 | L5 | D29 | 2.5 | 9.5 | 27.5 | 7.5 | 11.5 |
| 25 |   | Lau, Anna | 16365666 | 433 | 639 | 180K | 5 | F | NY | W34 | W59 | L3 | D30 | 2.5 | 9 | 25 | 7.5 | 11 |
| 26 |   | Peguero, Gianna |   | unr. | 975 | 366M | 5 | F |   | D31 | W90 | W48 | L4 | 2.5 | 8.5 | 25 | 7 | 9.5 |
| 27 |   | Quadri, Aliter |   | unr. | 975 | 123X | M | M |   | W74 | W52 | L6 | D28 | 2.5 | 8 | 25 | 7.5 | 9.5 |
| 28 |   | Clay, Jada |   | unr. | 955 | WOODSIDE | 4 | F |   | W65 | W49 | L7 | D27 | 2.5 | 7.5 | 24 | 7.5 | 9 |
| 29 |   | Almonte, Justin |   | unr. | 997 | 48M | 3 | M |   | W78 | L2 | W76 | D24 | 2.5 | 7.5 | 23.5 | 6.5 | 8.5 |
| 30 |   | Cornacchio, Lorenzo |   | unr. | 830 | 366M | 4 | M |   | L4 | W87 | W78 | D25 | 2.5 | 7.5 | 21.5 | 5.5 | 8.5 |
| 31 |   | Hinton, Jerimiah |   | unr. | 875 | 40K | 5 | M |   | D26 | W88 | W63 | L16 | 2.5 | 7 | 22 | 7 | 8 |
| 32 |   | Tavarez, Erickson |   | unr. | 847 | 96Q | 5 | M |   | L9 | D34 | W65 | W70 | 2.5 | 7 | 21 | 4.5 | 8.5 |
| 33 |   | Benitez, Scarlet |   | unr. | 846 | 366M | 4 | F |   | L8 | W91 | D35 | W68 | 2.5 | 7 | 19.5 | 5 | 8 |
| 34 |   | Brown, Gerard |   | unr. | 755 | 40K | 4 | M |   | L25 | D32 | W85 | W64 | 2.5 | 6.5 | 19.5 | 4.5 | 7.5 |
| 35 |   | Rodriguez, Daniel |   | unr. | 843 | 88K | 4 | M |   | L37 | W79 | D33 | W63 | 2.5 | 6 | 18 | 5 | 7 |
| 36 |   | Sabai, El Haddje |   | unr. | 784 | PROMISE | 3 | M | NY | D63 | L44 | W69 | W75 | 2.5 | 5 | 17.5 | 5 | 6 |
| 37 | 37-61 | Deleon, Ethan |   | unr. | 883 | 153K | 3 | M |   | W35 | L13 | W54 | L15 | 2.0 | 5.5 | 27 | 6 | 10.5 |
| 38 |   | Alexander, Whiteside |   | unr. | 855 | BERRYHOM | 5 | F |   | W72 | W46 | L8 | L12 | 2.0 | 5 | 25.5 | 7 | 9.5 |
| 39 |   | Reyes, Justin |   | unr. | 843 | 48M | 4 | M |   | L7 | W58 | W55 | L20 | 2.0 | 5 | 25 | 5 | 10 |
| 40 |   | Jiang, Alvin |   | unr. | 796 | CPC-SACC | 2 | M |   | W57 | L11 | L18 | W82 | 2.0 | 5 | 24 | 5 | 9 |
| 41 |   | Ergashev, Iskandar | 17062355 | 387 | 441 | 180K | 4 | M | NY | B--- | L9 | W59 | L22 | 2.0 | 5 | 21 | 5 | 8 |
| 42 |   | Charles, Nathan |   | unr. | 763 | 96Q | 4 | M | NY | W61 | L15 | W89 | L21 | 2.0 | 5 | 20 | 6 | 9 |
| 43 |   | Gao, Jayden |   | unr. | 791 | CPC-SACC | 2 | M |   | W68 | W70 | L13 | L14 | 2.0 | 4.5 | 25 | 7 | 9 |
| 44 |   | Gubareva, Angelica |   | unr. | 726 | 153K | 3 | F |   | D85 | W36 | D47 | L18 | 2.0 | 4.5 | 20.5 | 6 | 8.5 |
| 45 |   | Robles, Leury |   | unr. | 838 | 366M | 4 | M |   | W77 | L4 | L17 | W81 | 2.0 | 4 | 23 | 5 | 9 |
| 46 |   | Taylor, Jada |   | unr. | 746 | PROMISE | 4 | M | NY | W51 | L38 | W82 | L19 | 2.0 | 4 | 22 | 6 | 8 |
| 47 |   | Veras, Emma |   | unr. | 739 | 48M | 4 | F |   | D48 | W94 | D44 | L10 | 2.0 | 4 | 21.5 | 6 | 7.5 |
| 48 |   | Reavis, Xavier |   | unr. | 682 | 96Q | 4 | M |   | D47 | W92 | L26 | D56 | 2.0 | 4 | 20.5 | 5.5 | 7.5 |
| 49 |   | Pass, Cameron |   | unr. | 713 | 40K | 5 | M |   | W67 | L28 | L21 | W92 | 2.0 | 4 | 19.5 | 5 | 8 |
| 50 |   | Pereyra, Jean |   | unr. | 700 | 366M | 4 | M |   | L5 | D71 | W90 | D53 | 2.0 | 3.5 | 19.5 | 4 | 8.5 |
| 51 |   | Johnson, Zya |   | unr. | 703 | 48M | 5 | F |   | L46 | W72 | L14 | W84 | 2.0 | 3.5 | 18 | 4 | 7.5 |
| 52 |   | Novas, Bryant |   | unr. | 718 | 218X | 5 | M |   | X99 | L27 | W81 | L17 | 2.0 | 3.5 | 17.5 | 5 | 6.5 |
| 53 |   | Chen, Daniel |   | unr. | 687 | CPC-SACC | 5 | M |   | L12 | D66 | W94 | D50 | 2.0 | 3.5 | 17 | 4 | 7 |
| 54 |   | Olivos, Andrea |   | unr. | 698 | 48M | 2 | F |   | W82 | L19 | L37 | W89 | 2.0 | 3 | 20 | 5 | 7 |
| 55 |   | Lopez, Ariana |   | unr. | 709 | 153K | 3 | F |   | W95 | L24 | L39 | W79 | 2.0 | 3 | 15.5 | 5 | 6 |
| 56 |   | Perez, Richard |   | unr. | 648 | 153K | 3 | M |   | L62 | W86 | D68 | D48 | 2.0 | 3 | 15.5 | 4.5 | 6 |
| 57 |   | Malendez, Cristtian |   | unr. | 643 | NORTHSID | 3 | M |   | L40 | W96 | W80 | L23 | 2.0 | 3 | 15 | 5 | 6 |
| 58 |   | Giraldi, Alan |   | unr. | 675 | 366M | 5 | M |   | L16 | L39 | W98 | W88 | 2.0 | 3 | 15 | 3 | 6 |
| 59 |   | Matute, Anthony |   | unr. | 495 | 40K | 4 | M |   | W98 | L25 | L41 | W77 | 2.0 | 2.5 | 15.5 | 5 | 5 |
| 60 |   | Wong, Madison |   | unr. | 688 | CPC-SACC | 4 | F |   | L2 | L77 | W83 | W80 | 2.0 | 2 | 18 | 3 | 7 |
| 61 |   | Chen, Vivian |   | unr. | 615 | UIOM | 4 | F |   | L42 | L76 | W87 | W78 | 2.0 | 2 | 13 | 3 | 5 |
| 62 | 62-74 | Skinner, Johyla |   | unr. | 716 | 48M | 2 | F |   | W56 | L6 | L16 | D74 | 1.5 | 6.5 | 24 | 4.5 | 10.5 |
| 63 |   | Cooper, Daniel |   | unr. | 621 | 96Q | 4 | M |   | D36 | W85 | L31 | L35 | 1.5 | 6 | 19.5 | 5 | 8.5 |
| 64 |   | McMillian, Jahlani |   | unr. | 615 | 96Q | 5 | M |   | W66 | L12 | D70 | L34 | 1.5 | 5.5 | 20.5 | 5 | 8.5 |
| 65 |   | Guachiac Tambriz, Ishmael |   | unr. | 575 | 180K | 2 | M |   | L28 | D67 | L32 | W95 | 1.5 | 4.5 | 16 | 2.5 | 7 |
| 66 |   | Almonte, Johan |   | unr. | 513 | 48M | 3 | M |   | L64 | D53 | D67 | D71 | 1.5 | 4.5 | 15 | 3 | 6.5 |
| 67 |   | Berkeley, Aisis |   | unr. | 513 | PROMISE | 3 | M |   | L49 | D65 | D66 | D72 | 1.5 | 4.5 | 13 | 3 | 6.5 |
| 68 |   | Ashby, Mia |   | unr. | 563 | BERRYHOM | 5 | F |   | L43 | W97 | D56 | L33 | 1.5 | 4 | 16.5 | 4 | 6.5 |
| 69 |   | Clayborne, Elijah |   | unr. | 548 | NORTHSID | 3 | M |   | L14 | D84 | L36 | W94 | 1.5 | 4 | 16.5 | 2.5 | 7 |
| 70 |   | Valdez-Garcia, Jayden |   | unr. | 561 | PROMISE | 3 | M | NY | W97 | L43 | D64 | L32 | 1.5 | 3.5 | 16.5 | 5 | 6 |
| 71 |   | Hawkins, Samiyah |   | unr. | 534 | PROMISE | 3 | M |   | L75 | D50 | D88 | D66 | 1.5 | 3.5 | 14 | 3 | 5.5 |
| 72 |   | Faisal, Azqa |   | unr. | 518 | 153K | 5 | F |   | L38 | L51 | W97 | D67 | 1.5 | 3.5 | 14 | 2.5 | 5.5 |
| 73 |   | Rodriguez, Alaina |   | unr. | 465 | BERRYHOM | 5 | F |   | L80 | L78 | D86 | W76 | 1.5 | 3 | 11.5 | 2 | 4 |
| 74 |   | Hussain, Noah |   | unr. | 559 | 96Q | 5 | M |   | L27 | L81 | W96 | D62 | 1.5 | 2.5 | 15 | 2.5 | 5 |
| 75 | 75-93 | Rahman, Aydin |   | unr. | 575 | 366M | 2 | M |   | W71 | L5 | L23 | L36 | 1.0 | 7 | 24 | 4 | 11 |
| 76 |   | Kieta, Mamadou |   | unr. | 509 | PROMISE | 3 | M | NY | L3 | W61 | L29 | L73 | 1.0 | 6 | 21.5 | 3 | 10 |
| 77 |   | Turner-Cephus, Joshua |   | unr. | 484 | PROMISE | 4 | M | NY | L45 | W60 | L22 | L59 | 1.0 | 6 | 20 | 3 | 9 |
| 78 |   | Taylor, Janiyah |   | unr. | 474 | PROMISE | 3 | F | NY | L29 | W73 | L30 | L61 | 1.0 | 6 | 17 | 3 | 8.5 |
| 79 |   | Zapata, Abiel |   | unr. | 466 | 96Q | 4 | M |   | L13 | L35 | W93 | L55 | 1.0 | 5.5 | 20 | 2 | 8.5 |
| 80 |   | Frazier, Joselyn |   | unr. | 462 | 96Q | 4 | F |   | W73 | L20 | L57 | L60 | 1.0 | 5.5 | 18 | 4 | 8.5 |
| 81 |   | Ferguson, Daneya |   | unr. | 499 | 40K | 4 | F |   | L22 | W74 | L52 | L45 | 1.0 | 5 | 19.5 | 3 | 8 |
| 82 |   | Shannon, Ryan |   | unr. | 450 | UIOM | 3 | M |   | L54 | W93 | L46 | L40 | 1.0 | 5 | 17 | 3 | 7 |
| 83 |   | Sarr, Fatima |   | unr. | 517 | PROMISE | 3 | M | NY | L20 | L21 | L60 | W98 | 1.0 | 5 | 17 | 1 | 8 |
| 84 |   | Zhang, Matthew |   | unr. | 450 | 153K | 2 | M | NY | L1 | D69 | D92 | L51 | 1.0 | 4.5 | 19.5 | 2.5 | 8.5 |
| 85 |   | Sabio, Omari |   | unr. | 462 | PROMISE | 3 | M | NY | D44 | L63 | L34 | D90 | 1.0 | 4.5 | 18 | 2.5 | 7 |
| 86 |   | Mann, Mya |   | unr. | 395 | 96Q | 4 | F |   | L6 | L56 | D73 | D91 | 1.0 | 4.5 | 18 | 1.5 | 8.5 |
| 87 |   | Johnson, Rosa |   | unr. | 440 | PROMISE | 4 | F | NY | L15 | L30 | L61 | W97 | 1.0 | 4.5 | 16.5 | 1 | 7.5 |
| 88 |   | Goodman, Angela |   | unr. | 416 | BERRYHOM | 5 | F |   | D90 | L31 | D71 | L58 | 1.0 | 4.5 | 15.5 | 3 | 7 |
| 89 |   | Li, Ying Ying |   | unr. | 484 | 153K | 3 | F |   | L17 | W98 | L42 | L54 | 1.0 | 4 | 18 | 3 | 7 |
| 90 |   | Salsbury, Genevieve |   | unr. | 451 | UIOM | 5 | F |   | D88 | L26 | L50 | D85 | 1.0 | 4 | 16.5 | 2.5 | 6.5 |
| 91 |   | Chen, Winnie |   | unr. | 450 | UIOM | 5 | F |   | L18 | L33 | D95 | D86 | 1.0 | 4 | 14.5 | 1.5 | 7 |
| 92 |   | Cruz, Eleanor |   | unr. | 391 | 48M | 2 | F |   | D94 | L48 | D84 | L49 | 1.0 | 3.5 | 15 | 3 | 5.5 |
| 93 |   | Fernandez, Nyree |   | unr. | 350 | NORTHSID | 3 | F |   | L19 | L82 | L79 | W96 | 1.0 | 2 | 13 | 1 | 5 |
| 94 | 94-95 | Doumbia, Daouda |   | unr. | 350 | PROMISE | 2 | M | NY | D92 | L47 | L53 | L69 | 0.5 | 4.5 | 15.5 | 2 | 6.5 |
| 95 |   | Martinez, Ronald |   | unr. | 350 | 48M | 4 | M |   | L55 | L23 | D91 | L65 | 0.5 | 4.5 | 15 | 1 | 7.5 |
| 96 | 96-99 | Bisono, Michael |   | unr. | 350 | 48M | 2 | M |   | L11 | L57 | L74 | L93 | 0.0 | 4.5 | 17.5 | 0 | 7.5 |
| 97 |   | Tavarez, Keith |   | unr. | 350 | 48M | 2 | M |   | L70 | L68 | L72 | L87 | 0.0 | 4 | 12.5 | 0 | 5.5 |
| 98 |   | Skinner, Johnyla |   | unr. | 350 | 48M | 2 | F |   | L59 | L89 | L58 | L83 | 0.0 | 4 | 12 | 0 | 6 |
| 99 |   | Avellino, Justin |   | unr. | 350 | 48M | 4 | M |   | F52 | --- | --- | --- | 0.0 | 0 | 0 | 0 | 0 |
Team Roster and Standings. 6th Annual DYCD Chess Masters Tournament: HS Open (Grades 9-12)
| | | | | | | | |
| --- | --- | --- | --- | --- | --- | --- | --- |
|   | Code | Name | Score | TBrk[M] | TBrk[S] | TBrk[O] | TBrk[C] |
Team Roster and Standings. 6th Annual DYCD Chess Masters Tournament: JH Open (Grades 6-8)
| | | | | | | | |
| --- | --- | --- | --- | --- | --- | --- | --- |
|   | Code | Name | Score | TBrk[M] | TBrk[S] | TBrk[O] | TBrk[C] |
| 1 | 180K | 180K (1217.8) | 16.0 | 34.5 | 40 | 106 | 40 |
|   |   | Chen, De Hao (unr.) 4.0 |   |   |   |   |   |
|   |   | Saquisili, Omar (1298) 4.0 |   |   |   |   |   |
|   |   | Wang, Raymond (unr.) 4.0 |   |   |   |   |   |
|   |   | Jiang, Tony (unr.) 4.0 |   |   |   |   |   |
| 2 | 312M | 312M (0.0) | 14.0 | 31.5 | 37 | 102 | 38 |
|   |   | Daczka-Filion, Aaro (unr.) 4.0 |   |   |   |   |   |
|   |   | Mutha, Siddhartha (unr.) 4.0 |   |   |   |   |   |
|   |   | Wen, Jaylene (unr.) 3.0 |   |   |   |   |   |
|   |   | Wong, Harrison (unr.) 3.0 |   |   |   |   |   |
| 3 | 228K | 228K (631.3) | 12.0 | 34.5 | 42 | 104 | 30 |
|   |   | Davronov, Sobir (690) 3.0 |   |   |   |   |   |
|   |   | Mukhtarov, Kamranbek (unr.) 3.0 |   |   |   |   |   |
|   |   | Lerner, Justin (577) 3.0 |   |   |   |   |   |
|   |   | Facey, Jasmine (unr.) 3.0 |   |   |   |   |   |
| 4 | PROMISE | PROMISE (194.0) | 12.0 | 34.5 | 38.5 | 102.5 | 34 |
|   |   | Sako, Mohamed (unr.) 3.0 |   |   |   |   |   |
|   |   | Traore, Ben (unr.) 3.0 |   |   |   |   |   |
|   |   | Robinson, Jaylin (unr.) 3.0 |   |   |   |   |   |
|   |   | Williams, Christian (unr.) 3.0 |   |   |   |   |   |
| 5 | 126K | 126K (491.7) | 12.0 | 31.5 | 36.5 | 94.5 | 32 |
|   |   | Rivera, Ernesto (unr.) 3.0 |   |   |   |   |   |
|   |   | Perez, Skyler (unr.) 3.0 |   |   |   |   |   |
|   |   | Peck, Canon (unr.) 3.0 |   |   |   |   |   |
|   |   | Jaime, Justin Elij (247) 3.0 |   |   |   |   |   |
| 6 | 122Q | 122Q (0.0) | 12.0 | 27.5 | 31 | 81 | 26 |
|   |   | Huang, Ryan (unr.) 4.0 |   |   |   |   |   |
|   |   | Lin, Ivan (unr.) 3.0 |   |   |   |   |   |
|   |   | Burchak, Modest (unr.) 2.5 |   |   |   |   |   |
|   |   | Mahecha, Santiago (unr.) 2.5 |   |   |   |   |   |
| 7 | 104K | 104K (541.0) | 12.0 | 25 | 27 | 75.5 | 25 |
|   |   | Lomidze, Luka (685) 3.0 |   |   |   |   |   |
|   |   | Aziz, Mohamed (unr.) 3.0 |   |   |   |   |   |
|   |   | Diyarza, Ryan (unr.) 3.0 |   |   |   |   |   |
|   |   | McMenemy, Justin (unr.) 3.0 |   |   |   |   |   |
| 8 | 123X | 123X (581.7) | 11.5 | 27 | 31.5 | 85 | 27.5 |
|   |   | Aguilar, Jhony (556) 3.0 |   |   |   |   |   |
|   |   | Sy, Yahya Seigue (637) 3.0 |   |   |   |   |   |
|   |   | Cruz, Miguel (unr.) 3.0 |   |   |   |   |   |
|   |   | Carrillo, Lucas (552) 2.5 |   |   |   |   |   |
| 9 | 238K | 238K (0.0) | 11.5 | 24 | 24 | 57.5 | 25.5 |
|   |   | Larios, Emilio (unr.) 3.5 |   |   |   |   |   |
|   |   | Khalil, Yousef (unr.) 3.0 |   |   |   |   |   |
|   |   | Shermuhamandadov, Elyor (unr.) 2.5 |   |   |   |   |   |
|   |   | Bahriev, Hosen (unr.) 2.5 |   |   |   |   |   |
| 10 | 141Q | 141Q (0.0) | 11.0 | 27 | 34.5 | 94.5 | 29 |
|   |   | Bueno, Matthew (unr.) 3.0 |   |   |   |   |   |
|   |   | Hadas, Leo (unr.) 3.0 |   |   |   |   |   |
|   |   | Elsabagh, Moustafa (unr.) 3.0 |   |   |   |   |   |
|   |   | Bhattarai, Prajwal (unr.) 2.0 |   |   |   |   |   |
| 11 | BCNY | BCNY (0.0) | 11.0 | 22 | 25 | 58 | 26 |
|   |   | Castro, Juan (unr.) 3.5 |   |   |   |   |   |
|   |   | Dillard, Chance (unr.) 3.0 |   |   |   |   |   |
|   |   | Azuara, Edgar (unr.) 2.5 |   |   |   |   |   |
|   |   | Farrow-Ellis, Jordan (unr.) 2.0 |   |   |   |   |   |
| 12 | 498X | 498X (157.0) | 10.0 | 22 | 31.5 | 82.5 | 24 |
|   |   | Mirukaj, Jason (unr.) 3.0 |   |   |   |   |   |
|   |   | Gonzalez Lopez, Christofer (unr.) 3.0 |   |   |   |   |   |
|   |   | Palmer, Jackson (157) 2.0 |   |   |   |   |   |
|   |   | Ware, Samantha (unr.) 2.0 |   |   |   |   |   |
| 13 | HPCMS | HPCMS (429.0) | 10.0 | 20.5 | 30 | 75.5 | 21 |
|   |   | Been, Max (429) 3.0 |   |   |   |   |   |
|   |   | Hernandez, Lesly (unr.) 3.0 |   |   |   |   |   |
|   |   | Herbandex, Alec (unr.) 2.0 |   |   |   |   |   |
|   |   | Canavan, Colin (unr.) 2.0 |   |   |   |   |   |
| 14 | ACCION | ACCION (0.0) | 9.0 | 27 | 42 | 105 | 29 |
|   |   | Pinero, Bengie (unr.) 3.0 |   |   |   |   |   |
|   |   | Munoz, Joseph (unr.) 2.0 |   |   |   |   |   |
|   |   | Lara, Esterlin (unr.) 2.0 |   |   |   |   |   |
|   |   | Brown, Elijah (unr.) 2.0 |   |   |   |   |   |
| 15 | 234K | 234K (0.0) | 9.0 | 26 | 35.5 | 90.5 | 25 |
|   |   | Taylor, Ryan (unr.) 3.0 |   |   |   |   |   |
|   |   | DeFeo, Draco (unr.) 3.0 |   |   |   |   |   |
|   |   | Huang, Ethan (unr.) 2.0 |   |   |   |   |   |
|   |   | Dyesi, Dartagnan (unr.) 1.0 |   |   |   |   |   |
| 16 | 192K | 192K (0.0) | 8.5 | 21.5 | 39.5 | 94 | 25 |
|   |   | Marupova, Jasmina (unr.) 2.5 |   |   |   |   |   |
|   |   | Canete, Gabriel (unr.) 2.0 |   |   |   |   |   |
|   |   | Ruzimurodov, Sherbek (unr.) 2.0 |   |   |   |   |   |
|   |   | Kurchevskaya, Diana (unr.) 2.0 |   |   |   |   |   |
| 17 | 131X | 131X (0.0) | 8.0 | 20 | 34.5 | 88 | 21 |
|   |   | Gutierrez, Roniel (unr.) 3.0 |   |   |   |   |   |
|   |   | Johnson, Khaleel (unr.) 2.0 |   |   |   |   |   |
|   |   | Carrillo, Justin (unr.) 2.0 |   |   |   |   |   |
|   |   | Jackson, Wyatt (unr.) 1.0 |   |   |   |   |   |
| 18 | 240K | 240K (0.0) | 8.0 | 17.5 | 32 | 82.5 | 21 |
|   |   | Hookcumcharm, Jadon (unr.) 2.0 |   |   |   |   |   |
|   |   | Kovaev, Max (unr.) 2.0 |   |   |   |   |   |
|   |   | Beard, Dorian (unr.) 2.0 |   |   |   |   |   |
|   |   | Sahid, Nihat (unr.) 2.0 |   |   |   |   |   |
| 19 | 323Q | 323Q (245.0) | 7.5 | 17.5 | 25 | 67 | 18.5 |
|   |   | Barango-Tariah, Da'Saki (unr.) 3.0 |   |   |   |   |   |
|   |   | Annamunthodo, John (245) 2.5 |   |   |   |   |   |
|   |   | McEnaney, Sebastian (unr.) 2.0 |   |   |   |   |   |
| 20 | 29X | 29X (185.0) | 7.0 | 14.5 | 22 | 49.5 | 10.5 |
|   |   | De Leon, Geycha (unr.) 2.5 |   |   |   |   |   |
|   |   | Perez, Estelin (unr.) 2.5 |   |   |   |   |   |
|   |   | Flores, Karen (185) 1.0 |   |   |   |   |   |
|   |   | Ka, Mamendiaga (unr.) 1.0 |   |   |   |   |   |
| 21 | KIPP STA | KIPP STA (0.0) | 6.5 | 16 | 31 | 74.5 | 15 |
|   |   | Rodriguez, Alvin (unr.) 2.0 |   |   |   |   |   |
|   |   | Young, Aidan (unr.) 2.0 |   |   |   |   |   |
|   |   | Thornton, Kobe (unr.) 1.5 |   |   |   |   |   |
|   |   | Watington, Ralph (unr.) 1.0 |   |   |   |   |   |
| 22 | 218X | 218X (0.0) | 6.0 | 18 | 19.5 | 49 | 17 |
|   |   | Prohdania, Tisun (unr.) 3.5 |   |   |   |   |   |
|   |   | Garcia, Ethan (unr.) 2.5 |   |   |   |   |   |
| 23 | 394K | 394K (0.0) | 5.5 | 17 | 30.5 | 71.5 | 14.5 |
|   |   | Gathers, Madison (unr.) 2.0 |   |   |   |   |   |
|   |   | Smith, Dakota (unr.) 2.0 |   |   |   |   |   |
|   |   | Ollivierre, Kiefe (unr.) 1.5 |   |   |   |   |   |
|   |   | Scott-Clement, D'Ann (unr.) 0.0 |   |   |   |   |   |
| 24 | 898K | 898K (0.0) | 5.5 | 16 | 30 | 76 | 16 |
|   |   | Caesar, Malon (unr.) 2.0 |   |   |   |   |   |
|   |   | Clerveaux, Rodney (unr.) 2.0 |   |   |   |   |   |
|   |   | Gibbs, Jayceon (unr.) 1.0 |   |   |   |   |   |
|   |   | Glover, Isyss (unr.) 0.5 |   |   |   |   |   |
| 25 | 355Q | 355Q (0.0) | 5.5 | 15.5 | 26 | 62 | 10.5 |
|   |   | Cumberbatch, James (unr.) 2.0 |   |   |   |   |   |
|   |   | Cumberbatch, Jayden (unr.) 1.5 |   |   |   |   |   |
|   |   | Gooden, Dwayne (unr.) 1.0 |   |   |   |   |   |
|   |   | Baker, Jevon (unr.) 1.0 |   |   |   |   |   |
| 26 | 88K | 88K (0.0) | 5.0 | 19.5 | 33.5 | 75 | 13.5 |
|   |   | Portilla, Albert (unr.) 2.0 |   |   |   |   |   |
|   |   | Hawkins, Liev (unr.) 1.0 |   |   |   |   |   |
|   |   | Lee, James (unr.) 1.0 |   |   |   |   |   |
|   |   | Mendez, Steven (unr.) 1.0 |   |   |   |   |   |
| 27 | WOODSIDE | WOODSIDE (0.0) | 5.0 | 10 | 14 | 39 | 12 |
|   |   | Lhaden, Rinchen (unr.) 3.0 |   |   |   |   |   |
|   |   | Lhaden, Tenzom (unr.) 2.0 |   |   |   |   |   |
| 28 | KIPP ACA | KIPP ACA (0.0) | 4.5 | 10.5 | 20 | 47 | 8.5 |
|   |   | Garrett, James (unr.) 2.0 |   |   |   |   |   |
|   |   | Stratton, Lamarr (unr.) 1.5 |   |   |   |   |   |
|   |   | Drew, Stephon (unr.) 1.0 |   |   |   |   |   |
| 29 | KIPP: WA | KIPP: WA (0.0) | 4.0 | 11.5 | 21 | 50.5 | 6.5 |
|   |   | Rahman, Shajiq (unr.) 2.0 |   |   |   |   |   |
|   |   | Reyes, John (unr.) 1.5 |   |   |   |   |   |
|   |   | McField, Thomas (unr.) 0.5 |   |   |   |   |   |
| 30 | BERRYHOM | BERRYHOM (0.0) | 3.0 | 10.5 | 18.5 | 43 | 8 |
|   |   | Yensi, Edwin (unr.) 2.0 |   |   |   |   |   |
|   |   | Canizares, Carlasia (unr.) 1.0 |   |   |   |   |   |
|   |   | Dinkins, Tahjee (unr.) 0.0 |   |   |   |   |   |
|   |   | Garibaldo, Omar (unr.) 0.0 |   |   |   |   |   |
Team Roster and Standings. 6th Annual DYCD Chess Masters Tournament: EL Open (Grades K-5)
| | | | | | | | |
| --- | --- | --- | --- | --- | --- | --- | --- |
|   | Code | Name | Score | TBrk[M] | TBrk[S] | TBrk[O] | TBrk[C] |
| 1 | CPC-SACC | CPC-SACC (0.0) | 14.0 | 32.5 | 38 | 101.5 | 36 |
|   |   | Jiang, Aaron (unr.) 4.0 |   |   |   |   |   |
|   |   | Jiang, Jason (unr.) 4.0 |   |   |   |   |   |
|   |   | Gao, Sabinra (unr.) 3.0 |   |   |   |   |   |
|   |   | Kuang, Ethan (unr.) 3.0 |   |   |   |   |   |
| 2 | 180K | 180K (410.0) | 14.0 | 30 | 35.5 | 94.5 | 35 |
|   |   | Guachiac Tambriz, Hany (unr.) 4.0 |   |   |   |   |   |
|   |   | Guachiac Tambriz, Fredy (unr.) 4.0 |   |   |   |   |   |
|   |   | Munduzbaeva, Aisulu (unr.) 3.0 |   |   |   |   |   |
|   |   | Firuzova, Anisakhon (unr.) 3.0 |   |   |   |   |   |
| 3 | 366M | 366M (0.0) | 12.0 | 31.5 | 37 | 96 | 33 |
|   |   | Jimenez, Allen (unr.) 3.0 |   |   |   |   |   |
|   |   | Morales, Ean (unr.) 3.0 |   |   |   |   |   |
|   |   | Rodriguez, Geneury (unr.) 3.0 |   |   |   |   |   |
|   |   | Castillo, Ylanna (unr.) 3.0 |   |   |   |   |   |
| 4 | 153K | 153K (0.0) | 11.0 | 26.5 | 38.5 | 100 | 30 |
|   |   | Feng, Jia Xuan (unr.) 4.0 |   |   |   |   |   |
|   |   | Zhang, Nathan (unr.) 3.0 |   |   |   |   |   |
|   |   | Deleon, Ethan (unr.) 2.0 |   |   |   |   |   |
|   |   | Gubareva, Angelica (unr.) 2.0 |   |   |   |   |   |
| 5 | PROMISE | PROMISE (0.0) | 10.5 | 25 | 33 | 89 | 26 |
|   |   | Doumbia, Youssouf (unr.) 3.0 |   |   |   |   |   |
|   |   | Brown, Kamden (unr.) 3.0 |   |   |   |   |   |
|   |   | Sabai, El Haddje (unr.) 2.5 |   |   |   |   |   |
|   |   | Taylor, Jada (unr.) 2.0 |   |   |   |   |   |
| 6 | 40K | 40K (0.0) | 10.0 | 26.5 | 32.5 | 84 | 25.5 |
|   |   | Kelley, Nazadur (unr.) 3.0 |   |   |   |   |   |
|   |   | Hinton, Jerimiah (unr.) 2.5 |   |   |   |   |   |
|   |   | Brown, Gerard (unr.) 2.5 |   |   |   |   |   |
|   |   | Pass, Cameron (unr.) 2.0 |   |   |   |   |   |
| 7 | 48M | 48M (0.0) | 9.5 | 24 | 34.5 | 93 | 24.5 |
|   |   | Rodriguez, Engel (unr.) 3.0 |   |   |   |   |   |
|   |   | Almonte, Justin (unr.) 2.5 |   |   |   |   |   |
|   |   | Reyes, Justin (unr.) 2.0 |   |   |   |   |   |
|   |   | Veras, Emma (unr.) 2.0 |   |   |   |   |   |
| 8 | 96Q | 96Q (0.0) | 9.5 | 23 | 33 | 83 | 23 |
|   |   | Singh, Brahmjot (unr.) 3.0 |   |   |   |   |   |
|   |   | Tavarez, Erickson (unr.) 2.5 |   |   |   |   |   |
|   |   | Charles, Nathan (unr.) 2.0 |   |   |   |   |   |
|   |   | Reavis, Xavier (unr.) 2.0 |   |   |   |   |   |
| 9 | BERRYHOM | BERRYHOM (0.0) | 6.0 | 16.5 | 27 | 69 | 16 |
|   |   | Alexander, Whiteside (unr.) 2.0 |   |   |   |   |   |
|   |   | Ashby, Mia (unr.) 1.5 |   |   |   |   |   |
|   |   | Rodriguez, Alaina (unr.) 1.5 |   |   |   |   |   |
|   |   | Goodman, Angela (unr.) 1.0 |   |   |   |   |   |
| 10 | UIOM | UIOM (0.0) | 5.0 | 15 | 25.5 | 61 | 10 |
|   |   | Chen, Vivian (unr.) 2.0 |   |   |   |   |   |
|   |   | Shannon, Ryan (unr.) 1.0 |   |   |   |   |   |
|   |   | Chen, Winnie (unr.) 1.0 |   |   |   |   |   |
|   |   | Salsbury, Genevieve (unr.) 1.0 |   |   |   |   |   |
| 11 | 218X | 218X (0.0) | 5.0 | 10.5 | 14.5 | 38.5 | 13 |
|   |   | Macoto, Brian (unr.) 3.0 |   |   |   |   |   |
|   |   | Novas, Bryant (unr.) 2.0 |   |   |   |   |   |
| 12 | NORTHSID | NORTHSID (0.0) | 4.5 | 9 | 18 | 44.5 | 8.5 |
|   |   | Malendez, Cristtian (unr.) 2.0 |   |   |   |   |   |
|   |   | Clayborne, Elijah (unr.) 1.5 |   |   |   |   |   |
|   |   | Fernandez, Nyree (unr.) 1.0 |   |   |   |   |   |