All Girls NYC Chess Championship at PS 11M

Saturday, March 5, 2022
2022 All Girls NYC Chess Championship at 11M: K-12 Championship (1200 +)
| | | | | | | | | | | | | | | | | | | |
| --- | --- | --- | --- | --- | --- | --- | --- | --- | --- | --- | --- | --- | --- | --- | --- | --- | --- | --- |
| # | Place | Name | ID | Rtng | Post | Team | Grd | Sex | St | Rd 1 | Rd 2 | Rd 3 | Rd 4 | Tot | TB-Med | TB-Op. cumul. | TB-Cumul. | TB-Solkoff |
| 1 | 1 | Zheng, Tia | 15546331 | 1564 | 1624 |   |   |   | NY | W17 | W11 | D3 | W6 | 3.5 | 7.5 | 23.5 | 9 | 8.5 |
| 2 | 2-5 | Moran, Ella | 14650774 | 1636 | 1651 | HUNTER | 11 | F | NY | W9 | W5 | D6 | D3 | 3.0 | 8.5 | 27.5 | 8.5 | 10.5 |
| 3 |   | Tse, Whitney | 16090927 | 1662 | 1672 | 33M | 5 | F | NY | W18 | W13 | D1 | D2 | 3.0 | 8.5 | 24.5 | 8.5 | 9.5 |
| 4 |   | Jean Baptiste, Gea | 15502518 | 1623 | 1624 | SAHSLA | 11 | F | NY | W10 | L6 | W7 | W11 | 3.0 | 7 | 25 | 7 | 9 |
| 5 |   | Stark, Chloe A | 16138806 | 1545 | 1552 | 318K | 8 | F | NY | W12 | L2 | W9 | W10 | 3.0 | 7 | 21.5 | 7 | 9 |
| 6 | 6-8 | Joseph, Jahia | 16438245 | 1446 | 1502 | SAHE | 8 | F | NY | W14 | W4 | D2 | L1 | 2.5 | 9.5 | 28.5 | 8 | 11 |
| 7 |   | Badillo, Jayleen | 16108848 | 1513 | 1502 | SABSMS |   | F | NY | D8 | W15 | L4 | W14 | 2.5 | 7 | 21 | 6 | 8.5 |
| 8 |   | Loh, Summer | 16422824 | 1219 | 1292 | 77M | 5 | F | NY | D7 | L9 | W12 | W15 | 2.5 | 6.5 | 19 | 5 | 8 |
| 9 | 9-13 | Vidap, Sahasra | 15881774 | 1345 | 1370 | JMS | 6 | F | NY | L2 | W8 | L5 | W18 | 2.0 | 5.5 | 22.5 | 4 | 9.5 |
| 10 |   | Tamisi, Gabriella | 16118604 | 1315 | 1350 | SAHY | 8 | F | NY | L4 | W16 | W13 | L5 | 2.0 | 5 | 21 | 5 | 9 |
| 11 |   | Gorantla, Eesha Sr | 30158337 | 1437 | 1427 | PMES | 7 | F | NJ | W20 | L1 | W19 | L4 | 2.0 | 4 | 19 | 6 | 7.5 |
| 12 |   | Mock, Weiyee | 30263627 | 871 | 1012 | MIDWOOD |   |   | NY | L5 | W17 | L8 | W20 | 2.0 | 3.5 | 13 | 4 | 6.5 |
| 13 |   | Alvarado-Yoshida, Nico | 16059387 | 1544 | 1510 | 318K | 6 | F | NY | W19 | L3 | L10 | W16 | 2.0 | 3 | 18.5 | 5 | 7 |
| 14 | 14-15 | Gao, Lilianna | 30026918 | 1033 | 1126 | RJB | 4 | F | NY | L6 | W18 | D15 | L7 | 1.5 | 5 | 21 | 4 | 7.5 |
| 15 |   | Ward, Milana | 16110640 | 1398 | 1344 | SAHY | 7 | F | NY | W16 | L7 | D14 | L8 | 1.5 | 5 | 17 | 5 | 7.5 |
| 16 | 16-19 | Lin, Sophia | 16155910 | 944 | 997 | MIDWOOD |   |   | NY | L15 | L10 | W17 | L13 | 1.0 | 4.5 | 16 | 2 | 6.5 |
| 17 |   | Cao, Kaylee | 16108091 | 1302 | 1237 | SAHY | 8 | F | NY | L1 | L12 | L16 | W19 | 1.0 | 4 | 18 | 1 | 7.5 |
| 18 |   | Fujita, Anjyu | 16878594 | 1349 | 1293 | SAMW | 5 | F | NY | L3 | L14 | W20 | L9 | 1.0 | 3.5 | 16.5 | 2 | 6.5 |
| 19 |   | Raparthi, Indira L | 16287187 | 1252 | 1215 |   |   |   | NY | L13 | W20 | L11 | L17 | 1.0 | 3 | 12 | 3 | 5 |
| 20 | 20 | Bencosme-Lee, Subi | 16470527 | 1020 | 968 | SAHY | 7 | F | NY | L11 | L19 | L18 | L12 | 0.0 | 4 | 15 | 0 | 6 |
2022 All Girls NYC Chess Championship at 11M: K-12 Classic (Under 1200)
| | | | | | | | | | | | | | | | | | | |
| --- | --- | --- | --- | --- | --- | --- | --- | --- | --- | --- | --- | --- | --- | --- | --- | --- | --- | --- |
| # | Place | Name | ID | Rtng | Post | Team | Grd | Sex | St | Rd 1 | Rd 2 | Rd 3 | Rd 4 | Tot | TB-Med | TB-Op. cumul. | TB-Cumul. | TB-Solkoff |
| 1 | 1-2 | Ahmia, Almes | 16470486 | 1068 | 1175 | SAMTW | 8 | F | NY | H--- | W13 | W6 | W3 | 3.5 | 7 | 18.5 | 7.5 | 7 |
| 2 |   | Ayithi, Yashaswini | 30021117 | 1061 | 1166 | PMES | 3 | F | PA | W10 | D6 | W8 | W7 | 3.5 | 6.5 | 24.5 | 8.5 | 8.5 |
| 3 | 3-5 | Yuen, Daisy | 17036117 | 1027 | 1081 | SPEYER | 3 | F | NY | W19 | W9 | W7 | L1 | 3.0 | 7.5 | 20.5 | 9 | 9 |
| 4 |   | Lee, Hannah | 15790805 | 1030 | 1041 | SAMW | 6 | F | NY | W17 | L8 | W10 | W9 | 3.0 | 6 | 19 | 7 | 7 |
| 5 |   | Degregorio, Sophia | 15811610 | 1017 | 1068 | 412M | 7 | F | NY | W18 | L7 | W15 | W12 | 3.0 | 5 | 15 | 7 | 5 |
| 6 | 6 | Tsukerman, Mia | 16287956 | 945 | 1044 | BASISM | 5 | F | NY | W15 | D2 | L1 | W8 | 2.5 | 9 | 26 | 6.5 | 10 |
| 7 | 7-12 | Kothandaraman, Zoe | 14975934 | 1138 | 1114 | MCFSCM | 10 | F | NY | W16 | W5 | L3 | L2 | 2.0 | 6 | 27.5 | 7 | 10.5 |
| 8 |   | Yang, Sharlene | 30183910 | 888 | 967 | TAG | 3 | F | NY | W12 | W4 | L2 | L6 | 2.0 | 5.5 | 27 | 7 | 11 |
| 9 |   | Phu, Emma | 16882611 | 869 | 938 | 11M | 3 | F | NY | W11 | L3 | W14 | L4 | 2.0 | 5 | 22 | 6 | 9.5 |
| 10 |   | Shah, Devina Ratne | 16503418 | 891 | 964 | BHE | 4 | F | NJ | L2 | W11 | L4 | W15 | 2.0 | 5 | 21.5 | 4 | 9.5 |
| 11 |   | Lin, Becky | 15950103 | 1034 | 1001 |   |   |   | NY | L9 | L10 | W13 | W16 | 2.0 | 3.5 | 16 | 3 | 6.5 |
| 12 |   | Ho, Emery | 16786616 | 1051 | 1015 | SAHY | 6 | F | NY | L8 | W17 | W16 | L5 | 2.0 | 3 | 19 | 5 | 7 |
| 13 | 13-14 | Yan, Vicki | 30104045 | unr. | 829 | Q300 | 6 | F | NY | D14 | L1 | L11 | W17 | 1.5 | 4.5 | 15.5 | 3 | 8 |
| 14 |   | Singh, Yuktha | 16303716 | 1010 | 941 | BMS | 7 | F | NJ | D13 | L15 | L9 | W18 | 1.5 | 2.5 | 12 | 3 | 4.5 |
| 15 | 15-17 | McRoy, Kyla | 17137715 | 1082 | 1008 | SAMMS | 5 | F | NY | L6 | W14 | L5 | L10 | 1.0 | 6 | 20.5 | 3 | 9 |
| 16 |   | Rao, Dhruthi | 30110069 | 998 | 930 | SAMW | 6 | F | NY | L7 | W18 | L12 | L11 | 1.0 | 4 | 15 | 3 | 6 |
| 17 |   | Gorantla, Medha Sr | 30242725 | 662 | 639 | PMES | 1 | F | NJ | L4 | L12 | W18 | L13 | 1.0 | 3.5 | 15 | 2 | 6.5 |
| 18 | 18-19 | Yan, Claire | 30104072 | unr. | 262 | Q300 | 2 | F | NY | L5 | L16 | L17 | L14 | 0.0 | 3.5 | 15 | 0 | 6.5 |
| 19 |   | Bennett, Kyra A | 17037221 | 377 | 375 | MECPS | 9 | F | NY | L3 | --- | --- | --- | 0.0 | 0 | 9 | 0 | 3 |
2022 All Girls NYC Chess Championship at 11M: JH-HS Novice (6-12 U1000)
| | | | | | | | | | | | | | | | | | | |
| --- | --- | --- | --- | --- | --- | --- | --- | --- | --- | --- | --- | --- | --- | --- | --- | --- | --- | --- |
| # | Place | Name | ID | Rtng | Post | Team | Grd | Sex | St | Rd 1 | Rd 2 | Rd 3 | Rd 4 | Tot | TB-Med | TB-Op. cumul. | TB-Cumul. | TB-Solkoff |
| 1 | 1-3 | Jones, Nima | 16315773 | 595 | 954 | JMS | 8 | F | NY | W19 | W16 | W13 | W8 | 4.0 | 6.5 | 23 | 10 | 8.5 |
| 2 |   | Price, Yvonna | 17118213 | 991 | 1037 | SAMMS | 6 | F | NY | W24 | W17 | W15 | W9 | 4.0 | 6.5 | 17 | 10 | 7.5 |
| 3 |   | Chen, Jiaxin | 17142611 | 817 | 945 | 318K | 8 | F | NY | W28 | W24 | W12 | W4 | 4.0 | 6 | 18.5 | 10 | 6.5 |
| 4 | 4-7 | Rousseau, Ava | 30065028 | 782 | 872 | SASGMS | 8 | F | NY | W23 | W6 | W5 | L3 | 3.0 | 10 | 28 | 9 | 11 |
| 5 |   | Zhuo, Sophia | 15949380 | 825 | 857 |   |   |   | NY | W14 | W18 | L4 | W12 | 3.0 | 7 | 26 | 8 | 9 |
| 6 |   | Kayode, Emmanuella | 16804635 | 862 | 863 | MECPS | 10 | F | NY | W30 | L4 | W14 | W16 | 3.0 | 7 | 19 | 7 | 7.5 |
| 7 |   | Caldeira, Solina | 16445545 | 839 | 836 | SAMMS | 7 | F | NY | W20 | L12 | W26 | W13 | 3.0 | 6 | 20 | 7 | 7 |
| 8 | 8-11 | Hodzhamkulyyeva, S | 16915550 | 949 | 924 | SABB | 3 | F | NY | D10 | W15 | W22 | L1 | 2.5 | 8.5 | 26.5 | 7 | 10 |
| 9 |   | Gross, Cecily | 30090233 | 837 | 840 | HUNTER |   | F | NY | W17 | D22 | W10 | L2 | 2.5 | 8.5 | 24.5 | 7.5 | 10 |
| 10 |   | Lin, Annie | 17164962 | 623 | 718 |   |   |   | NY | D8 | W31 | L9 | W22 | 2.5 | 6.5 | 21.5 | 6 | 7 |
| 11 |   | White, Sariya | 16439604 | 996 | 947 | SABSMS | 7 | F | NY | W29 | L13 | D24 | W18 | 2.5 | 5 | 15.5 | 6 | 6 |
| 12 | 12-21 | Moreno-Lopez, Shes | 16616984 | 753 | 757 | 696M | 9 | F | NY | W25 | W7 | L3 | L5 | 2.0 | 6 | 28 | 7 | 11 |
| 13 |   | Ghile, Alexandra | 17019355 | 793 | 795 | Q300 | 8 | F | NY | W26 | W11 | L1 | L7 | 2.0 | 5.5 | 26 | 7 | 10.5 |
| 14 |   | Rivera, Jaelynn | 16457732 | 434 | 573 | SASGMS | 7 | F | NY | L5 | W19 | L6 | W25 | 2.0 | 5 | 21 | 4 | 9 |
| 15 |   | King, Kaileigh | 17253630 | 452 | 573 | SASGMS | 7 | F | NY | W21 | L8 | L2 | W28 | 2.0 | 4.5 | 22.5 | 5 | 9 |
| 16 |   | Lu, Sharon | 15571527 | 803 | 771 | BTHS | 10 | F | NY | W32 | L1 | W27 | L6 | 2.0 | 4.5 | 20 | 6 | 9.5 |
| 17 |   | Korneeva, Anna | 17145908 | 485 | 554 |   | 6 | F | NY | L9 | L2 | W29 | W26 | 2.0 | 3.5 | 21.5 | 3 | 8.5 |
| 18 |   | Yatsyshyn , Taisiy | 30295625 | 699 | 689 | 228K | 08 | F | NY | W27 | L5 | W25 | L11 | 2.0 | 3.5 | 20 | 6 | 7.5 |
| 19 |   | Schechter, Sophie | 16810100 | 907 | 839 | 318K | 7 | F | NY | L1 | L14 | W31 | W23 | 2.0 | 3 | 18.5 | 3 | 7.5 |
| 20 |   | Guachiac Tambriz, Hany | 16561935 | 514 | 513 | 180K |   |   | NY | L7 | L25 | W30 | W27 | 2.0 | 2 | 13 | 3 | 5.5 |
| 21 |   | Ezhilarasan, Kanis | 16900137 | 831 | 748 | 237Q | 6 | F | NY | L15 | W28 | D23 | D24 | 2.0 | 2 | 10.5 | 4.5 | 4.5 |
| 22 | 22-23 | Hanslip, Aaliyah | 16470287 | 754 | 712 | SABSMS | 8 | F | NY | W33 | D9 | L8 | L10 | 1.5 | 6.5 | 20.5 | 5.5 | 9 |
| 23 |   | Julmis, Ariana | 30340219 | 110 | 166 | SABSMS | 6 | F | NY | L4 | B--- | D21 | L19 | 1.5 | 4 | 16.5 | 3 | 7 |
| 24 | 24-30 | Ragin, Jalisa | 30254896 | 629 | 649 | MECPS | 9 | F | | L2 | L3 | D11 | D21 | 1.0 | 8.5 | 30.5 | 1.5 | 12.5 |
| 25 |   | Epstein, Hannah | 30492945 | unr. | 430 | MURROW | 12 | F |   | L12 | W20 | L18 | L14 | 1.0 | 6 | 20 | 3 | 8 |
| 26 |   | Weng, Bowei | 30316861 | 162 | 255 |   |   |   | NY | L13 | W29 | L7 | L17 | 1.0 | 5 | 18 | 3 | 8 |
| 27 |   | Boyke-Darbouze, Ta | 30465217 | unr. | 398 | MECPS | 10 | F | NY | L18 | W30 | L16 | L20 | 1.0 | 4.5 | 15 | 3 | 6.5 |
| 28 |   | Firuzova, Anisakho | 16956868 | 347 | 322 | 180K | 7 | F | NY | L3 | L21 | B--- | L15 | 1.0 | 4 | 19.5 | 1 | 8 |
| 29 |   | Munduzbaeva, Aisul | 16721260 | 667 | 571 | 180K | 7 | F | NY | L11 | L26 | L17 | W31 | 1.0 | 3.5 | 13.5 | 1 | 6 |
| 30 |   | Pyfrom, Kristina | 30329735 | 514 | 431 | SASGMS | 7 | F | NY | L6 | L27 | L20 | B--- | 1.0 | 3 | 13 | 0 | 6 |
| 31 | 31 | Bennett, Kyra A | 17037221 | 377 | 345 | MECPS |   |   | NY | H--- | L10 | L19 | L29 | 0.5 | 3 | 10 | 1.5 | 5.5 |
| 32 | 32-33 | Mildiani, Elene | 30331526 | 221 | 217 | EDWARD R | 10 | F | NY | L16 | --- | --- | --- | 0.0 | 0 | 6 | 0 | 2 |
| 33 |   | Dzotsenidze, Nino | 30329978 | 102 | 100 | MURROW | 10 | F | NY | L22 | --- | --- | --- | 0.0 | 0 | 5.5 | 0 | 1.5 |
2022 All Girls NYC Chess Championship at 11M: JH-HS Unrated (Grades 6-12)
| | | | | | | | | | | | | | | | | | | |
| --- | --- | --- | --- | --- | --- | --- | --- | --- | --- | --- | --- | --- | --- | --- | --- | --- | --- | --- |
| # | Place | Name | ID | Rtng | Post | Team | Grd | Sex | St | Rd 1 | Rd 2 | Rd 3 | Rd 4 | Tot | TB-Med | TB-Op. cumul. | TB-Cumul. | TB-Solkoff |
| 1 | 1 | Wu, Kelly |   | unr. | 1150 | SABSMS | 7 | M |   | W6 | W7 | W3 | W2 | 4.0 | 7 | 24 | 10 | 8.5 |
| 2 | 2-4 | Ying, Qing |   | unr. | 1061 |   |   |   |   | W11 | B--- | W5 | L1 | 3.0 | 7 | 16.5 | 8 | 7 |
| 3 |   | Baskarasingam, Suri |   | unr. | 1066 | ICS | 8 | F |   | W4 | B--- | L1 | W11 | 3.0 | 7 | 16 | 7 | 7 |
| 4 |   | Fernandez, Denise |   | unr. | 913 | 582K | 8 | F |   | L3 | B--- | W7 | W8 | 3.0 | 5.5 | 15 | 5 | 5.5 |
| 5 | 5 | Nedd, Earlene |   | unr. | 868 | 582K | 8 | F |   | H--- | W8 | L2 | W10 | 2.5 | 5.5 | 15.5 | 5.5 | 5.5 |
| 6 | 6 | Luciano, Rayne |   | unr. | 676 | 582K |   |   |   | L1 | W11 | D10 | D7 | 2.0 | 3 | 19.5 | 4.5 | 7.5 |
| 7 | 7-10 | Davis, Nia |   | unr. | 628 | MECPS | 10 | F |   | W9 | L1 | L4 | D6 | 1.5 | 5.5 | 21 | 4.5 | 9.5 |
| 8 |   | McKnight, Katherine |   | unr. | 550 | MECPS |   |   |   | H--- | L5 | W9 | L4 | 1.5 | 3.5 | 12 | 3.5 | 6 |
| 9 |   | Harvey, Sariyah |   | unr. | 365 | SABSMS | 6 | F |   | L7 | D10 | L8 | B--- | 1.5 | 3 | 12 | 1.5 | 4.5 |
| 10 |   | Bah, Isatou |   | unr. | 490 | MECPS |   |   |   | H--- | D9 | D6 | L5 | 1.5 | 3 | 11.5 | 4 | 5.5 |
| 11 | 11 | Hackney, Nuriyah |   | unr. | 350 | MECPS | 6 | F |   | L2 | L6 | B--- | L3 | 1.0 | 4.5 | 19.5 | 1 | 7 |
2022 All Girls NYC Chess Championship at 11M: EL Championship (K-5 U1000)
| | | | | | | | | | | | | | | | | | | |
| --- | --- | --- | --- | --- | --- | --- | --- | --- | --- | --- | --- | --- | --- | --- | --- | --- | --- | --- |
| # | Place | Name | ID | Rtng | Post | Team | Grd | Sex | St | Rd 1 | Rd 2 | Rd 3 | Rd 4 | Tot | TB-Med | TB-Op. cumul. | TB-Cumul. | TB-Solkoff |
| 1 | 1-3 | Wang, Lacey | 30313152 | 785 | 920 | BRS | 3 | F | CT | W51 | W29 | W8 | W5 | 4.0 | 8 | 26 | 10 | 9 |
| 2 |   | Gandhi, Manasvi | 30110152 | 770 | 908 | 115Q | 3 | F | NY | W41 | W37 | W9 | W6 | 4.0 | 8 | 25 | 10 | 10 |
| 3 |   | Marcal, Ziva | 16237692 | 759 | 872 | SPEYER | 3 | F | NY | W32 | W31 | W24 | W7 | 4.0 | 7 | 27 | 10 | 9 |
| 4 | 4 | Yang, Leah | 30127892 | 881 | 894 | ROBERT S | 5 | F | NY | W27 | W54 | D20 | W11 | 3.5 | 7.5 | 26 | 9 | 8.5 |
| 5 | 5-19 | Chan, Hannah | 16857178 | 981 | 968 | DALTON | 4 | F | NY | W35 | W17 | W14 | L1 | 3.0 | 10 | 29 | 9 | 12 |
| 6 |   | Chan, Ivana Rose | 30052464 | 926 | 918 | SAUW | 4 | F | NY | W28 | W16 | W15 | L2 | 3.0 | 10 | 29 | 9 | 12 |
| 7 |   | Agarwal, Reha | 16596576 | 822 | 829 | DALTON | 4 | F | NY | W23 | W26 | W10 | L3 | 3.0 | 9.5 | 28.5 | 9 | 11.5 |
| 8 |   | Vostrikova, Maya | 17059498 | 575 | 692 | SPEYER | 3 | F | NY | W60 | W12 | L1 | W25 | 3.0 | 9 | 25 | 8 | 10 |
| 9 |   | Agarwal, Risha | 16596582 | 699 | 714 | DALTON | 4 | F | NY | W45 | W25 | L2 | W34 | 3.0 | 8 | 24.5 | 8 | 9.5 |
| 10 |   | Wang, Alice | 30169814 | 616 | 731 | 188Q | 4 | F | NY | W39 | W21 | L7 | W24 | 3.0 | 7.5 | 25 | 8 | 9.5 |
| 11 |   | Klein, Eden Lily | 16805430 | 678 | 727 | DALTON | 3 | F | NY | W55 | W49 | W13 | L4 | 3.0 | 7.5 | 23 | 9 | 8.5 |
| 12 |   | Lin, Luoxi | 17148935 | 845 | 829 | SAUS | 3 | F | NY | W52 | L8 | W30 | W20 | 3.0 | 7.5 | 23 | 7 | 8.5 |
| 13 |   | Chu, Sofia | 17352126 | 752 | 747 | 130M | 5 | F | NY | W46 | W34 | L11 | W26 | 3.0 | 7 | 24.5 | 8 | 8.5 |
| 14 |   | Han, Eleanor Ja | 17263422 | 734 | 751 | HUNTER | 5 | F | NY | W56 | W33 | L5 | W31 | 3.0 | 7 | 24 | 8 | 8 |
| 15 |   | Carpenter, Emily J | 17043967 | 636 | 663 | 334M | 4 | F | NY | W38 | W50 | L6 | W33 | 3.0 | 7 | 22 | 8 | 8 |
| 16 |   | Williams, Daryn | 17121834 | 612 | 644 | SABXMS | 5 | F | NY | W61 | L6 | W52 | W27 | 3.0 | 6 | 19 | 7 | 7 |
| 17 |   | Sillau, Jade | 16765652 | 592 | 625 | SAHY | 5 | F | NY | W58 | L5 | W51 | W32 | 3.0 | 6 | 18 | 7 | 7 |
| 18 |   | Ryerson, Olivia | 16727082 | 699 | 676 | MES | 4 | F | PA | L25 | W48 | W35 | W42 | 3.0 | 6 | 17.5 | 6 | 7.5 |
| 19 |   | Ghile, Gabriela | 17019361 | 741 | 720 | Q300 | 5 | F | NY | W65 | L24 | W28 | W29 | 3.0 | 6 | 17 | 7 | 6 |
| 20 | 20-23 | Ma, Dorothy | 17213413 | 710 | 729 | Q300 | 3 | F | NY | W36 | W22 | D4 | L12 | 2.5 | 9 | 26 | 8 | 11 |
| 21 |   | Wang, Dena N | 30043285 | 984 | 922 | HUNTER | 1 | F | NY | W30 | L10 | D22 | W43 | 2.5 | 7.5 | 21.5 | 6 | 9 |
| 22 |   | Rim, Arianna Nahri | 30071204 | 456 | 552 | SPEYER | 4 | F | NY | W43 | L20 | D21 | W47 | 2.5 | 6.5 | 21 | 6 | 8 |
| 23 |   | Chan, Kara | 30437368 | 395 | 430 | SAUS | 2 | F | NY | L7 | D63 | W59 | W54 | 2.5 | 5 | 17.5 | 4.5 | 5.5 |
| 24 | 24-42 | Tan, Trinity | 30133655 | 485 | 554 | SABSMS | 5 | F | NY | W44 | W19 | L3 | L10 | 2.0 | 6 | 27.5 | 7 | 11.5 |
| 25 |   | Boateng, Christabe | 17296051 | 256 | 449 | SABX2 | 3 | F | NY | W18 | L9 | W37 | L8 | 2.0 | 6 | 27 | 6 | 11 |
| 26 |   | Paraoan, Hadley | 17040094 | 530 | 526 | SAUS | 4 | F | NY | W63 | L7 | W36 | L13 | 2.0 | 5 | 22.5 | 6 | 8.5 |
| 27 |   | Zhou, Brianna | 17301994 | 411 | 478 | SABH | 3 | F | NY | L4 | W62 | W40 | L16 | 2.0 | 5 | 21 | 5 | 9.5 |
| 28 |   | Chang, Camila Bell | 17182974 | 415 | 439 | 150Q | 5 |   | NY | L6 | W38 | L19 | W60 | 2.0 | 5 | 21 | 4 | 9 |
| 29 |   | Chew, Marissa | 17272384 | 562 | 553 | SAHY | 3 | F | NY | W57 | L1 | W46 | L19 | 2.0 | 4.5 | 21.5 | 6 | 9.5 |
| 30 |   | Edwards, Samantha | 30310272 | 453 | 463 | SABSMS | 5 | F | NY | L21 | W39 | L12 | W61 | 2.0 | 4.5 | 18 | 4 | 8.5 |
| 31 |   | Velampalli, Akshay | 16542522 | 529 | 525 | JCGCS | 5 | F | NJ | W59 | L3 | W56 | L14 | 2.0 | 4 | 24 | 6 | 9 |
| 32 |   | Matteo, Eugenia | 17267514 | 352 | 424 | TNS | 4 | F | NY | L3 | W57 | W54 | L17 | 2.0 | 4 | 22 | 5 | 9 |
| 33 |   | Duong, Kimberly | 30337822 | 475 | 471 | SAUS | 2 | F | NY | W66 | L14 | W50 | L15 | 2.0 | 4 | 20 | 6 | 7 |
| 34 |   | Giorgio, Francesca | 30080880 | 508 | 495 | SPEYER | 4 | F | NY | W64 | L13 | W53 | L9 | 2.0 | 4 | 19 | 6 | 7 |
| 35 |   | Du, Angela | 30129036 | 420 | 429 |   | 3 | F | NY | L5 | W58 | L18 | W55 | 2.0 | 4 | 18 | 4 | 8 |
| 36 |   | Keane, Mira | 30206661 | 302 | 352 | TNS | 4 | F | | L20 | W44 | L26 | W53 | 2.0 | 3.5 | 19.5 | 4 | 7 |
| 37 |   | Lightman, Zelda An | 16504810 | 520 | 496 | DALTON | 4 | F | NY | W53 | L2 | L25 | W49 | 2.0 | 3 | 23 | 5 | 8 |
| 38 |   | White, Amara | 17304313 | 186 | 286 | SABSMS | 3 | F | NY | L15 | L28 | W57 | W51 | 2.0 | 3 | 16 | 3 | 7 |
| 39 |   | Chung, Alyssa | 30411749 | 158 | 278 | SABH | 3 | F | NY | L10 | L30 | W64 | W52 | 2.0 | 3 | 15 | 3 | 6 |
| 40 |   | Vidap, Samanvi | 16726444 | 688 | 600 | CANTIAGU | 4 | F | NY | L49 | W47 | L27 | W56 | 2.0 | 2.5 | 15.5 | 4 | 5.5 |
| 41 |   | Cherian, Meghna | 17140923 | 359 | 350 | SAHY | 4 | F | NY | L2 | L53 | W63 | W50 | 2.0 | 2 | 18.5 | 3 | 6.5 |
| 42 |   | Sims, Kalilah | 17250295 | 512 | 467 | SAUS | 4 | F | NY | L50 | W55 | W49 | L18 | 2.0 | 2 | 16 | 5 | 6 |
| 43 | 43-48 | Rothman, Katelyn | 30075796 | unr. | 302 | DALTON | 3 | F | NY | L22 | D45 | W48 | L21 | 1.5 | 5.5 | 17 | 3.5 | 8 |
| 44 |   | Sanchez, Biana K | 30466152 | unr. | 215 | 329Q | 5 | F | NY | L24 | L36 | W58 | D46 | 1.5 | 4.5 | 15.5 | 2.5 | 6.5 |
| 45 |   | Baene-Kinglake, Si | 30353011 | 255 | 248 | TNS | 4 | F | NY | L9 | D43 | L47 | W59 | 1.5 | 4 | 18 | 2.5 | 7 |
| 46 |   | Adoyi, Ilham | 30337430 | 340 | 321 | SABX3 | 4 | F | NY | L13 | W64 | L29 | D44 | 1.5 | 3.5 | 16.5 | 3.5 | 6.5 |
| 47 |   | Morene, Amyah | 30456197 | unr. | 326 | SABX3 | 4 | F | NY | H--- | L40 | W45 | L22 | 1.5 | 3.5 | 12.5 | 3.5 | 6 |
| 48 |   | Palacios, Gabriela | 30427413 | 117 | 129 | SABX3 | 4 | F | NY | H--- | L18 | L43 | W63 | 1.5 | 2 | 11 | 2.5 | 5 |
| 49 | 49-62 | Endres, Carly | 30021970 | 227 | 275 | UNITED | 5 | F | NY | W40 | L11 | L42 | L37 | 1.0 | 6 | 23 | 4 | 9 |
| 50 |   | Chen, Elaine | 30458516 | unr. | 283 | 131K | 5 | F | NY | W42 | L15 | L33 | L41 | 1.0 | 6 | 22 | 4 | 9 |
| 51 |   | Lyu, Shuman | 17184813 | 367 | 325 | SAUS | 2 | F | NY | L1 | W60 | L17 | L38 | 1.0 | 6 | 22 | 3 | 10 |
| 52 |   | Miller, Diondra | 17118077 | 380 | 328 | SABSMS | 5 | F | NY | L12 | W61 | L16 | L39 | 1.0 | 6 | 19 | 3 | 9 |
| 53 |   | Naumova, Anna | 30373817 | unr. | 213 | 195K | 3 | F | NY | L37 | W41 | L34 | L36 | 1.0 | 6 | 18 | 3 | 8 |
| 54 |   | Ezhilarasan, Neha | 17179840 | 573 | 482 | 21Q | 4 | F | NY | W62 | L4 | L32 | L23 | 1.0 | 5.5 | 19.5 | 4 | 9 |
| 55 |   | Comar, Hema | 30368990 | 217 | 208 | SUCCESS | 4 | F | NY | L11 | L42 | W62 | L35 | 1.0 | 5 | 19 | 2 | 8 |
| 56 |   | Brown, Gabrielle | 16860873 | 310 | 295 | NG | 4 | F | NY | L14 | W66 | L31 | L40 | 1.0 | 4 | 18 | 3 | 7 |
| 57 |   | Hutchful, Ewurama | 30338366 | 106 | 113 | SABX2 | 3 | F | NY | L29 | L32 | L38 | W65 | 1.0 | 4 | 14 | 1 | 6 |
| 58 |   | Springer, Emily | 17305405 | 136 | 125 | SABX3 | 3 | F | NY | L17 | L35 | L44 | W64 | 1.0 | 3.5 | 13.5 | 1 | 6.5 |
| 59 |   | Chekhlov, Natalie | 17124641 | 105 | 110 | SAHY | 4 | F | NY | L31 | W65 | L23 | L45 | 1.0 | 3.5 | 13 | 3 | 6 |
| 60 |   | Yorke, Danielle | 30339435 | 129 | 136 | SABH | 4 | F | NY | L8 | L51 | W65 | L28 | 1.0 | 3 | 15 | 2 | 6 |
| 61 |   | Lopez, Rubi | 17275556 | 143 | 142 |   | 3 | F | NY | L16 | L52 | W66 | L30 | 1.0 | 3 | 14 | 2 | 6 |
| 62 |   | Ramirez, Layla Mei | 17308322 | 118 | 109 | TAG | 2 | F | NY | L54 | L27 | L55 | W66 | 1.0 | 2 | 11 | 1 | 4 |
| 63 | 63 | Biklen, Anika | 30206633 | 105 | 100 | TNS | 4 | F | | L26 | D23 | L41 | L48 | 0.5 | 5.5 | 16 | 1.5 | 8 |
| 64 | 64-66 | Algumaei, Zainab | 30458396 | unr. | 100 | 131K | 5 | F | NY | L34 | L46 | L39 | L58 | 0.0 | 4.5 | 13.5 | 0 | 6.5 |
| 65 |   | Asamoah, Lillian | 17305013 | 336 | 179 | SABX3 | 3 | F | NY | L19 | L59 | L60 | L57 | 0.0 | 3 | 13 | 0 | 6 |
| 66 |   | Sosa, Yosmeily | 30367863 | unr. | 100 | SABX3 | 4 | F | NY | L33 | L56 | L61 | L62 | 0.0 | 3 | 12 | 0 | 5 |
2022 All Girls NYC Chess Championship at 11M: Primary Championship (K-2 Open)
| | | | | | | | | | | | | | | | | | | |
| --- | --- | --- | --- | --- | --- | --- | --- | --- | --- | --- | --- | --- | --- | --- | --- | --- | --- | --- |
| # | Place | Name | ID | Rtng | Post | Team | Grd | Sex | St | Rd 1 | Rd 2 | Rd 3 | Rd 4 | Tot | TB-Med | TB-Op. cumul. | TB-Cumul. | TB-Solkoff |
| 1 | 1-2 | Chong, Min hee | 17197920 | 481 | 701 | NEST | 2 | F | NY | W25 | W18 | W4 | W8 | 4.0 | 7.5 | 23.5 | 10 | 8.5 |
| 2 |   | Shen, Alice | 30325151 | 681 | 797 | 334M | 1 | F | NY | W19 | W14 | W10 | W3 | 4.0 | 7 | 25 | 10 | 8.5 |
| 3 | 3-7 | Wei, Ariel Yuyi | 30138189 | unr. | 853 | PS79 | 1 | F | NY | W13 | W6 | W5 | L2 | 3.0 | 10 | 29 | 9 | 12 |
| 4 |   | Guttman, Lyla Summ | 16777001 | 1010 | 968 |   | 2 | F | NY | W11 | W22 | L1 | W14 | 3.0 | 8 | 25 | 8 | 9 |
| 5 |   | Vasilatos, Carolin | 30068380 | 564 | 615 | DALTON | 1 | F | NY | W12 | W15 | L3 | W11 | 3.0 | 7 | 25 | 8 | 9 |
| 6 |   | Cai, Leah | 30316463 | 561 | 623 | 130M | 1 | F | NY | W23 | L3 | W17 | W12 | 3.0 | 7 | 21 | 7 | 8 |
| 7 |   | Cao, Clarissa | 17223446 | 665 | 653 | SAHY | 2 | F | NY | W24 | L10 | W9 | W15 | 3.0 | 6.5 | 21.5 | 7 | 7.5 |
| 8 | 8-9 | Zhou, Abigail | 30290965 | 321 | 518 | SPEYER | 0 | F | NY | W16 | D9 | W13 | L1 | 2.5 | 8.5 | 23.5 | 7.5 | 10.5 |
| 9 |   | Hwee, Mackenzie | 17058830 | 644 | 625 | DALTON | 2 | F | NY | W17 | D8 | L7 | W22 | 2.5 | 7.5 | 22.5 | 6.5 | 8.5 |
| 10 | 10-21 | Kotchen, Audrey | 30081018 | 277 | 397 | DALTON | 1 | F | NY | W26 | W7 | L2 | L13 | 2.0 | 5 | 24 | 7 | 10 |
| 11 |   | Patibandla, Naina | 30147932 | 137 | 290 | PCS | 0 | F | NJ | L4 | W21 | W18 | L5 | 2.0 | 5 | 24 | 5 | 10 |
| 12 |   | Kwong, Scarlett | 30068720 | unr. | 490 | 300Q | 2 | F | NY | L5 | W16 | W22 | L6 | 2.0 | 5 | 22 | 5 | 9 |
| 13 |   | Martin, Charlotte | 30136112 | 632 | 594 | JES | 0 | F | CT | L3 | W20 | L8 | W10 | 2.0 | 4.5 | 27.5 | 4 | 9 |
| 14 |   | Yuk, Kiyomi | 30136211 | 393 | 414 | NEST | 2 | F | NY | W27 | L2 | W23 | L4 | 2.0 | 4 | 21 | 6 | 8.5 |
| 15 |   | Mienert, Mia Mai | 17226651 | 185 | 257 | HUNTER | 1 | F | NY | W28 | L5 | W25 | L7 | 2.0 | 4 | 20 | 6 | 8 |
| 16 |   | Chao , Rose | 30456042 | unr. | 327 | DALTON | 1 | F | NY | L8 | L12 | W19 | W23 | 2.0 | 3.5 | 18.5 | 3 | 7 |
| 17 |   | Chung, Alyson | 30464850 | unr. | 387 | SABH | 2 | F | NY | L9 | W27 | L6 | W26 | 2.0 | 3.5 | 16.5 | 4 | 7 |
| 18 |   | Nti-Kyei, Michelle | 30456170 | unr. | 320 | SABX3 | 2 | F | NY | W29 | L1 | L11 | W24 | 2.0 | 3 | 18 | 5 | 7.5 |
| 19 |   | Evans, Jessica Eli | 30285558 | 104 | 134 | HACKLEY | 0 | F | NY | L2 | B--- | L16 | W25 | 2.0 | 3 | 16 | 3 | 7 |
| 20 |   | Li, Paula | 30295947 | 103 | 106 | 11M | 1 | F | NY | B--- | L13 | L24 | W28 | 2.0 | 2 | 8 | 4 | 4 |
| 21 |   | Lu, Naomi | 30465513 | unr. | 221 | 300Q | 1 | F | NY | L22 | L11 | W27 | W29 | 2.0 | 1.5 | 10 | 3 | 4 |
| 22 | 22-29 | Liang, Melanie | 30351272 | 325 | 314 | SCARSDAL | 1 | F | NY | W21 | L4 | L12 | L9 | 1.0 | 6.5 | 22.5 | 4 | 9.5 |
| 23 |   | Liu, Alexandra | 30464451 | unr. | 156 | SABH | 1 | F | NY | L6 | W28 | L14 | L16 | 1.0 | 5 | 18 | 3 | 8 |
| 24 |   | Gupta, Rayna Teal | 30427614 | unr. | 100 | DALTON | 0 | F | NY | L7 | L26 | W20 | L18 | 1.0 | 4.5 | 19 | 2 | 7.5 |
| 25 |   | Wong, Emilia Rach | 30455188 | unr. | 100 | DALTON | 0 | F | NY | L1 | W29 | L15 | L19 | 1.0 | 4 | 20 | 3 | 8 |
| 26 |   | Gafney, Daria | 30454022 | unr. | 100 | HUNTER | 0 | F | NY | L10 | W24 | L28 | L17 | 1.0 | 4 | 15 | 3 | 6 |
| 27 |   | Wang, Baisi L | 30063606 | unr. | 100 | DALTON | 2 | F | NY | L14 | L17 | L21 | B--- | 1.0 | 4 | 13 | 0 | 6 |
| 28 |   | Rodriguez, Aurora | 30464557 | unr. | 100 | DALTON | 0 | F | NY | L15 | L23 | W26 | L20 | 1.0 | 3.5 | 16 | 2 | 5.5 |
| 29 |   | Bruns, Alexandra Y | 30192402 | 218 | 100 | HUNTER | 1 | F | NY | L18 | L25 | B--- | L21 | 1.0 | 3 | 11 | 1 | 5 |
2022 All Girls NYC Chess Championship at 11M: EL Unrated (K-5)
| | | | | | | | | | | | | | | | | | | |
| --- | --- | --- | --- | --- | --- | --- | --- | --- | --- | --- | --- | --- | --- | --- | --- | --- | --- | --- |
| # | Place | Name | ID | Rtng | Post | Team | Grd | Sex | St | Rd 1 | Rd 2 | Rd 3 | Rd 4 | Tot | TB-Med | TB-Op. cumul. | TB-Cumul. | TB-Solkoff |
| 1 | 1-4 | Qiu, Anna |   | unr. | 1150 | 2M | 4 | F |   | W11 | W27 | W13 | W5 | 4.0 | 9 | 29 | 10 | 11 |
| 2 |   | Mercado, Jessica |   | unr. | 1150 | 329Q | 3 | F |   | W9 | W43 | W15 | W19 | 4.0 | 8 | 24 | 10 | 9 |
| 3 |   | Jin, Sarah |   | unr. | 1150 | 2M | 4 | F |   | W7 | W22 | W55 | W12 | 4.0 | 7.5 | 19 | 10 | 7.5 |
| 4 |   | Galanis, Georgia |   | unr. | 1150 | 234M | 2 | F |   | W31 | W55 | W22 | W8 | 4.0 | 7 | 17 | 10 | 7 |
| 5 | 5-14 | Flores, Elizabeth |   | unr. | 1150 | SABSMS | 5 | F |   | W25 | W10 | W6 | L1 | 3.0 | 10 | 29 | 9 | 11.5 |
| 6 |   | Lasalle-Garcia, Eiliana |   | unr. | 1096 | 131K | 5 | F |   | W20 | W16 | L5 | W25 | 3.0 | 8 | 24.5 | 8 | 9.5 |
| 7 |   | Vostrikova, Lily | 30197166 | unr. | 1050 | SPEYER | 0 | F | NY | L3 | W38 | W48 | W29 | 3.0 | 8 | 24 | 6 | 9 |
| 8 |   | Nurmanbetov, Adele |   | unr. | 1116 | 134K | 2 | F |   | W47 | W24 | W23 | L4 | 3.0 | 8 | 23 | 9 | 9 |
| 9 |   | Canario King, Kerla Valentina |   | unr. | 1077 | SABSMS | 5 | F |   | L2 | W37 | W24 | W28 | 3.0 | 8 | 23 | 6 | 10 |
| 10 |   | Lin, Michelle |   | unr. | 1087 | 131K | 4 | F |   | W17 | L5 | W46 | W23 | 3.0 | 7.5 | 24.5 | 7 | 8.5 |
| 11 |   | Guan, Ophelia |   | unr. | 1066 | SAUS | 1 | F |   | L1 | W30 | W43 | W39 | 3.0 | 7.5 | 22 | 6 | 8.5 |
| 12 |   | Chen, Aisha |   | unr. | 1059 | 150Q | 4 | F |   | B--- | W32 | W35 | L3 | 3.0 | 7.5 | 20 | 8 | 7.5 |
| 13 |   | Burchak, Lybid |   | unr. | 1058 | PS 85Q | 5 | F |   | W44 | W39 | L1 | W32 | 3.0 | 7 | 21 | 8 | 8 |
| 14 |   | Wang, Amelia |   | unr. | 973 | SAUS | 2 | F |   | D40 | W51 | D18 | W27 | 3.0 | 6 | 19 | 7 | 7 |
| 15 | 15-21 | Cancio, Corinna |   | unr. | 965 | SAUS | 2 | F |   | W34 | W53 | L2 | D16 | 2.5 | 8.5 | 24.5 | 7.5 | 10.5 |
| 16 |   | Nappo, Carmela |   | unr. | 911 | 45R | 4 | F |   | W30 | L6 | W36 | D15 | 2.5 | 7.5 | 23.5 | 6.5 | 9.5 |
| 17 |   | Barutcu, Camila |   | unr. | 909 | HUNTER | 1 | F | NY | L10 | W50 | W26 | D18 | 2.5 | 7.5 | 18 | 5.5 | 8 |
| 18 |   | Bhavanjot, Kaur |   | unr. | 940 | 148Q |   |   |   | H--- | W33 | D14 | D17 | 2.5 | 7.5 | 17 | 6 | 7.5 |
| 19 |   | Yu, Cindy |   | unr. | 1041 | 148Q |   |   |   | H--- | W41 | W40 | L2 | 2.5 | 7 | 18 | 6.5 | 7 |
| 20 |   | Mouzon, Avani |   | unr. | 813 | GPREPBX | 5 | F |   | L6 | W44 | D39 | W42 | 2.5 | 6 | 17.5 | 5 | 7 |
| 21 |   | Cabezas, Magda |   | unr. | 817 | 148Q |   |   |   | H--- | L26 | W44 | W40 | 2.5 | 4.5 | 10 | 4.5 | 4.5 |
| 22 | 22-38 | Kerr, Nastassia |   | unr. | 1018 | 314M | 3 | F |   | W26 | L3 | L4 | W38 | 2.0 | 6 | 30 | 5 | 12 |
| 23 |   | Rosinus, Mary |   | unr. | 826 | BRC | 2 | F |   | W28 | W36 | L8 | L10 | 2.0 | 5 | 26 | 7 | 10 |
| 24 |   | Cruz, Kassandra |   | unr. | 805 | 329Q | 4 | F |   | W29 | L8 | L9 | W55 | 2.0 | 5 | 20 | 5 | 8 |
| 25 |   | Seldon, Tenzin |   | unr. | 755 | 329Q | 4 | F |   | L5 | B--- | W41 | L6 | 2.0 | 4.5 | 20 | 4 | 7.5 |
| 26 |   | Li, Yi Shin |   | unr. | 762 | 131K | 4 | F |   | L22 | W21 | L17 | W46 | 2.0 | 4.5 | 18 | 4 | 8 |
| 27 |   | Diaz, Riley |   | unr. | 753 | GPREPBX | 3 | F |   | W48 | L1 | W45 | L14 | 2.0 | 4 | 23.5 | 6 | 9 |
| 28 |   | Morales, Zeneida |   | unr. | 750 | 131K | 5 | F |   | L23 | W31 | W52 | L9 | 2.0 | 4 | 19 | 5 | 8 |
| 29 |   | Soichet-Mason, Arielle |   | unr. | 718 | SAUS | 1 | F |   | L24 | W47 | W34 | L7 | 2.0 | 4 | 16 | 5 | 8 |
| 30 |   | Chen, Winnie |   | unr. | 701 | 2M | 4 | F |   | L16 | L11 | W47 | W52 | 2.0 | 3.5 | 16.5 | 3 | 7.5 |
| 31 |   | Weng, Muran |   | unr. | 657 | GPREPBX | 4 | F |   | L4 | L28 | W54 | W48 | 2.0 | 3 | 19.5 | 3 | 7.5 |
| 32 |   | Ajagbe , Aarinolaoluwa |   | unr. | 716 | SAUS | 1 | F |   | W50 | L12 | X53 | L13 | 2.0 | 3 | 17 | 5 | 6 |
| 33 |   | Partida, Allison |   | unr. | 662 | GPREPBX | 3 | F |   | D45 | L18 | W51 | D35 | 2.0 | 3 | 16.5 | 4.5 | 6.5 |
| 34 |   | Adhikari, Sambridhi |   | unr. | 682 | 329Q | 3 | F |   | L15 | W56 | L29 | W43 | 2.0 | 3 | 16.5 | 4 | 5.5 |
| 35 |   | Torres-Martinez, Tauri |   | unr. | 702 | 148Q |   |   |   | H--- | W49 | L12 | D33 | 2.0 | 3 | 15 | 5 | 5.5 |
| 36 |   | Wu, Alice |   | unr. | 618 | 2M | 5 | F |   | W57 | L23 | L16 | W50 | 2.0 | 2.5 | 14.5 | 5 | 5 |
| 37 |   | Reyes, Lia |   | unr. | 639 | GPREPBX | 3 | F |   | L43 | L9 | W56 | W45 | 2.0 | 2 | 13.5 | 3 | 5 |
| 38 |   | Howard, Zoe |   | unr. | 666 | 185K | 1 | F |   | W55 | L7 | W57 | L22 | 2.0 | 2 | 11 | 6 | 5 |
| 39 | 39-42 | Jiang, Daisy |   | unr. | 701 | 131K | 5 | F |   | W46 | L13 | D20 | L11 | 1.5 | 6.5 | 22 | 5 | 9.5 |
| 40 |   | Melton, Charley |   | unr. | 695 | 329Q | 5 | F |   | D14 | W42 | L19 | L21 | 1.5 | 6.5 | 21.5 | 5 | 9.5 |
| 41 |   | Mendoza-Pacheco, Natalie |   | unr. | 498 | 131K | 5 | F |   | D49 | L19 | L25 | W54 | 1.5 | 3 | 14.5 | 3 | 5.5 |
| 42 |   | Grulich, Sebella |   | unr. | 516 | 148Q |   |   |   | H--- | L40 | W49 | L20 | 1.5 | 2.5 | 12.5 | 3.5 | 5 |
| 43 | 43-53 | Pham, Leanna |   | unr. | 602 | HUNTER | 0 | F |   | W37 | L2 | L11 | L34 | 1.0 | 7 | 23 | 4 | 11 |
| 44 |   | Cassar, Juliet |   | unr. | 509 | 131K | 5 | F |   | L13 | L20 | L21 | W57 | 1.0 | 5 | 17.5 | 1 | 8 |
| 45 |   | Fletcher, Antonella |   | unr. | 421 | HUNTER | 0 | F |   | D33 | D52 | L27 | L37 | 1.0 | 5 | 16.5 | 3.5 | 7 |
| 46 |   | Polite, Leia |   | unr. | 478 | SABX3 | 4 | F |   | L39 | W54 | L10 | L26 | 1.0 | 4 | 17.5 | 3 | 7 |
| 47 |   | Rosario, Gia |   | unr. | 470 | GPREPBX | 3 | F |   | L8 | L29 | L30 | W56 | 1.0 | 4 | 17 | 1 | 7 |
| 48 |   | Deo, Arielle |   | unr. | 478 | 30Q | 4 | F |   | L27 | W57 | L7 | L31 | 1.0 | 4 | 15 | 3 | 7 |
| 49 |   | Caban, Ava |   | unr. | 358 | GPREPBX | 4 | F |   | D41 | L35 | L42 | D51 | 1.0 | 4 | 13.5 | 2.5 | 6 |
| 50 |   | Garcia, Zara |   | unr. | 350 | GPREPBX | 4 | F |   | L32 | L17 | B--- | L36 | 1.0 | 3.5 | 15.5 | 1 | 6 |
| 51 |   | Zarate, Sasha |   | unr. | 350 | 148Q |   |   |   | H--- | L14 | L33 | D49 | 1.0 | 3 | 14 | 2 | 6 |
| 52 |   | Mendez, Eva |   | unr. | 375 | 148Q |   |   |   | H--- | D45 | L28 | L30 | 1.0 | 3 | 11.5 | 3 | 5 |
| 53 |   | Krzyzostaniak, Zofia |   | unr. | 525 | GPREPBX | 3 | F |   | W56 | L15 | F32 | --- | 1.0 | 0 | 7.5 | 4 | 2.5 |
| 54 | 54 | Carillo, Kimberly |   | unr. | 350 | 148Q |   |   |   | H--- | L46 | L31 | L41 | 0.5 | 2.5 | 9 | 1.5 | 4.5 |
| 55 | 55-57 | Morales-Ramirez, Ailany |   | unr. | 350 | 131K | 5 | F |   | L38 | L4 | L3 | L24 | 0.0 | 8 | 31 | 0 | 12 |
| 56 |   | Raysor, Kaliah |   | unr. | 350 | SABX2 | 1 | F |   | L53 | L34 | L37 | L47 | 0.0 | 5 | 12 | 0 | 7 |
| 57 |   | Rivera, Gianalee |   | unr. | 350 | GPREPBX | 3 | F |   | L36 | L48 | L38 | L44 | 0.0 | 4 | 15 | 0 | 6 |
Team Roster and Standings. 2022 All Girls NYC Chess Championship at 11M: K-12 Championship (1200 +)
| | | | | | | | |
| --- | --- | --- | --- | --- | --- | --- | --- |
|   | Code | Name | Score | TBrk[M] | TBrk[S] | TBrk[O] | TBrk[C] |
| 1 | 318K | 318K (1544.5) | 5.0 | 10 | 16 | 40 | 12 |
|   |   | Stark, Chloe A (1545) 3.0 |   |   |   |   |   |
|   |   | Alvarado-Yoshida, Nico (1544) 2.0 |   |   |   |   |   |
| 2 | SAHY | SAHY (1338.3) | 4.5 | 14 | 24 | 56 | 11 |
|   |   | Tamisi, Gabriella (1315) 2.0 |   |   |   |   |   |
|   |   | Ward, Milana (1398) 1.5 |   |   |   |   |   |
|   |   | Cao, Kaylee (1302) 1.0 |   |   |   |   |   |
| 3 | MIDWOOD | MIDWOOD (907.5) | 3.0 | 8 | 13 | 29 | 6 |
|   |   | Mock, Weiyee (871) 2.0 |   |   |   |   |   |
|   |   | Lin, Sophia (944) 1.0 |   |   |   |   |   |
Team Roster and Standings. 2022 All Girls NYC Chess Championship at 11M: K-12 Classic (Under 1200)
| | | | | | | | |
| --- | --- | --- | --- | --- | --- | --- | --- |
|   | Code | Name | Score | TBrk[M] | TBrk[S] | TBrk[O] | TBrk[C] |
| 1 | PMES | PMES (861.5) | 4.5 | 10 | 15 | 39.5 | 10.5 |
|   |   | Ayithi, Yashaswini (1061) 3.5 |   |   |   |   |   |
|   |   | Gorantla, Medha Sr (662) 1.0 |   |   |   |   |   |
| 2 | SAMW | SAMW (1014.0) | 4.0 | 10 | 13 | 34 | 10 |
|   |   | Lee, Hannah (1030) 3.0 |   |   |   |   |   |
|   |   | Rao, Dhruthi (998) 1.0 |   |   |   |   |   |
| 3 | Q300 | Q300 (0.0) | 1.5 | 8 | 14.5 | 30.5 | 3 |
|   |   | Yan, Vicki (unr.) 1.5 |   |   |   |   |   |
|   |   | Yan, Claire (unr.) 0.0 |   |   |   |   |   |
Team Roster and Standings. 2022 All Girls NYC Chess Championship at 11M: JH-HS Novice (6-12 U1000)
| | | | | | | | |
| --- | --- | --- | --- | --- | --- | --- | --- |
|   | Code | Name | Score | TBrk[M] | TBrk[S] | TBrk[O] | TBrk[C] |
| 1 | SASGMS | SASGMS (582.7) | 7.0 | 19.5 | 29 | 71.5 | 18 |
|   |   | Rousseau, Ava (782) 3.0 |   |   |   |   |   |
|   |   | Rivera, Jaelynn (434) 2.0 |   |   |   |   |   |
|   |   | King, Kaileigh (452) 2.0 |   |   |   |   |   |
| 2 | SAMMS | SAMMS (915.0) | 7.0 | 12.5 | 14.5 | 37 | 17 |
|   |   | Price, Yvonna (991) 4.0 |   |   |   |   |   |
|   |   | Caldeira, Solina (839) 3.0 |   |   |   |   |   |
| 3 | 318K | 318K (862.0) | 6.0 | 9 | 14 | 37 | 13 |
|   |   | Chen, Jiaxin (817) 4.0 |   |   |   |   |   |
|   |   | Schechter, Sophie (907) 2.0 |   |   |   |   |   |
| 4 | SABSMS | SABSMS (620.0) | 5.5 | 15.5 | 22 | 52.5 | 14.5 |
|   |   | White, Sariya (996) 2.5 |   |   |   |   |   |
|   |   | Hanslip, Aaliyah (754) 1.5 |   |   |   |   |   |
|   |   | Julmis, Ariana (110) 1.5 |   |   |   |   |   |
| 5 | MECPS | MECPS (622.7) | 5.0 | 20 | 26.5 | 64.5 | 11.5 |
|   |   | Kayode, Emmanuella (862) 3.0 |   |   |   |   |   |
|   |   | Ragin, Jalisa (629) 1.0 |   |   |   |   |   |
|   |   | Boyke-Darbouze, Ta (unr.) 1.0 |   |   |   |   |   |
| 6 | 180K | 180K (509.3) | 4.0 | 9.5 | 19.5 | 46 | 5 |
|   |   | Guachiac Tambriz, Hany (514) 2.0 |   |   |   |   |   |
|   |   | Firuzova, Anisakho (347) 1.0 |   |   |   |   |   |
|   |   | Munduzbaeva, Aisul (667) 1.0 |   |   |   |   |   |
| 7 | MURROW | MURROW (102.0) | 1.0 | 6 | 9.5 | 25.5 | 3 |
|   |   | Epstein, Hannah (unr.) 1.0 |   |   |   |   |   |
|   |   | Dzotsenidze, Nino (102) 0.0 |   |   |   |   |   |
Team Roster and Standings. 2022 All Girls NYC Chess Championship at 11M: JH-HS Unrated (Grades 6-12)
| | | | | | | | |
| --- | --- | --- | --- | --- | --- | --- | --- |
|   | Code | Name | Score | TBrk[M] | TBrk[S] | TBrk[O] | TBrk[C] |
| 1 | 582K | 582K (0.0) | 7.5 | 14 | 18.5 | 50 | 15 |
|   |   | Fernandez, Denise (unr.) 3.0 |   |   |   |   |   |
|   |   | Nedd, Earlene (unr.) 2.5 |   |   |   |   |   |
|   |   | Luciano, Rayne (unr.) 2.0 |   |   |   |   |   |
| 2 | SABSMS | SABSMS (0.0) | 5.5 | 10 | 13 | 36 | 11.5 |
|   |   | Wu, Kelly (unr.) 4.0 |   |   |   |   |   |
|   |   | Harvey, Sariyah (unr.) 1.5 |   |   |   |   |   |
| 3 | MECPS | MECPS (0.0) | 4.5 | 12 | 21 | 44.5 | 12 |
|   |   | Davis, Nia (unr.) 1.5 |   |   |   |   |   |
|   |   | McKnight, Katherine (unr.) 1.5 |   |   |   |   |   |
|   |   | Bah, Isatou (unr.) 1.5 |   |   |   |   |   |
Team Roster and Standings. 2022 All Girls NYC Chess Championship at 11M: EL Championship (K-5 U1000)
| | | | | | | | |
| --- | --- | --- | --- | --- | --- | --- | --- |
|   | Code | Name | Score | TBrk[M] | TBrk[S] | TBrk[O] | TBrk[C] |
| 1 | SPEYER | SPEYER (614.0) | 9.5 | 22.5 | 27 | 73 | 24 |
|   |   | Marcal, Ziva (759) 4.0 |   |   |   |   |   |
|   |   | Vostrikova, Maya (575) 3.0 |   |   |   |   |   |
|   |   | Rim, Arianna Nahri (456) 2.5 |   |   |   |   |   |
| 2 | DALTON | DALTON (834.0) | 9.0 | 27.5 | 33 | 82 | 26 |
|   |   | Chan, Hannah (981) 3.0 |   |   |   |   |   |
|   |   | Agarwal, Reha (822) 3.0 |   |   |   |   |   |
|   |   | Agarwal, Risha (699) 3.0 |   |   |   |   |   |
| 3 | SAUS | SAUS (629.0) | 7.5 | 17.5 | 22.5 | 63 | 17.5 |
|   |   | Lin, Luoxi (845) 3.0 |   |   |   |   |   |
|   |   | Chan, Kara (395) 2.5 |   |   |   |   |   |
|   |   | Paraoan, Hadley (530) 2.0 |   |   |   |   |   |
| 4 | SAHY | SAHY (504.3) | 7.0 | 12.5 | 23 | 58 | 16 |
|   |   | Sillau, Jade (592) 3.0 |   |   |   |   |   |
|   |   | Chew, Marissa (562) 2.0 |   |   |   |   |   |
|   |   | Cherian, Meghna (359) 2.0 |   |   |   |   |   |
| 5 | SABSMS | SABSMS (439.3) | 6.0 | 13.5 | 27 | 61.5 | 14 |
|   |   | Tan, Trinity (485) 2.0 |   |   |   |   |   |
|   |   | Edwards, Samantha (453) 2.0 |   |   |   |   |   |
|   |   | White, Amara (186) 2.0 |   |   |   |   |   |
| 6 | Q300 | Q300 (725.5) | 5.5 | 15 | 17 | 43 | 15 |
|   |   | Ghile, Gabriela (741) 3.0 |   |   |   |   |   |
|   |   | Ma, Dorothy (710) 2.5 |   |   |   |   |   |
| 7 | HUNTER | HUNTER (859.0) | 5.5 | 14.5 | 17 | 45.5 | 14 |
|   |   | Han, Eleanor Ja (734) 3.0 |   |   |   |   |   |
|   |   | Wang, Dena N (984) 2.5 |   |   |   |   |   |
| 8 | TNS | TNS (303.0) | 5.5 | 11.5 | 23 | 59.5 | 11.5 |
|   |   | Matteo, Eugenia (352) 2.0 |   |   |   |   |   |
|   |   | Keane, Mira (302) 2.0 |   |   |   |   |   |
|   |   | Baene-Kinglake, Si (255) 1.5 |   |   |   |   |   |
| 9 | SABH | SABH (232.7) | 5.0 | 11 | 21.5 | 51 | 10 |
|   |   | Zhou, Brianna (411) 2.0 |   |   |   |   |   |
|   |   | Chung, Alyssa (158) 2.0 |   |   |   |   |   |
|   |   | Yorke, Danielle (129) 1.0 |   |   |   |   |   |
| 10 | SABX3 | SABX3 (270.7) | 4.5 | 9 | 17.5 | 40 | 9.5 |
|   |   | Adoyi, Ilham (340) 1.5 |   |   |   |   |   |
|   |   | Morene, Amyah (unr.) 1.5 |   |   |   |   |   |
|   |   | Palacios, Gabriela (117) 1.5 |   |   |   |   |   |
| 11 | SABX2 | SABX2 (181.0) | 3.0 | 10 | 17 | 41 | 7 |
|   |   | Boateng, Christabe (256) 2.0 |   |   |   |   |   |
|   |   | Hutchful, Ewurama (106) 1.0 |   |   |   |   |   |
| 12 | 131K | 131K (0.0) | 1.0 | 10.5 | 15.5 | 35.5 | 4 |
|   |   | Chen, Elaine (unr.) 1.0 |   |   |   |   |   |
|   |   | Algumaei, Zainab (unr.) 0.0 |   |   |   |   |   |
Team Roster and Standings. 2022 All Girls NYC Chess Championship at 11M: JH-HS Novice (6-12 U1000)
| | | | | | | | |
| --- | --- | --- | --- | --- | --- | --- | --- |
|   | Code | Name | Score | TBrk[M] | TBrk[S] | TBrk[O] | TBrk[C] |
| 1 | SASGMS | SASGMS (582.7) | 7.0 | 19.5 | 28 | 67.5 | 18 |
|   |   | Rousseau, Ava (782) 3.0 |   |   |   |   |   |
|   |   | Rivera, Jaelynn (434) 2.0 |   |   |   |   |   |
|   |   | King, Kaileigh (452) 2.0 |   |   |   |   |   |
| 2 | MECPS | MECPS (622.7) | 6.0 | 17 | 25.5 | 60.5 | 15.5 |
|   |   | Kayode, Emmanuella (862) 3.0 |   |   |   |   |   |
|   |   | Ragin, Jalisa (629) 2.0 |   |   |   |   |   |
|   |   | Boyke-Darbouze, Ta (unr.) 1.0 |   |   |   |   |   |
| 3 | SAMMS | SAMMS (915.0) | 6.0 | 12.5 | 15.5 | 41 | 13 |
|   |   | Price, Yvonna (991) 3.0 |   |   |   |   |   |
|   |   | Caldeira, Solina (839) 3.0 |   |   |   |   |   |
| 4 | 318K | 318K (862.0) | 6.0 | 10 | 15 | 41 | 13 |
|   |   | Chen, Jiaxin (817) 4.0 |   |   |   |   |   |
|   |   | Schechter, Sophie (907) 2.0 |   |   |   |   |   |
| 5 | SABSMS | SABSMS (620.0) | 5.5 | 16.5 | 23 | 56.5 | 14.5 |
|   |   | White, Sariya (996) 2.5 |   |   |   |   |   |
|   |   | Hanslip, Aaliyah (754) 1.5 |   |   |   |   |   |
|   |   | Julmis, Ariana (110) 1.5 |   |   |   |   |   |
| 6 | 180K | 180K (509.3) | 4.0 | 9.5 | 19.5 | 46 | 5 |
|   |   | Guachiac Tambriz, Hany (514) 2.0 |   |   |   |   |   |
|   |   | Firuzova, Anisakho (347) 1.0 |   |   |   |   |   |
|   |   | Munduzbaeva, Aisul (667) 1.0 |   |   |   |   |   |
| 7 | MURROW | MURROW (102.0) | 1.0 | 6 | 9.5 | 25.5 | 3 |
|   |   | Epstein, Hannah (unr.) 1.0 |   |   |   |   |   |
|   |   | Dzotsenidze, Nino (102) 0.0 |   |   |   |   |   |
Team Roster and Standings. 2022 All Girls NYC Chess Championship at 11M: EL Unrated (K-5)
| | | | | | | | |
| --- | --- | --- | --- | --- | --- | --- | --- |
|   | Code | Name | Score | TBrk[M] | TBrk[S] | TBrk[O] | TBrk[C] |
| 1 | 2M | 2M (0.0) | 10.0 | 20 | 26 | 64.5 | 23 |
|   |   | Qiu, Anna (unr.) 4.0 |   |   |   |   |   |
|   |   | Jin, Sarah (unr.) 4.0 |   |   |   |   |   |
|   |   | Chen, Winnie (unr.) 2.0 |   |   |   |   |   |
| 2 | SAUS | SAUS (0.0) | 8.5 | 22 | 26 | 65.5 | 20.5 |
|   |   | Guan, Ophelia (unr.) 3.0 |   |   |   |   |   |
|   |   | Wang, Amelia (unr.) 3.0 |   |   |   |   |   |
|   |   | Cancio, Corinna (unr.) 2.5 |   |   |   |   |   |
| 3 | 131K | 131K (0.0) | 8.0 | 20 | 26 | 67 | 19 |
|   |   | Lasalle-Garcia, Eiliana (unr.) 3.0 |   |   |   |   |   |
|   |   | Lin, Michelle (unr.) 3.0 |   |   |   |   |   |
|   |   | Li, Yi Shin (unr.) 2.0 |   |   |   |   |   |
| 4 | 329Q | 329Q (0.0) | 8.0 | 17.5 | 24.5 | 64 | 19 |
|   |   | Mercado, Jessica (unr.) 4.0 |   |   |   |   |   |
|   |   | Cruz, Kassandra (unr.) 2.0 |   |   |   |   |   |
|   |   | Seldon, Tenzin (unr.) 2.0 |   |   |   |   |   |
| 5 | 148Q | 148Q (0.0) | 7.5 | 19 | 19 | 45 | 17 |
|   |   | Bhavanjot, Kaur (unr.) 2.5 |   |   |   |   |   |
|   |   | Yu, Cindy (unr.) 2.5 |   |   |   |   |   |
|   |   | Cabezas, Magda (unr.) 2.5 |   |   |   |   |   |
| 6 | GPREPBX | GPREPBX (0.0) | 6.5 | 13 | 23.5 | 60.5 | 14 |
|   |   | Mouzon, Avani (unr.) 2.5 |   |   |   |   |   |
|   |   | Diaz, Riley (unr.) 2.0 |   |   |   |   |   |
|   |   | Weng, Muran (unr.) 2.0 |   |   |   |   |   |
| 7 | SABSMS | SABSMS (0.0) | 6.0 | 18 | 21.5 | 52 | 15 |
|   |   | Flores, Elizabeth (unr.) 3.0 |   |   |   |   |   |
|   |   | Canario King, Kerla Valentina (unr.) 3.0 |   |   |   |   |   |
| 8 | HUNTER | HUNTER (0.0) | 4.5 | 19.5 | 26 | 57.5 | 13 |
|   |   | Barutcu, Camila (unr.) 2.5 |   |   |   |   |   |
|   |   | Pham, Leanna (unr.) 1.0 |   |   |   |   |   |
|   |   | Fletcher, Antonella (unr.) 1.0 |   |   |   |   |   |
Final Standings Posted.  We apologize for not having the final standings posted as mentioned on the website.  The updated final standings are now included. We have also submitted the tournament to the USCF for rating (sorry for the delay, some USCF membership took the USCF over 24 hours to renew even though they were paid).
Finally - Our team apologizes for the date error on the trophies.  Anyone with a trophy with 2020 listed instead of 2022 can bring their trophy to one of our events and we will relabel it.
Team Room List (schools not listed will have access to the auditorium).
NYC DOE "Covid" Protocol will be followed. All adults 18+ must show proof of  Vaccination, and all participants and guests must wear a face mask for the event. Finally, all students must have a chaperone present for the entire event.
This event is sponsored by the J & K Pi Family Foundation Inc.
*Please note: There is NOT a waitlist for this event.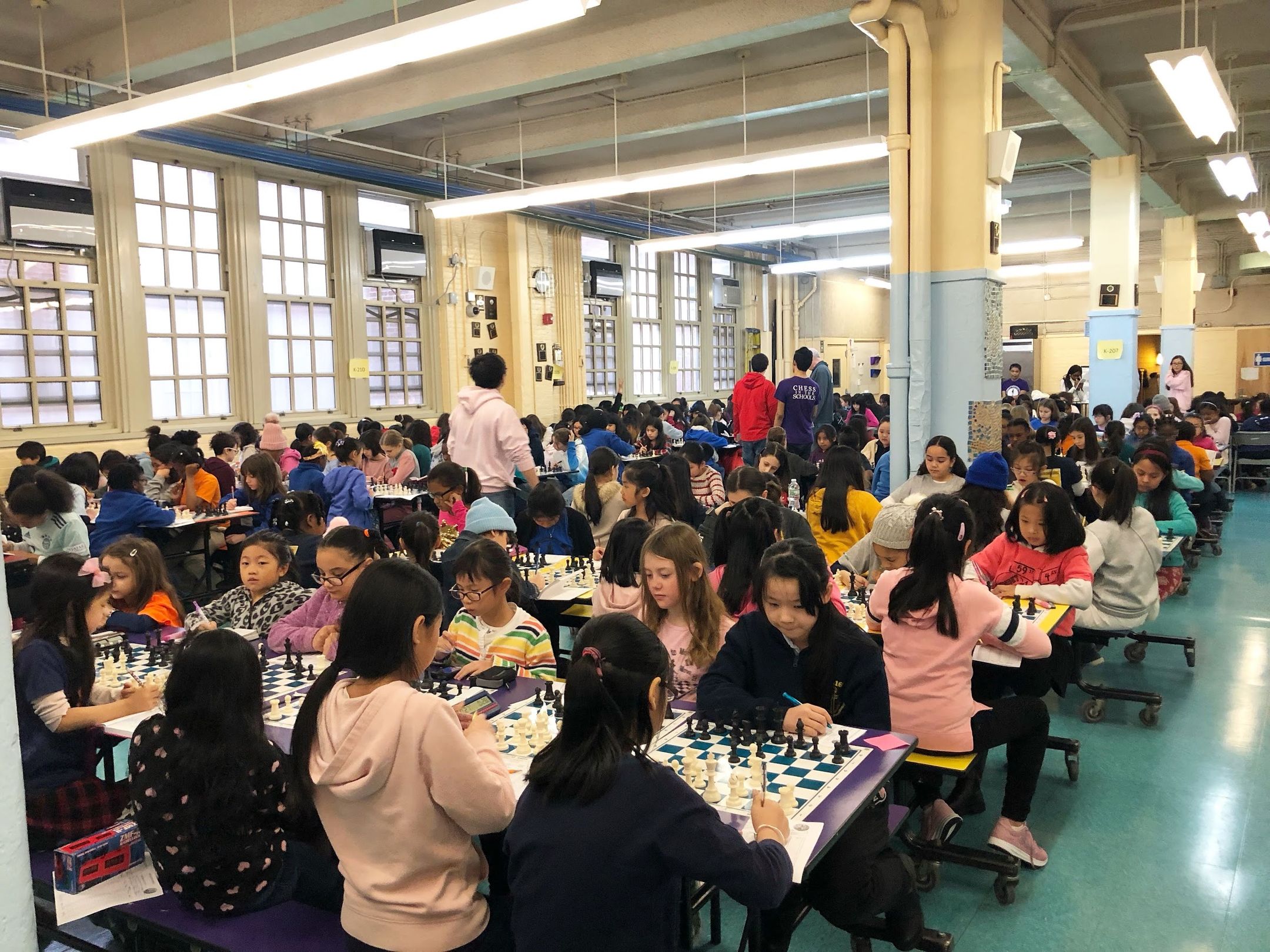 Sections:
K-12 Championship (1200 & up)
K-12 Classic (Under 1200)
JH-HS Novice (6-12 Under 1000)
JH-HS Unrated (Grades 6-12)
EL Championship (K-5 Under 1000)
Primary Championship (K-2 Open)
EL Unrated (Grades K-5 ).
*Team prizes will be calculated by the top-3 scores from the each team by section.
Time Control: 
All sections will be G/30
Schedule:
Check -in: 8:15 AM to 9:30 AM
Round 1: 10:00 AM
Round 2: 11:15 AM
Round 3: 1:00 PM
Round 4: 2:15 PM
Awards: 3:30 PM.
Notes:
Sets, boards, and scoresheets provided. Bring a clock if you have one, and a pen or pencil for notation.
Are CIS tournaments public events? 
Yes, CIS tournaments are public events. By registering to the tournaments, participants (and their caregivers, if applicable) grant full permission to Chess in the Schools to use photographs, video- and/or audio-recordings of them, and/or their children, taken during CIS events in publications, news releases, online, and in other communications related to the mission of Chess in the Schools. No registrants and/or participants are entitled to compensation for their appearance in such materials. All registrants and participants release and discharge CIS from all liability, losses, and damages for libel, slander, invasion of privacy or any other claim arising out of or relating to the use of videotapes, recordings and/or photographs.
2022 All Girls NYC Chess Championship at 11M: K-12 Championship (1200 +)
| | | | | | | | | | | | | | | | | | | |
| --- | --- | --- | --- | --- | --- | --- | --- | --- | --- | --- | --- | --- | --- | --- | --- | --- | --- | --- |
| # | Place | Name | ID | Rtng | Post | Team | Grd | Sex | St | Rd 1 | Rd 2 | Rd 3 | Rd 4 | Tot | TB-Med | TB-Op. cumul. | TB-Cumul. | TB-Solkoff |
| 1 | 1 | Zheng, Tia | 15546331 | 1564 | 1624 |   |   |   | NY | W17 | W11 | D3 | W6 | 3.5 | 7.5 | 23.5 | 9 | 8.5 |
| 2 | 2-5 | Moran, Ella | 14650774 | 1636 | 1651 | HUNTER | 11 | F | NY | W9 | W5 | D6 | D3 | 3.0 | 8.5 | 27.5 | 8.5 | 10.5 |
| 3 |   | Tse, Whitney | 16090927 | 1662 | 1672 | 33M | 5 | F | NY | W18 | W13 | D1 | D2 | 3.0 | 8.5 | 24.5 | 8.5 | 9.5 |
| 4 |   | Jean Baptiste, Gea | 15502518 | 1623 | 1624 | SAHSLA | 11 | F | NY | W10 | L6 | W7 | W11 | 3.0 | 7 | 25 | 7 | 9 |
| 5 |   | Stark, Chloe A | 16138806 | 1545 | 1552 | 318K | 8 | F | NY | W12 | L2 | W9 | W10 | 3.0 | 7 | 21.5 | 7 | 9 |
| 6 | 6-8 | Joseph, Jahia | 16438245 | 1446 | 1502 | SAHE | 8 | F | NY | W14 | W4 | D2 | L1 | 2.5 | 9.5 | 28.5 | 8 | 11 |
| 7 |   | Badillo, Jayleen | 16108848 | 1513 | 1502 | SABSMS |   | F | NY | D8 | W15 | L4 | W14 | 2.5 | 7 | 21 | 6 | 8.5 |
| 8 |   | Loh, Summer | 16422824 | 1219 | 1292 | 77M | 5 | F | NY | D7 | L9 | W12 | W15 | 2.5 | 6.5 | 19 | 5 | 8 |
| 9 | 9-13 | Vidap, Sahasra | 15881774 | 1345 | 1370 | JMS | 6 | F | NY | L2 | W8 | L5 | W18 | 2.0 | 5.5 | 22.5 | 4 | 9.5 |
| 10 |   | Tamisi, Gabriella | 16118604 | 1315 | 1350 | SAHY | 8 | F | NY | L4 | W16 | W13 | L5 | 2.0 | 5 | 21 | 5 | 9 |
| 11 |   | Gorantla, Eesha Sr | 30158337 | 1437 | 1427 | PMES | 7 | F | NJ | W20 | L1 | W19 | L4 | 2.0 | 4 | 19 | 6 | 7.5 |
| 12 |   | Mock, Weiyee | 30263627 | 871 | 1012 | MIDWOOD |   |   | NY | L5 | W17 | L8 | W20 | 2.0 | 3.5 | 13 | 4 | 6.5 |
| 13 |   | Alvarado-Yoshida, Nico | 16059387 | 1544 | 1510 | 318K | 6 | F | NY | W19 | L3 | L10 | W16 | 2.0 | 3 | 18.5 | 5 | 7 |
| 14 | 14-15 | Gao, Lilianna | 30026918 | 1033 | 1126 | RJB | 4 | F | NY | L6 | W18 | D15 | L7 | 1.5 | 5 | 21 | 4 | 7.5 |
| 15 |   | Ward, Milana | 16110640 | 1398 | 1344 | SAHY | 7 | F | NY | W16 | L7 | D14 | L8 | 1.5 | 5 | 17 | 5 | 7.5 |
| 16 | 16-19 | Lin, Sophia | 16155910 | 944 | 997 | MIDWOOD |   |   | NY | L15 | L10 | W17 | L13 | 1.0 | 4.5 | 16 | 2 | 6.5 |
| 17 |   | Cao, Kaylee | 16108091 | 1302 | 1237 | SAHY | 8 | F | NY | L1 | L12 | L16 | W19 | 1.0 | 4 | 18 | 1 | 7.5 |
| 18 |   | Fujita, Anjyu | 16878594 | 1349 | 1293 | SAMW | 5 | F | NY | L3 | L14 | W20 | L9 | 1.0 | 3.5 | 16.5 | 2 | 6.5 |
| 19 |   | Raparthi, Indira L | 16287187 | 1252 | 1215 |   |   |   | NY | L13 | W20 | L11 | L17 | 1.0 | 3 | 12 | 3 | 5 |
| 20 | 20 | Bencosme-Lee, Subi | 16470527 | 1020 | 968 | SAHY | 7 | F | NY | L11 | L19 | L18 | L12 | 0.0 | 4 | 15 | 0 | 6 |
2022 All Girls NYC Chess Championship at 11M: K-12 Classic (Under 1200)
| | | | | | | | | | | | | | | | | | | |
| --- | --- | --- | --- | --- | --- | --- | --- | --- | --- | --- | --- | --- | --- | --- | --- | --- | --- | --- |
| # | Place | Name | ID | Rtng | Post | Team | Grd | Sex | St | Rd 1 | Rd 2 | Rd 3 | Rd 4 | Tot | TB-Med | TB-Op. cumul. | TB-Cumul. | TB-Solkoff |
| 1 | 1-2 | Ahmia, Almes | 16470486 | 1068 | 1175 | SAMTW | 8 | F | NY | H--- | W13 | W6 | W3 | 3.5 | 7 | 18.5 | 7.5 | 7 |
| 2 |   | Ayithi, Yashaswini | 30021117 | 1061 | 1166 | PMES | 3 | F | PA | W10 | D6 | W8 | W7 | 3.5 | 6.5 | 24.5 | 8.5 | 8.5 |
| 3 | 3-5 | Yuen, Daisy | 17036117 | 1027 | 1081 | SPEYER | 3 | F | NY | W19 | W9 | W7 | L1 | 3.0 | 7.5 | 20.5 | 9 | 9 |
| 4 |   | Lee, Hannah | 15790805 | 1030 | 1041 | SAMW | 6 | F | NY | W17 | L8 | W10 | W9 | 3.0 | 6 | 19 | 7 | 7 |
| 5 |   | Degregorio, Sophia | 15811610 | 1017 | 1068 | 412M | 7 | F | NY | W18 | L7 | W15 | W12 | 3.0 | 5 | 15 | 7 | 5 |
| 6 | 6 | Tsukerman, Mia | 16287956 | 945 | 1044 | BASISM | 5 | F | NY | W15 | D2 | L1 | W8 | 2.5 | 9 | 26 | 6.5 | 10 |
| 7 | 7-12 | Kothandaraman, Zoe | 14975934 | 1138 | 1114 | MCFSCM | 10 | F | NY | W16 | W5 | L3 | L2 | 2.0 | 6 | 27.5 | 7 | 10.5 |
| 8 |   | Yang, Sharlene | 30183910 | 888 | 967 | TAG | 3 | F | NY | W12 | W4 | L2 | L6 | 2.0 | 5.5 | 27 | 7 | 11 |
| 9 |   | Phu, Emma | 16882611 | 869 | 938 | 11M | 3 | F | NY | W11 | L3 | W14 | L4 | 2.0 | 5 | 22 | 6 | 9.5 |
| 10 |   | Shah, Devina Ratne | 16503418 | 891 | 964 | BHE | 4 | F | NJ | L2 | W11 | L4 | W15 | 2.0 | 5 | 21.5 | 4 | 9.5 |
| 11 |   | Lin, Becky | 15950103 | 1034 | 1001 |   |   |   | NY | L9 | L10 | W13 | W16 | 2.0 | 3.5 | 16 | 3 | 6.5 |
| 12 |   | Ho, Emery | 16786616 | 1051 | 1015 | SAHY | 6 | F | NY | L8 | W17 | W16 | L5 | 2.0 | 3 | 19 | 5 | 7 |
| 13 | 13-14 | Yan, Vicki | 30104045 | unr. | 829 | Q300 | 6 | F | NY | D14 | L1 | L11 | W17 | 1.5 | 4.5 | 15.5 | 3 | 8 |
| 14 |   | Singh, Yuktha | 16303716 | 1010 | 941 | BMS | 7 | F | NJ | D13 | L15 | L9 | W18 | 1.5 | 2.5 | 12 | 3 | 4.5 |
| 15 | 15-17 | McRoy, Kyla | 17137715 | 1082 | 1008 | SAMMS | 5 | F | NY | L6 | W14 | L5 | L10 | 1.0 | 6 | 20.5 | 3 | 9 |
| 16 |   | Rao, Dhruthi | 30110069 | 998 | 930 | SAMW | 6 | F | NY | L7 | W18 | L12 | L11 | 1.0 | 4 | 15 | 3 | 6 |
| 17 |   | Gorantla, Medha Sr | 30242725 | 662 | 639 | PMES | 1 | F | NJ | L4 | L12 | W18 | L13 | 1.0 | 3.5 | 15 | 2 | 6.5 |
| 18 | 18-19 | Yan, Claire | 30104072 | unr. | 262 | Q300 | 2 | F | NY | L5 | L16 | L17 | L14 | 0.0 | 3.5 | 15 | 0 | 6.5 |
| 19 |   | Bennett, Kyra A | 17037221 | 377 | 375 | MECPS | 9 | F | NY | L3 | --- | --- | --- | 0.0 | 0 | 9 | 0 | 3 |
2022 All Girls NYC Chess Championship at 11M: JH-HS Novice (6-12 U1000)
| | | | | | | | | | | | | | | | | | | |
| --- | --- | --- | --- | --- | --- | --- | --- | --- | --- | --- | --- | --- | --- | --- | --- | --- | --- | --- |
| # | Place | Name | ID | Rtng | Post | Team | Grd | Sex | St | Rd 1 | Rd 2 | Rd 3 | Rd 4 | Tot | TB-Med | TB-Op. cumul. | TB-Cumul. | TB-Solkoff |
| 1 | 1-3 | Jones, Nima | 16315773 | 595 | 954 | JMS | 8 | F | NY | W19 | W16 | W13 | W8 | 4.0 | 6.5 | 23 | 10 | 8.5 |
| 2 |   | Price, Yvonna | 17118213 | 991 | 1037 | SAMMS | 6 | F | NY | W24 | W17 | W15 | W9 | 4.0 | 6.5 | 17 | 10 | 7.5 |
| 3 |   | Chen, Jiaxin | 17142611 | 817 | 945 | 318K | 8 | F | NY | W28 | W24 | W12 | W4 | 4.0 | 6 | 18.5 | 10 | 6.5 |
| 4 | 4-7 | Rousseau, Ava | 30065028 | 782 | 872 | SASGMS | 8 | F | NY | W23 | W6 | W5 | L3 | 3.0 | 10 | 28 | 9 | 11 |
| 5 |   | Zhuo, Sophia | 15949380 | 825 | 857 |   |   |   | NY | W14 | W18 | L4 | W12 | 3.0 | 7 | 26 | 8 | 9 |
| 6 |   | Kayode, Emmanuella | 16804635 | 862 | 863 | MECPS | 10 | F | NY | W30 | L4 | W14 | W16 | 3.0 | 7 | 19 | 7 | 7.5 |
| 7 |   | Caldeira, Solina | 16445545 | 839 | 836 | SAMMS | 7 | F | NY | W20 | L12 | W26 | W13 | 3.0 | 6 | 20 | 7 | 7 |
| 8 | 8-11 | Hodzhamkulyyeva, S | 16915550 | 949 | 924 | SABB | 3 | F | NY | D10 | W15 | W22 | L1 | 2.5 | 8.5 | 26.5 | 7 | 10 |
| 9 |   | Gross, Cecily | 30090233 | 837 | 840 | HUNTER |   | F | NY | W17 | D22 | W10 | L2 | 2.5 | 8.5 | 24.5 | 7.5 | 10 |
| 10 |   | Lin, Annie | 17164962 | 623 | 718 |   |   |   | NY | D8 | W31 | L9 | W22 | 2.5 | 6.5 | 21.5 | 6 | 7 |
| 11 |   | White, Sariya | 16439604 | 996 | 947 | SABSMS | 7 | F | NY | W29 | L13 | D24 | W18 | 2.5 | 5 | 15.5 | 6 | 6 |
| 12 | 12-21 | Moreno-Lopez, Shes | 16616984 | 753 | 757 | 696M | 9 | F | NY | W25 | W7 | L3 | L5 | 2.0 | 6 | 28 | 7 | 11 |
| 13 |   | Ghile, Alexandra | 17019355 | 793 | 795 | Q300 | 8 | F | NY | W26 | W11 | L1 | L7 | 2.0 | 5.5 | 26 | 7 | 10.5 |
| 14 |   | Rivera, Jaelynn | 16457732 | 434 | 573 | SASGMS | 7 | F | NY | L5 | W19 | L6 | W25 | 2.0 | 5 | 21 | 4 | 9 |
| 15 |   | King, Kaileigh | 17253630 | 452 | 573 | SASGMS | 7 | F | NY | W21 | L8 | L2 | W28 | 2.0 | 4.5 | 22.5 | 5 | 9 |
| 16 |   | Lu, Sharon | 15571527 | 803 | 771 | BTHS | 10 | F | NY | W32 | L1 | W27 | L6 | 2.0 | 4.5 | 20 | 6 | 9.5 |
| 17 |   | Korneeva, Anna | 17145908 | 485 | 554 |   | 6 | F | NY | L9 | L2 | W29 | W26 | 2.0 | 3.5 | 21.5 | 3 | 8.5 |
| 18 |   | Yatsyshyn , Taisiy | 30295625 | 699 | 689 | 228K | 08 | F | NY | W27 | L5 | W25 | L11 | 2.0 | 3.5 | 20 | 6 | 7.5 |
| 19 |   | Schechter, Sophie | 16810100 | 907 | 839 | 318K | 7 | F | NY | L1 | L14 | W31 | W23 | 2.0 | 3 | 18.5 | 3 | 7.5 |
| 20 |   | Guachiac Tambriz, Hany | 16561935 | 514 | 513 | 180K |   |   | NY | L7 | L25 | W30 | W27 | 2.0 | 2 | 13 | 3 | 5.5 |
| 21 |   | Ezhilarasan, Kanis | 16900137 | 831 | 748 | 237Q | 6 | F | NY | L15 | W28 | D23 | D24 | 2.0 | 2 | 10.5 | 4.5 | 4.5 |
| 22 | 22-23 | Hanslip, Aaliyah | 16470287 | 754 | 712 | SABSMS | 8 | F | NY | W33 | D9 | L8 | L10 | 1.5 | 6.5 | 20.5 | 5.5 | 9 |
| 23 |   | Julmis, Ariana | 30340219 | 110 | 166 | SABSMS | 6 | F | NY | L4 | B--- | D21 | L19 | 1.5 | 4 | 16.5 | 3 | 7 |
| 24 | 24-30 | Ragin, Jalisa | 30254896 | 629 | 649 | MECPS | 9 | F | | L2 | L3 | D11 | D21 | 1.0 | 8.5 | 30.5 | 1.5 | 12.5 |
| 25 |   | Epstein, Hannah | 30492945 | unr. | 430 | MURROW | 12 | F |   | L12 | W20 | L18 | L14 | 1.0 | 6 | 20 | 3 | 8 |
| 26 |   | Weng, Bowei | 30316861 | 162 | 255 |   |   |   | NY | L13 | W29 | L7 | L17 | 1.0 | 5 | 18 | 3 | 8 |
| 27 |   | Boyke-Darbouze, Ta | 30465217 | unr. | 398 | MECPS | 10 | F | NY | L18 | W30 | L16 | L20 | 1.0 | 4.5 | 15 | 3 | 6.5 |
| 28 |   | Firuzova, Anisakho | 16956868 | 347 | 322 | 180K | 7 | F | NY | L3 | L21 | B--- | L15 | 1.0 | 4 | 19.5 | 1 | 8 |
| 29 |   | Munduzbaeva, Aisul | 16721260 | 667 | 571 | 180K | 7 | F | NY | L11 | L26 | L17 | W31 | 1.0 | 3.5 | 13.5 | 1 | 6 |
| 30 |   | Pyfrom, Kristina | 30329735 | 514 | 431 | SASGMS | 7 | F | NY | L6 | L27 | L20 | B--- | 1.0 | 3 | 13 | 0 | 6 |
| 31 | 31 | Bennett, Kyra A | 17037221 | 377 | 345 | MECPS |   |   | NY | H--- | L10 | L19 | L29 | 0.5 | 3 | 10 | 1.5 | 5.5 |
| 32 | 32-33 | Mildiani, Elene | 30331526 | 221 | 217 | EDWARD R | 10 | F | NY | L16 | --- | --- | --- | 0.0 | 0 | 6 | 0 | 2 |
| 33 |   | Dzotsenidze, Nino | 30329978 | 102 | 100 | MURROW | 10 | F | NY | L22 | --- | --- | --- | 0.0 | 0 | 5.5 | 0 | 1.5 |
2022 All Girls NYC Chess Championship at 11M: JH-HS Unrated (Grades 6-12)
| | | | | | | | | | | | | | | | | | | |
| --- | --- | --- | --- | --- | --- | --- | --- | --- | --- | --- | --- | --- | --- | --- | --- | --- | --- | --- |
| # | Place | Name | ID | Rtng | Post | Team | Grd | Sex | St | Rd 1 | Rd 2 | Rd 3 | Rd 4 | Tot | TB-Med | TB-Op. cumul. | TB-Cumul. | TB-Solkoff |
| 1 | 1 | Wu, Kelly |   | unr. | 1150 | SABSMS | 7 | M |   | W6 | W7 | W3 | W2 | 4.0 | 7 | 24 | 10 | 8.5 |
| 2 | 2-4 | Ying, Qing |   | unr. | 1061 |   |   |   |   | W11 | B--- | W5 | L1 | 3.0 | 7 | 16.5 | 8 | 7 |
| 3 |   | Baskarasingam, Suri |   | unr. | 1066 | ICS | 8 | F |   | W4 | B--- | L1 | W11 | 3.0 | 7 | 16 | 7 | 7 |
| 4 |   | Fernandez, Denise |   | unr. | 913 | 582K | 8 | F |   | L3 | B--- | W7 | W8 | 3.0 | 5.5 | 15 | 5 | 5.5 |
| 5 | 5 | Nedd, Earlene |   | unr. | 868 | 582K | 8 | F |   | H--- | W8 | L2 | W10 | 2.5 | 5.5 | 15.5 | 5.5 | 5.5 |
| 6 | 6 | Luciano, Rayne |   | unr. | 676 | 582K |   |   |   | L1 | W11 | D10 | D7 | 2.0 | 3 | 19.5 | 4.5 | 7.5 |
| 7 | 7-10 | Davis, Nia |   | unr. | 628 | MECPS | 10 | F |   | W9 | L1 | L4 | D6 | 1.5 | 5.5 | 21 | 4.5 | 9.5 |
| 8 |   | McKnight, Katherine |   | unr. | 550 | MECPS |   |   |   | H--- | L5 | W9 | L4 | 1.5 | 3.5 | 12 | 3.5 | 6 |
| 9 |   | Harvey, Sariyah |   | unr. | 365 | SABSMS | 6 | F |   | L7 | D10 | L8 | B--- | 1.5 | 3 | 12 | 1.5 | 4.5 |
| 10 |   | Bah, Isatou |   | unr. | 490 | MECPS |   |   |   | H--- | D9 | D6 | L5 | 1.5 | 3 | 11.5 | 4 | 5.5 |
| 11 | 11 | Hackney, Nuriyah |   | unr. | 350 | MECPS | 6 | F |   | L2 | L6 | B--- | L3 | 1.0 | 4.5 | 19.5 | 1 | 7 |
2022 All Girls NYC Chess Championship at 11M: EL Championship (K-5 U1000)
| | | | | | | | | | | | | | | | | | | |
| --- | --- | --- | --- | --- | --- | --- | --- | --- | --- | --- | --- | --- | --- | --- | --- | --- | --- | --- |
| # | Place | Name | ID | Rtng | Post | Team | Grd | Sex | St | Rd 1 | Rd 2 | Rd 3 | Rd 4 | Tot | TB-Med | TB-Op. cumul. | TB-Cumul. | TB-Solkoff |
| 1 | 1-3 | Wang, Lacey | 30313152 | 785 | 920 | BRS | 3 | F | CT | W51 | W29 | W8 | W5 | 4.0 | 8 | 26 | 10 | 9 |
| 2 |   | Gandhi, Manasvi | 30110152 | 770 | 908 | 115Q | 3 | F | NY | W41 | W37 | W9 | W6 | 4.0 | 8 | 25 | 10 | 10 |
| 3 |   | Marcal, Ziva | 16237692 | 759 | 872 | SPEYER | 3 | F | NY | W32 | W31 | W24 | W7 | 4.0 | 7 | 27 | 10 | 9 |
| 4 | 4 | Yang, Leah | 30127892 | 881 | 894 | ROBERT S | 5 | F | NY | W27 | W54 | D20 | W11 | 3.5 | 7.5 | 26 | 9 | 8.5 |
| 5 | 5-19 | Chan, Hannah | 16857178 | 981 | 968 | DALTON | 4 | F | NY | W35 | W17 | W14 | L1 | 3.0 | 10 | 29 | 9 | 12 |
| 6 |   | Chan, Ivana Rose | 30052464 | 926 | 918 | SAUW | 4 | F | NY | W28 | W16 | W15 | L2 | 3.0 | 10 | 29 | 9 | 12 |
| 7 |   | Agarwal, Reha | 16596576 | 822 | 829 | DALTON | 4 | F | NY | W23 | W26 | W10 | L3 | 3.0 | 9.5 | 28.5 | 9 | 11.5 |
| 8 |   | Vostrikova, Maya | 17059498 | 575 | 692 | SPEYER | 3 | F | NY | W60 | W12 | L1 | W25 | 3.0 | 9 | 25 | 8 | 10 |
| 9 |   | Agarwal, Risha | 16596582 | 699 | 714 | DALTON | 4 | F | NY | W45 | W25 | L2 | W34 | 3.0 | 8 | 24.5 | 8 | 9.5 |
| 10 |   | Wang, Alice | 30169814 | 616 | 731 | 188Q | 4 | F | NY | W39 | W21 | L7 | W24 | 3.0 | 7.5 | 25 | 8 | 9.5 |
| 11 |   | Klein, Eden Lily | 16805430 | 678 | 727 | DALTON | 3 | F | NY | W55 | W49 | W13 | L4 | 3.0 | 7.5 | 23 | 9 | 8.5 |
| 12 |   | Lin, Luoxi | 17148935 | 845 | 829 | SAUS | 3 | F | NY | W52 | L8 | W30 | W20 | 3.0 | 7.5 | 23 | 7 | 8.5 |
| 13 |   | Chu, Sofia | 17352126 | 752 | 747 | 130M | 5 | F | NY | W46 | W34 | L11 | W26 | 3.0 | 7 | 24.5 | 8 | 8.5 |
| 14 |   | Han, Eleanor Ja | 17263422 | 734 | 751 | HUNTER | 5 | F | NY | W56 | W33 | L5 | W31 | 3.0 | 7 | 24 | 8 | 8 |
| 15 |   | Carpenter, Emily J | 17043967 | 636 | 663 | 334M | 4 | F | NY | W38 | W50 | L6 | W33 | 3.0 | 7 | 22 | 8 | 8 |
| 16 |   | Williams, Daryn | 17121834 | 612 | 644 | SABXMS | 5 | F | NY | W61 | L6 | W52 | W27 | 3.0 | 6 | 19 | 7 | 7 |
| 17 |   | Sillau, Jade | 16765652 | 592 | 625 | SAHY | 5 | F | NY | W58 | L5 | W51 | W32 | 3.0 | 6 | 18 | 7 | 7 |
| 18 |   | Ryerson, Olivia | 16727082 | 699 | 676 | MES | 4 | F | PA | L25 | W48 | W35 | W42 | 3.0 | 6 | 17.5 | 6 | 7.5 |
| 19 |   | Ghile, Gabriela | 17019361 | 741 | 720 | Q300 | 5 | F | NY | W65 | L24 | W28 | W29 | 3.0 | 6 | 17 | 7 | 6 |
| 20 | 20-23 | Ma, Dorothy | 17213413 | 710 | 729 | Q300 | 3 | F | NY | W36 | W22 | D4 | L12 | 2.5 | 9 | 26 | 8 | 11 |
| 21 |   | Wang, Dena N | 30043285 | 984 | 922 | HUNTER | 1 | F | NY | W30 | L10 | D22 | W43 | 2.5 | 7.5 | 21.5 | 6 | 9 |
| 22 |   | Rim, Arianna Nahri | 30071204 | 456 | 552 | SPEYER | 4 | F | NY | W43 | L20 | D21 | W47 | 2.5 | 6.5 | 21 | 6 | 8 |
| 23 |   | Chan, Kara | 30437368 | 395 | 430 | SAUS | 2 | F | NY | L7 | D63 | W59 | W54 | 2.5 | 5 | 17.5 | 4.5 | 5.5 |
| 24 | 24-42 | Tan, Trinity | 30133655 | 485 | 554 | SABSMS | 5 | F | NY | W44 | W19 | L3 | L10 | 2.0 | 6 | 27.5 | 7 | 11.5 |
| 25 |   | Boateng, Christabe | 17296051 | 256 | 449 | SABX2 | 3 | F | NY | W18 | L9 | W37 | L8 | 2.0 | 6 | 27 | 6 | 11 |
| 26 |   | Paraoan, Hadley | 17040094 | 530 | 526 | SAUS | 4 | F | NY | W63 | L7 | W36 | L13 | 2.0 | 5 | 22.5 | 6 | 8.5 |
| 27 |   | Zhou, Brianna | 17301994 | 411 | 478 | SABH | 3 | F | NY | L4 | W62 | W40 | L16 | 2.0 | 5 | 21 | 5 | 9.5 |
| 28 |   | Chang, Camila Bell | 17182974 | 415 | 439 | 150Q | 5 |   | NY | L6 | W38 | L19 | W60 | 2.0 | 5 | 21 | 4 | 9 |
| 29 |   | Chew, Marissa | 17272384 | 562 | 553 | SAHY | 3 | F | NY | W57 | L1 | W46 | L19 | 2.0 | 4.5 | 21.5 | 6 | 9.5 |
| 30 |   | Edwards, Samantha | 30310272 | 453 | 463 | SABSMS | 5 | F | NY | L21 | W39 | L12 | W61 | 2.0 | 4.5 | 18 | 4 | 8.5 |
| 31 |   | Velampalli, Akshay | 16542522 | 529 | 525 | JCGCS | 5 | F | NJ | W59 | L3 | W56 | L14 | 2.0 | 4 | 24 | 6 | 9 |
| 32 |   | Matteo, Eugenia | 17267514 | 352 | 424 | TNS | 4 | F | NY | L3 | W57 | W54 | L17 | 2.0 | 4 | 22 | 5 | 9 |
| 33 |   | Duong, Kimberly | 30337822 | 475 | 471 | SAUS | 2 | F | NY | W66 | L14 | W50 | L15 | 2.0 | 4 | 20 | 6 | 7 |
| 34 |   | Giorgio, Francesca | 30080880 | 508 | 495 | SPEYER | 4 | F | NY | W64 | L13 | W53 | L9 | 2.0 | 4 | 19 | 6 | 7 |
| 35 |   | Du, Angela | 30129036 | 420 | 429 |   | 3 | F | NY | L5 | W58 | L18 | W55 | 2.0 | 4 | 18 | 4 | 8 |
| 36 |   | Keane, Mira | 30206661 | 302 | 352 | TNS | 4 | F | | L20 | W44 | L26 | W53 | 2.0 | 3.5 | 19.5 | 4 | 7 |
| 37 |   | Lightman, Zelda An | 16504810 | 520 | 496 | DALTON | 4 | F | NY | W53 | L2 | L25 | W49 | 2.0 | 3 | 23 | 5 | 8 |
| 38 |   | White, Amara | 17304313 | 186 | 286 | SABSMS | 3 | F | NY | L15 | L28 | W57 | W51 | 2.0 | 3 | 16 | 3 | 7 |
| 39 |   | Chung, Alyssa | 30411749 | 158 | 278 | SABH | 3 | F | NY | L10 | L30 | W64 | W52 | 2.0 | 3 | 15 | 3 | 6 |
| 40 |   | Vidap, Samanvi | 16726444 | 688 | 600 | CANTIAGU | 4 | F | NY | L49 | W47 | L27 | W56 | 2.0 | 2.5 | 15.5 | 4 | 5.5 |
| 41 |   | Cherian, Meghna | 17140923 | 359 | 350 | SAHY | 4 | F | NY | L2 | L53 | W63 | W50 | 2.0 | 2 | 18.5 | 3 | 6.5 |
| 42 |   | Sims, Kalilah | 17250295 | 512 | 467 | SAUS | 4 | F | NY | L50 | W55 | W49 | L18 | 2.0 | 2 | 16 | 5 | 6 |
| 43 | 43-48 | Rothman, Katelyn | 30075796 | unr. | 302 | DALTON | 3 | F | NY | L22 | D45 | W48 | L21 | 1.5 | 5.5 | 17 | 3.5 | 8 |
| 44 |   | Sanchez, Biana K | 30466152 | unr. | 215 | 329Q | 5 | F | NY | L24 | L36 | W58 | D46 | 1.5 | 4.5 | 15.5 | 2.5 | 6.5 |
| 45 |   | Baene-Kinglake, Si | 30353011 | 255 | 248 | TNS | 4 | F | NY | L9 | D43 | L47 | W59 | 1.5 | 4 | 18 | 2.5 | 7 |
| 46 |   | Adoyi, Ilham | 30337430 | 340 | 321 | SABX3 | 4 | F | NY | L13 | W64 | L29 | D44 | 1.5 | 3.5 | 16.5 | 3.5 | 6.5 |
| 47 |   | Morene, Amyah | 30456197 | unr. | 326 | SABX3 | 4 | F | NY | H--- | L40 | W45 | L22 | 1.5 | 3.5 | 12.5 | 3.5 | 6 |
| 48 |   | Palacios, Gabriela | 30427413 | 117 | 129 | SABX3 | 4 | F | NY | H--- | L18 | L43 | W63 | 1.5 | 2 | 11 | 2.5 | 5 |
| 49 | 49-62 | Endres, Carly | 30021970 | 227 | 275 | UNITED | 5 | F | NY | W40 | L11 | L42 | L37 | 1.0 | 6 | 23 | 4 | 9 |
| 50 |   | Chen, Elaine | 30458516 | unr. | 283 | 131K | 5 | F | NY | W42 | L15 | L33 | L41 | 1.0 | 6 | 22 | 4 | 9 |
| 51 |   | Lyu, Shuman | 17184813 | 367 | 325 | SAUS | 2 | F | NY | L1 | W60 | L17 | L38 | 1.0 | 6 | 22 | 3 | 10 |
| 52 |   | Miller, Diondra | 17118077 | 380 | 328 | SABSMS | 5 | F | NY | L12 | W61 | L16 | L39 | 1.0 | 6 | 19 | 3 | 9 |
| 53 |   | Naumova, Anna | 30373817 | unr. | 213 | 195K | 3 | F | NY | L37 | W41 | L34 | L36 | 1.0 | 6 | 18 | 3 | 8 |
| 54 |   | Ezhilarasan, Neha | 17179840 | 573 | 482 | 21Q | 4 | F | NY | W62 | L4 | L32 | L23 | 1.0 | 5.5 | 19.5 | 4 | 9 |
| 55 |   | Comar, Hema | 30368990 | 217 | 208 | SUCCESS | 4 | F | NY | L11 | L42 | W62 | L35 | 1.0 | 5 | 19 | 2 | 8 |
| 56 |   | Brown, Gabrielle | 16860873 | 310 | 295 | NG | 4 | F | NY | L14 | W66 | L31 | L40 | 1.0 | 4 | 18 | 3 | 7 |
| 57 |   | Hutchful, Ewurama | 30338366 | 106 | 113 | SABX2 | 3 | F | NY | L29 | L32 | L38 | W65 | 1.0 | 4 | 14 | 1 | 6 |
| 58 |   | Springer, Emily | 17305405 | 136 | 125 | SABX3 | 3 | F | NY | L17 | L35 | L44 | W64 | 1.0 | 3.5 | 13.5 | 1 | 6.5 |
| 59 |   | Chekhlov, Natalie | 17124641 | 105 | 110 | SAHY | 4 | F | NY | L31 | W65 | L23 | L45 | 1.0 | 3.5 | 13 | 3 | 6 |
| 60 |   | Yorke, Danielle | 30339435 | 129 | 136 | SABH | 4 | F | NY | L8 | L51 | W65 | L28 | 1.0 | 3 | 15 | 2 | 6 |
| 61 |   | Lopez, Rubi | 17275556 | 143 | 142 |   | 3 | F | NY | L16 | L52 | W66 | L30 | 1.0 | 3 | 14 | 2 | 6 |
| 62 |   | Ramirez, Layla Mei | 17308322 | 118 | 109 | TAG | 2 | F | NY | L54 | L27 | L55 | W66 | 1.0 | 2 | 11 | 1 | 4 |
| 63 | 63 | Biklen, Anika | 30206633 | 105 | 100 | TNS | 4 | F | | L26 | D23 | L41 | L48 | 0.5 | 5.5 | 16 | 1.5 | 8 |
| 64 | 64-66 | Algumaei, Zainab | 30458396 | unr. | 100 | 131K | 5 | F | NY | L34 | L46 | L39 | L58 | 0.0 | 4.5 | 13.5 | 0 | 6.5 |
| 65 |   | Asamoah, Lillian | 17305013 | 336 | 179 | SABX3 | 3 | F | NY | L19 | L59 | L60 | L57 | 0.0 | 3 | 13 | 0 | 6 |
| 66 |   | Sosa, Yosmeily | 30367863 | unr. | 100 | SABX3 | 4 | F | NY | L33 | L56 | L61 | L62 | 0.0 | 3 | 12 | 0 | 5 |
2022 All Girls NYC Chess Championship at 11M: Primary Championship (K-2 Open)
| | | | | | | | | | | | | | | | | | | |
| --- | --- | --- | --- | --- | --- | --- | --- | --- | --- | --- | --- | --- | --- | --- | --- | --- | --- | --- |
| # | Place | Name | ID | Rtng | Post | Team | Grd | Sex | St | Rd 1 | Rd 2 | Rd 3 | Rd 4 | Tot | TB-Med | TB-Op. cumul. | TB-Cumul. | TB-Solkoff |
| 1 | 1-2 | Chong, Min hee | 17197920 | 481 | 701 | NEST | 2 | F | NY | W25 | W18 | W4 | W8 | 4.0 | 7.5 | 23.5 | 10 | 8.5 |
| 2 |   | Shen, Alice | 30325151 | 681 | 797 | 334M | 1 | F | NY | W19 | W14 | W10 | W3 | 4.0 | 7 | 25 | 10 | 8.5 |
| 3 | 3-7 | Wei, Ariel Yuyi | 30138189 | unr. | 853 | PS79 | 1 | F | NY | W13 | W6 | W5 | L2 | 3.0 | 10 | 29 | 9 | 12 |
| 4 |   | Guttman, Lyla Summ | 16777001 | 1010 | 968 |   | 2 | F | NY | W11 | W22 | L1 | W14 | 3.0 | 8 | 25 | 8 | 9 |
| 5 |   | Vasilatos, Carolin | 30068380 | 564 | 615 | DALTON | 1 | F | NY | W12 | W15 | L3 | W11 | 3.0 | 7 | 25 | 8 | 9 |
| 6 |   | Cai, Leah | 30316463 | 561 | 623 | 130M | 1 | F | NY | W23 | L3 | W17 | W12 | 3.0 | 7 | 21 | 7 | 8 |
| 7 |   | Cao, Clarissa | 17223446 | 665 | 653 | SAHY | 2 | F | NY | W24 | L10 | W9 | W15 | 3.0 | 6.5 | 21.5 | 7 | 7.5 |
| 8 | 8-9 | Zhou, Abigail | 30290965 | 321 | 518 | SPEYER | 0 | F | NY | W16 | D9 | W13 | L1 | 2.5 | 8.5 | 23.5 | 7.5 | 10.5 |
| 9 |   | Hwee, Mackenzie | 17058830 | 644 | 625 | DALTON | 2 | F | NY | W17 | D8 | L7 | W22 | 2.5 | 7.5 | 22.5 | 6.5 | 8.5 |
| 10 | 10-21 | Kotchen, Audrey | 30081018 | 277 | 397 | DALTON | 1 | F | NY | W26 | W7 | L2 | L13 | 2.0 | 5 | 24 | 7 | 10 |
| 11 |   | Patibandla, Naina | 30147932 | 137 | 290 | PCS | 0 | F | NJ | L4 | W21 | W18 | L5 | 2.0 | 5 | 24 | 5 | 10 |
| 12 |   | Kwong, Scarlett | 30068720 | unr. | 490 | 300Q | 2 | F | NY | L5 | W16 | W22 | L6 | 2.0 | 5 | 22 | 5 | 9 |
| 13 |   | Martin, Charlotte | 30136112 | 632 | 594 | JES | 0 | F | CT | L3 | W20 | L8 | W10 | 2.0 | 4.5 | 27.5 | 4 | 9 |
| 14 |   | Yuk, Kiyomi | 30136211 | 393 | 414 | NEST | 2 | F | NY | W27 | L2 | W23 | L4 | 2.0 | 4 | 21 | 6 | 8.5 |
| 15 |   | Mienert, Mia Mai | 17226651 | 185 | 257 | HUNTER | 1 | F | NY | W28 | L5 | W25 | L7 | 2.0 | 4 | 20 | 6 | 8 |
| 16 |   | Chao , Rose | 30456042 | unr. | 327 | DALTON | 1 | F | NY | L8 | L12 | W19 | W23 | 2.0 | 3.5 | 18.5 | 3 | 7 |
| 17 |   | Chung, Alyson | 30464850 | unr. | 387 | SABH | 2 | F | NY | L9 | W27 | L6 | W26 | 2.0 | 3.5 | 16.5 | 4 | 7 |
| 18 |   | Nti-Kyei, Michelle | 30456170 | unr. | 320 | SABX3 | 2 | F | NY | W29 | L1 | L11 | W24 | 2.0 | 3 | 18 | 5 | 7.5 |
| 19 |   | Evans, Jessica Eli | 30285558 | 104 | 134 | HACKLEY | 0 | F | NY | L2 | B--- | L16 | W25 | 2.0 | 3 | 16 | 3 | 7 |
| 20 |   | Li, Paula | 30295947 | 103 | 106 | 11M | 1 | F | NY | B--- | L13 | L24 | W28 | 2.0 | 2 | 8 | 4 | 4 |
| 21 |   | Lu, Naomi | 30465513 | unr. | 221 | 300Q | 1 | F | NY | L22 | L11 | W27 | W29 | 2.0 | 1.5 | 10 | 3 | 4 |
| 22 | 22-29 | Liang, Melanie | 30351272 | 325 | 314 | SCARSDAL | 1 | F | NY | W21 | L4 | L12 | L9 | 1.0 | 6.5 | 22.5 | 4 | 9.5 |
| 23 |   | Liu, Alexandra | 30464451 | unr. | 156 | SABH | 1 | F | NY | L6 | W28 | L14 | L16 | 1.0 | 5 | 18 | 3 | 8 |
| 24 |   | Gupta, Rayna Teal | 30427614 | unr. | 100 | DALTON | 0 | F | NY | L7 | L26 | W20 | L18 | 1.0 | 4.5 | 19 | 2 | 7.5 |
| 25 |   | Wong, Emilia Rach | 30455188 | unr. | 100 | DALTON | 0 | F | NY | L1 | W29 | L15 | L19 | 1.0 | 4 | 20 | 3 | 8 |
| 26 |   | Gafney, Daria | 30454022 | unr. | 100 | HUNTER | 0 | F | NY | L10 | W24 | L28 | L17 | 1.0 | 4 | 15 | 3 | 6 |
| 27 |   | Wang, Baisi L | 30063606 | unr. | 100 | DALTON | 2 | F | NY | L14 | L17 | L21 | B--- | 1.0 | 4 | 13 | 0 | 6 |
| 28 |   | Rodriguez, Aurora | 30464557 | unr. | 100 | DALTON | 0 | F | NY | L15 | L23 | W26 | L20 | 1.0 | 3.5 | 16 | 2 | 5.5 |
| 29 |   | Bruns, Alexandra Y | 30192402 | 218 | 100 | HUNTER | 1 | F | NY | L18 | L25 | B--- | L21 | 1.0 | 3 | 11 | 1 | 5 |
2022 All Girls NYC Chess Championship at 11M: EL Unrated (K-5)
| | | | | | | | | | | | | | | | | | | |
| --- | --- | --- | --- | --- | --- | --- | --- | --- | --- | --- | --- | --- | --- | --- | --- | --- | --- | --- |
| # | Place | Name | ID | Rtng | Post | Team | Grd | Sex | St | Rd 1 | Rd 2 | Rd 3 | Rd 4 | Tot | TB-Med | TB-Op. cumul. | TB-Cumul. | TB-Solkoff |
| 1 | 1-4 | Qiu, Anna |   | unr. | 1150 | 2M | 4 | F |   | W11 | W27 | W13 | W5 | 4.0 | 9 | 29 | 10 | 11 |
| 2 |   | Mercado, Jessica |   | unr. | 1150 | 329Q | 3 | F |   | W9 | W43 | W15 | W19 | 4.0 | 8 | 24 | 10 | 9 |
| 3 |   | Jin, Sarah |   | unr. | 1150 | 2M | 4 | F |   | W7 | W22 | W55 | W12 | 4.0 | 7.5 | 19 | 10 | 7.5 |
| 4 |   | Galanis, Georgia |   | unr. | 1150 | 234M | 2 | F |   | W31 | W55 | W22 | W8 | 4.0 | 7 | 17 | 10 | 7 |
| 5 | 5-14 | Flores, Elizabeth |   | unr. | 1150 | SABSMS | 5 | F |   | W25 | W10 | W6 | L1 | 3.0 | 10 | 29 | 9 | 11.5 |
| 6 |   | Lasalle-Garcia, Eiliana |   | unr. | 1096 | 131K | 5 | F |   | W20 | W16 | L5 | W25 | 3.0 | 8 | 24.5 | 8 | 9.5 |
| 7 |   | Vostrikova, Lily | 30197166 | unr. | 1050 | SPEYER | 0 | F | NY | L3 | W38 | W48 | W29 | 3.0 | 8 | 24 | 6 | 9 |
| 8 |   | Nurmanbetov, Adele |   | unr. | 1116 | 134K | 2 | F |   | W47 | W24 | W23 | L4 | 3.0 | 8 | 23 | 9 | 9 |
| 9 |   | Canario King, Kerla Valentina |   | unr. | 1077 | SABSMS | 5 | F |   | L2 | W37 | W24 | W28 | 3.0 | 8 | 23 | 6 | 10 |
| 10 |   | Lin, Michelle |   | unr. | 1087 | 131K | 4 | F |   | W17 | L5 | W46 | W23 | 3.0 | 7.5 | 24.5 | 7 | 8.5 |
| 11 |   | Guan, Ophelia |   | unr. | 1066 | SAUS | 1 | F |   | L1 | W30 | W43 | W39 | 3.0 | 7.5 | 22 | 6 | 8.5 |
| 12 |   | Chen, Aisha |   | unr. | 1059 | 150Q | 4 | F |   | B--- | W32 | W35 | L3 | 3.0 | 7.5 | 20 | 8 | 7.5 |
| 13 |   | Burchak, Lybid |   | unr. | 1058 | PS 85Q | 5 | F |   | W44 | W39 | L1 | W32 | 3.0 | 7 | 21 | 8 | 8 |
| 14 |   | Wang, Amelia |   | unr. | 973 | SAUS | 2 | F |   | D40 | W51 | D18 | W27 | 3.0 | 6 | 19 | 7 | 7 |
| 15 | 15-21 | Cancio, Corinna |   | unr. | 965 | SAUS | 2 | F |   | W34 | W53 | L2 | D16 | 2.5 | 8.5 | 24.5 | 7.5 | 10.5 |
| 16 |   | Nappo, Carmela |   | unr. | 911 | 45R | 4 | F |   | W30 | L6 | W36 | D15 | 2.5 | 7.5 | 23.5 | 6.5 | 9.5 |
| 17 |   | Barutcu, Camila |   | unr. | 909 | HUNTER | 1 | F | NY | L10 | W50 | W26 | D18 | 2.5 | 7.5 | 18 | 5.5 | 8 |
| 18 |   | Bhavanjot, Kaur |   | unr. | 940 | 148Q |   |   |   | H--- | W33 | D14 | D17 | 2.5 | 7.5 | 17 | 6 | 7.5 |
| 19 |   | Yu, Cindy |   | unr. | 1041 | 148Q |   |   |   | H--- | W41 | W40 | L2 | 2.5 | 7 | 18 | 6.5 | 7 |
| 20 |   | Mouzon, Avani |   | unr. | 813 | GPREPBX | 5 | F |   | L6 | W44 | D39 | W42 | 2.5 | 6 | 17.5 | 5 | 7 |
| 21 |   | Cabezas, Magda |   | unr. | 817 | 148Q |   |   |   | H--- | L26 | W44 | W40 | 2.5 | 4.5 | 10 | 4.5 | 4.5 |
| 22 | 22-38 | Kerr, Nastassia |   | unr. | 1018 | 314M | 3 | F |   | W26 | L3 | L4 | W38 | 2.0 | 6 | 30 | 5 | 12 |
| 23 |   | Rosinus, Mary |   | unr. | 826 | BRC | 2 | F |   | W28 | W36 | L8 | L10 | 2.0 | 5 | 26 | 7 | 10 |
| 24 |   | Cruz, Kassandra |   | unr. | 805 | 329Q | 4 | F |   | W29 | L8 | L9 | W55 | 2.0 | 5 | 20 | 5 | 8 |
| 25 |   | Seldon, Tenzin |   | unr. | 755 | 329Q | 4 | F |   | L5 | B--- | W41 | L6 | 2.0 | 4.5 | 20 | 4 | 7.5 |
| 26 |   | Li, Yi Shin |   | unr. | 762 | 131K | 4 | F |   | L22 | W21 | L17 | W46 | 2.0 | 4.5 | 18 | 4 | 8 |
| 27 |   | Diaz, Riley |   | unr. | 753 | GPREPBX | 3 | F |   | W48 | L1 | W45 | L14 | 2.0 | 4 | 23.5 | 6 | 9 |
| 28 |   | Morales, Zeneida |   | unr. | 750 | 131K | 5 | F |   | L23 | W31 | W52 | L9 | 2.0 | 4 | 19 | 5 | 8 |
| 29 |   | Soichet-Mason, Arielle |   | unr. | 718 | SAUS | 1 | F |   | L24 | W47 | W34 | L7 | 2.0 | 4 | 16 | 5 | 8 |
| 30 |   | Chen, Winnie |   | unr. | 701 | 2M | 4 | F |   | L16 | L11 | W47 | W52 | 2.0 | 3.5 | 16.5 | 3 | 7.5 |
| 31 |   | Weng, Muran |   | unr. | 657 | GPREPBX | 4 | F |   | L4 | L28 | W54 | W48 | 2.0 | 3 | 19.5 | 3 | 7.5 |
| 32 |   | Ajagbe , Aarinolaoluwa |   | unr. | 716 | SAUS | 1 | F |   | W50 | L12 | X53 | L13 | 2.0 | 3 | 17 | 5 | 6 |
| 33 |   | Partida, Allison |   | unr. | 662 | GPREPBX | 3 | F |   | D45 | L18 | W51 | D35 | 2.0 | 3 | 16.5 | 4.5 | 6.5 |
| 34 |   | Adhikari, Sambridhi |   | unr. | 682 | 329Q | 3 | F |   | L15 | W56 | L29 | W43 | 2.0 | 3 | 16.5 | 4 | 5.5 |
| 35 |   | Torres-Martinez, Tauri |   | unr. | 702 | 148Q |   |   |   | H--- | W49 | L12 | D33 | 2.0 | 3 | 15 | 5 | 5.5 |
| 36 |   | Wu, Alice |   | unr. | 618 | 2M | 5 | F |   | W57 | L23 | L16 | W50 | 2.0 | 2.5 | 14.5 | 5 | 5 |
| 37 |   | Reyes, Lia |   | unr. | 639 | GPREPBX | 3 | F |   | L43 | L9 | W56 | W45 | 2.0 | 2 | 13.5 | 3 | 5 |
| 38 |   | Howard, Zoe |   | unr. | 666 | 185K | 1 | F |   | W55 | L7 | W57 | L22 | 2.0 | 2 | 11 | 6 | 5 |
| 39 | 39-42 | Jiang, Daisy |   | unr. | 701 | 131K | 5 | F |   | W46 | L13 | D20 | L11 | 1.5 | 6.5 | 22 | 5 | 9.5 |
| 40 |   | Melton, Charley |   | unr. | 695 | 329Q | 5 | F |   | D14 | W42 | L19 | L21 | 1.5 | 6.5 | 21.5 | 5 | 9.5 |
| 41 |   | Mendoza-Pacheco, Natalie |   | unr. | 498 | 131K | 5 | F |   | D49 | L19 | L25 | W54 | 1.5 | 3 | 14.5 | 3 | 5.5 |
| 42 |   | Grulich, Sebella |   | unr. | 516 | 148Q |   |   |   | H--- | L40 | W49 | L20 | 1.5 | 2.5 | 12.5 | 3.5 | 5 |
| 43 | 43-53 | Pham, Leanna |   | unr. | 602 | HUNTER | 0 | F |   | W37 | L2 | L11 | L34 | 1.0 | 7 | 23 | 4 | 11 |
| 44 |   | Cassar, Juliet |   | unr. | 509 | 131K | 5 | F |   | L13 | L20 | L21 | W57 | 1.0 | 5 | 17.5 | 1 | 8 |
| 45 |   | Fletcher, Antonella |   | unr. | 421 | HUNTER | 0 | F |   | D33 | D52 | L27 | L37 | 1.0 | 5 | 16.5 | 3.5 | 7 |
| 46 |   | Polite, Leia |   | unr. | 478 | SABX3 | 4 | F |   | L39 | W54 | L10 | L26 | 1.0 | 4 | 17.5 | 3 | 7 |
| 47 |   | Rosario, Gia |   | unr. | 470 | GPREPBX | 3 | F |   | L8 | L29 | L30 | W56 | 1.0 | 4 | 17 | 1 | 7 |
| 48 |   | Deo, Arielle |   | unr. | 478 | 30Q | 4 | F |   | L27 | W57 | L7 | L31 | 1.0 | 4 | 15 | 3 | 7 |
| 49 |   | Caban, Ava |   | unr. | 358 | GPREPBX | 4 | F |   | D41 | L35 | L42 | D51 | 1.0 | 4 | 13.5 | 2.5 | 6 |
| 50 |   | Garcia, Zara |   | unr. | 350 | GPREPBX | 4 | F |   | L32 | L17 | B--- | L36 | 1.0 | 3.5 | 15.5 | 1 | 6 |
| 51 |   | Zarate, Sasha |   | unr. | 350 | 148Q |   |   |   | H--- | L14 | L33 | D49 | 1.0 | 3 | 14 | 2 | 6 |
| 52 |   | Mendez, Eva |   | unr. | 375 | 148Q |   |   |   | H--- | D45 | L28 | L30 | 1.0 | 3 | 11.5 | 3 | 5 |
| 53 |   | Krzyzostaniak, Zofia |   | unr. | 525 | GPREPBX | 3 | F |   | W56 | L15 | F32 | --- | 1.0 | 0 | 7.5 | 4 | 2.5 |
| 54 | 54 | Carillo, Kimberly |   | unr. | 350 | 148Q |   |   |   | H--- | L46 | L31 | L41 | 0.5 | 2.5 | 9 | 1.5 | 4.5 |
| 55 | 55-57 | Morales-Ramirez, Ailany |   | unr. | 350 | 131K | 5 | F |   | L38 | L4 | L3 | L24 | 0.0 | 8 | 31 | 0 | 12 |
| 56 |   | Raysor, Kaliah |   | unr. | 350 | SABX2 | 1 | F |   | L53 | L34 | L37 | L47 | 0.0 | 5 | 12 | 0 | 7 |
| 57 |   | Rivera, Gianalee |   | unr. | 350 | GPREPBX | 3 | F |   | L36 | L48 | L38 | L44 | 0.0 | 4 | 15 | 0 | 6 |
Team Roster and Standings. 2022 All Girls NYC Chess Championship at 11M: K-12 Championship (1200 +)
| | | | | | | | |
| --- | --- | --- | --- | --- | --- | --- | --- |
|   | Code | Name | Score | TBrk[M] | TBrk[S] | TBrk[O] | TBrk[C] |
| 1 | 318K | 318K (1544.5) | 5.0 | 10 | 16 | 40 | 12 |
|   |   | Stark, Chloe A (1545) 3.0 |   |   |   |   |   |
|   |   | Alvarado-Yoshida, Nico (1544) 2.0 |   |   |   |   |   |
| 2 | SAHY | SAHY (1338.3) | 4.5 | 14 | 24 | 56 | 11 |
|   |   | Tamisi, Gabriella (1315) 2.0 |   |   |   |   |   |
|   |   | Ward, Milana (1398) 1.5 |   |   |   |   |   |
|   |   | Cao, Kaylee (1302) 1.0 |   |   |   |   |   |
| 3 | MIDWOOD | MIDWOOD (907.5) | 3.0 | 8 | 13 | 29 | 6 |
|   |   | Mock, Weiyee (871) 2.0 |   |   |   |   |   |
|   |   | Lin, Sophia (944) 1.0 |   |   |   |   |   |
Team Roster and Standings. 2022 All Girls NYC Chess Championship at 11M: K-12 Classic (Under 1200)
| | | | | | | | |
| --- | --- | --- | --- | --- | --- | --- | --- |
|   | Code | Name | Score | TBrk[M] | TBrk[S] | TBrk[O] | TBrk[C] |
| 1 | PMES | PMES (861.5) | 4.5 | 10 | 15 | 39.5 | 10.5 |
|   |   | Ayithi, Yashaswini (1061) 3.5 |   |   |   |   |   |
|   |   | Gorantla, Medha Sr (662) 1.0 |   |   |   |   |   |
| 2 | SAMW | SAMW (1014.0) | 4.0 | 10 | 13 | 34 | 10 |
|   |   | Lee, Hannah (1030) 3.0 |   |   |   |   |   |
|   |   | Rao, Dhruthi (998) 1.0 |   |   |   |   |   |
| 3 | Q300 | Q300 (0.0) | 1.5 | 8 | 14.5 | 30.5 | 3 |
|   |   | Yan, Vicki (unr.) 1.5 |   |   |   |   |   |
|   |   | Yan, Claire (unr.) 0.0 |   |   |   |   |   |
Team Roster and Standings. 2022 All Girls NYC Chess Championship at 11M: JH-HS Novice (6-12 U1000)
| | | | | | | | |
| --- | --- | --- | --- | --- | --- | --- | --- |
|   | Code | Name | Score | TBrk[M] | TBrk[S] | TBrk[O] | TBrk[C] |
| 1 | SASGMS | SASGMS (582.7) | 7.0 | 19.5 | 29 | 71.5 | 18 |
|   |   | Rousseau, Ava (782) 3.0 |   |   |   |   |   |
|   |   | Rivera, Jaelynn (434) 2.0 |   |   |   |   |   |
|   |   | King, Kaileigh (452) 2.0 |   |   |   |   |   |
| 2 | SAMMS | SAMMS (915.0) | 7.0 | 12.5 | 14.5 | 37 | 17 |
|   |   | Price, Yvonna (991) 4.0 |   |   |   |   |   |
|   |   | Caldeira, Solina (839) 3.0 |   |   |   |   |   |
| 3 | 318K | 318K (862.0) | 6.0 | 9 | 14 | 37 | 13 |
|   |   | Chen, Jiaxin (817) 4.0 |   |   |   |   |   |
|   |   | Schechter, Sophie (907) 2.0 |   |   |   |   |   |
| 4 | SABSMS | SABSMS (620.0) | 5.5 | 15.5 | 22 | 52.5 | 14.5 |
|   |   | White, Sariya (996) 2.5 |   |   |   |   |   |
|   |   | Hanslip, Aaliyah (754) 1.5 |   |   |   |   |   |
|   |   | Julmis, Ariana (110) 1.5 |   |   |   |   |   |
| 5 | MECPS | MECPS (622.7) | 5.0 | 20 | 26.5 | 64.5 | 11.5 |
|   |   | Kayode, Emmanuella (862) 3.0 |   |   |   |   |   |
|   |   | Ragin, Jalisa (629) 1.0 |   |   |   |   |   |
|   |   | Boyke-Darbouze, Ta (unr.) 1.0 |   |   |   |   |   |
| 6 | 180K | 180K (509.3) | 4.0 | 9.5 | 19.5 | 46 | 5 |
|   |   | Guachiac Tambriz, Hany (514) 2.0 |   |   |   |   |   |
|   |   | Firuzova, Anisakho (347) 1.0 |   |   |   |   |   |
|   |   | Munduzbaeva, Aisul (667) 1.0 |   |   |   |   |   |
| 7 | MURROW | MURROW (102.0) | 1.0 | 6 | 9.5 | 25.5 | 3 |
|   |   | Epstein, Hannah (unr.) 1.0 |   |   |   |   |   |
|   |   | Dzotsenidze, Nino (102) 0.0 |   |   |   |   |   |
Team Roster and Standings. 2022 All Girls NYC Chess Championship at 11M: JH-HS Unrated (Grades 6-12)
| | | | | | | | |
| --- | --- | --- | --- | --- | --- | --- | --- |
|   | Code | Name | Score | TBrk[M] | TBrk[S] | TBrk[O] | TBrk[C] |
| 1 | 582K | 582K (0.0) | 7.5 | 14 | 18.5 | 50 | 15 |
|   |   | Fernandez, Denise (unr.) 3.0 |   |   |   |   |   |
|   |   | Nedd, Earlene (unr.) 2.5 |   |   |   |   |   |
|   |   | Luciano, Rayne (unr.) 2.0 |   |   |   |   |   |
| 2 | SABSMS | SABSMS (0.0) | 5.5 | 10 | 13 | 36 | 11.5 |
|   |   | Wu, Kelly (unr.) 4.0 |   |   |   |   |   |
|   |   | Harvey, Sariyah (unr.) 1.5 |   |   |   |   |   |
| 3 | MECPS | MECPS (0.0) | 4.5 | 12 | 21 | 44.5 | 12 |
|   |   | Davis, Nia (unr.) 1.5 |   |   |   |   |   |
|   |   | McKnight, Katherine (unr.) 1.5 |   |   |   |   |   |
|   |   | Bah, Isatou (unr.) 1.5 |   |   |   |   |   |
Team Roster and Standings. 2022 All Girls NYC Chess Championship at 11M: EL Championship (K-5 U1000)
| | | | | | | | |
| --- | --- | --- | --- | --- | --- | --- | --- |
|   | Code | Name | Score | TBrk[M] | TBrk[S] | TBrk[O] | TBrk[C] |
| 1 | SPEYER | SPEYER (614.0) | 9.5 | 22.5 | 27 | 73 | 24 |
|   |   | Marcal, Ziva (759) 4.0 |   |   |   |   |   |
|   |   | Vostrikova, Maya (575) 3.0 |   |   |   |   |   |
|   |   | Rim, Arianna Nahri (456) 2.5 |   |   |   |   |   |
| 2 | DALTON | DALTON (834.0) | 9.0 | 27.5 | 33 | 82 | 26 |
|   |   | Chan, Hannah (981) 3.0 |   |   |   |   |   |
|   |   | Agarwal, Reha (822) 3.0 |   |   |   |   |   |
|   |   | Agarwal, Risha (699) 3.0 |   |   |   |   |   |
| 3 | SAUS | SAUS (629.0) | 7.5 | 17.5 | 22.5 | 63 | 17.5 |
|   |   | Lin, Luoxi (845) 3.0 |   |   |   |   |   |
|   |   | Chan, Kara (395) 2.5 |   |   |   |   |   |
|   |   | Paraoan, Hadley (530) 2.0 |   |   |   |   |   |
| 4 | SAHY | SAHY (504.3) | 7.0 | 12.5 | 23 | 58 | 16 |
|   |   | Sillau, Jade (592) 3.0 |   |   |   |   |   |
|   |   | Chew, Marissa (562) 2.0 |   |   |   |   |   |
|   |   | Cherian, Meghna (359) 2.0 |   |   |   |   |   |
| 5 | SABSMS | SABSMS (439.3) | 6.0 | 13.5 | 27 | 61.5 | 14 |
|   |   | Tan, Trinity (485) 2.0 |   |   |   |   |   |
|   |   | Edwards, Samantha (453) 2.0 |   |   |   |   |   |
|   |   | White, Amara (186) 2.0 |   |   |   |   |   |
| 6 | Q300 | Q300 (725.5) | 5.5 | 15 | 17 | 43 | 15 |
|   |   | Ghile, Gabriela (741) 3.0 |   |   |   |   |   |
|   |   | Ma, Dorothy (710) 2.5 |   |   |   |   |   |
| 7 | HUNTER | HUNTER (859.0) | 5.5 | 14.5 | 17 | 45.5 | 14 |
|   |   | Han, Eleanor Ja (734) 3.0 |   |   |   |   |   |
|   |   | Wang, Dena N (984) 2.5 |   |   |   |   |   |
| 8 | TNS | TNS (303.0) | 5.5 | 11.5 | 23 | 59.5 | 11.5 |
|   |   | Matteo, Eugenia (352) 2.0 |   |   |   |   |   |
|   |   | Keane, Mira (302) 2.0 |   |   |   |   |   |
|   |   | Baene-Kinglake, Si (255) 1.5 |   |   |   |   |   |
| 9 | SABH | SABH (232.7) | 5.0 | 11 | 21.5 | 51 | 10 |
|   |   | Zhou, Brianna (411) 2.0 |   |   |   |   |   |
|   |   | Chung, Alyssa (158) 2.0 |   |   |   |   |   |
|   |   | Yorke, Danielle (129) 1.0 |   |   |   |   |   |
| 10 | SABX3 | SABX3 (270.7) | 4.5 | 9 | 17.5 | 40 | 9.5 |
|   |   | Adoyi, Ilham (340) 1.5 |   |   |   |   |   |
|   |   | Morene, Amyah (unr.) 1.5 |   |   |   |   |   |
|   |   | Palacios, Gabriela (117) 1.5 |   |   |   |   |   |
| 11 | SABX2 | SABX2 (181.0) | 3.0 | 10 | 17 | 41 | 7 |
|   |   | Boateng, Christabe (256) 2.0 |   |   |   |   |   |
|   |   | Hutchful, Ewurama (106) 1.0 |   |   |   |   |   |
| 12 | 131K | 131K (0.0) | 1.0 | 10.5 | 15.5 | 35.5 | 4 |
|   |   | Chen, Elaine (unr.) 1.0 |   |   |   |   |   |
|   |   | Algumaei, Zainab (unr.) 0.0 |   |   |   |   |   |
Team Roster and Standings. 2022 All Girls NYC Chess Championship at 11M: JH-HS Novice (6-12 U1000)
| | | | | | | | |
| --- | --- | --- | --- | --- | --- | --- | --- |
|   | Code | Name | Score | TBrk[M] | TBrk[S] | TBrk[O] | TBrk[C] |
| 1 | SASGMS | SASGMS (582.7) | 7.0 | 19.5 | 28 | 67.5 | 18 |
|   |   | Rousseau, Ava (782) 3.0 |   |   |   |   |   |
|   |   | Rivera, Jaelynn (434) 2.0 |   |   |   |   |   |
|   |   | King, Kaileigh (452) 2.0 |   |   |   |   |   |
| 2 | MECPS | MECPS (622.7) | 6.0 | 17 | 25.5 | 60.5 | 15.5 |
|   |   | Kayode, Emmanuella (862) 3.0 |   |   |   |   |   |
|   |   | Ragin, Jalisa (629) 2.0 |   |   |   |   |   |
|   |   | Boyke-Darbouze, Ta (unr.) 1.0 |   |   |   |   |   |
| 3 | SAMMS | SAMMS (915.0) | 6.0 | 12.5 | 15.5 | 41 | 13 |
|   |   | Price, Yvonna (991) 3.0 |   |   |   |   |   |
|   |   | Caldeira, Solina (839) 3.0 |   |   |   |   |   |
| 4 | 318K | 318K (862.0) | 6.0 | 10 | 15 | 41 | 13 |
|   |   | Chen, Jiaxin (817) 4.0 |   |   |   |   |   |
|   |   | Schechter, Sophie (907) 2.0 |   |   |   |   |   |
| 5 | SABSMS | SABSMS (620.0) | 5.5 | 16.5 | 23 | 56.5 | 14.5 |
|   |   | White, Sariya (996) 2.5 |   |   |   |   |   |
|   |   | Hanslip, Aaliyah (754) 1.5 |   |   |   |   |   |
|   |   | Julmis, Ariana (110) 1.5 |   |   |   |   |   |
| 6 | 180K | 180K (509.3) | 4.0 | 9.5 | 19.5 | 46 | 5 |
|   |   | Guachiac Tambriz, Hany (514) 2.0 |   |   |   |   |   |
|   |   | Firuzova, Anisakho (347) 1.0 |   |   |   |   |   |
|   |   | Munduzbaeva, Aisul (667) 1.0 |   |   |   |   |   |
| 7 | MURROW | MURROW (102.0) | 1.0 | 6 | 9.5 | 25.5 | 3 |
|   |   | Epstein, Hannah (unr.) 1.0 |   |   |   |   |   |
|   |   | Dzotsenidze, Nino (102) 0.0 |   |   |   |   |   |
Team Roster and Standings. 2022 All Girls NYC Chess Championship at 11M: EL Unrated (K-5)
| | | | | | | | |
| --- | --- | --- | --- | --- | --- | --- | --- |
|   | Code | Name | Score | TBrk[M] | TBrk[S] | TBrk[O] | TBrk[C] |
| 1 | 2M | 2M (0.0) | 10.0 | 20 | 26 | 64.5 | 23 |
|   |   | Qiu, Anna (unr.) 4.0 |   |   |   |   |   |
|   |   | Jin, Sarah (unr.) 4.0 |   |   |   |   |   |
|   |   | Chen, Winnie (unr.) 2.0 |   |   |   |   |   |
| 2 | SAUS | SAUS (0.0) | 8.5 | 22 | 26 | 65.5 | 20.5 |
|   |   | Guan, Ophelia (unr.) 3.0 |   |   |   |   |   |
|   |   | Wang, Amelia (unr.) 3.0 |   |   |   |   |   |
|   |   | Cancio, Corinna (unr.) 2.5 |   |   |   |   |   |
| 3 | 131K | 131K (0.0) | 8.0 | 20 | 26 | 67 | 19 |
|   |   | Lasalle-Garcia, Eiliana (unr.) 3.0 |   |   |   |   |   |
|   |   | Lin, Michelle (unr.) 3.0 |   |   |   |   |   |
|   |   | Li, Yi Shin (unr.) 2.0 |   |   |   |   |   |
| 4 | 329Q | 329Q (0.0) | 8.0 | 17.5 | 24.5 | 64 | 19 |
|   |   | Mercado, Jessica (unr.) 4.0 |   |   |   |   |   |
|   |   | Cruz, Kassandra (unr.) 2.0 |   |   |   |   |   |
|   |   | Seldon, Tenzin (unr.) 2.0 |   |   |   |   |   |
| 5 | 148Q | 148Q (0.0) | 7.5 | 19 | 19 | 45 | 17 |
|   |   | Bhavanjot, Kaur (unr.) 2.5 |   |   |   |   |   |
|   |   | Yu, Cindy (unr.) 2.5 |   |   |   |   |   |
|   |   | Cabezas, Magda (unr.) 2.5 |   |   |   |   |   |
| 6 | GPREPBX | GPREPBX (0.0) | 6.5 | 13 | 23.5 | 60.5 | 14 |
|   |   | Mouzon, Avani (unr.) 2.5 |   |   |   |   |   |
|   |   | Diaz, Riley (unr.) 2.0 |   |   |   |   |   |
|   |   | Weng, Muran (unr.) 2.0 |   |   |   |   |   |
| 7 | SABSMS | SABSMS (0.0) | 6.0 | 18 | 21.5 | 52 | 15 |
|   |   | Flores, Elizabeth (unr.) 3.0 |   |   |   |   |   |
|   |   | Canario King, Kerla Valentina (unr.) 3.0 |   |   |   |   |   |
| 8 | HUNTER | HUNTER (0.0) | 4.5 | 19.5 | 26 | 57.5 | 13 |
|   |   | Barutcu, Camila (unr.) 2.5 |   |   |   |   |   |
|   |   | Pham, Leanna (unr.) 1.0 |   |   |   |   |   |
|   |   | Fletcher, Antonella (unr.) 1.0 |   |   |   |   |   |